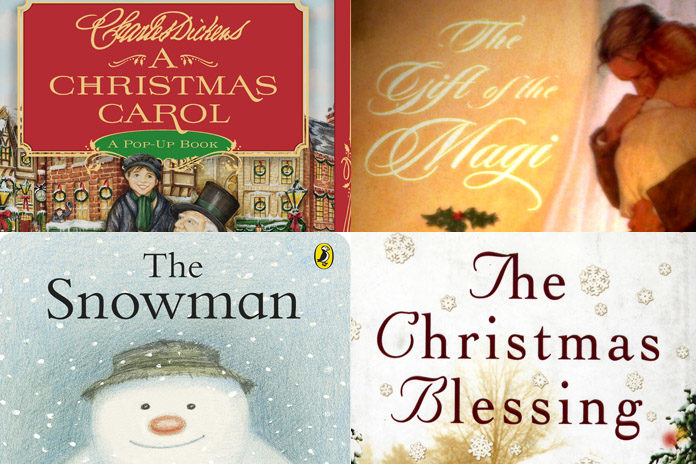 Christmas Books – Reading while sitting beside the fireplace with cozy holiday decorations around you is a pleasure like any other. Don't you think? Christmas books offer an immensely enjoyable experience of reading. You get to experience every warm emotion of joy, hope, peace, love, and gratitude associated with this festival.
Related: Christmas Foods.
Some holiday stories have become evergreen classics, and you can never grow tired of reading them every year. These days you can also get special Christmas books for toddlers with illustrations and music to get them familiar with the spirit of the festival.
We bring you 18 Christmas books which you will love to read during the holiday season. Whether you like a classic Xmas story about hope and joy or suspense thrillers with Christmas as the backdrop, you will find top holiday books from every genre in this collection.
So, get ready to experience the thrill of reading on a comfy couch in holidays with these classic Christmas books:
More on Christmas.
1. A Christmas Carol
Among top Christmas books, this classic by Charles Dickens stands at the top. The story of a grumpy businessman Scrooge visited by the three ghosts of Christmas has captured the imagination of people all over the world.
2. How the Grinch Stole Christmas
Dr. Seuss has written some beautiful stories for children. And the story of how Grinch learns the real lesson of Christmas remains one of the best Christmas books for kids.
3. The Gift of The Magi
O'Henry depicts the nature of true love and spirit of giving on Christmas in this heart touching tale of a poor couple. Both buy the perfect present for each other only to find that they can no longer use it!
4. The Polar Express
What happens when a kid gets a chance to travel to the North Pole to meet Santa and learn to have faith again? Find out in this cute Christmas story for kids!
5. The Gift
This is among the best Christmas books for adults telling the story of a man so busy and obsessed with his work that he does not even have time for his family. A classic holiday tale with a twist!
6. The Snowman, Raymond Briggs (all pictures)
There is no age for children to start enjoying holiday stories. The Snowman by Raymond Briggs stands on top among Christmas books for toddlers
7. The Christmas Miracle of Jonathan Toomey
This masterpiece touches your heart like no other Christmas story whether you are a kid or an adult. You will be awestruck particularly by the surprise twist at the end. However, keep tissues with you for the emotional yet pleasant climax!
8. The Christmas Train, David Baldacci
David Baldacci takes a break from his thriller style to craft this heartwarming holiday story with enough twists and turns. If you are a regular reader of Baldacci, you will be surprised with his different style in this book!
9. Miracle on 34th Street
This book was inspired by a movie of the same name, yet you would love to read it for the sheer pleasure of holidays!
10. Let It Snow: Three Holiday Romances
Three authors join hands to craft three interconnected stories on the night of the Christmas Eve! It is a light holiday read with comedy, love, and romance.
11. The Christmas Blessing by Donna Vanliere
Donna Vanliere writes an immensely moving sequel to The Christmas Shoes and delivers another holiday tale worthy of your time. She has a gift to make readers believe about the power of love and hope to conquer all odds.
12. The Life and Adventure of Santa Claus
Trace the origin of Santa Clause as a human who was adopted by woodland fairies and grew up among other immortals in this book by L. Frank Baum- the writer of The Wizard of the Oz.
13. The Christmas Box by Richard Paul Evans
This is one of the best Christmas books you can read without any holiday cliches'. Surprisingly, Richard wrote this story for his daughters and had not intentions of publishing it. However, it is now considered a classic Christmas book!
14. Hercule Poirot's Christmas
How about giving an Agatha Christie twist to your holidays? Follow the famous detective Hercule Poirot to solve another murder mystery! It is a Christmas book for adults who are not interested in typical holiday tales.
15. The Christmas Shoes by Donna Vanliere
You can always count on Donna Vanliere to write an inspiring story to read to your kids or yourself. The Christmas Shoes is another hit holiday book with a deeper meaning of Christmas.
16. Dream Snow
This is among the best Christmas books for toddlers. They would love to spend time with this board book and enjoy uncovering the hidden animals through lift up flaps.
17. The Christmas Secret
Get into the holiday spirit with another classic Christmas book by Donna Vanliere. You may find a lot of similarity in her writing style, especially in Christmas Hope series, yet The Christmas Secret manages to steal your heart with its simplicity and depth of message!
18. Skipping Christmas
Have you ever felt Christmas traditions are way over the top and feel like skipping it? Well, you'd love to read this humorous tale about a couple who want the same yet find it difficult amidst pressure from the society. John Grisham is in entirely different mode and at his sarcastic best without any suspense of his legal, courtroom thrillers.
The above Christmas books will prove to be a great past time for you when you want just to relax in holidays. Reading touching stories about the real meaning of Christmas with above books is an ideal way to celebrate the festival.
So, when you complete all Christmas decorations, you can simply grab any of the above books, lie down on your couch, and immerse yourself in beautiful stories. You'd also love to watch these Christmas movies with your family during the holiday season!
Also Read: Christmas Gift Ideas For Family.