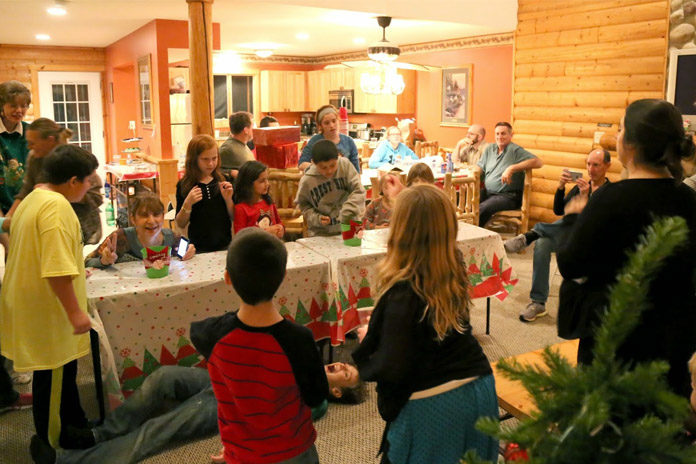 Christmas Party Games – You can have a variety of Christmas foods on the table. You can play the latest Christmas songs to get your guests in the festive mood. You may even have exquisite Christmas decorations which can make people speechless. However, without some fun Christmas party games, your holiday party can turn out to be the most boring party of the town.
Naturally, you would not want that to happen in any case. Right?
Do not worry as we bring you these exciting Christmas game ideas that will get even the most reserved guests to shed their inhibitions and take part in the holiday fun. These games can bring joy, fun, and laughter to any holiday party. Whether it is a party for kids or adults, you will find different ideas for Christmas games for everyone!
So, get ready to add a dose of madness and humor to your holiday party with these Christmas party games:
More on Christmas.
1. Christmas Carol Charades
Out of all Christmas family games, this one never gets old. Everyone in the family has a blast playing this game with their beloved family members. You just need to write down Christmas carols on separate papers or card. Make cards according to the number of party guests you plan to invite. Divide your guests into a team of 4 to 5 members. A member of each team picks one card and acts out the carol while other team members try to guess the right Carol! Everyone is guaranteed to have a lot of fun while playing this Christmas party game.
2. Two Truths and A Lie?
Find out who can make the best poker face out of your friends by including this party game for your guests. Have each guest tell a story about three worst Christmas gifts or holiday experiences. Two of them have to be true, and one has to be a lie. Other guests have to figure out the lie among truths!
3. Guess the Christmas Ornament
Blindfold your guests as soon as they enter your party and have them guess the ornaments on your Christmas tree. You can even give a small present at the end of the party to the guest who successfully identifies the maximum number of ornaments.
4. Pin the Red Nose on Rudolph
Give a holiday twist to the traditional game of Pin the Nose on Donkey. This could be one of the most enjoyable Christmas party games for kids or preschoolers.
5. Make A Human Santa/Snowman
You can play this game with your family, friends, as well as kids. Kids particularly love to make a Santa or snowman by wrapping a person with toilet paper sheets or covering him with a red colored dress and white beard.
6. Jingle Bell Shake Game
This is one of the most funny Christmas games for adults you can play with your friends and family. You need few tissue boxes with two holes on the bottom side. Put jingle bells inside these boxes. At the time of the game, tie these boxes around the backside of players. The players have to take out the jingle balls from the holes by shaking their body on music. You will die laughing as you watch party guests doing their own version of Shakira moves to take those balls out of the box.
7. Blindfolded Christmas Drawing Competition
If you want fun Christmas party games for kids, this could be it. It can also prove to be an annual Christmas game for family when every member of the family tries his or hand at drawing holiday related scenes and characters. The only catch in this simple competition is they have to be blindfolded while they are making the drawing.
8. Guess The Item In Christmas Stocking
Put plenty of holiday goodies, Christmas gifts, ornaments in a stocking and ask your guests to come one by one forward. Make them guess the item they feel on putting their hands in the stocking and see how many they can guess accurately. Give a small present to the person who identifies the maximum number of items from the stockings.
9. Christmas Cookie Decorating
Kids not only love to eat cookies but also decorate them with their wonderful creativity and imagination. So, if you are organizing a Christmas party for kids, you can have a cookie decorating game where every child decorates the cookie. Although you may have to be prepared to deal with any extra mess kids may produce during the activity. However, watching them having a great time in holidays is worth the effort!
10. Christmas Ornament on Spoon
Although a Christmas game for kids, you can also organize this game with your adult friends. After all, every adult too was a child once, right? Place same Christmas ornaments on spoons and have people carry them safely in their mouths with their hands tied behind their backs. Everyone is guaranteed to have a lot of fun as they become kids again and concentrate hard to prevent the ornament from falling from the spoon!
11. Christmas Movie Trivia
Guess which of your friends or relatives have the deepest knowledge of Christmas movies. As your party guests gorge on Christmas foods, prepare quick cards bearing question about famous holiday movies. See if your friends actually spoke the truth about being a huge movie buff!
12. Christmas Movie Drinking Game
When you run out of all Christmas game ideas, just gather your drinks with friends, put on a Christmas movie and have a drinking game. Whenever anybody says Christmas or a typical holiday cliche comes on the screen such as an angel flutters his wings maybe, have shots of drinks.
Also Read: Christmas Must Watch Movies.
Choose any of the above party games to wake up your guests and make it the most happening holiday party of the town. These Christmas party games are guaranteed to make everyone enjoy immensely, be it a kids party or an adult party. So, pick a suitable idea now and start preparations to organize exciting games!
Also Read: Christmas Outdoor Decoration.