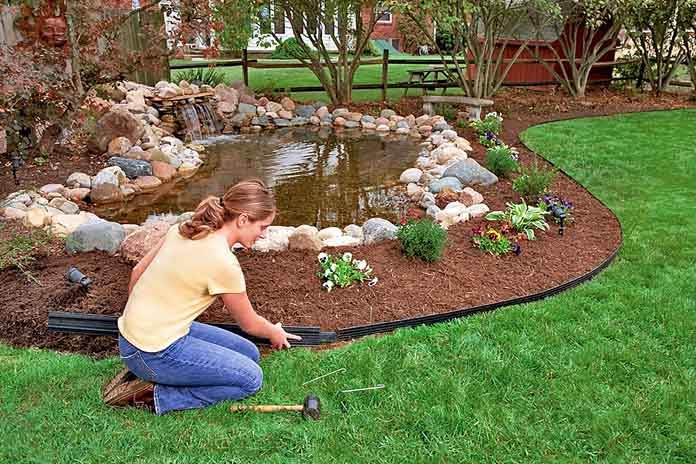 Garden Edging Ideas – Well, there isn't any standard definition for Garden Edging, but all you can say is any division or let's say separation between two landscapes namely your garden and lawn is Garden Edging.
Must Read: Gardening Tips.
From planting crops and lovely flowers in your garden to maintaining the length of the grass, all requires effort and care.
Have you ever experienced the need of separating the grass of your lawn from the planted crops and flowers in your garden? You probably might have as however you have cropped, chopped and mowed your grass it would always look sloppy if your garden is not separated properly from your lawn.
What we mean by separating is "Garden edging." If you have come across some gardening books, you probably might have heard of garden edging as well as garden edging ideas.
Now, there are many ways to Edge your Garden (Separate it from the lawn). You could either use a simple rope or put anything between the lawn and the garden so that the grass does not cling too much to the other side.
Also Read: Why Gardening Is Good For Your Health.
Moreover, there are other ways also that depend on the gardener's imagination. Many gardens in this world have been edged in a breathtaking manner. Sure those gardens required many bucks, but there are other cheaper methods too that can beautify you garden.
Below are some of the garden edging ideas:
1. The Most Simplest of Garden Edging Ideas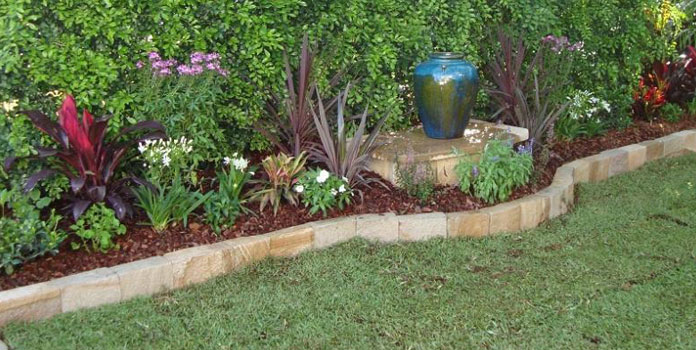 The most straightforward idea for edging your garden is so simple that even your kid can do it. All you need to do is take a shovel tip or any other similar tool and start to scrape off the part you want to make the barrier.
This would give a finishing look. However, you will have to maintain it every day as the soil will fill up space and the separation would disappear as this type of edging is not permanent.
The above-mentioned edging requires no material to separate the lawn from the garden. There are other garden edging ideas that last long and are more efficient. Other garden edgings need some products manufactured in the factories, like concrete, cement, plastic , fences, rubber, brick, wood, etc. For having such edgings you need a professional to help you out with the ideas.
2. Edging With a Thick Rope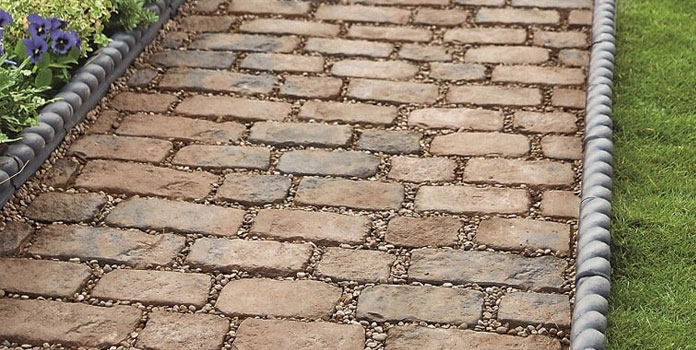 You can shovel up the region where you want to create a barrier and then put thick ropes on the hollow area you have just shoved. This would at least strengthen up the previously defined technique of garden edging (1.The Most Simple garden edging idea) and also would not let the soil particles fall back to an extent.
3. Garden Edging Stones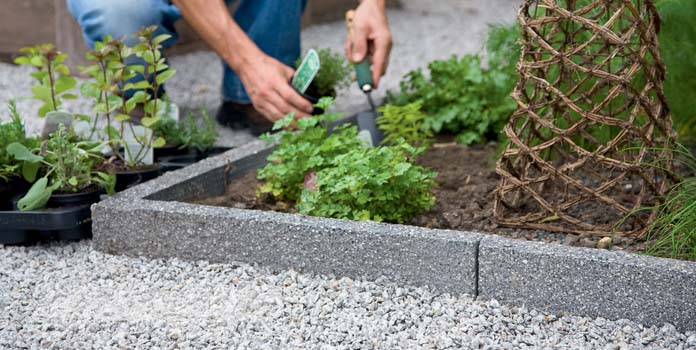 You can also edge up your garden with the help of stones. This stone garden edging is a better idea as the stones are more concrete and would completely occupy the space you have shoved.
Moreover, the best part is you do not need to shove off the soil at all. Just put the stone in a decorative manner in places where you want to separate your lawn with your garden. Many people have gardens in between their grassy lawn. So, garden edging stones in between your lawn can beautify your botany park.
4. Wood Garden Edging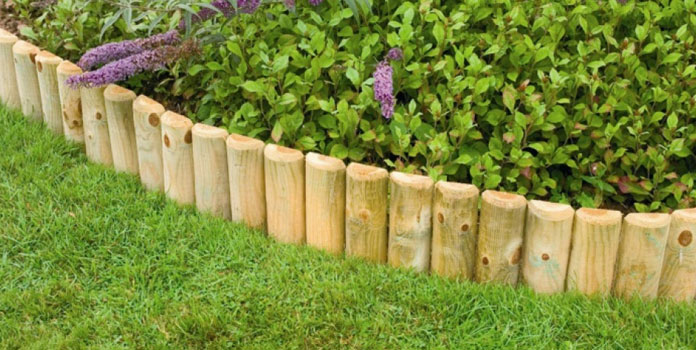 You would love a woody garden. Edging your garden with woods would make your relaxing place resemble a forest. You could use your own imagination and ask your edger to install tree like monuments near the edgings.
5. Plastic Garden Edging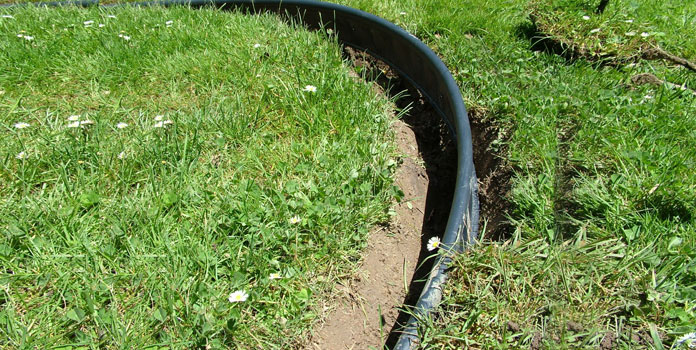 Plastic is also a cheaper product for garden edging. However, it all depends on your choice because there are expensive durable plastic materials available in the market too. There are a variety of designs for plastic garden edging. Moreover, all would look good depending upon the type of garden you have.
6. Brick Garden Edging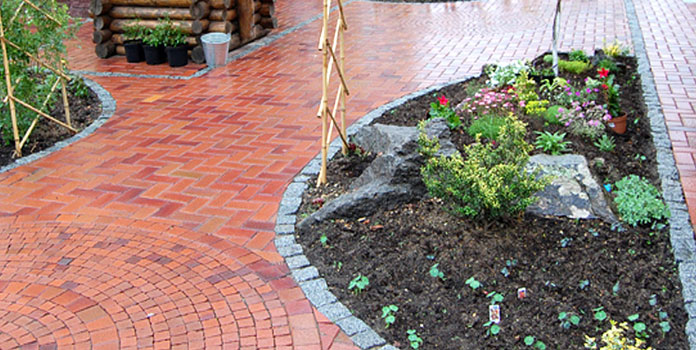 Bricks, too, are an excellent material for garden edging. The simplest idea for a brick garden edging is to place the bricks side by side on the area where you want to create an edging. Mostly these look good at the corners or the edges of the lawn.
7. Concrete or Steel Garden Edging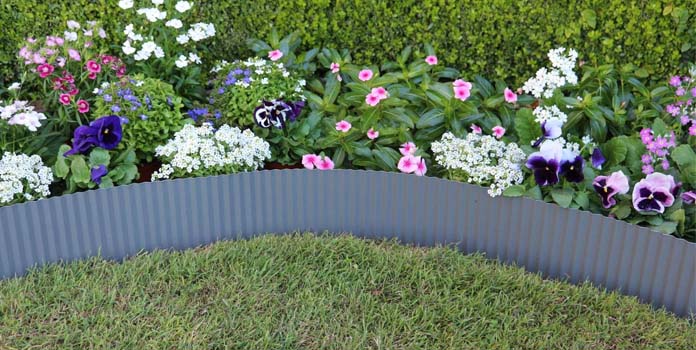 Concrete garden edging or steel gardens edging both are good ideas for adamant edges. Concrete garden edging would permanently settle all the soil of the garden on one side and lawn's soil on the other.
Steel is also an excellent choice. There are also other various metal alloys available in the market that can edge up your garden and also help you out with economically in choosing the best edging material.
Garden edging is a very creative job and deciding which type of garden edging you want is a personal preference. The choice depends on upon the durability, look and the budget of the project.
If you do not want a permanent garden edging, then there are options available for a temporary edging. Moreover, we would say that making such a choice is not bad as most people always want to change the look of the edgings and if it is not made permanent then you could always change its appearance.
Even cycle tires can be used up as edges ( a Unique idea, isn't it?). Permanent edging no doubt gives a perfect finish to your garden and requires some time and money for completion.
From where else to get ideas for garden edging?
You can search for lawns in your area to get some idea about edging. You could also read some books on gardening and use up your imagination for beautifying your garden. Even after edging up the garden people use some plants or trees to surround the whole of the garden area.
You can plant pomegranate trees also as there are lots of healthy pomegranate juice benefits. Also, the last thing which you can do is to contact your nearby gardeners to come up with new garden edging ideas.
Also Read: Indoor Gardening Tips.
Dangerous Garden Pests You Should Know About.