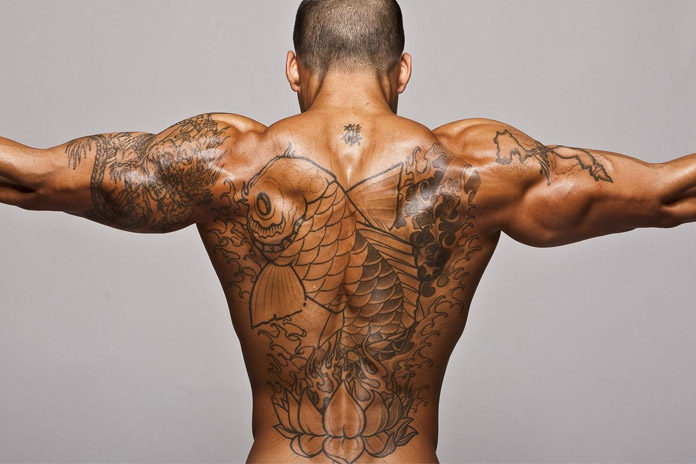 Back tattoos are wonderful options for people who want to get bigger tattoos on their body. The back area provides a larger canvas for the tattoos to be drawn. The back area is also, often, the first choice for tattoo lovers who want to try a tattoo for the first time.
By choosing a single impressive tattoo on back or by combining various designs for tattoos back, you can give a tremendous look to your body. Let us now glance through 29 incredible back tattoos which are part of the latest trends!
Also Read: Angelina Jolie Tattoos that will Inspire You
Back Tattoos for Women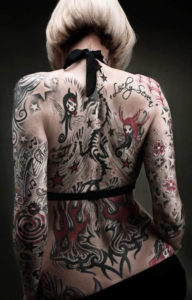 When it comes to choosing womens back tattoos, the choices are numerous! This particular image shows a great combination of two cute figures, stars, fires, musical symbols, and swirls. Beautiful color combination too!
Royal Looking Tattoo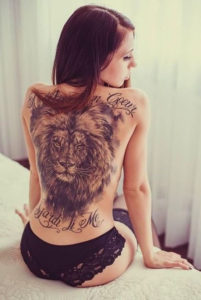 The female back tattoos are not only about delicacy and feminism. Rather, these tattoos can be bold and symbolize a courageous character too. This big lion tattoo looks bold, graceful and royal.
Girl in Kimono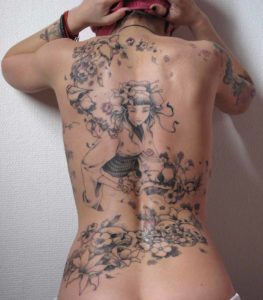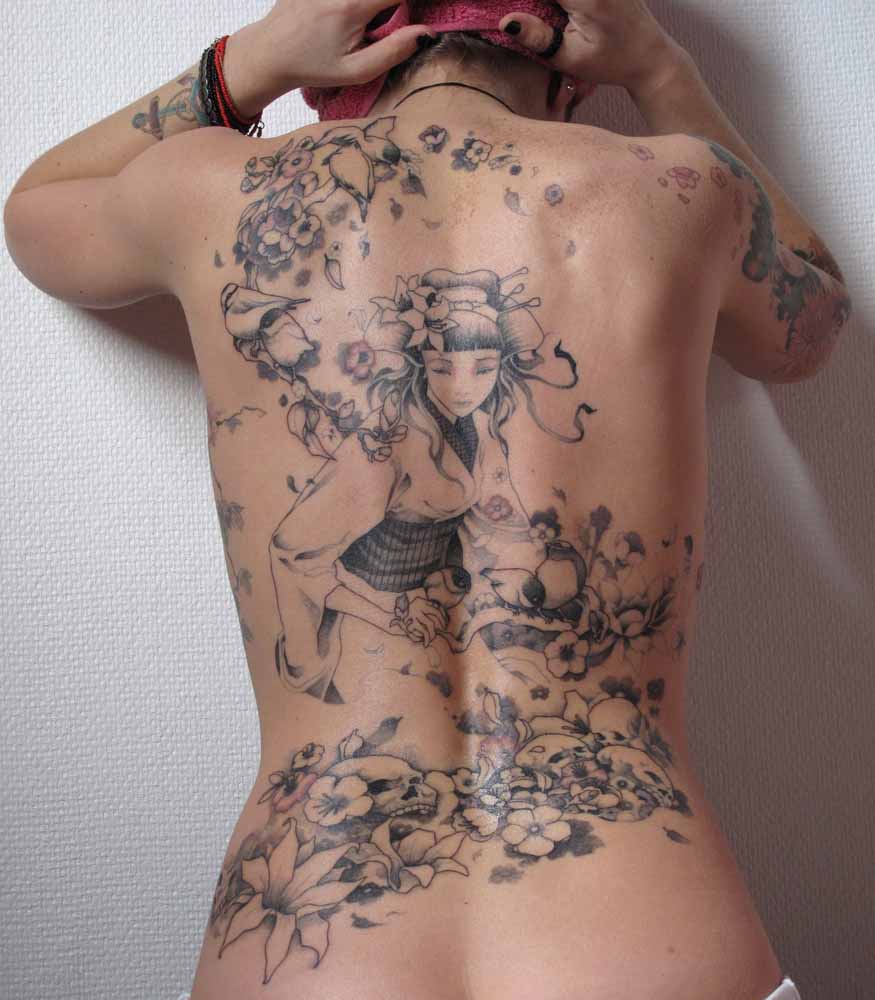 The back tattoo designs look marvelous with a particular theme in them. This tattoo art depicts a Japanese girl in Kimono outfit. The floral vine stretches from shoulders till the lower back.
Sun & Waves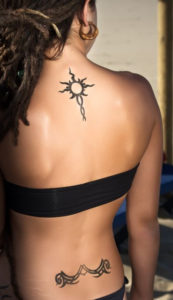 Who says that back tattoos always need to be big and bold? Well, opt for mini alluring patterns like this one. The sun just below your back neck and few waves at the lower waist provide an elegant, fashionable and alluring look.
Single Small Figure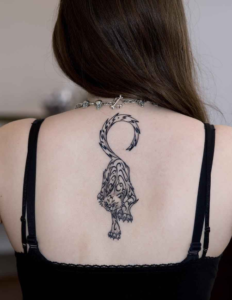 Such tattoos look very appealing when they give a glimpse from an off-shoulder or backless outfit. Also, if you are planning to wear a colorful dress on some special occasion, get a colorful tattoo for the same. On the contrary, team up a black outfit with a plain black tattoo.
Beautiful Bird Image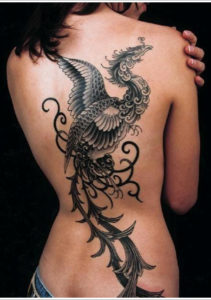 DO you love nature and elements related to it? If yes, you can get this interesting bird images as a tattoo design on your back. The bird is full of intricate patterns that give a sophisticated look to the whole layout.
Tattoo With Unique Pattern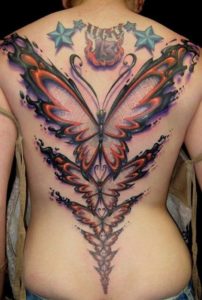 This design demands an immediate attention! You can notice a trail of beautiful butterflies along with two stars on the top. The vivid colors in this model make the tattoo look even more appealing. More on Butterfly Tattoos.
Men Back Tattoos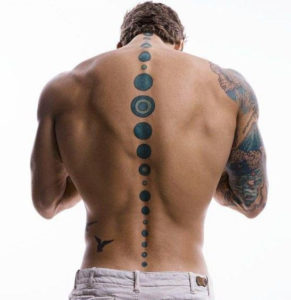 This design is for those men who want to have a tattoo on their back but at the same time who do not want to hide their attractive muscles and toned body. So why not flaunt both with this tattoo!
Tattoo with Multiple Ideas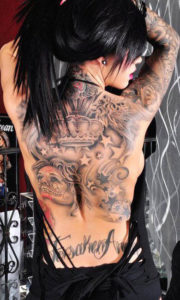 If you want to merge several ideas into one pattern of the tattoo, you can use patterns as shown in this image. Try a human face, swirls, loops, leaves and crown altogether into one design.
A Twig, Branch or Vine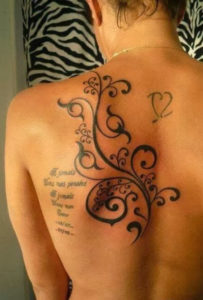 With a small image of a twig or a flower, you can get a message written over your body. Such tattoos look good and also help spread some message.
Mysterious Tattoo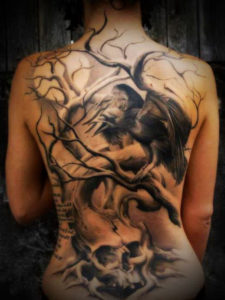 If you want a scary and mysterious touch in your back tattoo design, this one is for you! Observe the skull image, the serpent and dark branches surrounding the figures which give a daunting look.
Scary Tattoo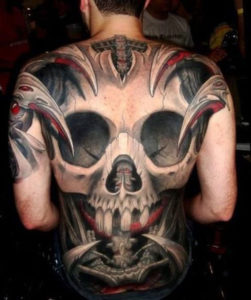 Out of many ideas for mens back tattoos, this one is attractive for men who want a feeling of horror in their tattoos. You can see a big horrible skull covering the entire back of the man in this image.
Delicate Floral Trail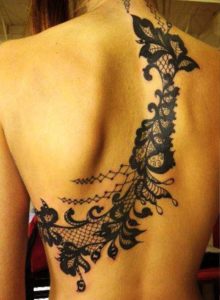 Get an absolute feminine looking tattoo with this design. It possesses a beautiful floral trail. If you want to make it look lively, do get some colors in it! With more exposed skin and a delicate design, you get a fantastic look!
Tattoo with Bird, Skull & Flowers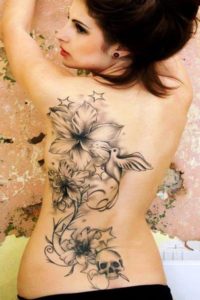 Back tattoos give you ample area for any extended design. Hence, include all thoughts that you have got in your mind! This image has got an excellent amalgamation of flowers, bird and a little skull at the bottom.
Peacock Tattoo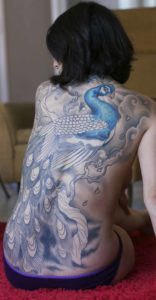 A beautiful peacock tattoo is a great choice for back tattoos. The blue color of peacock body and its feathers spreading all over the waist gives a striking look to your back area.
Sleek Tattoo Design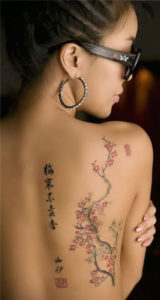 The slim and slender tattoo designs are also a choice of many people around the world. This image shows a sleek tattoo design with a delicate branch and numerous mini flowers colored in the light pink shade.
Single Flower Pattern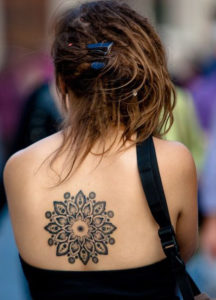 Such patterns of tattoos can be found in many appealing and astonishing designs. A single big flower is made creatively on your back area. Choose a monochromatic theme or a multi-colored one for such patterns.
Graceful Eagle Pattern for Males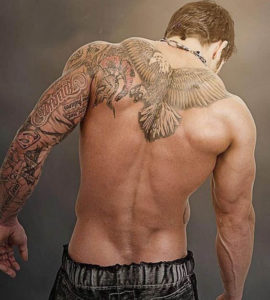 Eagles signify the masculine strength and hence, make a right choice for male back tattoos. You can clearly see a well-made eagle on the back shoulders. Also, the tattoo sleeve ideas can be combined to complete the look.
Rich & Colorful Tattoo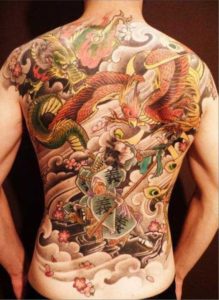 This design is an example of an elaborate and colorful tattoo with a particular theme. A man has been shown sailing in a boat which depicts the ship of life that sails through various struggles. The orange and red colors look bright and found great significance in koi tattoos.
Cute Little Tattoo for Girls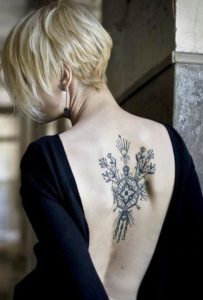 Looking for the pleasing girl back tattoos? Take a look at this small tattoo design which encapsulates geometric patterns, leaves, and flowers, giving way to a fabulous trendy look for girls. If you like, you can get some colors added to this design.
Warrior Angel Tattoo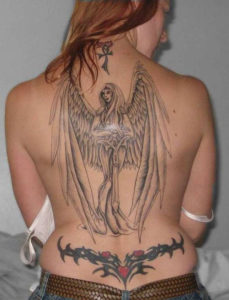 The angel tattoos always look very appealing whether applied on neck, arms, waist or back. This image shows a female warrior angel tattoo with a sword in a downward position. It means that you have been able to overcome the tough phase of your life.
Beautiful Corset Design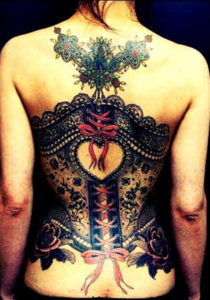 Who says you need to wear a corset to feel and flaunt its beauty? Try this excellent idea of a corset tattoo design! The beautiful crisscross laces and the print which resembles fabric give a real-looking corset appearance.
Pink & Black Bird Tattoo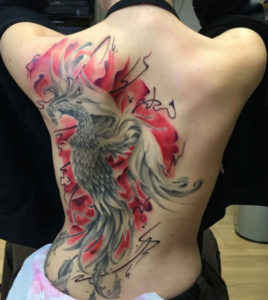 Black is a forever-in-trend color when we talk about tattoos! When it is paired up with other colors, it highlights the total effect of any design – be it in costumes, tattoos or anything else! This design has got a lovely pink-black tattoo with an image of a bird with a long tail.
Unique Tattoo with Great Creativity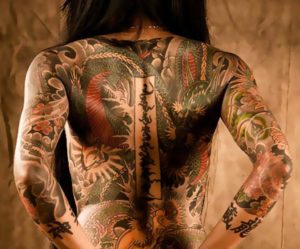 Cover your entire back and whole arms with this amazing tattoo! It has got a mix of various patterns including a snake figure, alphabets, flowers and several loops. The tattoo is carved so beautifully that it looks like a top covering the whole torso of a woman.
Feminine Beauty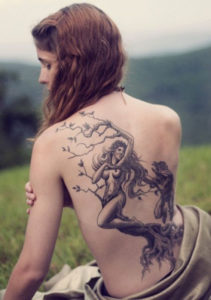 The tattoo artist has done an excellent job in this design. The tree has been personified as a woman here and shows feminine beauty in a graceful way. It highlights the fact that trees have a life too!
Lucky Feng Shui Cat Design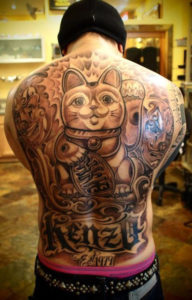 Get the benefits of Feng Shui in your life with this excellent design. It shows the lucky cat of Feng Shui which is believed to attract wealth, fortune & protection.
Simple Tree Tattoo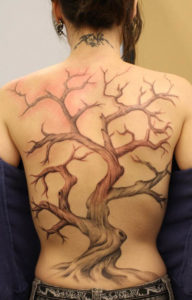 Decorate your back with this elegant tattoo design which has got a magnificent looking tree in it. The tree has got no leaves, and its branches scatter all over the back area, from shoulders to waist.
The Fish Tattoo Design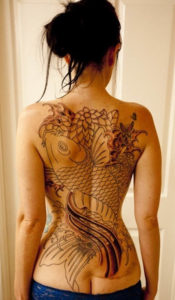 Want to add a marine theme in your back tattoos? Try this one! It shows a beautiful fish with small flowers and plants around it. You can also ask your tattoo artist to add some sea colors to this pattern. You should also try Koi Fish Tattoo.
Classic Floral Tattoo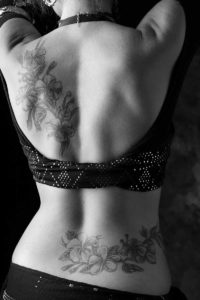 Why not get a classic touch with this lovely black floral tattoo! Get a floral vine on one shoulder and another at the lower waist side. Flaunt your tattoo with a beautiful backless top and low-waist skirt!
We hope you liked our top back tattoos. If you want to share your tattoo ideas, do write to us! We would love to see your creativity and tattoo art. Keep sharing, keep commenting!
Also Read: Tribal Tattoo Ideas.