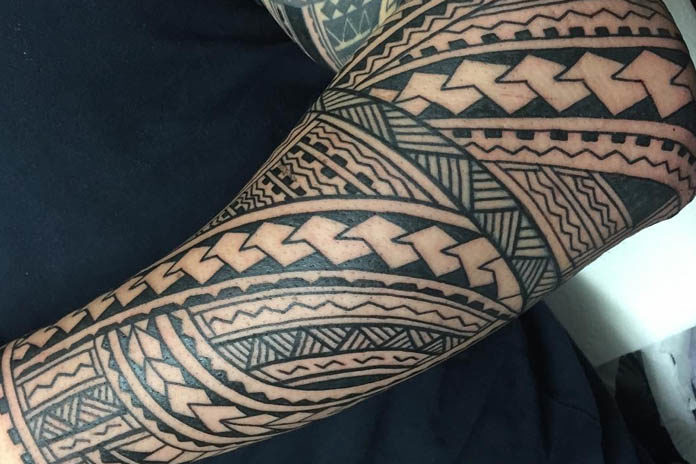 Tribal Tattoos – Your body can be a canvas. If you are one of those who truly love the art of tattooing, then tribal tattoos are a must try for you.Tattoo tribal designs are usually quite intricately detailed, and they are a form of art themselves. These inscribed tattoos have a significant cultural, traditional and sometimes even spiritual history.
Try these stunning tribal tattoo designs that signify strength, valiancy, and boldness.
Also Read : Amazing Angel Tattoos with Strong Message
Tribal Polynesian Tattoo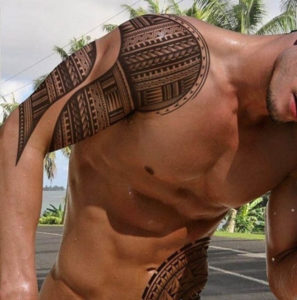 Turtle shells are usually an important part of tribal designs for Polynesian tattoos. These tribal tattoo sleeves have detailed feather like styles as well. A part of this tattoo on the waist signifies a tribal armor, while the sleeve is heavily detailed.
Armored Sleeve Tattoo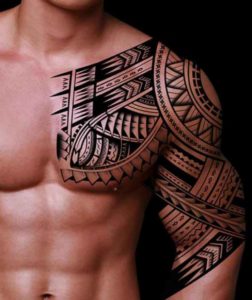 This tribal tattoo sleeve is absolutely gorgeous. Moreover, if you have been working out, this one tattoo is the perfect option for you. Solid black sharp lines, with shading and slight stripes, give it an edge. There are small fishes instead the tattoo with the armored designed that looks straight from a medieval war period.
Tribal Mask Tattoo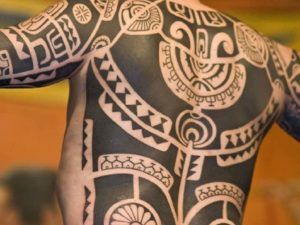 This is one of the most stunning tribal tattoos for those who want something unique and different. It is comprehensive with solid black color throughout the back that might be painful to get.
The tribal tattoo meaning is significant because it reflects the masks used by the tribal to protect themselves. If you are ready for more, go ahead and get a sleeve tattoo done as well.
But if you aren't into large tattoos, check out these special small tattoos.
Facial Tattoo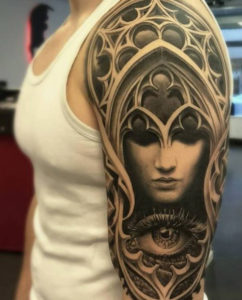 No, it is not a face, but it does carry a face. This is one of the most elaborate tribal arm tattoos. The 3D depth and detailing makes it appear that the lady in the tattoo has a beautiful crown. An eye indicates that the goddess is watching the world and taking care of you. This is one of the greatest tribal tattoo designs for men.
Polynesian Sleeve
A simple, but elegant tattoo tribal design straight from Polynesian roots. Simple red highlights truly bring out the brightness of a leaf like a dagger and a sword. The sleeve is on the top,
so you can easily cover it for going to work.
Also Try: Butterfly Tattoos.
The Sun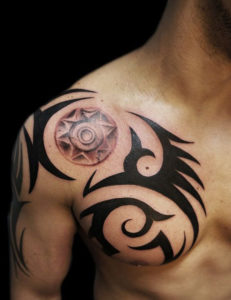 This Polynesian-themed tribal shoulder tattoo captures the strong aura of the sun. It is elaborately colored, and the sun with the chakra style is significant in bringing positivity and charm to your life.
The Fierce Tiger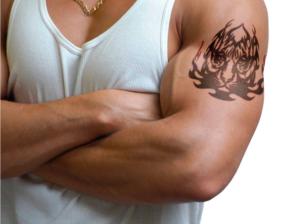 Be fierce, bold, strong and powerful like a Tiger. Reflect your animal aura with one of the best tribal tattoos. This tribal tattoo uses shading to show the fierceness of the tiger and has the whole flame and fire emitting from the face, reflecting the robustness of the animal.
Hawaiian Tattoo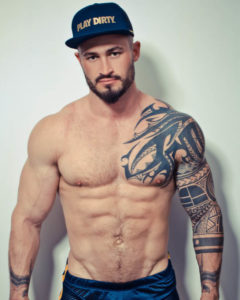 This Hawaiian inspired tribal tattoo design for men is difficult to get, but all your time and investment is worth it. The chest looks strong and blond with the Celtic-styled design. It appears as if an animal is looking for the prey. The tribal sleeve tattoo plays with lines and geometrical figures.
The Waves Back Tattoo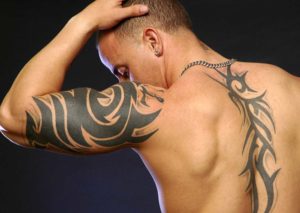 Elegant and beautiful, this is one of the best tribal back tattoos. It is an art-piece that reflects beautiful waves, which might even be considered as branches. The thin waves on the spine of the back are complemented with huge fillings on the biceps and triceps.
Polynesian Sun Tattoo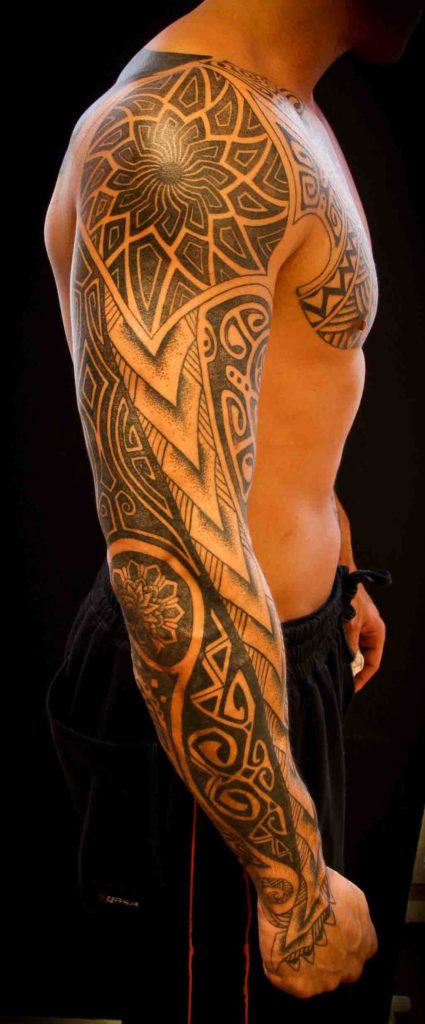 Polynesian tribal tattoos usually have a strong significance. Moreover, this one is the perfect example of the same. This tattoo uses flowers in correct proportion. The tribal shoulder tattoos' side has the sun and planetary design, reflecting that your behavior and personality can be affected by the same. Stark fillings and shadowing, with the pyramid style, makes it gorgeous.
The Artistic Snake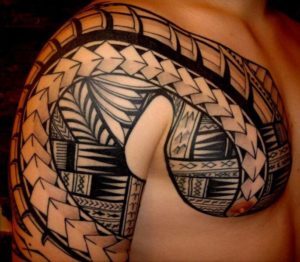 It is like a snake curling its fangs. This stunningly beautiful tattoo uses strong hexagonal shape to give the best tribal tattoo on shoulder, chest and arms a strong depth. The pyramid motion, with petals-like designs and slight shading, adds to the overall intricacy of the details.
The Warrior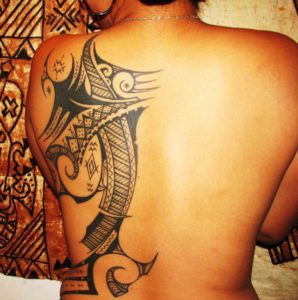 This abstract tattoo tribal can look like a Chinese hut at one side and a beautiful dragon warrior from the other side. Nevertheless, the ladder-like design on the mid-section, with curls at the end of each side gives it a vague meaning. You can decide what this kind of tribal tattoos mean for you.
Samoan Mask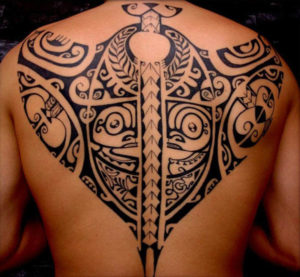 Samoan tribal back tattoos are known for their mask-like qualities. Moreover, this is one of those tribal tattoos for men that's a perfect example. Elaborate eyes and nose and lips are clearly visible. Making them extravagant is the rest of the design, which appears like an intuitive mask.
Tribal Neckpiece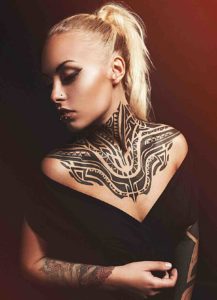 You never have to wear a neckpiece again with this kind of stunning tribal tattoos for women. This tattoo is simply stunning, uses nothing but black ink to create likes and geometrical figures across the neckline and collarbones. A great way to show off your love for artistic pursuits.
Flying Blades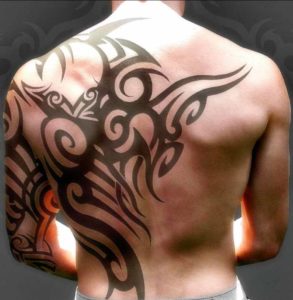 Ethereal and simply spectacular, this best tribal tattoo design looks like the blades from the bygone era. Those blades tend to have a circular shape with a roll-around at the end, which made them easier to use. Such curves are employed with this tattoo as well, which extends down the arm for superior style.
The Shaded Sleeve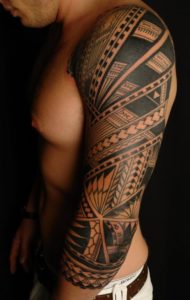 Taking inspirations from abstract geometrical shapes and tribal warfare is this tattoo tribal that can cover up your entire arm like a piece of canvas. The shading and coloring in black give it a universal appeal and makes it easier to maintain as well.
Reaching enlightenment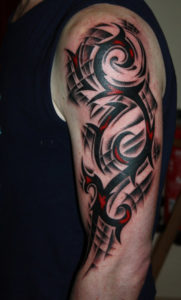 The stripes and circular patterns move beautifully as if the person with the tattoo has attained a whole new state of calmness and tranquility. Slight red colored shading and fillings on the curves bring out the tattoo and avoids it from looking dull at any time.
The Turtle Sleeve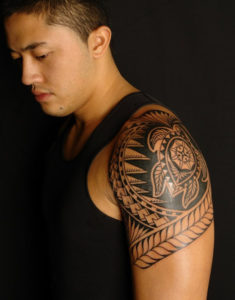 This is an amazing tribal tattoo that makes an exceptional use of a turtle. The tribal sleeve tattoo features a turtle with the shell that's straight off the nature theme. The use of a leafy design throughout adds a theme to this beautiful tattoo.
Erupting Flames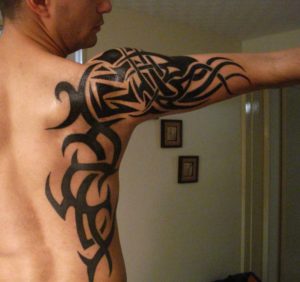 Erupting in flames is this tribal tattoo design that has a special tribal tattoo meaning as well. The meaning behind this tattoo is that it reflects masculinity and shows fire as a sign of passion.
So, if you are in love, this design can be for you!
The Shaded Wonder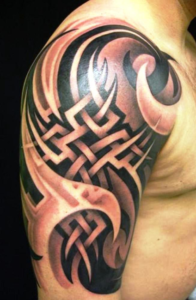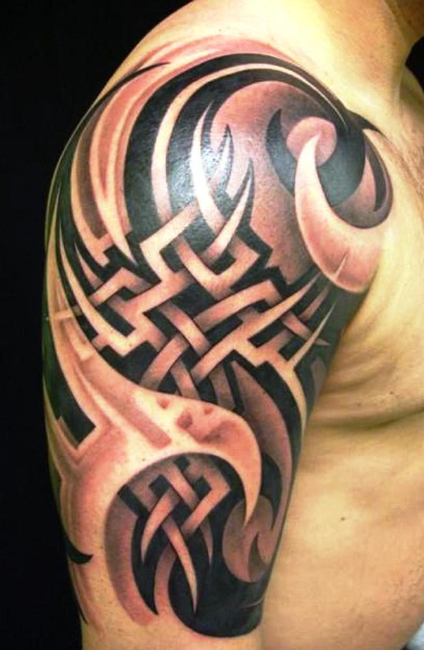 The sword keeper style of tribal tattoo has a double shaded design, using red along with black because the colors gel together in unison. The beautiful rectangular themed section with lines appear to be swords keeping equipment that makes it more alluring and deeply tribal in nature.
The Aura Reflection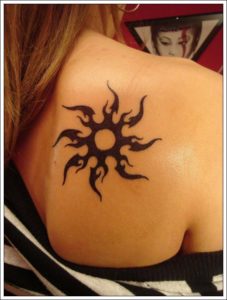 This is one of the simplest and beautiful tribal tattoos for women that's aimed to capture a positive aura. This tattoo includes the sun and the rays that seem to be reaching every part of your soul. This enchanting tattoo is simple and can be covered up whenever needed.
The Fierce One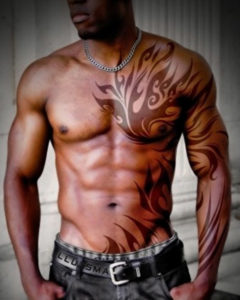 The design of this tribal arm tattoo is such that it reaches the chest, and it appears like a wolf is howling. The elaborate style of the design, coupled with its complementing theme throughout the entire torso makes it a must-have for those who love tattoos.
So, which of these tribal tattoos is your absolute favorite? Share below!
Also Read : Angelina Jolie Tattoos that will Inspire You