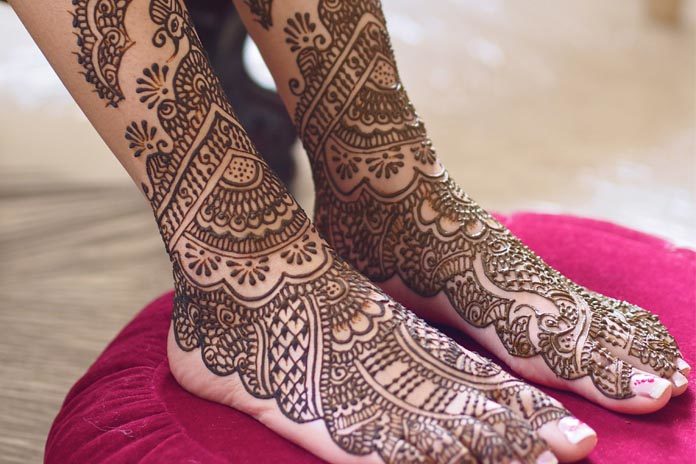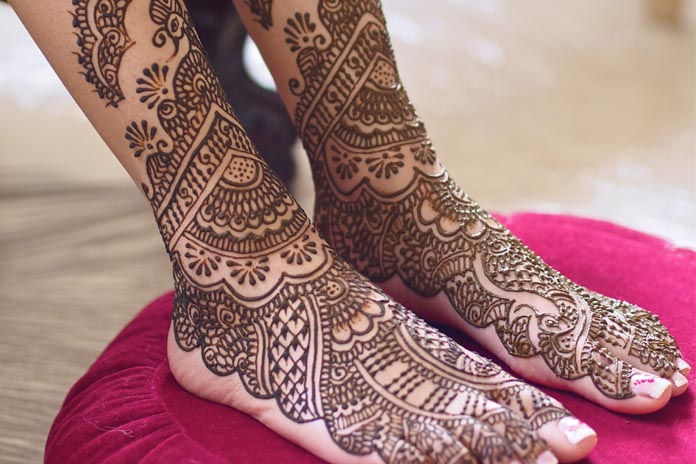 Foot Mehndi Designs – Be it for the bride or the bride's friends or relatives, the mehndi designs for legs are always used to brighten up the feet! Applying these mehndi models is an art and having such designs on feet is an enjoyable experience!
Just scroll down to check out our 15 beautiful foot mehndi designs and try one, today!
Also Read : Top 20 Engrossing Pakistani Mehndi Designs
Traditional Foot Mehndi Design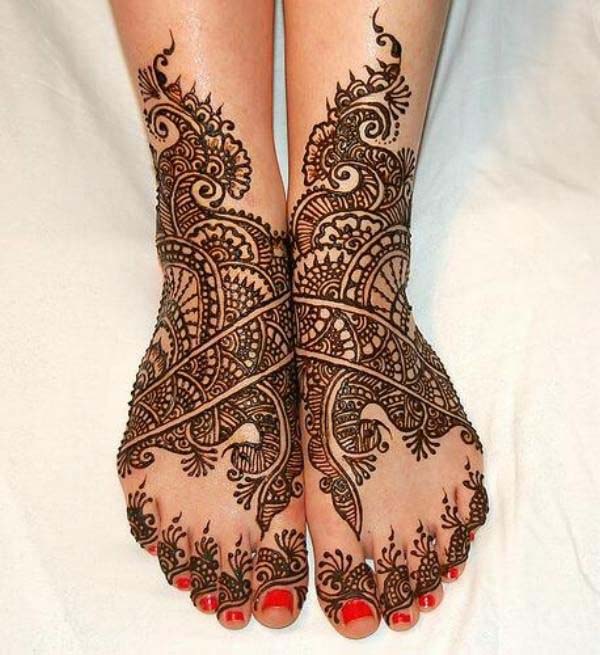 The beauty of traditional henna patterns never loses its charm! The image exemplifies the same! The beautiful design encompasses peacock figures, leaves, dots and floral pattern together.
The exposed skin left just above the toes highlights the unusual symmetrical design on the toes. The vibrant red nail paint completes the bridal look as red symbolizes festivity and happiness.
Foot Mehndi with Different Figures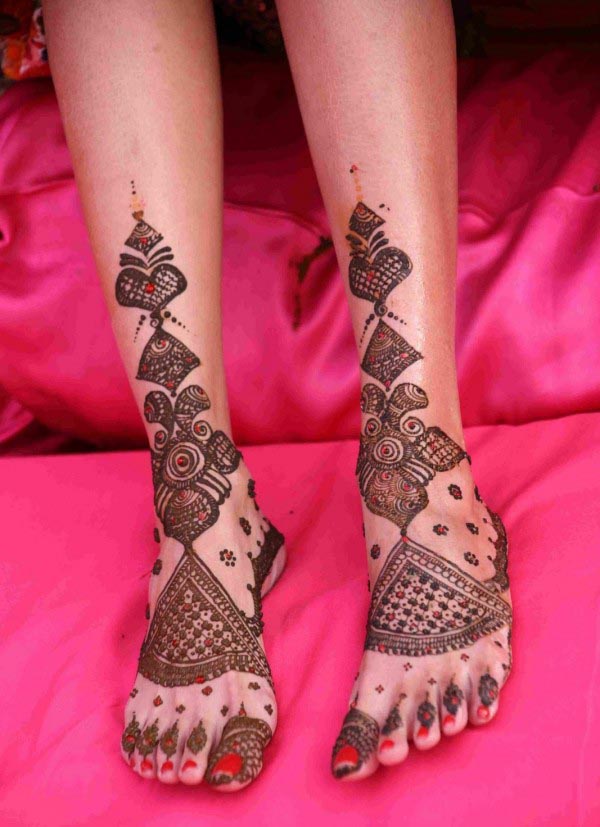 The mehndi artist has imaginatively used various pictures in this exotic henna pattern. You can notice the beauty of decorated triangles, hearts, circles and flowers in this design which look like an interesting geometrical henna pattern. Also, the small bunches of dots, imprinted in a zigzag manner all over the feet, look pleasing.
Intricate Foot Mehndi Design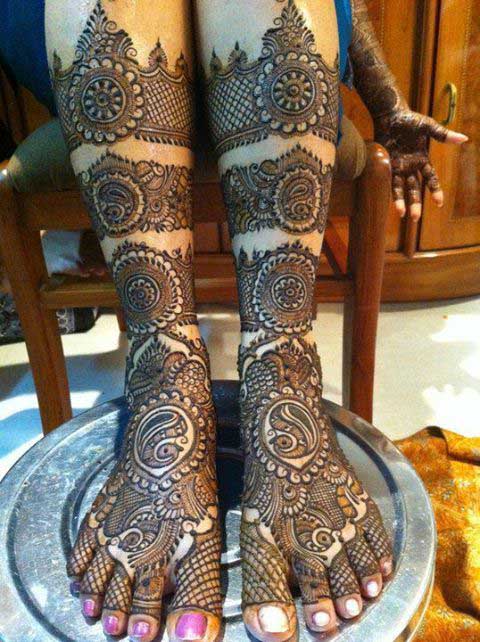 The brides often prefer mehndi designs for legs that give a fuller henna look to their feet. This sophisticated henna pattern can be one of the best options for brides who opt a gorgeous look for their feet. The vertical pattern with circles, the peacock figures and the net on toes all look so versatile and stylish in the form of this henna design.
Elegant Henna Foot Designs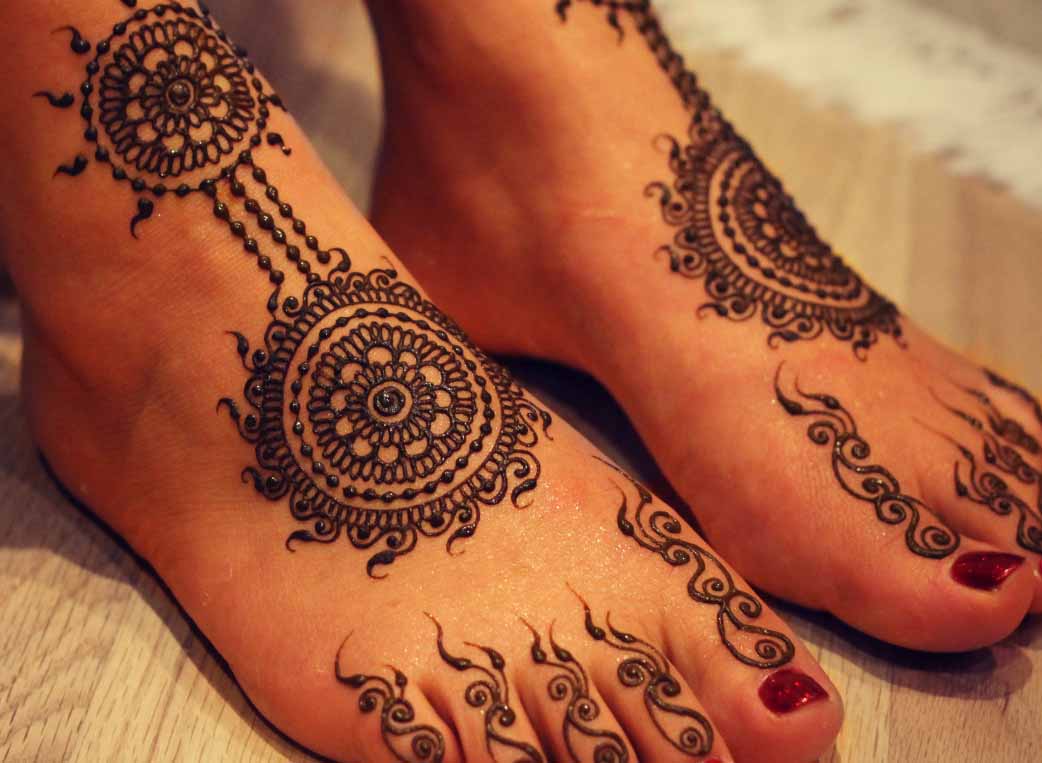 The beauty and grace of this design lie in its simplicity. Two bold and decorated circles are the highlights of this foot henna. The embellished chain connects the two rings in a beautiful manner while the toes get an excellent look with leaves and mango shapes!
Combination of Geometric & Traditional Henna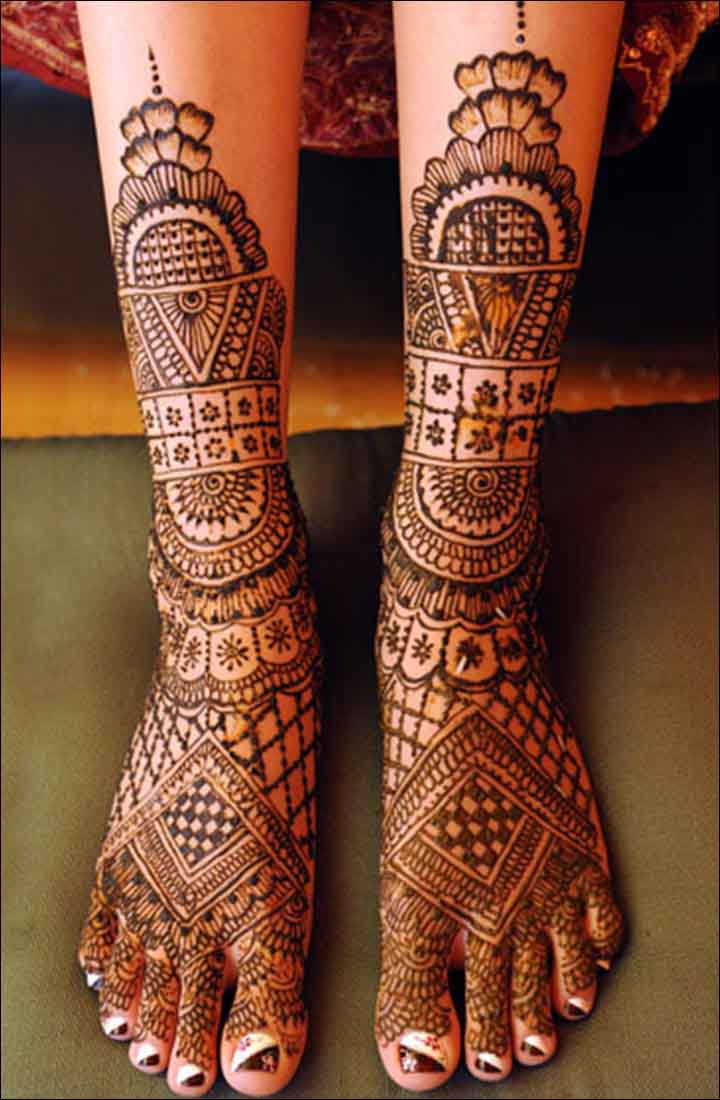 Any bridal mehndi design for legs that has got some unique feature always captivates immediate attention! Moreover, the uniqueness of this design is its distinct combination of geometric henna pattern with traditional mehndi design. Such foot henna designs with a twist always give an excellent look and also show your tasteful choice!
Simple Arabic Mehndi Designs for Legs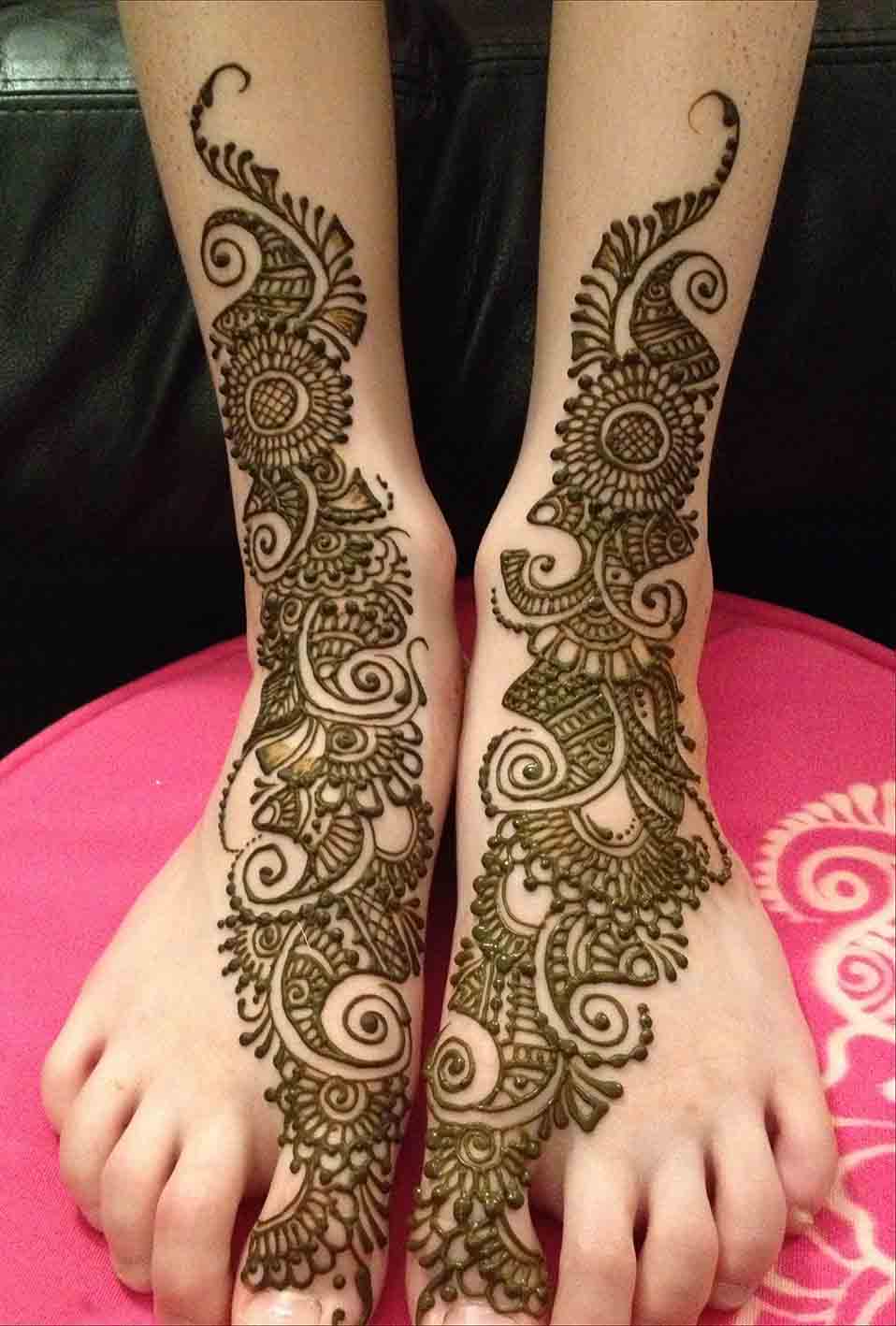 It is a common yet beautiful Arabic henna pattern for your feet. This narrow design of henna that begins from the main toe and stretches forward involves delicate structures comprising leaves, flowers, paisleys and dots.
One of the advantages of applying this foot mehndi design is that you can combine it with any beautiful finger mehndi design if you wish for a fuller henna look for your feet.
Also Read : 16 Top Arabic Mehndi Designs To Try Out For All Occasions
Enchanting Henna for Bridal Feet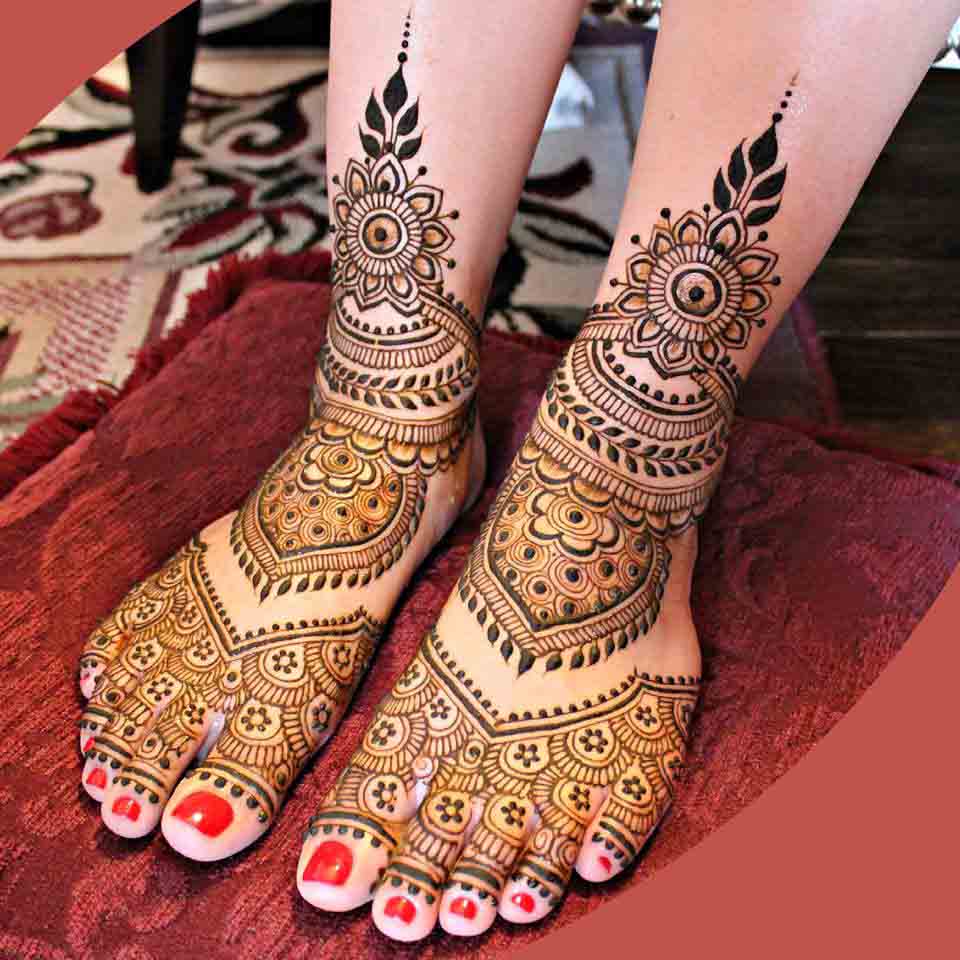 The bridal foot mehndi designs need to have beauty and fineness in them. This alluring henna pattern has been made with expert hands. The design includes mini floral patterns, medium sized flowers and two bold flowers in it.
The leaves filled with henna on the top of design highlights the overall layout. The small dotted lines at the edges of toes also look great and provide a look of the crown for the bridal toes.
Unique Foot Mehndi Design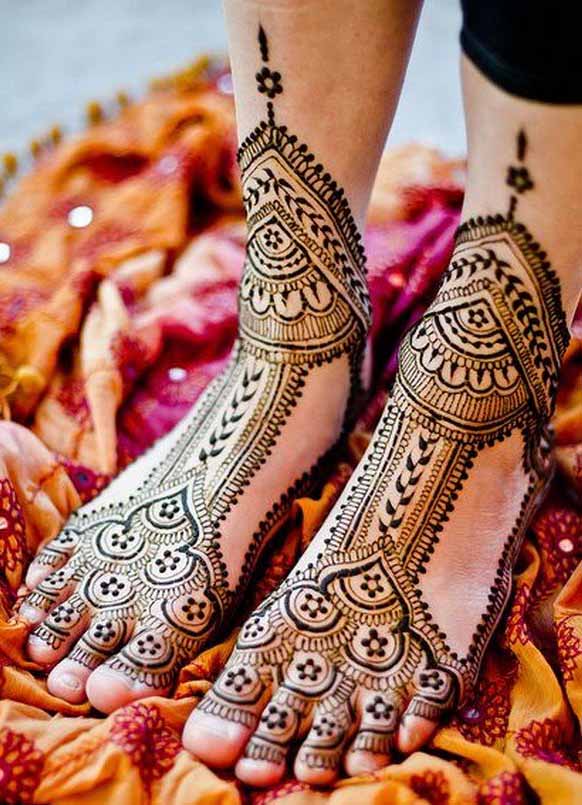 This mehndi design of foot is fresh and innovative! It has got a mix of the modern pattern along with the traditional henna art. The small flowers, embellished mini leaves, the strap kind of pattern that connects the front foot area with the back area all look so engrossing and gorgeous in this henna design.
Beautiful Foot Mehndi Design with Paisley Print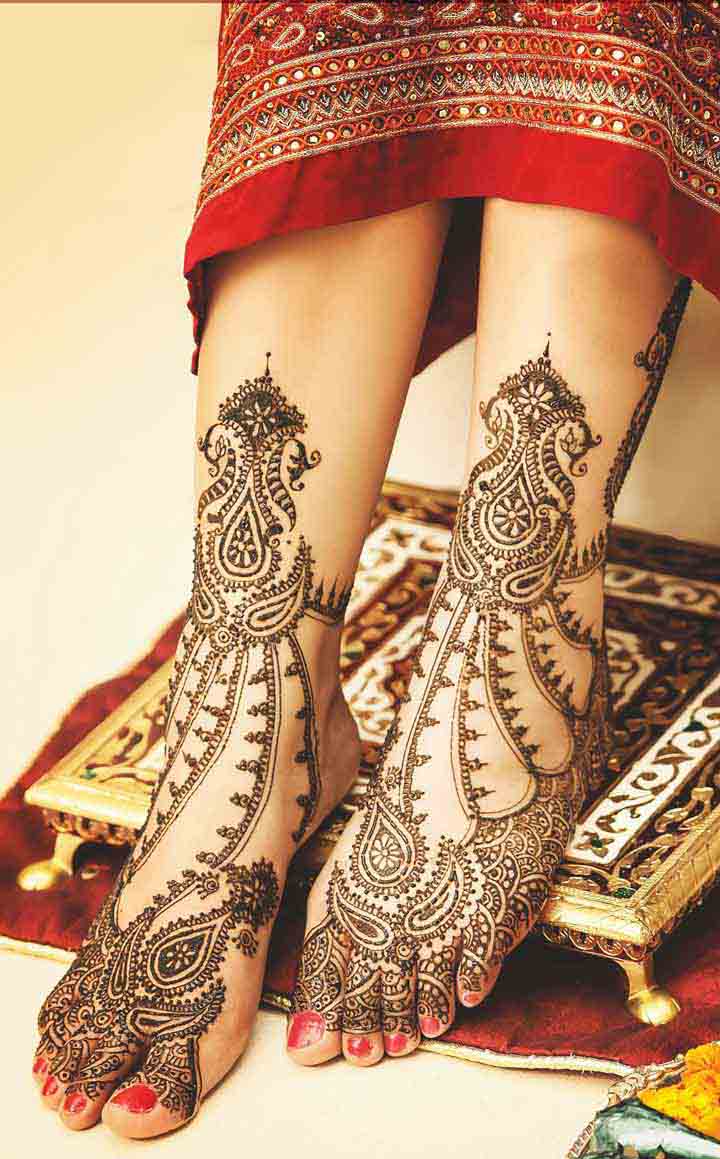 Many simple mehndi designs for legs have their beauty. Just take a quick look at this mesmerizing pattern of henna which includes the paisley print. The intricacy and fineness of this design make it a perfect option for brides who want a simpler yet beautiful henna look for their feet.
Geometrical Henna Pattern with Embellished Edges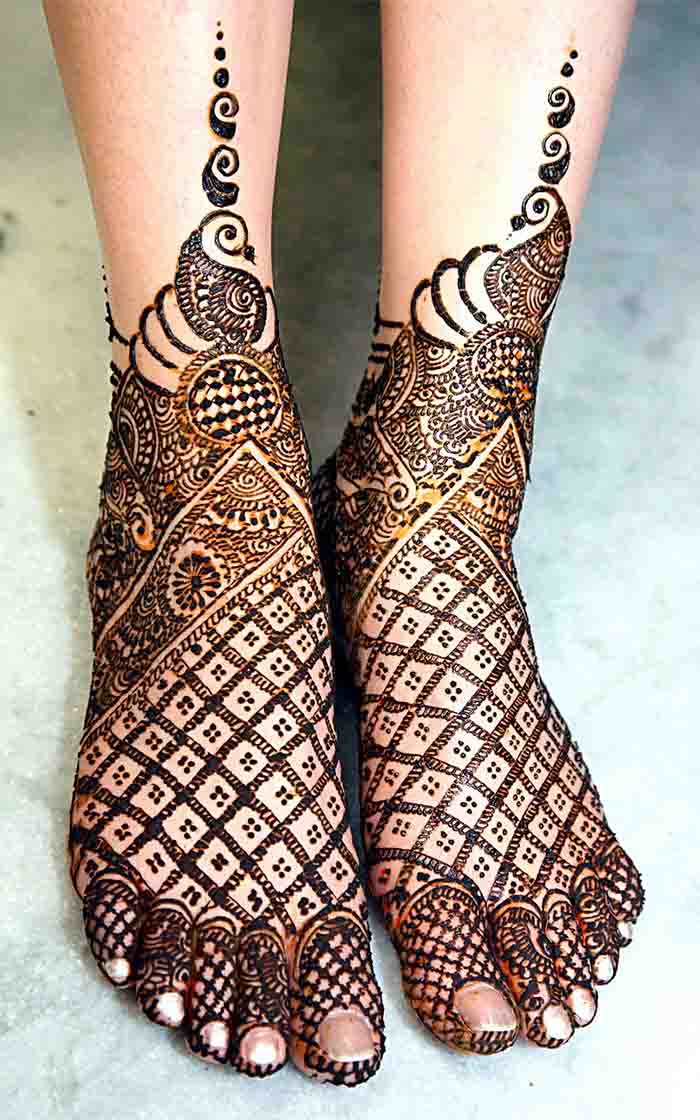 The truth about henna designs is that the more you use your creativity, the more enchanting the design looks! By making little changes in the basic models, the mehndi artist has provided a whole new look for the feet.
The center of attraction in this pattern is the embellished net which lies beautifully on the front foot area. The geometrical design henna is surrounded by decorated edges on the top.
Short & Sweet Shaded Henna Pattern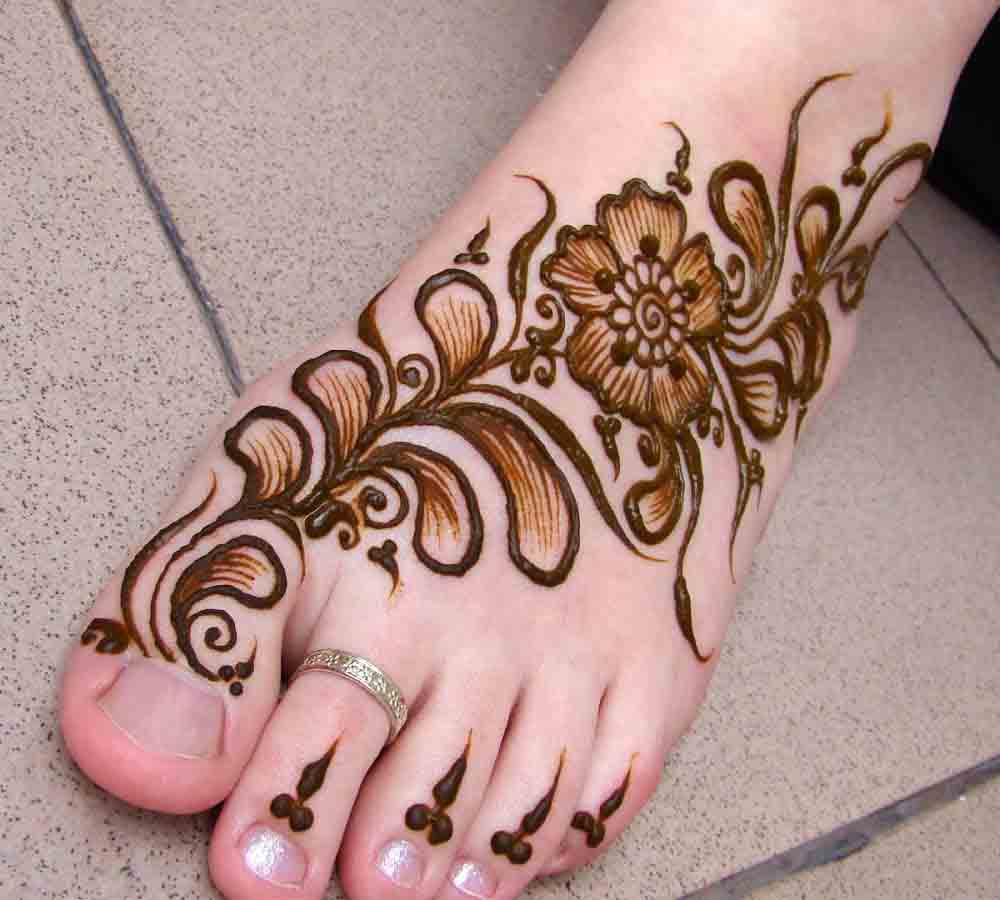 Are you planning to attend a wedding or looking forward to a small get together? Whatever the reason for celebration is, the point is to add some festive feel to your appearance! So why not apply this cute foot mehndi design to add a feeling of celebration to your aura. The design looks pleasing and is easy to use too.
Rich Look for Feet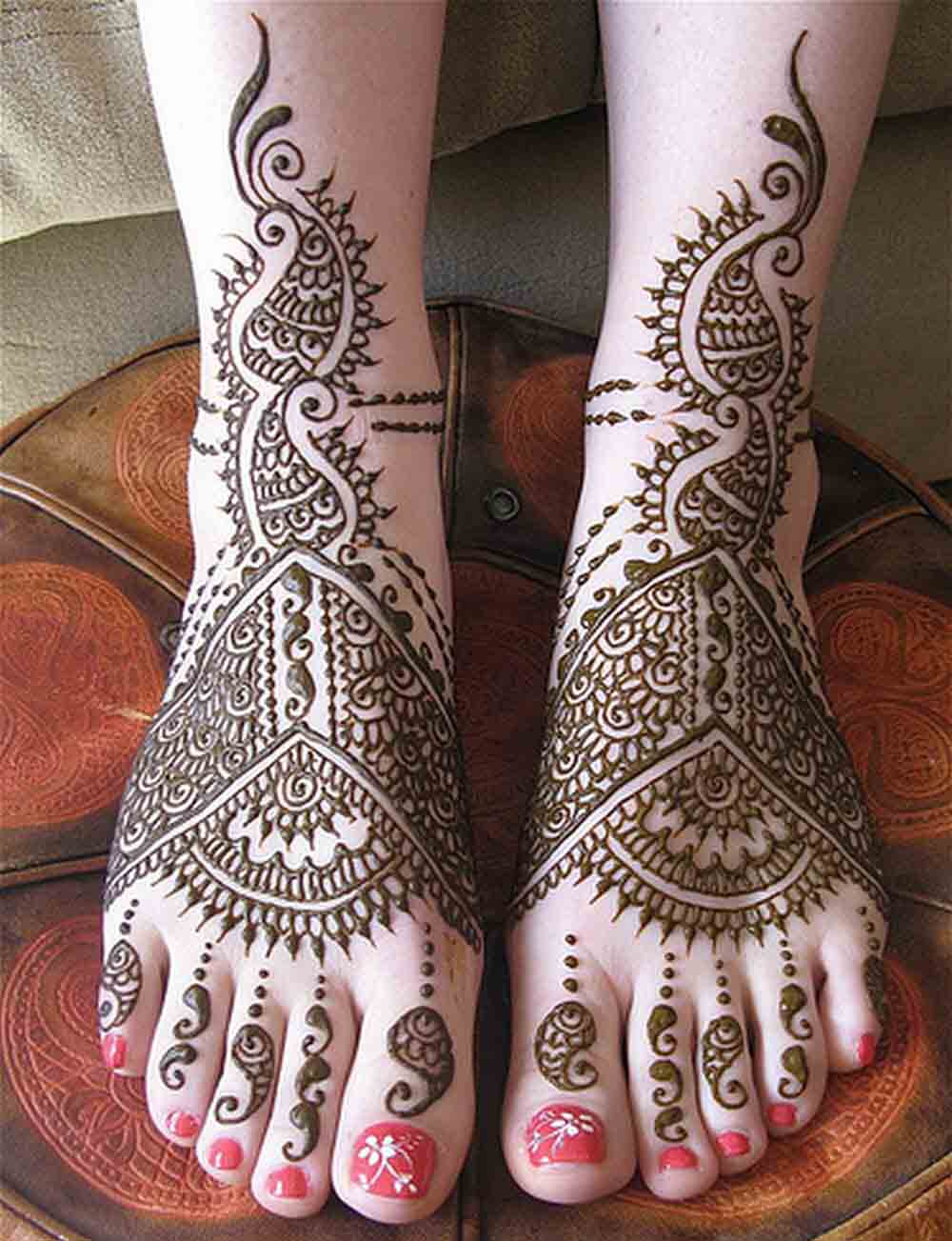 Get an impressive and exciting look for your feet by applying this beautiful henna design. The swirls, loops, small leaves and paisley, all have been used in an innovative manner in this vibrant henna design for feet. The white nail art along with a bright colored nail polish also looks great with feet having henna on them.
Elegant Henna Pattern with Shading Technique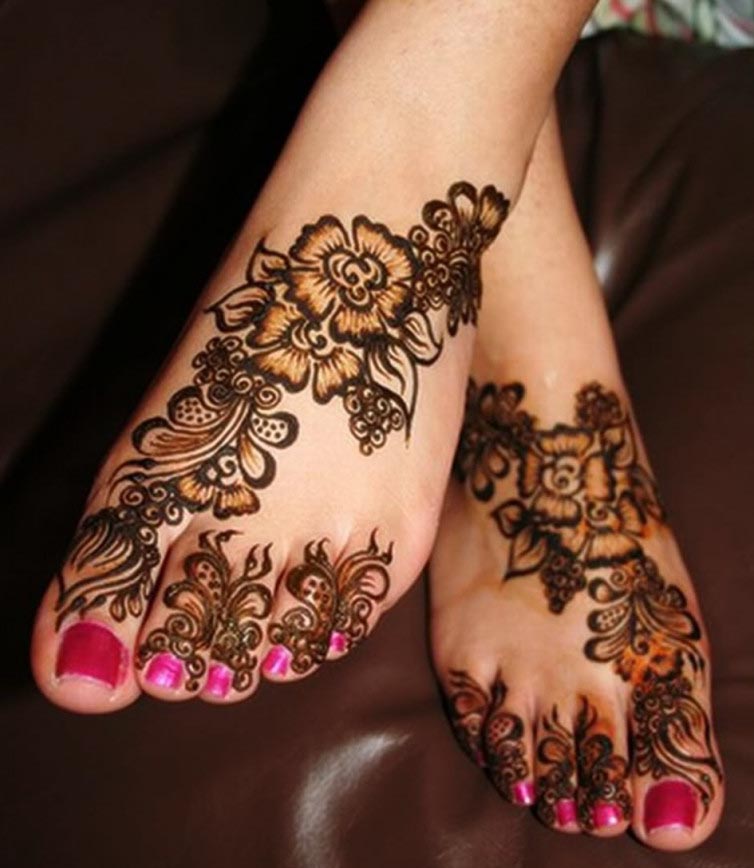 This graceful henna design has been made using the shading technique. Providing a shaded look in henna designs is simple and easy. All you need is a little practice for the same. By smoothly sliding cones from sides, you can add a shaded look to any mehndi design.
Elegant Henna Pattern with Shading Technique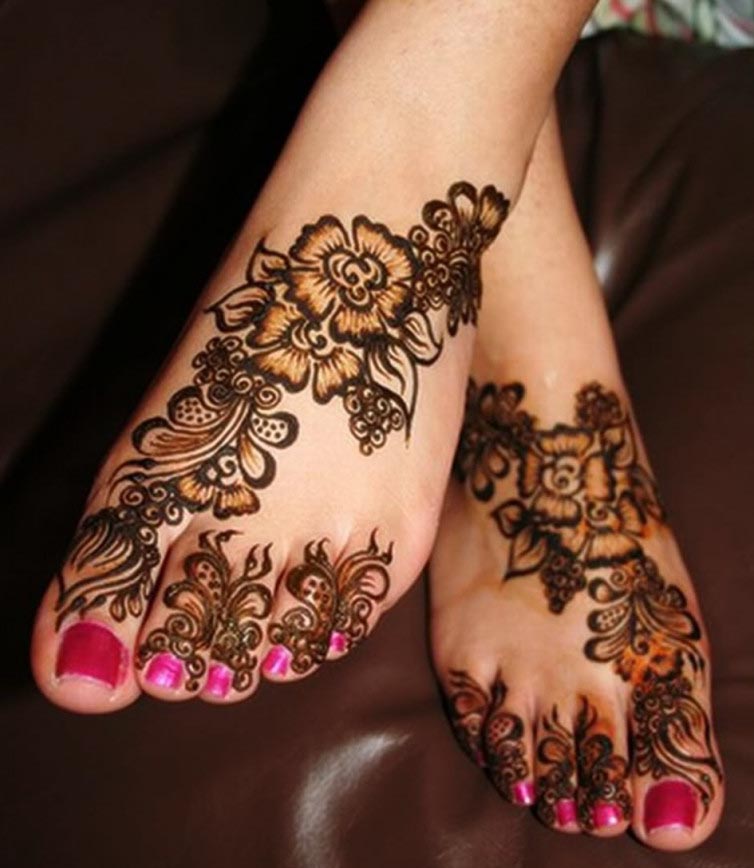 Though this excellent henna design covers a larger area of legs but the design is delicate and feminine in its linear flow. The small paisley prints and the different mini patterns on toes are the main features of this design. Such layouts of henna give you the benefit of adding your creativity to them. So try this design with some glitter or fill it with black colored henna at few places to accentuate the whole look.
Sophisticated & Alluring Pattern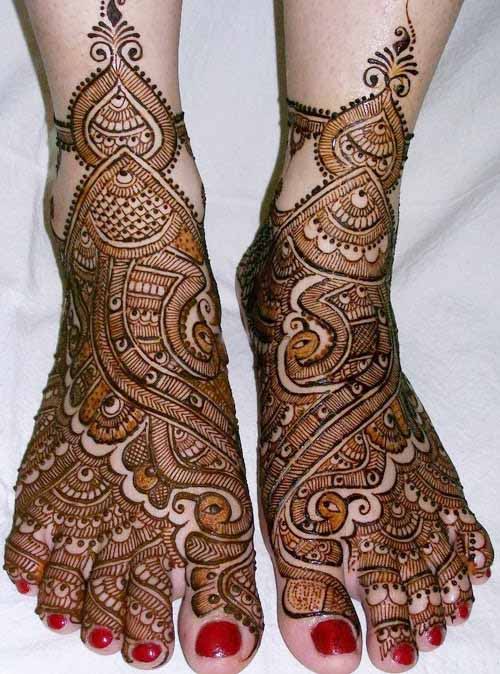 If your wedding is in the air and you are looking for some amazing mehndi patterns for your feet, just take an eye on this particular design. It has been made with sophistication and expertise. This compound and a beautiful pattern of henna demand an expert's attention. You can save this design as an ultimate option for your bridal feet.
We hope you enjoyed checking out these fabulous henna designs! By the way, if you have got your idea about a foot mehndi designs OR if you have tips for mehndi art, do share your valuable inputs with us! We would love to hear from you!
Also Read : The Best Mehndi Designs for Hands
10 Inspiring Mehndi Designs for Kids