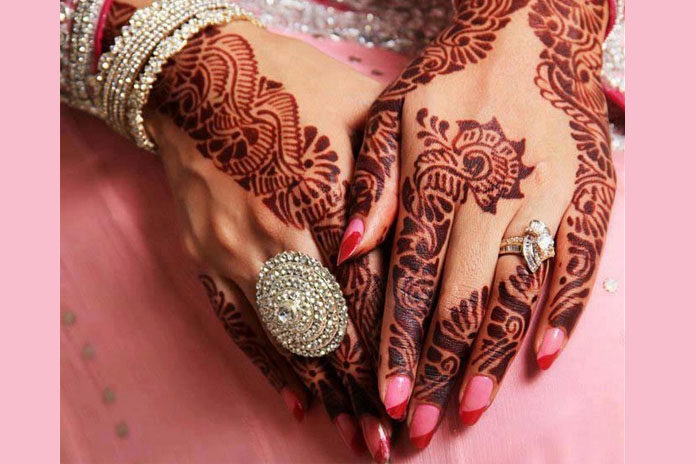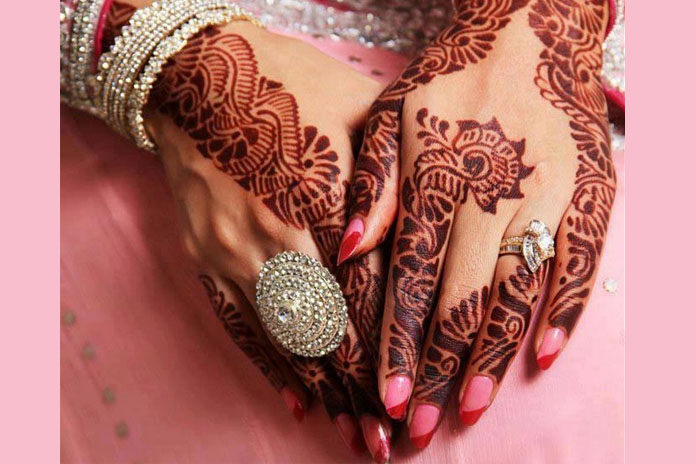 Arabic Bridal Mehndi Design – This wedding season, why not epitomize your bridal beauty with some unique Arabic bridal mehndi designs? These designs have their own uniqueness, beauty, and glamor which make the bride feel and look unique. Our collection of 12 Bridal Arabic Mehndi designs will surely steal your heart with their incredible beauty and art!
Intricate Paisley Print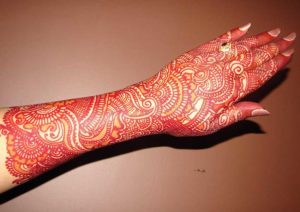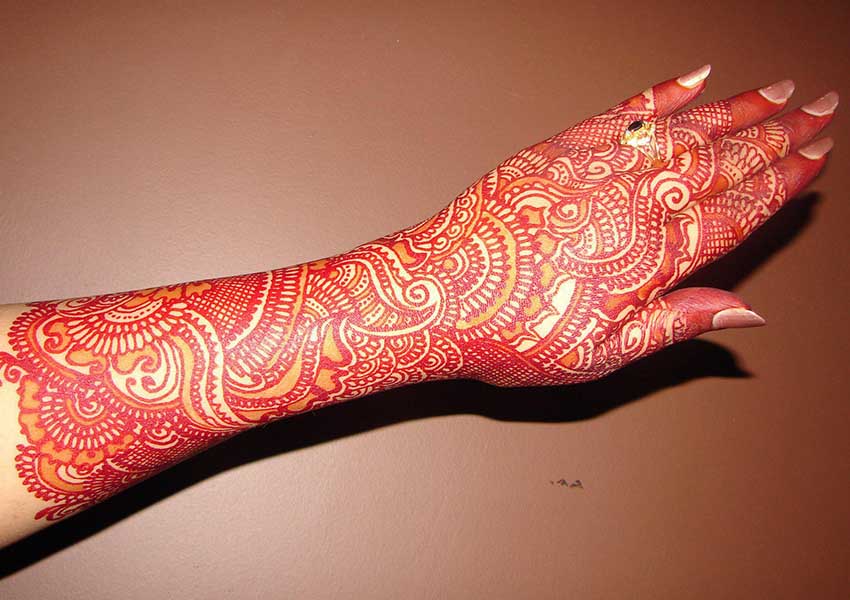 This intricate paisley print with curved motifs and beautiful net henna pattern weaved at various places looks fabulous on bridal hands. This Arabic bridal mehndi design covers full hands of the bride and looks aesthetic and appealing. The design can also be extended till the arms if the bride opts to wear a short sleeved or cap sleeved dress.
Complex Henna Design for Feet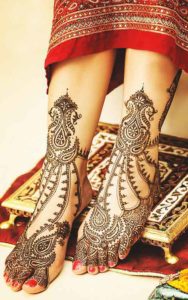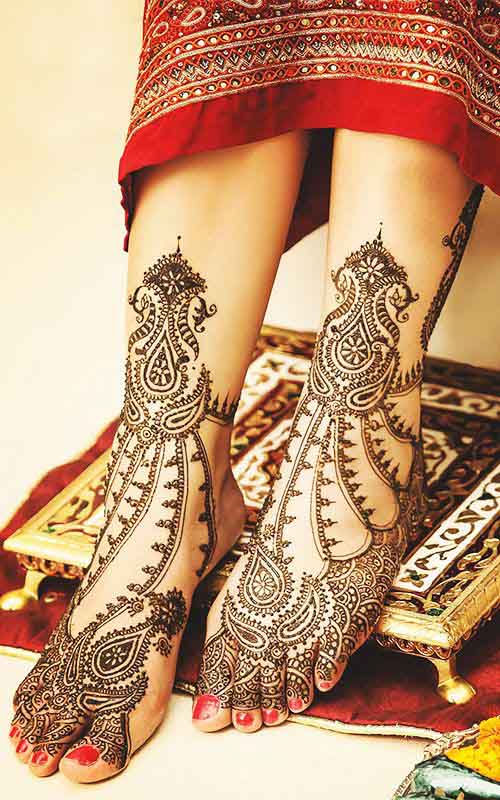 Your search for beautiful bridal Arabic henna designs ends here! If you are mainly looking for feet pattern, try this impressive combination of swirls and loops. The whole design gives an embellished anklet look that is just perfect for a bride!
Also Read: Feet Mehndi Designs.
Arabic Mehndi Design with a Twist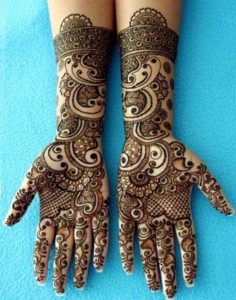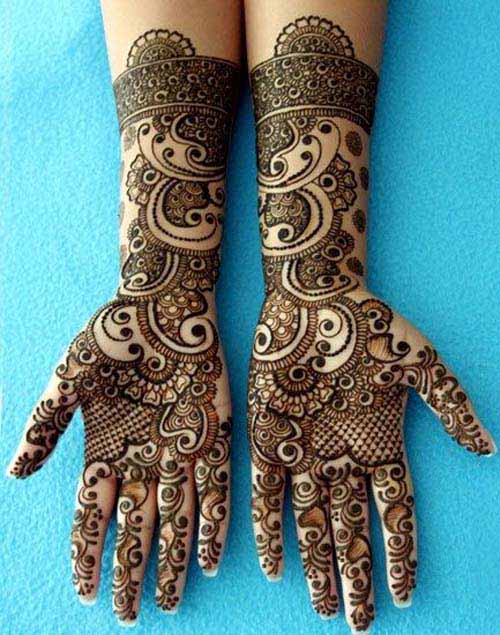 Most of the Arabic bridal henna designs end with a narrow pattern towards the arm, but this one is completely different as it has got an equal pace and fashion all over the hands. The bootis (mango shapes) and net have been combined beautifully in this design.
Interesting Swirls & Lines Pattern
Some bridal Arabic mehndi designs are simply stunning, and this one exemplifies the same! Just take a look at this beautiful pattern wherein the swirls and lines have been used in an innovative way. Also, space has been left creatively so that the bride gets to wear her charming scintillating bracelets at the right place!
The Heart & Rhombus Pattern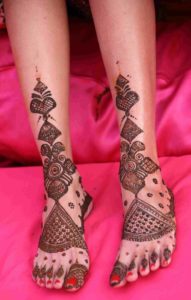 You do not only get an appealing look in bridal Arabic mehndi designs for hands alone. Rather, you can also find innovative henna patterns for feet too. The brides can use this excellent Arabic design to beautify their feet. The plan includes rhombus, heart, circles and a bold triangle full of details.
Enthralling Floral Motifs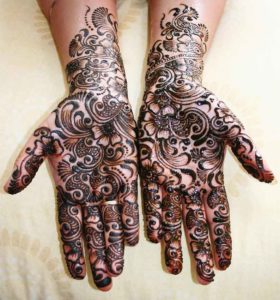 Floral motifs are always an important part of Arabic bridal mehndi designs as well as Pakistani Mehndi Designs. These themes can be used artistically in various henna patterns. Depending on the skills of the mehndi artists, the bride can get a desired and captivating look for her hands and feet.
Vertical Pattern for Full Legs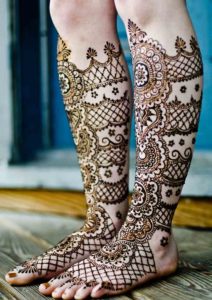 The Arabic bridal mehndi designs are available in a great variety. The image shows mehndi design for legs. The legs are covered with Arabic style henna in a vertical pattern. The feet are covered more with the net pattern while a complimenting design has been intelligently put on the legs.
Fuller Feet Look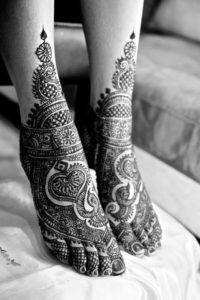 This design can be applied on feet as a perfect bridal Arabic mehndi pattern. Though only the feet have been covered thoroughly in this style of henna but still it gives a pleasing fuller look for bridal feet.
Beautiful Bridal Henna Design for Feet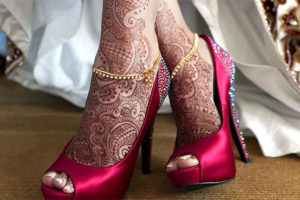 As you can see, this henna pattern is designed keeping in mind the peep-toe shoes. Yes! The nails are not covered with henna in this pattern. The small flowers and leaves are the key features of this design. The magenta colored shoes can be paired up with the nail paint of the same color to get a glamorous look!
Graceful Arabic Pattern Mehndi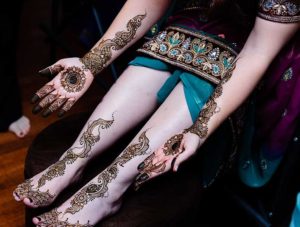 If you want to cover your hands and feet in Arabic mehndi patterns that complement each other, try this one out! The foremost reason for the popularity of such designs is their simplicity and grace. Also, such designs leave more exposed skin, thus, giving a simple yet attractive look.
Henna with Glitter & Stones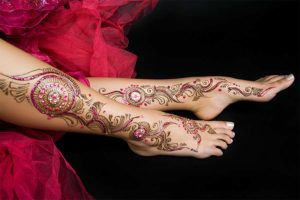 Accentuate the look of your mehndi with this excellent combination of glitter, colored stones and of course, henna! Being the bride, you have all the right to look fabulous in whatever way you can! So why not avail this opportunity to look your best! The dark pink colored stones and glitters have been used imaginatively in this henna pattern which compliments your bridal attire.
Gorgeous Mehndi design Covering Palm & Wrist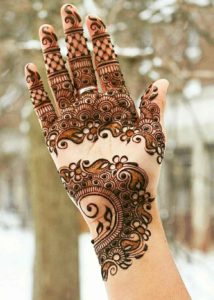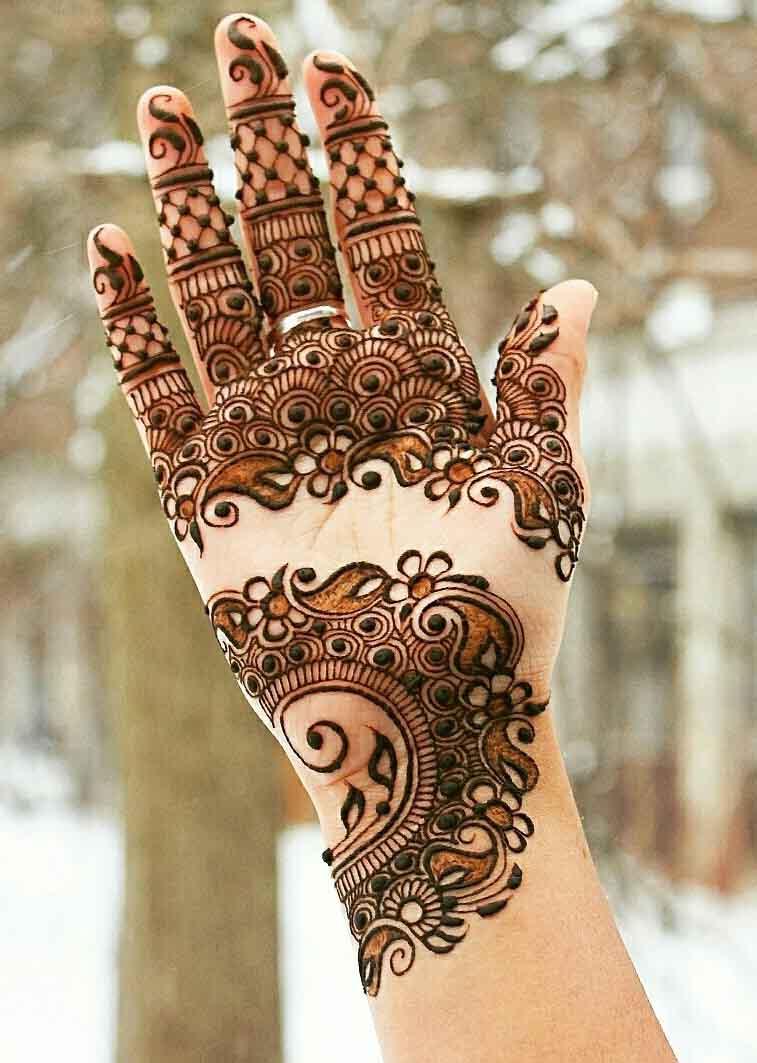 Henna can be applied on various festive occasions or during different celebrations. You can even use a simple regular henna pattern in normal days too. So turn an ordinary day into an extraordinary one by applying this cute henna pattern which leaves exposed skin in the form of an arch between your palms and otherwise gives your palms a pleasing appearance!
To get the best look from Arabic bridal mehndi designs, get them imprinted on your body with the help of an expert only!
Try one of our designs today and let us know how you feel about it!
Also Read: Mehndi Designs For Fingers