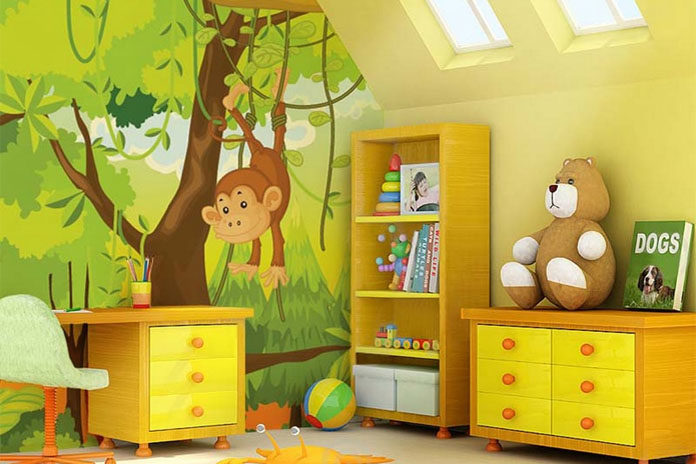 Kids Bedroom Ideas – Designing your kids room can be hassling. After all, kids and adults have different tastes when it comes to interior décor. So, we have combined designs for kids bedroom that are universally appealing, creative and prompt your children to be more imaginative!
Related: 25 Small Bedroom Ideas To Make It More Expensive
Create Accent Walls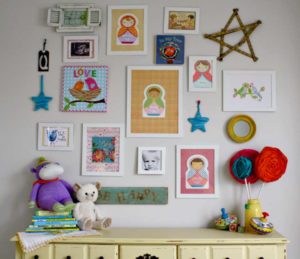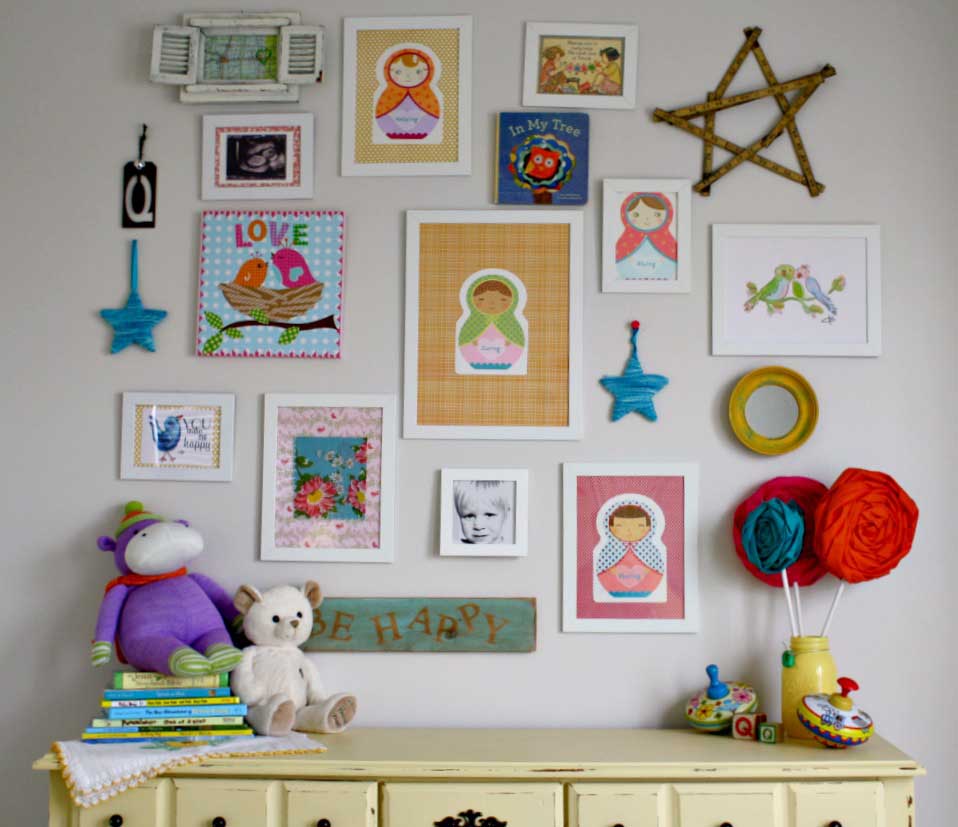 Inspire your kids with accent walls. Choose monochromatic or colorful themes as these walls act as mini art galleries that boost the ambiance of your kid's room. Use family pictures, inspirational quotes or pictures to create such wall accents. Overall it's a one of great kids bedroom ideas and quite affordable!
Also Read: Bedroom Wall Art Ideas
Use Patterned Accessories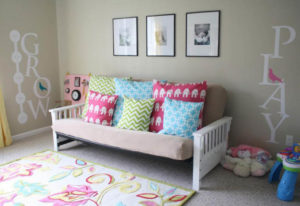 Since kids bedroom ideas are supposed to be cheery and colorful, accessorizing them with patterned accessories is an amazing kids bedroom idea. It adds positive and playful vibes to their rooms. Use vibrant cushions with floral rugs and funky wall decals for creating a playful space for your kids.
Old is Gold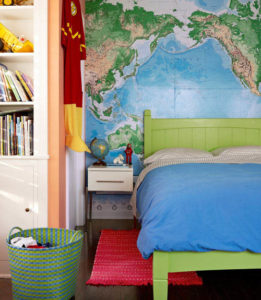 Start accumulating fully functioning furniture items, as they would come handy during your child's growing years. It is one of the most amazing bedroom decorating ideas for kids, as it saves money and uses old furniture items to give a colorful and eclectic look to your kids bedroom décor.
Handmade Décor Accessories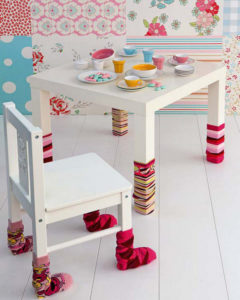 You don't necessarily have to be super intelligent person or a professional DIY person for creating little details by hand. Use vase, decal stickers, photo frame or a lamp shade and use your creativity. And the best part is that such items are inexpensive. Plus they add character to your kids bedroom ideas.
Go Colorful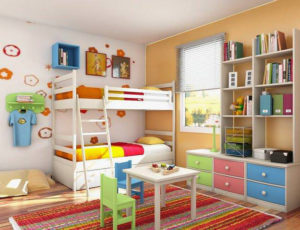 Why to color all the walls of your kids room and waste time and money, when you can do better by coloring your kid's crib and other accessories. Use your creativity to design and color their cribs and beds. In general, horizontal and vertical stripes works for all occasions. This is also an ideal option if you do not have time to paint their room's walls. You can apply this theme to home office also.
Chose the Wall Decals Smartly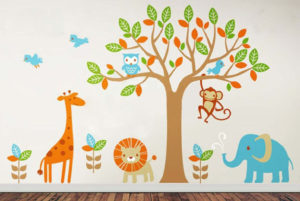 Not every wall decal that you or your kid may like can be placed on the walls of your kids bedroom. Choose big wall decals, which can instantly blend in with the theme of your kids room's décor and add to its overall drama. Walls decals are great bedroom decorating ideas for kids for adding texture and color to their walls. You can choose regular or custom sizes based on your needs.
Chalkboard Backdrop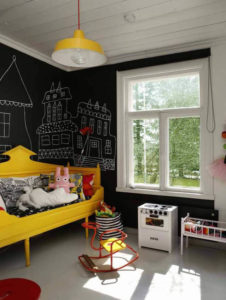 Color, one of the walls in your kids bedroom with chalkboard paint, to convert it into an interactive backdrop. Having a life-size chalkboard allows kids to explore their creativity or practice their homework. One way or another, your kids will remain engrossed and happy.
Green and Pink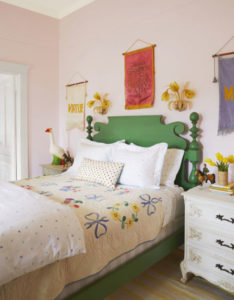 When it comes to girl's room, colors pink and green work the best. For revamping kids room décor, get hold of a traditional country bed frame in the shades of green and color the walls in pink hues.
Give more contrast to the room by having an antique, minimalistic quilt paired with contemporarily printed bedding. You can even use glass sconces and banners hanging above the head in order to infuse the space with a character.
Contemporary and Vintage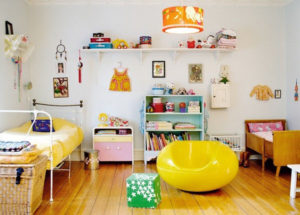 For those kids who like rustic décor, use a combination of contemporary and vintage bedroom decorating ideas for kids to come up with something stunning and spectacular. You can make use of folk embellishments such old signs, flags, stamps, vinyl records etc.
To create a rustic feel whereas make some contemporary tweaks too here and there like some funky wallpaper or ceiling artwork to make your kids room look awesome. The idea is to let the room appear fresh and inviting.
Also Read: Rustic Farmhouse Decor For Your Home.
Eternal Sophistication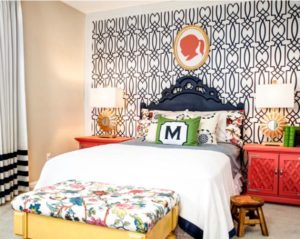 To maintain the soberness of any room, it is essential to set up a theme to decorate it without having planned it thoroughly. Use foundation colors such as white, beige, blue, pink, etc. in combination with other striking colors to create a bright and sophisticated environment. Use a smart yet sober wall coverings to match with the décor setting of your kids bedroom.
Have Growth Chart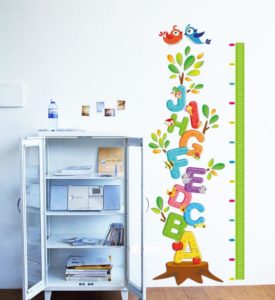 Every kid likes to measure his/her height in order to keep a track of their growth rate just out of fun. So instead of measuring their height with an inch tape every time, you can just have a smart looking growth chart with eye-catching framing and theme pasted on one of the walls of their room. In this way, the kids can measure their heights whenever they want and keep track of by marking on the chart.
Storage Closet Cum Art Space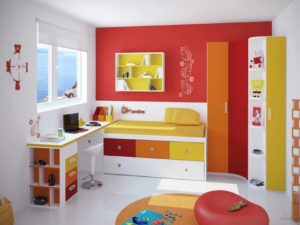 Storage closets without any artworks pasted on it look just bland. So, decorate the one in your kid's bedroom with magnetic boxes, mirrors, light boxes, etc. so that your kids have fun playing with it. They can trace pictures, display their art projects anytime they want. Such activities aid in boosting the creativity and intelligence of your kids.
Have A Separate Play Area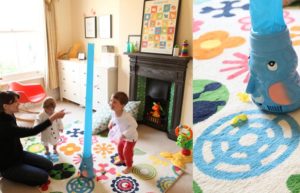 Instead of allowing your kids to spread all their toys on their beds and dirtying them, it is advisable that you create an altogether different play area near your kids bedroom. Following this children's bedroom idea will allow your kids to have ample space to play with their toys without creating too much mess around the house.
So, which of these kids bedroom ideas are you going to try?
Also Try: Artificial Plants: To Redecorate Your Home
Farmhouse Decor Live Creatively.