Hanging Planters – Flowers, plants, herbs, and shrubs look so beautiful. However, most often, people living in urban areas and cities don't have enough space or time to maintain a garden. However, you can always have outdoor and indoor hanging planters or hanging baskets with pendulous, creeping or heavy-light plants and flowers that look absolutely gorgeous when displayed.
These planters also provide an ornamental, embellished look to homes while adding greenery to the spaces. So, purify your home with these hanging wall planters for indoors or outdoors. Use these planter designs for inspiration.
Related: Top 10 Indoor Gardening Tips You Must Try
High Fired Porcelain Planters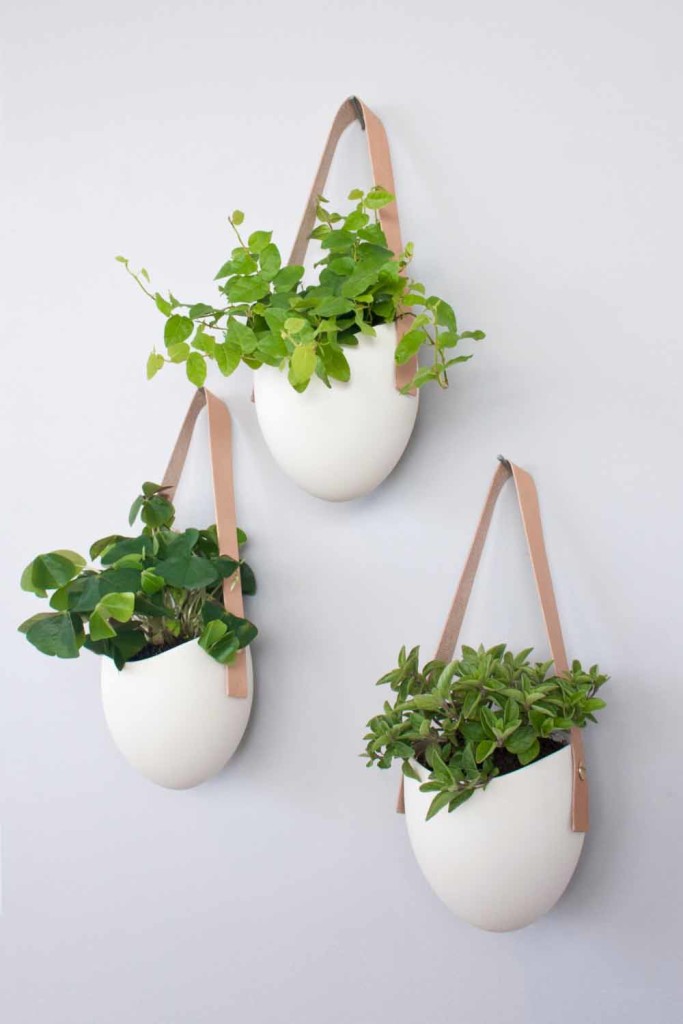 Add a little greenery in your home with this elegant porcelain hanging planters. Handmade and fitted with tanned leather belts for the purpose of hanging. You can easily grow indoor flower plants in these planters.
Pyrex Glass Indoor Hanging Planters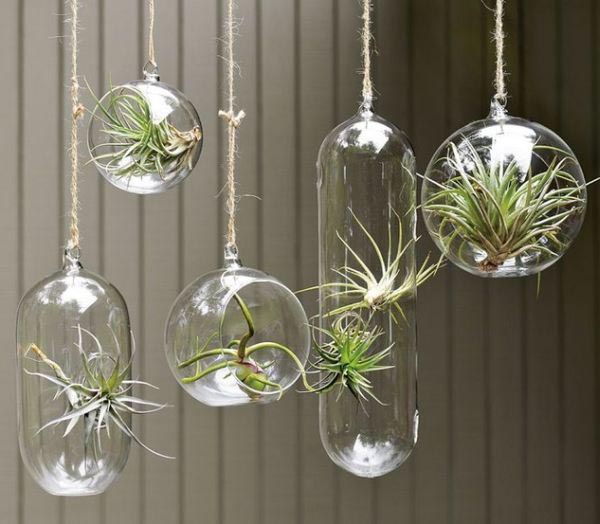 These glass indoor hanging planters are handmade from using Pyrex tubes, making them quite durable. Their minimalistic design and see through construction allow you to explore the development of plants. Perfect for housing air plants, ornaments or votive candles. If you are not comfortable with hinging planters then you should try container gardening.
Hanging Bag Planters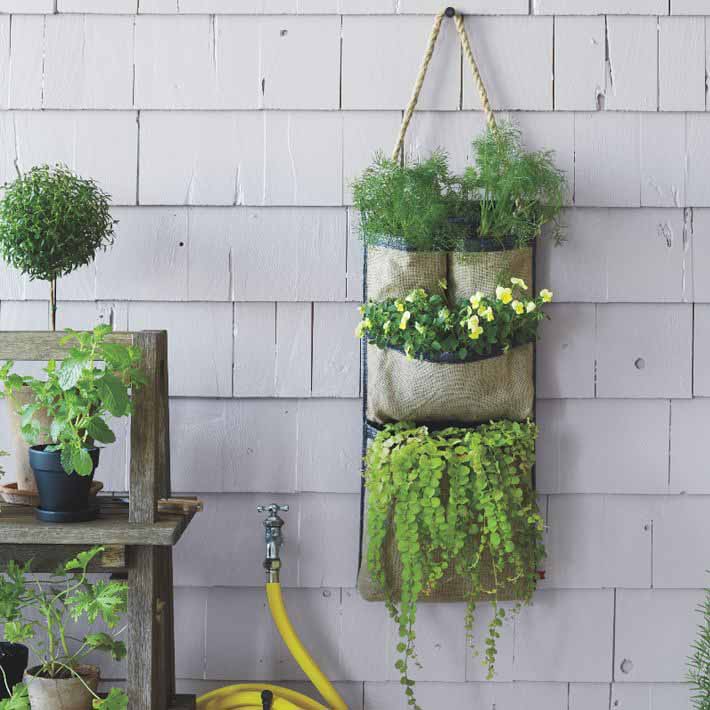 Ideal for growing houseplants in an apartment terrace, fence porch or pergola, these bag shaped hanging indoor planter are made from tarpaulin and burlap, which are durable and effectively allow air circulation and steady water drainage.
Grow flowers, herbs or small plants with these hanging indoor planters in small spaces. Moreover if you are a gardener and don't have enough space for gardening then try roof top gardening. 
Swing Type Wooden Hanging Planters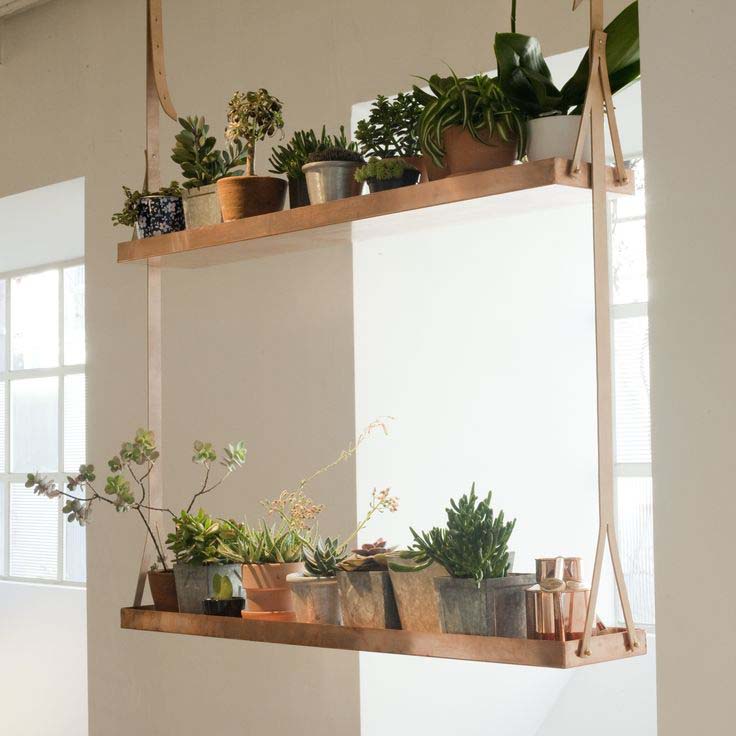 These minimalistic wooden indoor hanging baskets are ideal for hanging various types of plant containers. Versatile and neat, these inexpensive indoor hanging plant pots provide your home a style upgrade.
Four Horns Pot Hanging Planter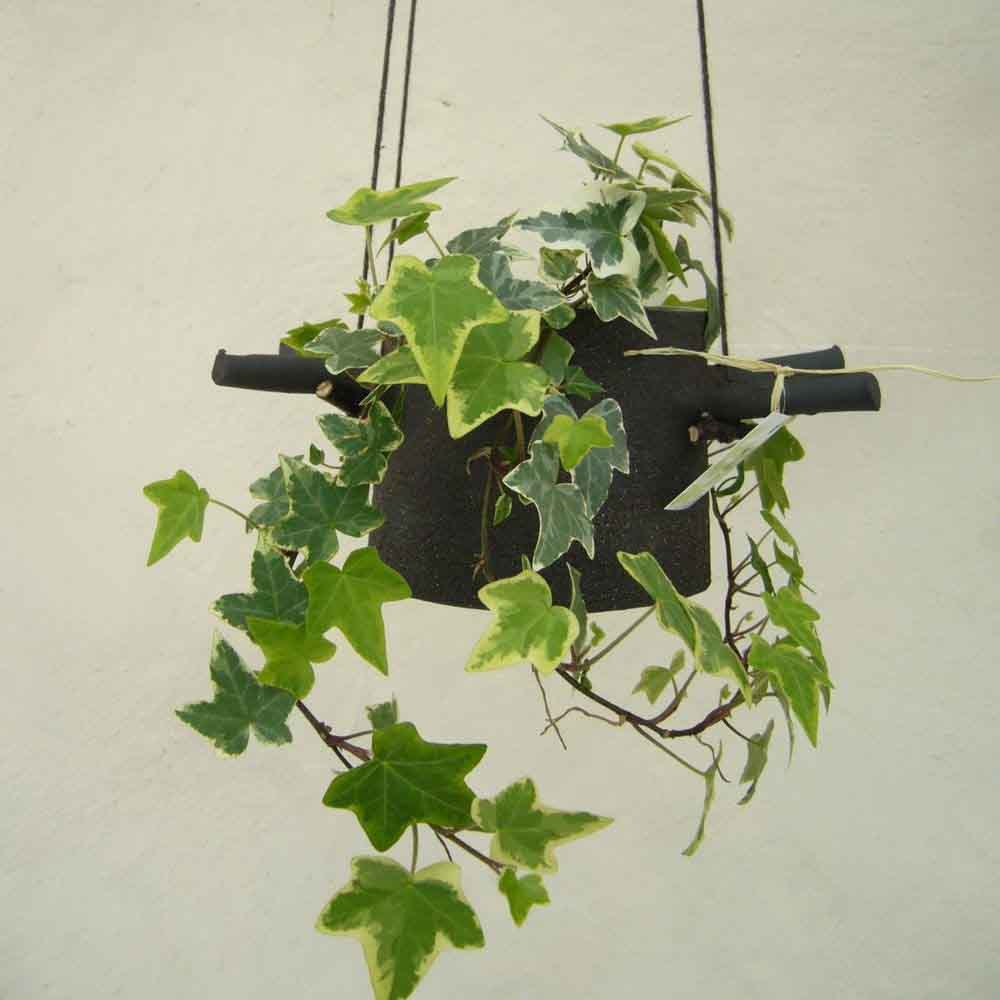 Made of charcoal colored stoneware clay, these planters support their weights while in the air with the help of four handles attached to them. It is an efficient indoor hanging planter that you can create on your own and color your favorite way!
Diamond Hanging Planters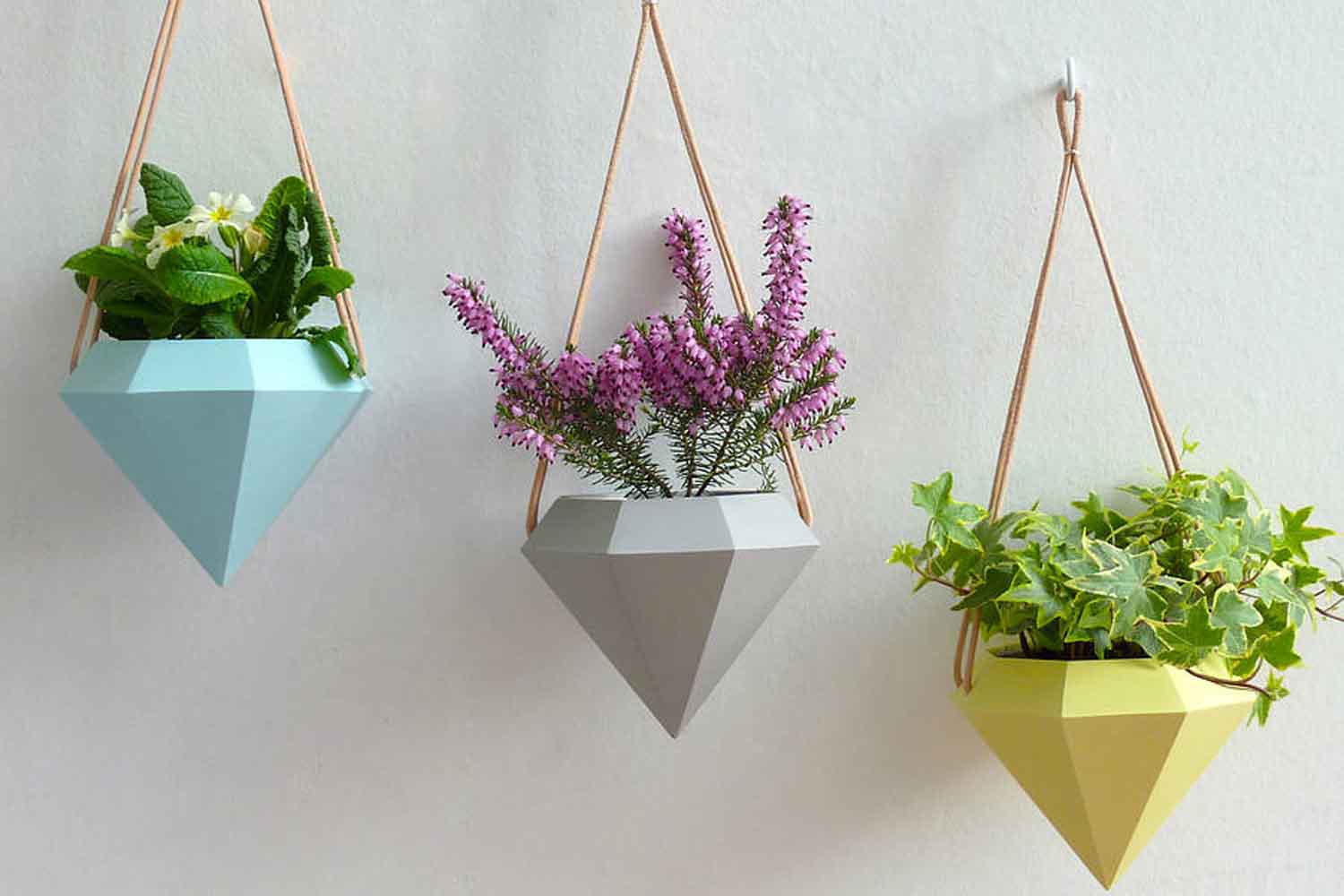 Ideal for holding small plants and succulents, this gorgeous hanging indoor planter allows you to display lovely flowers and herbs uniquely. The three-point hanging system is minimalistic and compact, making this hanging planter a perfect décor feature.
Man in a Swing Hanging Planter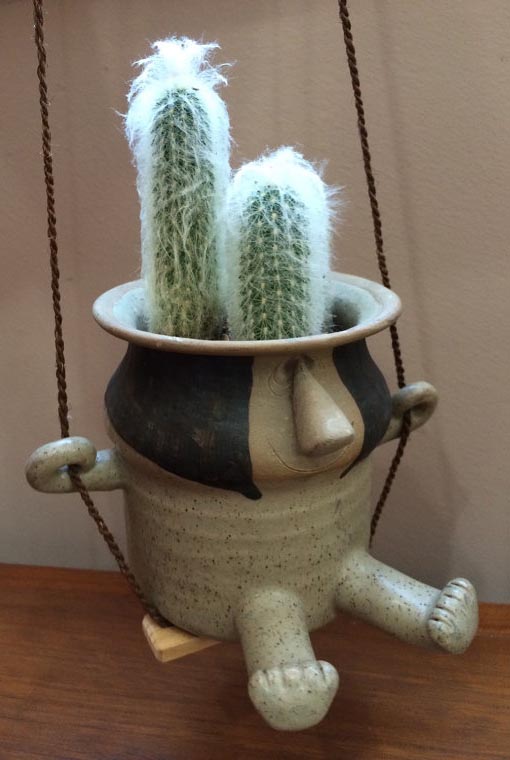 This elegantly funky indoor hanging planter will definitely appeal to you. Designed in the shape of a man sitting on a swing, this marvelous hanging planter will blend effortlessly with any modern or conventional style of home décor.
Polygonal Himmeli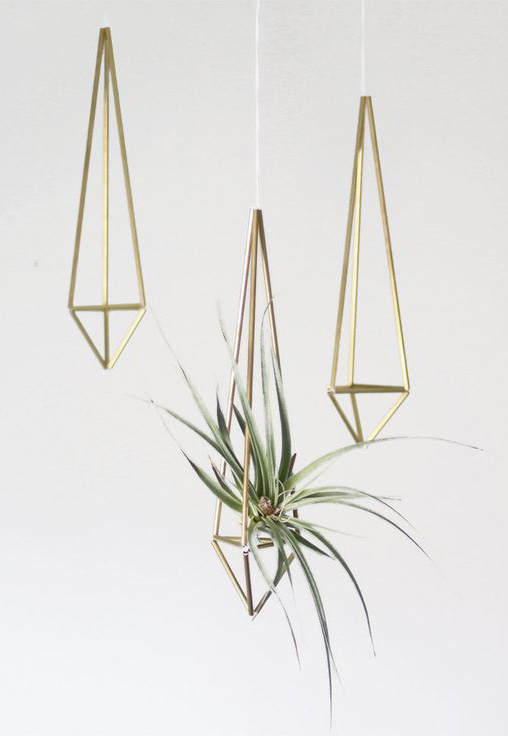 Sporting a classic polygonal design, this hanging planter is actually a Himmeli i.e. an efficient geometric sculpture, which can be paired with other Himmeli as well.
It is an amazing indoor hanging planter to showcase your beautiful air plants.
Also Read: Is Gardening Good For Health? The Right Answer.
Tree Trunk Planter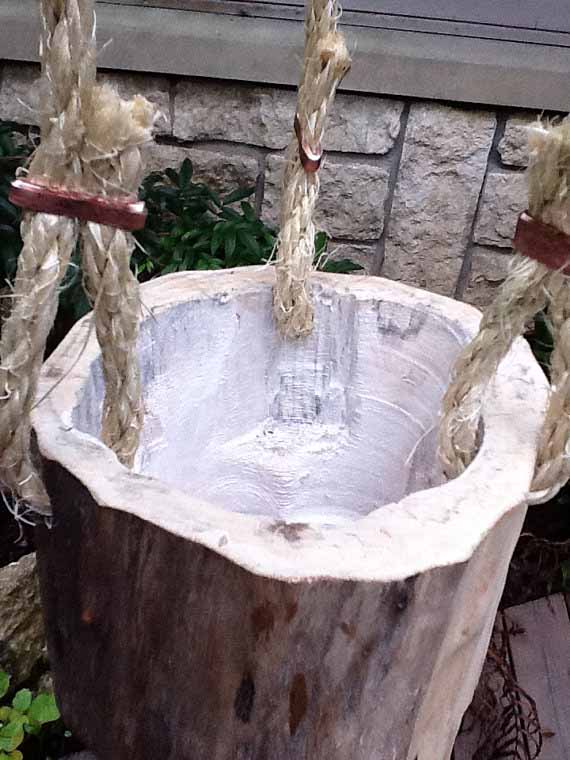 Truly a timeless classic, this indoor hanging basket is made from the trunk of a debarked maple tree. The planter is hollowed out with deep space in its center and a clear polished exterior. It consists of drain holes at its bottom for allowing drainage of excess water. Add water repellant paint to make it more durable.
Coconut Bamboo Hanging Planter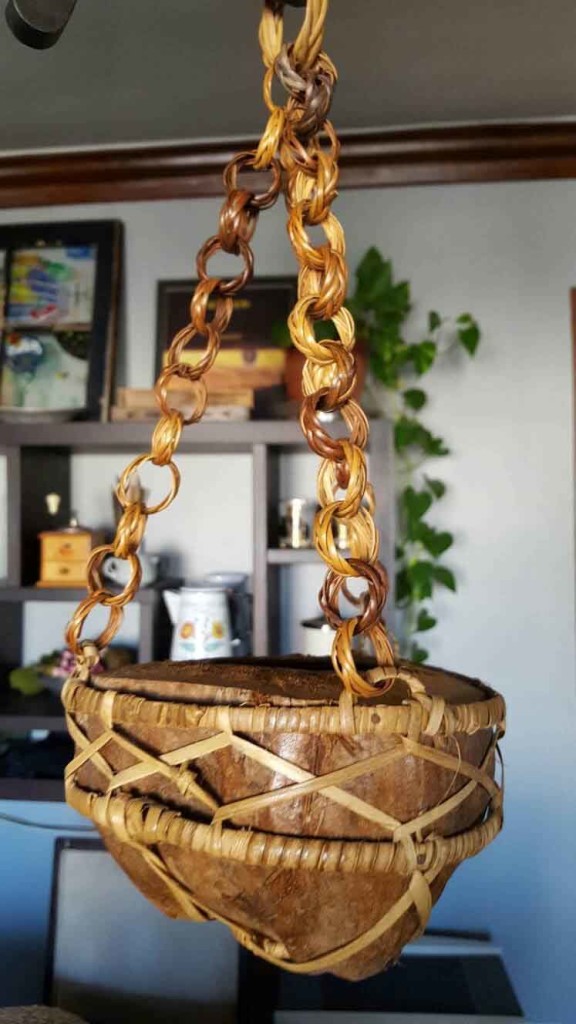 What can be better than to use a natural material for housing your indoor plants? Made of dried coconut exterior, this indoor hanging basket is perfect for adding a touch of vintage glamor to your patio or sunroom. Grow a variety of houseplants including the string of pearls or spider plant for a jungle themed or luau décor.
Brass Planter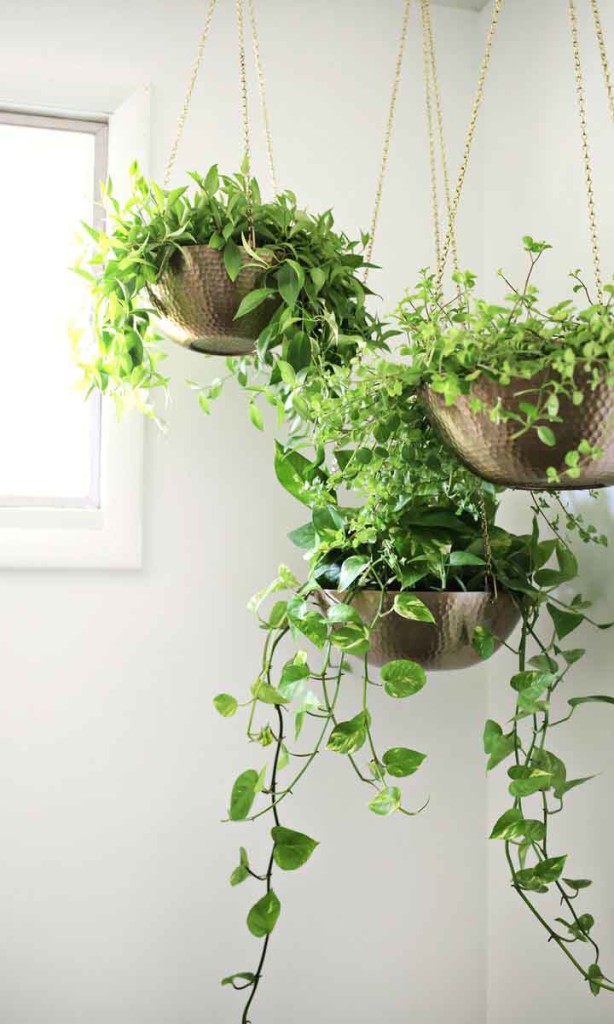 Ideal for a adding a sophisticated charm to your home décor, this sleek brass indoor hanging planter features a smooth finesse with a glossy appearance. It comes fitted with a triple-strand chain, which is heavy duty and easily supports the weight of almost all types of houseplants.
Dreamscape Sgraffito Hanging Planter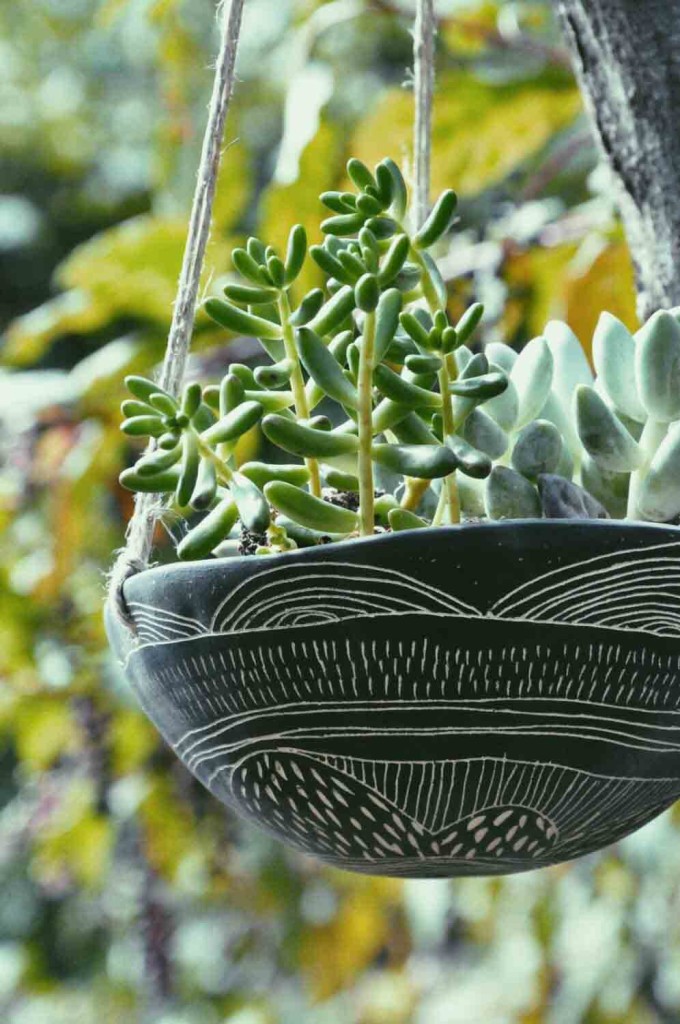 A cool way of adding some greenery inside your home, this beautiful ceramic hanging planter has hand illustrated dreamscape design using the sgraffito technique, which requires applying two layers of contrasting plaster on a ceramic surface before the uppermost layer is scratched out to create a design.
Macrame Plant Hanger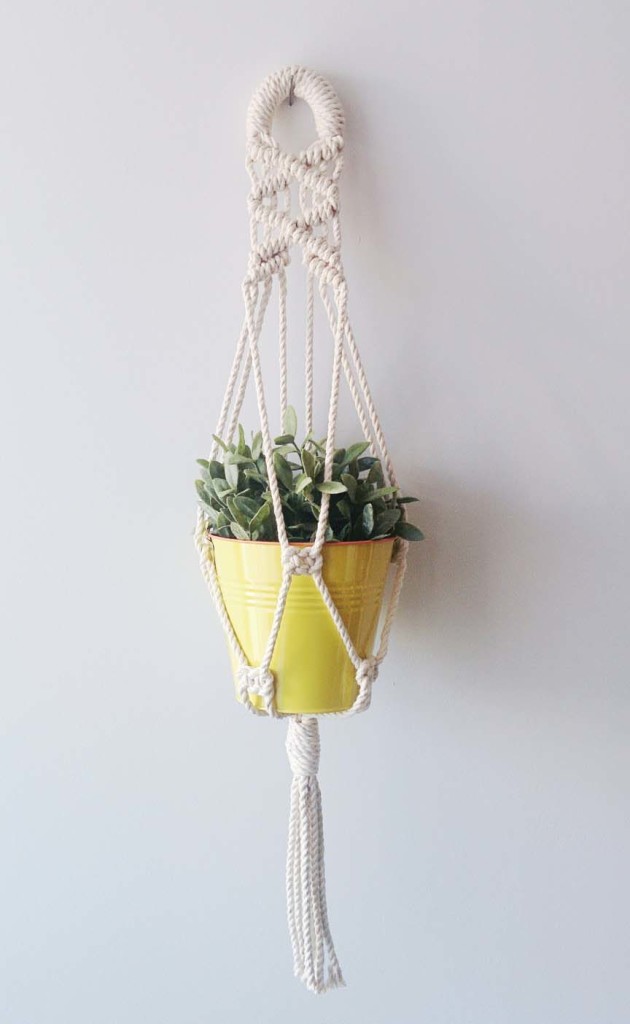 An elegant retro piece with cream-yellow accent matches all kinds of décor settings. This sleek and strong macramé plant hanger looks great with all types of planters. It's a great way of converting a standing pot into a decent hanging planter without any fusses. Plus if you are growing the garden indoor then you can use indoor grow lights for better and fast result.
Paper Planters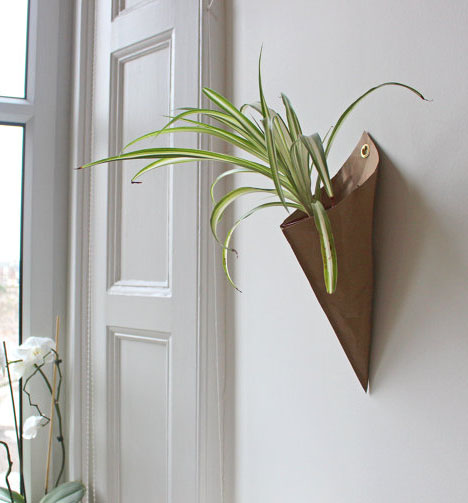 Hanging planters made from brown kraft washable paper are extremely lightweight, which makes them ideal for placing small houseplants and air plants on your walls with quite some ease. Since the washable kraft paper is made using natural cellulose fiber, they are recyclable and reusable.Also, they look and feel like leather, which allows them to render a chic touch to your home décor.
So, which of these hanging planters are you going to try?
Also Read: 13 Gardening Tips You Should Follow but No.10 is Stunning