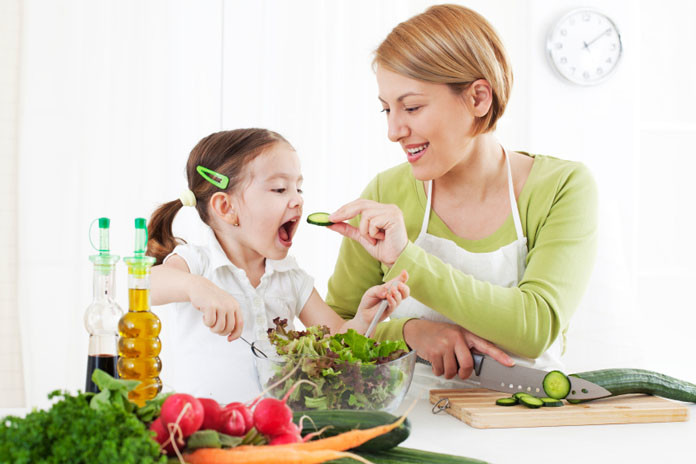 Kids Health & Health Tips For Kids – As parents, it is our foremost duty to take care of our children and develop healthy habits in them. Inculcating and encouraging healthy habits at tender age help children grow into healthy and strong adults. We share with you the 8 basic but the most important health tips for kids.
Related: Teach These Five Financial Words to Your Kid For Their Better Future.
8
Encourage Kids to Eat More Vegetables
Make your kids learn the importance of eating vegetables. Inspire them to eat more vegetables. Vegetables contain vitamins A, C and E. These vitamins are necessary for healthy eyes, strong immunity system, and healthy skin, respectively. Green vegetables like spinach, ladyfingers, etc.
Are rich sources of iron and folic acid which help in the formation of RBC. These RBCs or red blood cells are one of the most important requirements for growth of kids. Serve fruits to your kids whenever you can!
7
Encourage Kids to Eat More Fruits
The best part about fruits is that they supply with necessary vitamins and minerals without adding fats or calories to the diet. Children have to do a lot of activities throughout the day and therefore, they need the energy to keep going. Teach your kids that eating fruits are necessary part of daily health.
The fruits get digested easily and also supply instant energy boost. Moreover, fruits like pomegranates contain fibers that help combat the problem of constipation in kids as well as in adults.
Eating fruits and vegetables is also one of the most important health tips for men as well as women. It is a common problem that kids do not eat veggies easily but by presenting and cooking vegetables in interesting and creative style, you can surely persuade your kids to have more of them.
6
Do Not Encourage for Sweet Items
Presently, obesity and diabetes have become one of the most common diseases. We often come across even kids who are overweight or obese. A big factor responsible for these diseases includes inclination towards sugar containing items.
Therefore, keep your children away from candies, cakes, and other similar eatables as much as you can. An occasional treat of such items is fine but do not let that happen frequently.
5
Do Not Encourage for Fast Food
Fast foods cannot be completely deleted from your child's food item list. The reason is that if we control for the same at home, our kids will eat them outside. What you need to develop is the sense of healthy food habits in your kids. Even as a mother you should always serve only healthy breakfast to you kids.
Tell your kids that how fast food items can be dangerous for their health. You can also prepare tasty, nutritious burgers or other such items at home with a healthy change of homely ingredients.
4
Make them Learn the Rules for Oral Hygiene
Oral hygiene is a must for everyone. Be it the health tips for women or men, oral hygiene is always considered as an essential part of overall health of anyone. Dental hygiene habits should be developed and established since childhood. The first step is to make your kids brush their teeth at least two times a day, that is, before going to bed at night and in the morning.
3
Set a Specific Time for Sleep
A timely sleep is indispensable for the overall growth and development of your kids. Let your kids learn the practical meaning of 'early to bed & early to rise, makes a man healthy, wealthy and wise!' A sound and relaxed sleep of 8-9 hrs is a prerequisite for a healthy mind and body of kids. Make them understand, why is sleeping important and the advantages of good sleep.
2
Let them Wash their Hands at Frequent Intervals
By merely making your kids wash their hands frequently can guard them against many diseases. Make them learn the rule of washing hands before and after taking meals, after using a toilet and after coming back to home from parks or school.
1
Encourage them to Stay Physically Active
Physical activity is the must for the physical as well as mental development of a child. We know this rule but are unable to follow it as our kids are extremely involved in gadgets including smartphones, tablets, video games, play stations and social media platforms.
Encourage your kids for interesting outdoor activities. Play with them and set a routine for outdoor physical activities. In some time, you will observe that your kids get used to same and will start demanding for outdoor games themselves! Playing games is unique health tips for kids.
Make your kids realize that how important health tips for kids are! If you have got any interesting, nutritious fruit or veggie recipe for kids or an exciting plan for their physical activities.
Do let us know by sharing the same, which health tips for kids you are following! We would love to hear from you! Suggestions from your end are always welcome!
Also Read: Kids of Working Moms Are Better Off.