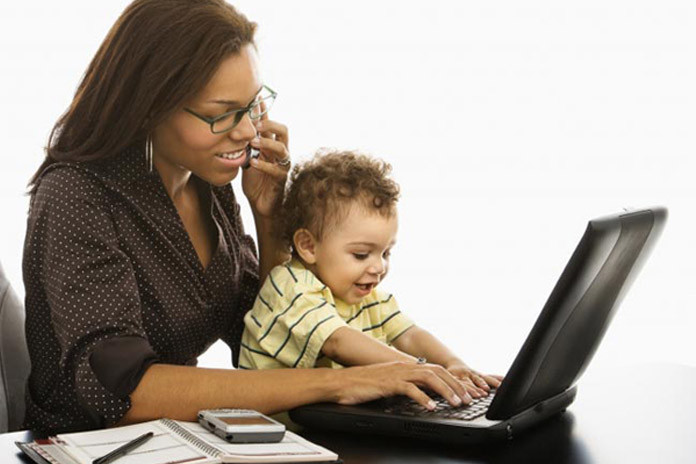 Do you always live with the guilt that being a working mom you are not raising your kids in the right manner? Are you always worried about your kids' future? Do you often think about what kind of adults would your children grow up into?
If yes, it's time for you to relax! A recent study conducted at Harvard Business School brings a sigh of relief for all those working mothers who are always worried about their kids' raising issues.
Related: How Exercise During Pregnancy Is A Good Choice.
The recent Harvard Business School study says that kids of workings moms are better off! This study had held a survey across 24 countries. The findings of this study are striking.
Now let us take a quick look at the important discoveries made during this study of HBS (Harvard Business School). Reading the below findings will help you say goodbye to your worries related to your child's future that you have always thought of being a working mother.
Quick Glance at Findings of Harvard Business School Study
Kathleen L. McGinn is Cahners-Rabb Professor of Business Administration at Harvard Business School. She conducted this study with her colleagues and discovered important findings.
Daughters Get Financial Gains, Sons contribute to Household Work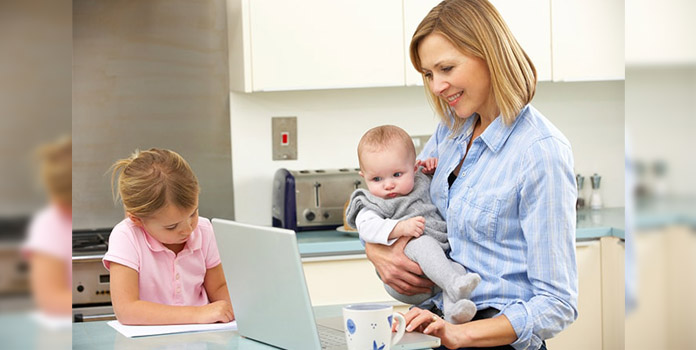 If you are a working mother and have got daughters, be sure and get confident about your daughter's earnings. The study clearly indicates that such daughters of working moms are sure to earn 23% more than the girls of moms who are housewives.
On the other hand, the sons of working mommies prove to be contributing to household work. Therefore, in future, your son would be sharing responsibilities of household work and would be able to support her wife in her career.
Broad and Open Thoughts
The study also suggests that children of mothers (who are into some profession) would be having a large mind setup for the role they choose for themselves in future. These children would not follow the conventional rule of "Daddy goes to the office, mamma stays at home." Rather, they would choose roles that would suit their needs and demands.
Daughters of Working Moms More Likely to Getting Job, Good Position
Being a working mom, you can sit and relax at the thought that your daughter has got more chances of getting employed. Not only this, but your daughter is also supposed to get an official profile at her workplace, says the HBS study.
Mothers-in-Job Prove to Be Role Models for Their Kids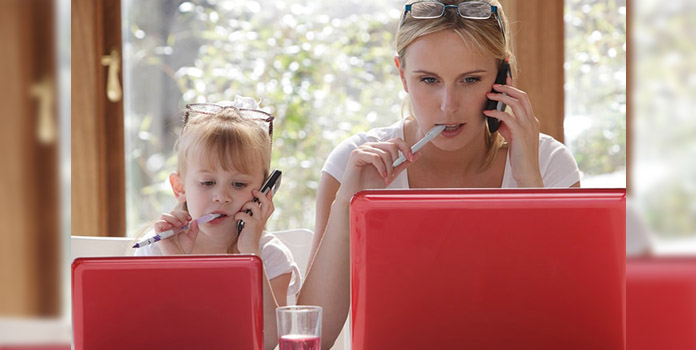 Harvard Professor Kathleen McGinn says, "This research doesn't say that children of employed moms are happier or better people, and it doesn't say employed moms are better."
However, what it indicates is that kids of working moms learn some valuable lessons of life from their moms automatically.
Adult Sons of Working Mothers Spend Time in Childcare
The study also found that sons of mothers-in-job spend around seven plus hours per week on childcare. This indirectly means that such children grow up into more eligible daddys.
Professor McGinn said, "What it says is daughters are more likely to be employed and hold supervisory, and kids spend more time in the home."
Which Significant Lessons Do Working Moms Teach to Their Kids?
When parents are on the job, they teach some significant lessons of life to their kids even without teaching them! Some of these noteworthy lessons include:
Time Management
Self Discipline
Self Confidence
Decision Making
Creating Balance in Personal & Professional Life
Importance of Education
Importance of Career
Important Points to Take Care of, If You Are a Working Mother:
First of all, you should stop living with the guilt that by doing a job you are making any mistake. Because doing a job means helping a family and securing a better life at present and in future too.
Though, there are certain points that should always be taken care of when you are a mother-in-job. Taking care of these issues will always help you create a balance between professional and personal life.
1. Enjoy your work at office
Yes, you need to do that! Work hard, work with concentration and always keep your goals clear as to why you are doing that job and where do you see yourself after five years in life? Such clarity in thoughts always inspires you for your job and never makes you feel disturbed at home too!
Also Read: Find The Reason Why People Say Quit To Job.
2. Set a Time-Table
If you need to go to the office every day, finish your work at office only. Do not bring your work to home. If you work from home, set time for your office job and stick to that timetable. This will make you clear about how much time you are spending on the job and home.
3. Do Spend Time with Family Each Day
Believe me; even if you can spend only half an hour with your family, it would have great positive impact on all family members. Help your kids with their homework. Have dinner together. Watch movie together. The fact is you should try to be together whenever you can.
4. Make Fun Plans for Special Evenings
If you are at home for some reason or if it is a weekend, plan a fun-filled activity for the whole family. This will act as a booster of energy for the upcoming week for the entire family.
5. Take Out Time for Exercise
A work of session is necessary for you, your health and the health of the entire family. You should always remember that life is short so prioritize exercise above everything else. If you are fit, you would be able to take care of your entire family. And why not exercise together! That will also give you quality time with your family. Also, a single intense session of exercise can have great positive effects on your DNA.
According to McGinn "It's hard to leave your kids for college too but that doesn't mean they shouldn't go; it doesn't mean that it's not good for them,".
So if you have to leave your kids at home when you go to the office, do not feel guilty about that; rather feel happy and confident that you are paving a way for your kids where they grow up into more responsible and capable adults.
We hope that reading this article would help you build a more positive attitude as a working mom.
Also Read: Mentally Strong People Don't Make These Mistakes.