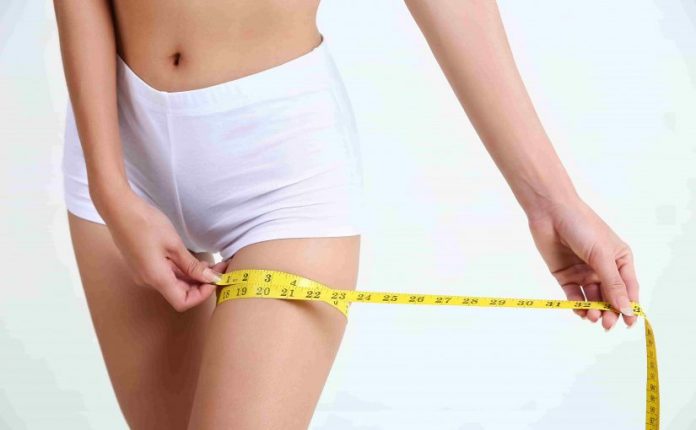 Bigger thighs cause bigger problems which we have to face in our daily life. Such as unfit jeans, we also can't wear all the party clothes that we really love. Serious problems like Knock knees or bowed knees are also curated from larger thighs. In this blog, we will tell you how to reduce thigh fat fast with the help of exercises and by following simple tips.
However, reducing only thigh fat isn't possible because we have to reduce body fat too. You also can try these best home gym exercises to reduce your body fat. But working more on legs or thigh fat reducing exercises may affect your lower body weight fast. Although, only exercising isn't enough to reduce thigh fat. We also need to follow a healthy diet regularly to reduce thigh fat.
Also Read : Top 10 Core Exercises
How To Reduce Thigh Fat: 8 Best Workout
Let us talk about how to reduce thigh fat by doing some effective and easy workout.
Loose Thigh Fat Fast by Curtsy lunge Exercise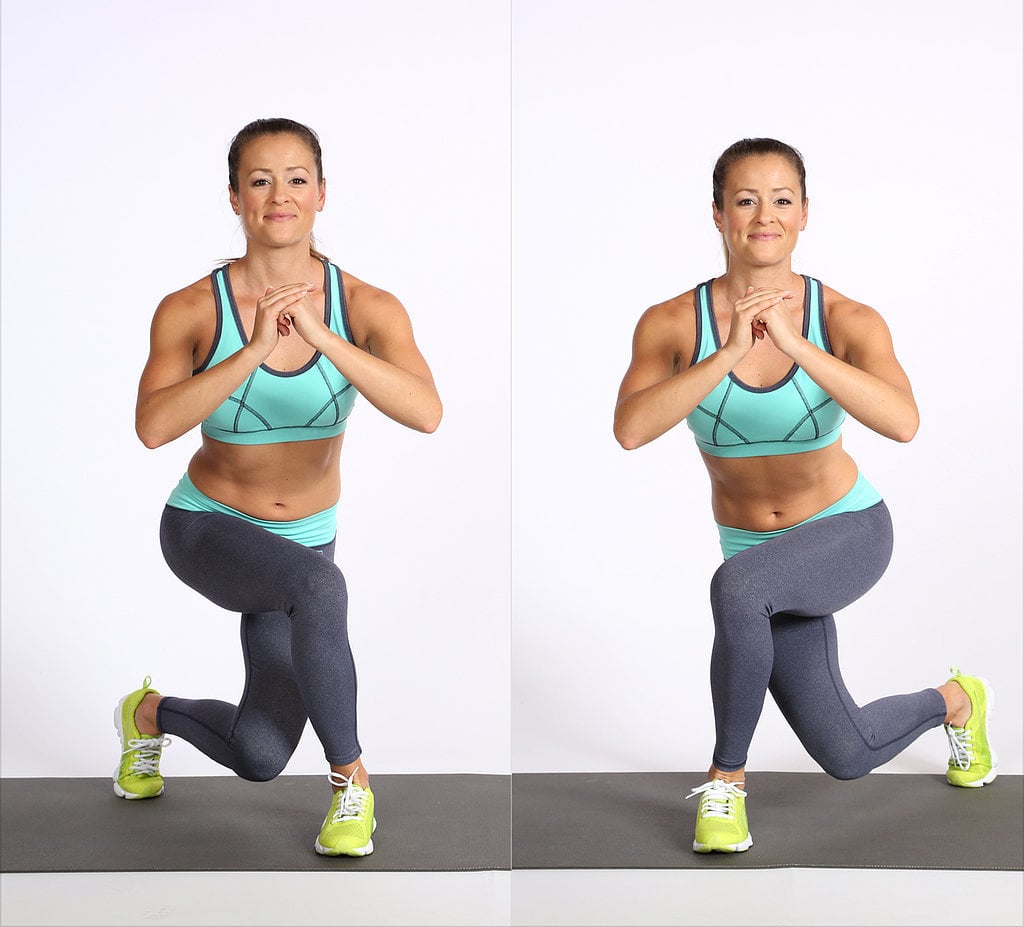 Curtsy lunge is a very beneficial exercise to reduce thigh fat because it mainly targets your inner thighs, that's why it helps a lot to reduce thigh fat. This exercise also has other benefits such as weight loss, lowering the risk of injuries, increasing muscle strength, and many more. It engages your glutes, calves, and back muscles. This exercise helps you in reducing thigh fat fastly.
To Practice This Exercise Properly, Follow These Simple Steps.
Step 1. Stands straight with your feet apart.
Step 2. Place your left leg straight behind your right leg while maintaining some distance.
Step 3. Bend your knee of your left leg parallel to the floor.
Step 4. Take a big step back from your right leg.
Step 5. Repeat the same for another leg too.
Do this turn by turn for 20 times with each leg (Try to Increase the number of repetitions over time)
Lose Thigh Fat by Lunges Using Dumbbell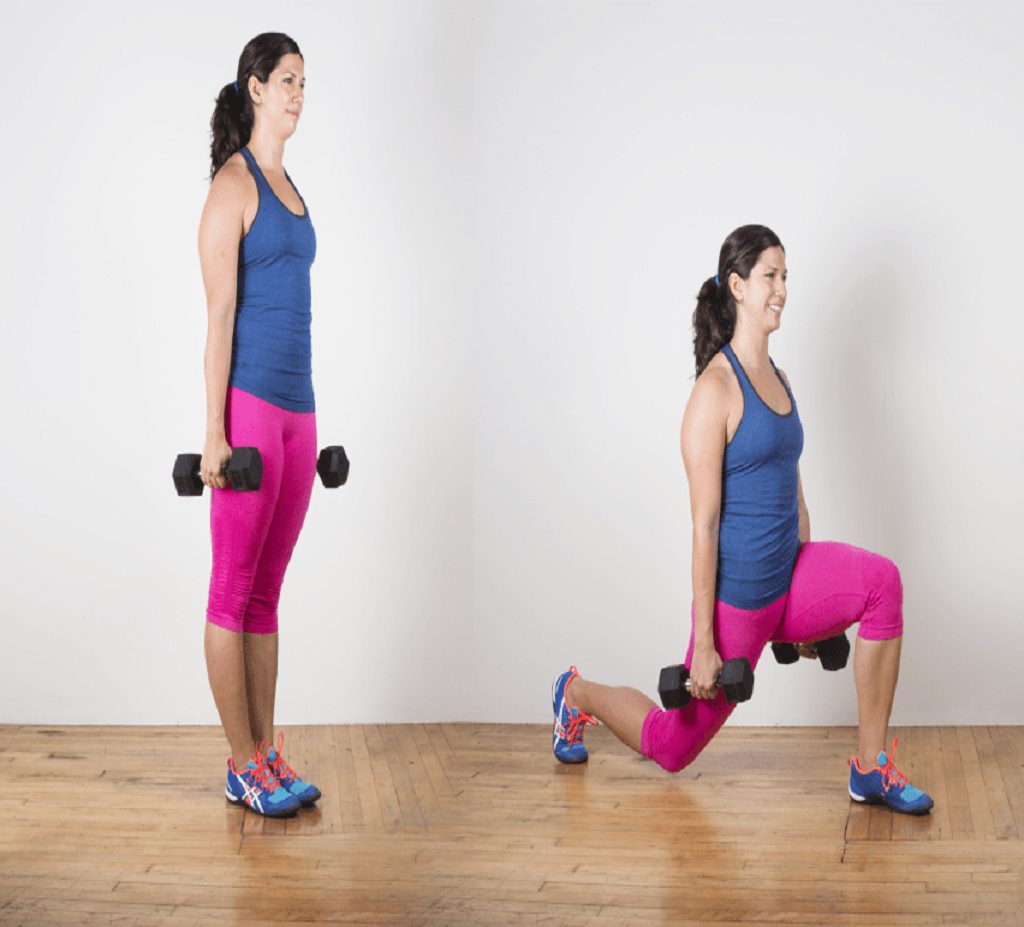 Lunges help you to strengthen your lower body, core and increase muscles (not fat) to your butt, and legs. We can perform it without dumbbells too but dumbbells put extra pressure on thigh muscles and helps to lose thigh fat fastly. We can practice this exercise at home too if you don't like to do it at gym for any reason.
To do this Exercise in the Proper Form Follow These Simple Steps –
Step 1. Stand Up straight on the floor and grab dumbbells in both of your hands.
Step 2. Keep your hands relaxed.
Step 3. Take a big step with your right leg and inhale while stepping out.
Step 4. Bend your left knee parallel to the floor but don't touch the floor with your knees.
Step 5. Hold the position for 2 seconds and then step back.
Step 6. Now repeat the same for the left leg.
Do this exercise 20 times with each leg to reduce your thigh fat.
Get Rid of Inner Thigh Fat by Pile Squats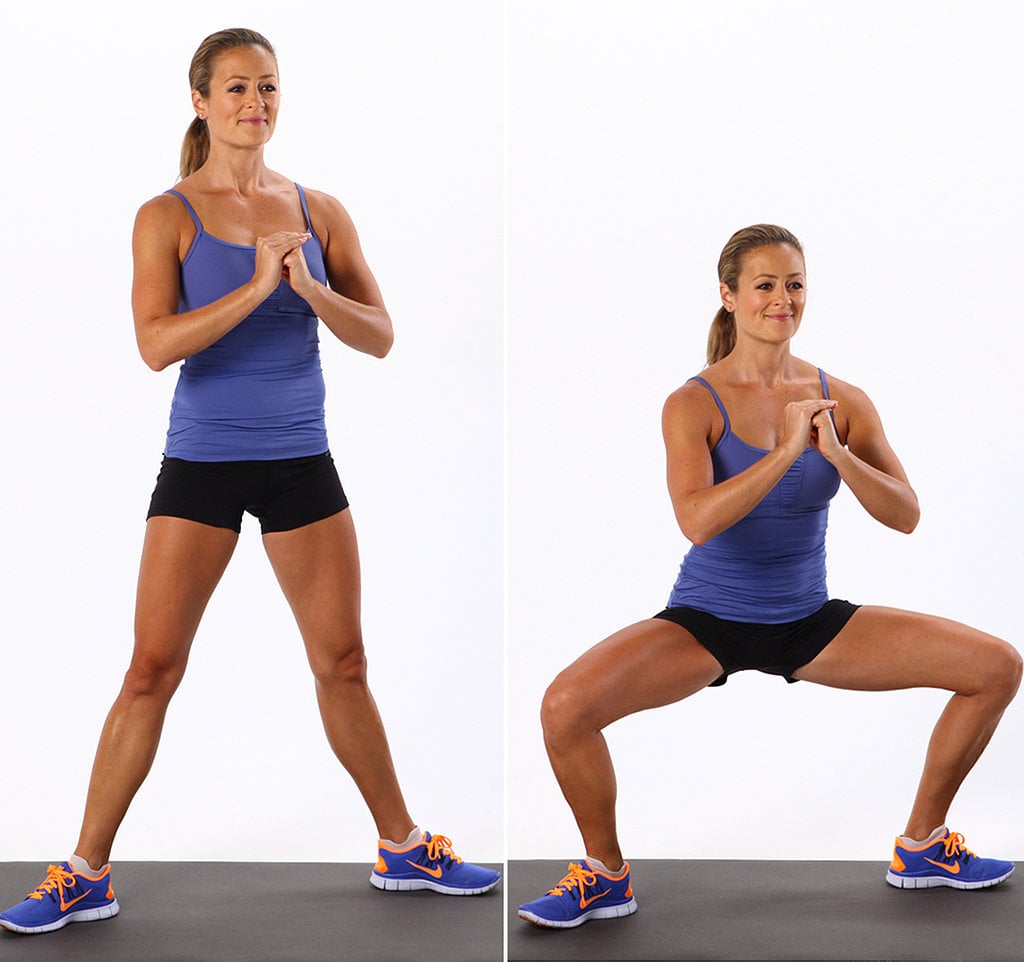 Pile squats mainly work on the inner thigh muscles and help to Strengthen your Glutes. This exercise helps to improve balance, stability and is extremely easy to practice anytime and anywhere.
Follow These Simple Steps to Perform this Exercise Properly
Step 1. Stand with feet wider than the shoulder distance. Point your toes a little bit outward at approximately 45 degrees.
Step 2. Now bend your knees and lower body while keeping your neck and back straight.
Step 3. Stand Up and repeat the same for 20 times.
In the beginning, you can put your hand on your waist to balance your body but holding a ball or dumbbell would be more beneficial to reduce thigh fat fast.
Lose your Thigh Fat at Home by Skaters Exercise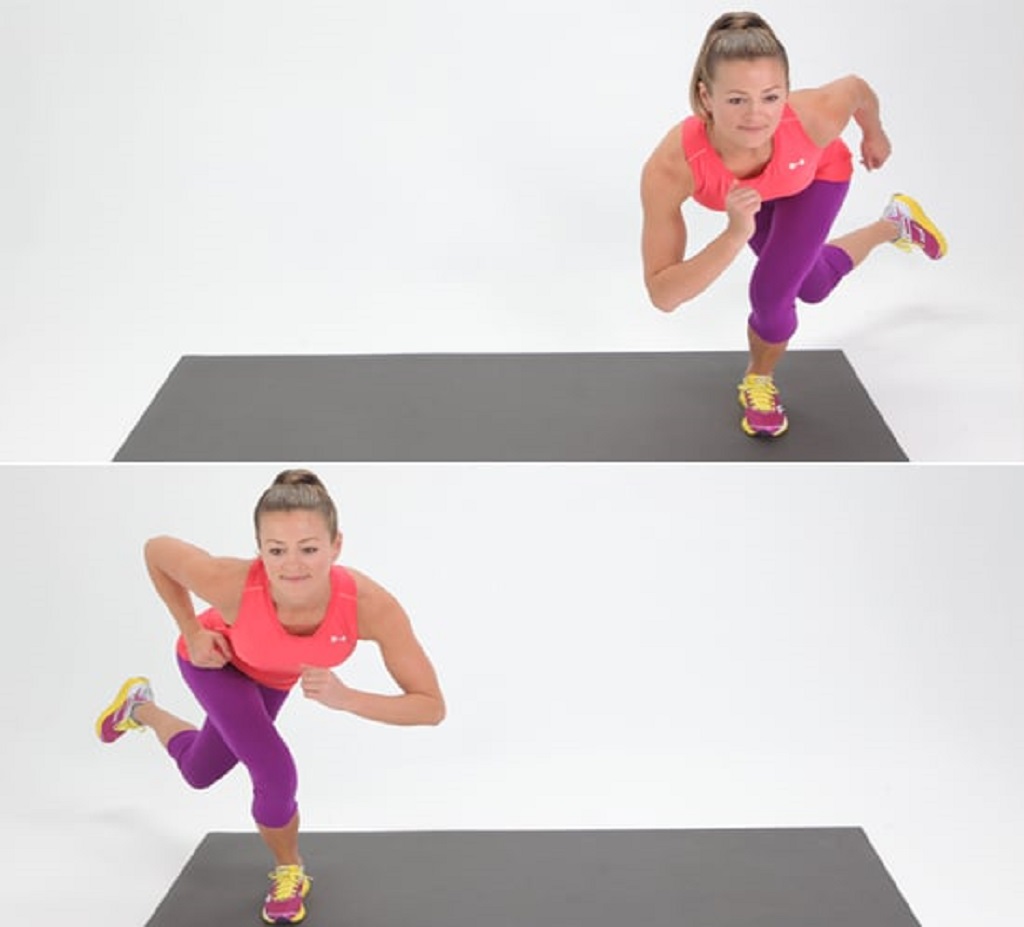 Skaters are also known as a sexy leg exercise, which helps to strengthen your glutes, hips, and legs. It is the most effective exercise to reduce thigh fat at home. This is a very simple exercise that you can practice with ease. It is just like skating without skates. You just have to do skating without skates at one place 20-30 times.
How to Get Rid of Thigh Fat by Medicine Ball Side Lunge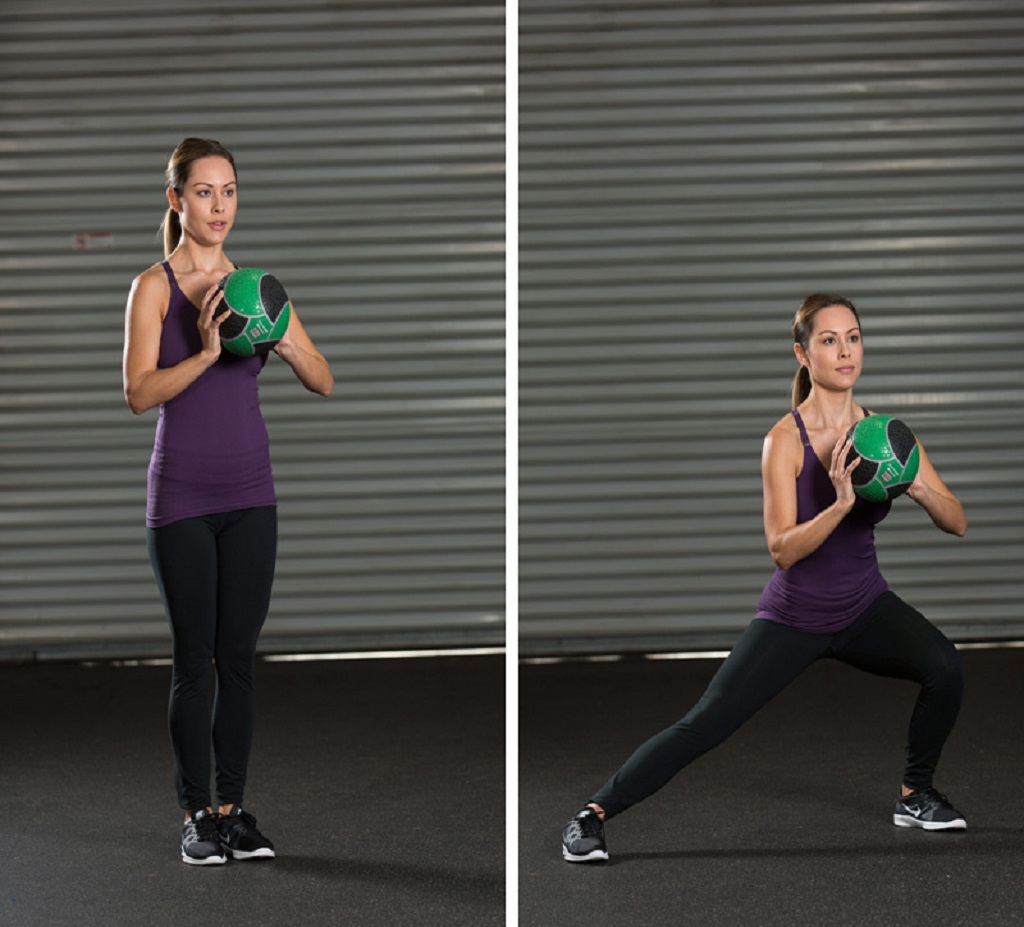 Medicine ball Side Lunge exercise mainly targets your quads, glutes, hamstrings, calves, shoulders, and arms. This exercise is extremely helpful in reducing your thigh fat fastly. You need a medicine ball to perform this exercise but you can also do it without the ball.
Just make a punch from both hands by making a fist of one hand and covering the fist with another hand. Now stretch your legs a bit wider and keep your neck straight.
Bend your upper body to your left leg keeping it parallel to the floor. Hold this position for 2 seconds and stand up again. Now repeat the same on the right side and do it 20 times for losing your thigh fat.
How to Lose Inner Thigh Fat by Supine Inner Thigh Lift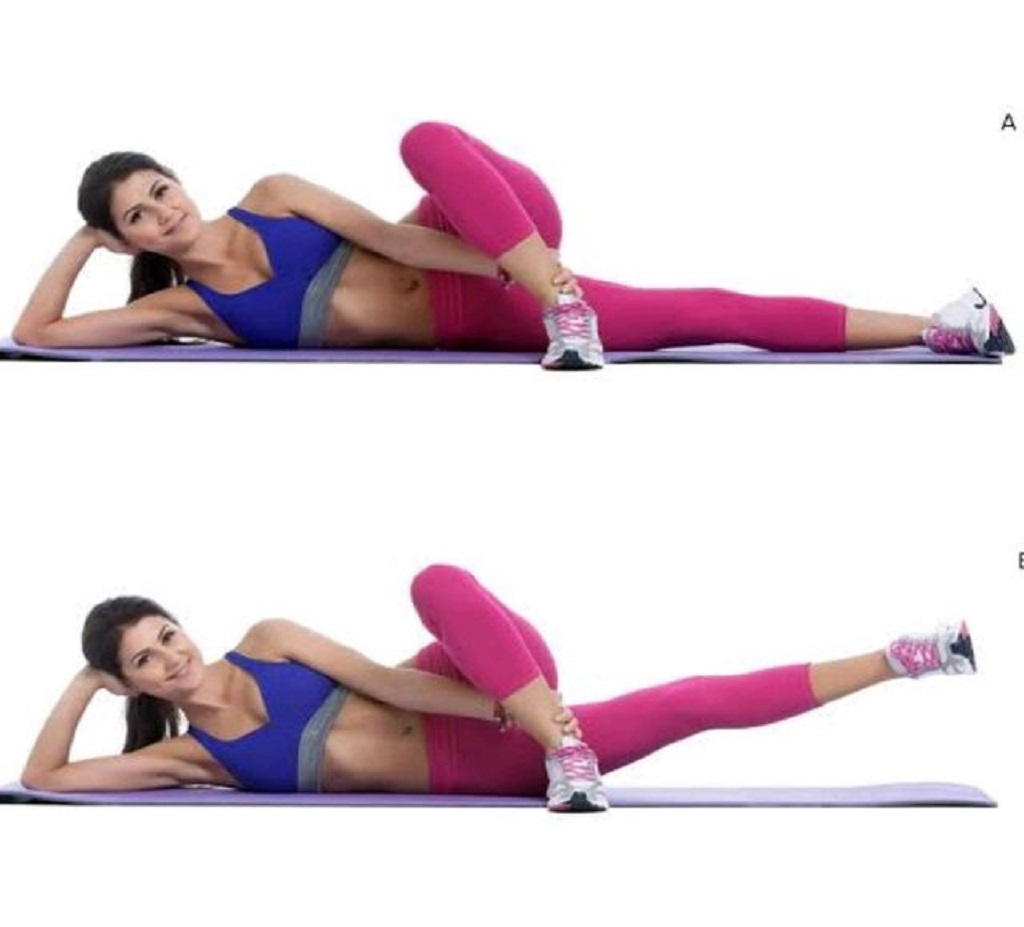 The supine inner thigh lift is one of the best exercises to reduce thigh fat. This exercise helps center your leg joints and lower the chances of joint injuries and joint-related problems. This exercise is an excellent answer to the question of how to lose thigh fat at home.
Follow These Simple Steps to Perform this Exercise Properly –
Step 1. Lie on a mat on your right shoulder and place your elbow on the mat while your hand should be placed below your head.
Step 2. Now place your left foot on the floor crossing your right leg thigh just parallel to your hips in front.
Step 3. Now slowly pull your right leg up in the air and hold this position for 5 seconds then release, repeat it 20 times.
Step 4. Repeat the process from the left side and repeat the whole process at least two-three times to lose your thigh fat fast.
How to Lose Thigh and Body Fat by Running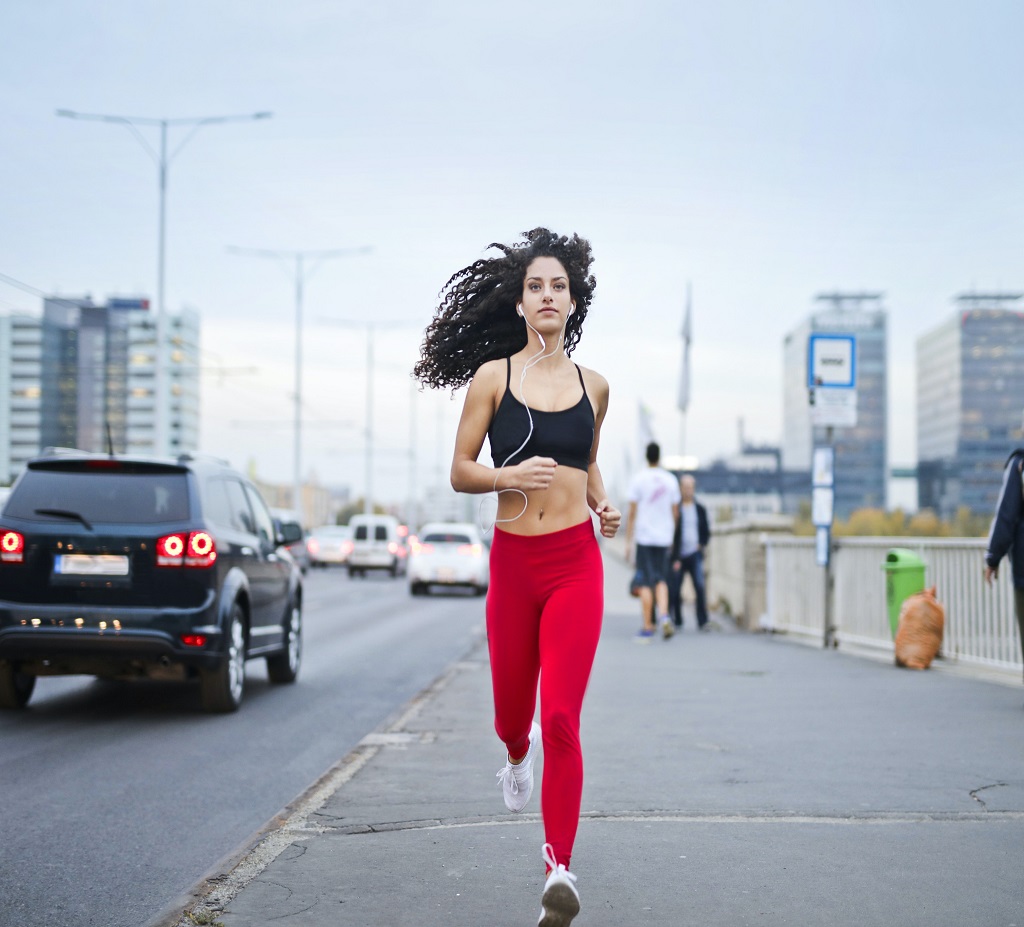 Running is the best exercise to reduce your thigh fat and maintaining your whole body physique. Along with reducing your thigh fat, it also has many other benefits too such as controlling blood pressure, making bones stronger, strengthening muscles, and many more. Run early in the morning for at least 2 kilometers daily and try to increase your running distance overtime to lose thigh fat.
Related : 23 Best Running Tips
Do Cycling to Reduce Thigh and Body Fat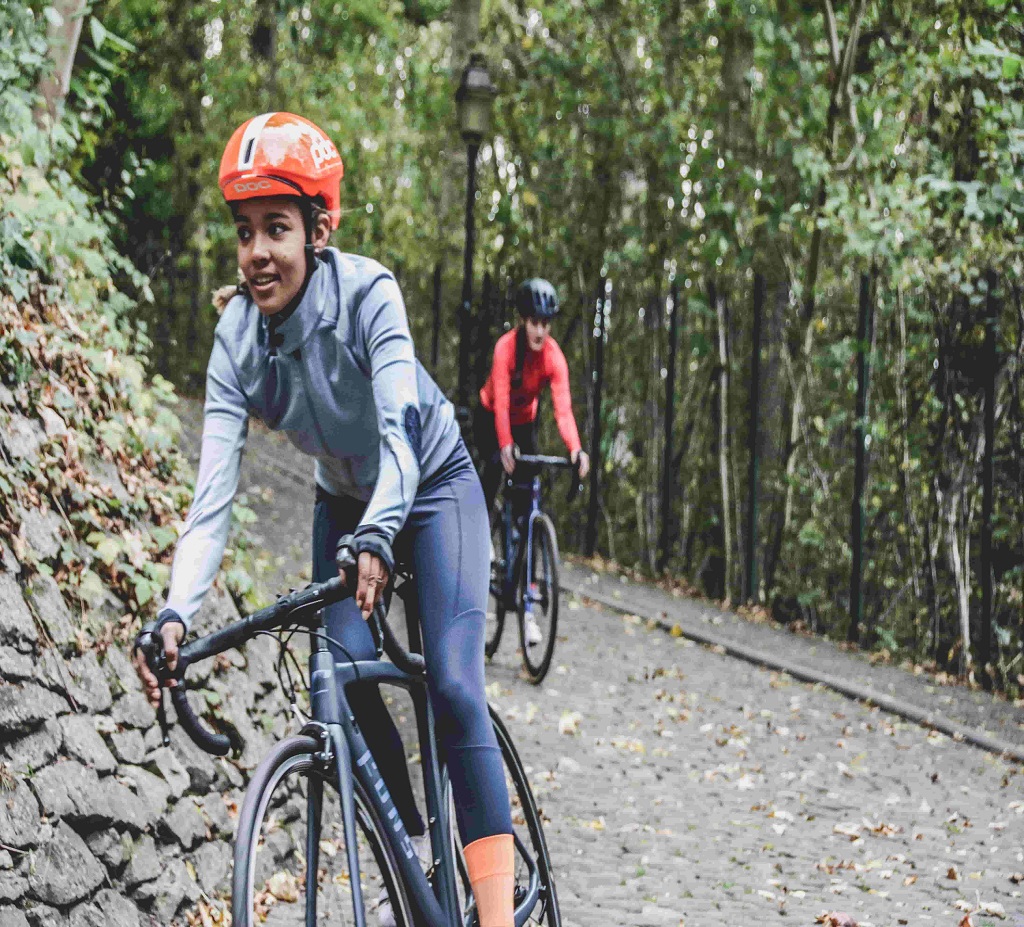 Cycling helps in increasing muscle strength, flexibility and also improves your joint mobility. It is so much beneficial for our thighs and lower body muscles. Cycling is also eco-friendly and pocket-friendly because it doesn't need any extra cost for fuel. So you can do both things at the same time which is money-saving along with maintaining your physical fitness.
How to Reduce Thigh Fat At Home: Simple Tips to Follow
Reduce your salt intake.
Consume more electrolytes-rich food such as coconut water, spinach, potatoes, almonds, and peanuts.
Try to reduce your carb intake.
Add more protein and fiber to your diet.
Drink At least 3-liters of water everyday.
Switch your movements regularly.
Try some HIIT(high-intensity interval training) exercises.
Have at least 8 hours of sleep (Most Important).
Final Says About How to Reduce Thigh Fat
Shaping your thigh isn't a big task. The only thing you need to do is to be focused on your goal. Because reducing your thigh fat can not be done overnight. You need to be patient while strictly following your workout routine without skipping an even single day.
Practice Curtsy lunge, Lunges with a dumbbell or without dumbells, Supine inner thigh lift, Medicine ball side lunge, running and cycling regularly. Follow a healthy diet chart, drink at least 3-liters of water every day, and take proper rest.
Practicing thigh fat exercise without any Warm-Up can be painful. So we suggest you warm up your body before practicing any thigh fat-reducing exercise. Here's an amazing 5-minute warm-up exercise video that may help you.
Hey, did you find our article on how to reduce thigh fat usefully? If yes! then like and share with your friends who may find this article helpful.