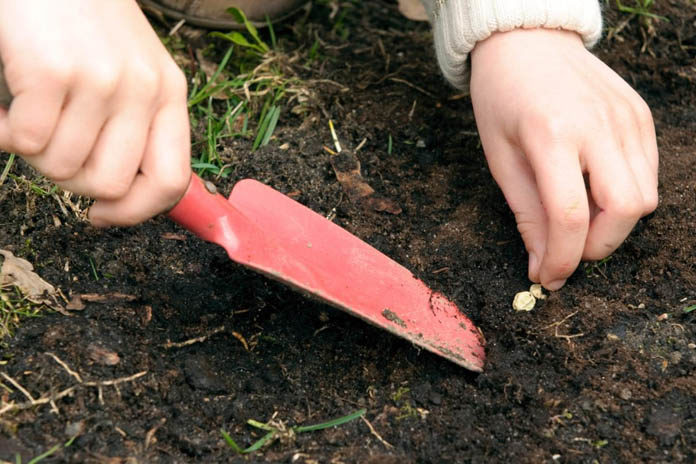 Perennial Flowers – Have you ever heard of perennial plants? If not, then before discussing the tips on how to grow perennial flowers we would like to define what perennial plants are. A perennial plant belongs to the category of plants that survive for more than two years. Perennial plants, especially the common perennial flowers, grow and bloom over the spring and summer season.
Related: 25 Top Flowering Plants of The World.
They die back in the autumn and winter season and again grow up the next planting season. Every gardener would want to have perennials in his or her garden as you now know that they grow, die, and then regrow the next season. Spring flowering perennials come in a variety of colors, textures, and forms.
Apart from these perennial flowers, you can also check out these top indoor flowering plants for your home. These are also a good option for your gardening desires.
So, knowing this much about these beautiful flowers should be enough as most of us want our garden to be evergreen without the headache of planting new plants every time the seasonal plants die. Now, let's discuss growing perennial flowers.
STEP 1 – Selecting a Site & Checking the Soil
Select a site in your garden where you want to have perennial flower beds. Selecting a site beforehand is a good idea because that decides the beauty or say, the look of your garden. After selecting the site check whether the soil is fit for growing the plant or not.
You should also investigate the pH of your soil. A pH scale helps in deciding whether the soil is too acidic/ basic or not. The right type of soil is quintessential for growing the best perennial flowers.
STEP 2 – Checking the Various Arrangements
1. Width and Height: In order to make your garden look disciplined and gorgeous, plant the perennial flowers in order of the height. You should probably plant the tallest at the back and then the smaller ones just after them.
Most plants take much space and therefore might disrupt the arrangement you dreamt of so, keep area while sowing or planting them. You can find the widths of most plants in books or labels but they are of average values so, just take a bit more than the averaged values.
2. Colors and species: If you like, you can grow one type of species or same colored flowers in one group to maintain uniformity. Take this decision as per your preferences and choices and apply your own ideas too!
STEP 3 – Deciding the Water Requirement of Plants
Do this carefully; you can take help from your nearby gardener. The other thing to be kept in mind is water requirement for your plant. Some perennial flowering plants require a plenty of water; some are drought resistant, and some are moderate.
So, basically, the water requirement varies from plant to plant. However, one thing is for sure that newly planted seeds and plants do require a good amount of water.
STEP 4 – Maintenance of Your Perennial Plants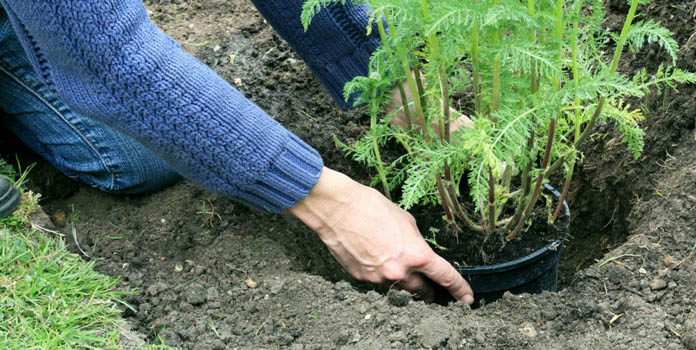 This step involves the maintenance of a perennial garden. Most of the perennials do not require heavy feeding and a bit of fertilizing goods can do the job for them. Do not compromise on the quality of fertilizers you use. Water requirement varies from plant to plant, but overall perennials do not require as much water as vegetable crops.
If your area faces a very hot summer, then you should take serious care of the watering routine. Otherwise, your plants will die of thirst. Cut out the unwanted weeds from your garden. A neat edging between the lawn and the garden will enhance your garden discipline. There are several tools and ideas available for garden edging.
Do not forget to deadhead your flowers in order to maintain the neatness as well as extend the blooming season.
Some summarized tips to be followed:
Before planting your perennial flowers keep your soil wet. Why? Well, it will be easier to remove the rocks as your soil would loosen up, and organic material can be added to it. Do not directly sow the seeds in the soil, put the new seedlings in a nursery bed so that you are able to observe them on a regular basis and can also take proper care of them.
Wait for them to germinate and then you can do the required activities of planting them into the soil. Give good shades to the plants that do not like bright and hot sunlight. Insecticides can be used if insects trouble your plant. Do not use insecticides in bulk otherwise you know that they are chemicals, and they may affect your and the plant's health too.
Some perennial flowers you may prefer:
1. Peruvian lily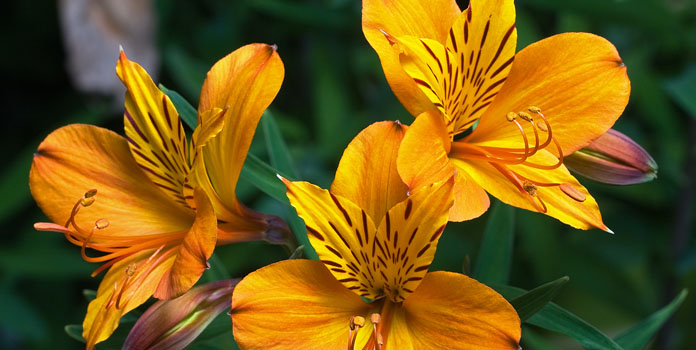 Peruvian lily is also known as Alstroemeria. They are native to South American Nations. However, you can find them in USA, New Zealand, Canary Islands too. You can find them in purple, yellowish, whitish and reddish shades.
Lavender is a fragrant bushy shrub which is best known for its fragrance. They look pretty when grown in compact space. They can reach up to a height of 15-16 inches. Their purple shades look very tempting.
2. Forget Me Not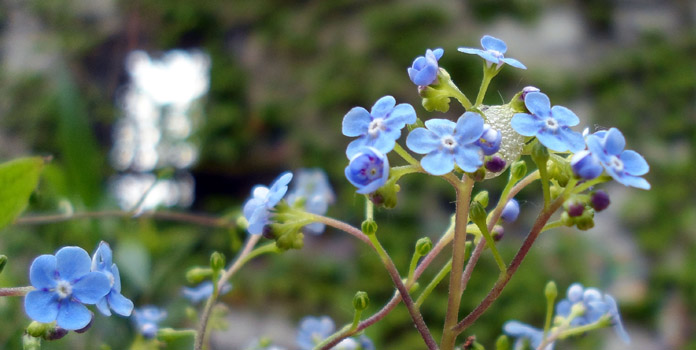 These light blue colored tiny flowers are also known as Myosotis Sylvatica. Their average height is about 8 inches. In regions where these plants are not native, they might not be perennials.
3. Coneflower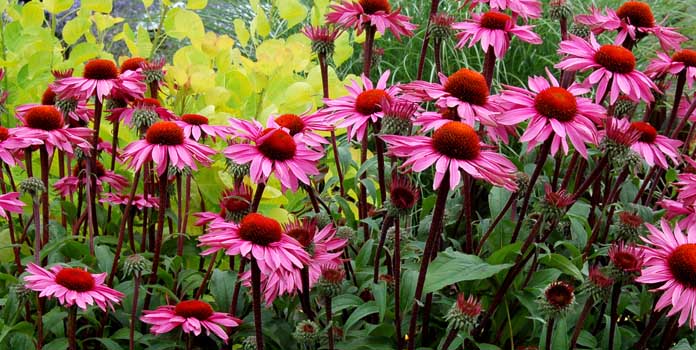 These pink shade flowers have raised centers and are widely used for medicinal purposes too apart from beautifying the garden. You can also find purple, white and orange shades.
4. Mimosa pudica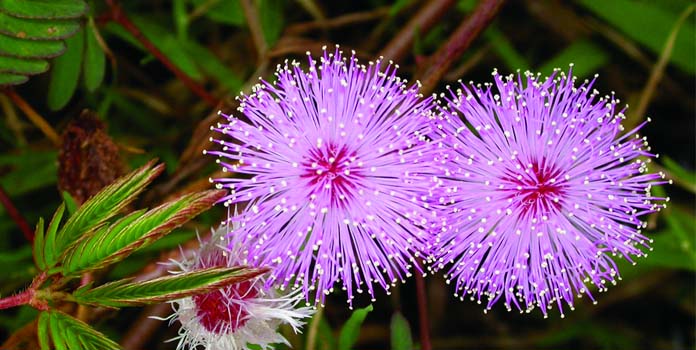 Mimosa pudica also known as 'touch me not' plant, belongs to the perennial category. The leaves of this plant are such that as soon as you touch them, they shrink. They are also called shy plants. It is well known for its rapid plant movement.
There are several other perennial plant examples apart from the ones mentioned above. However, we have mentioned just a few. Perennial flowers and plants are preferred by most of us as they come in different varieties, and there is no need to plant them again and again like other seasonal plants.Growing them is not much of a headache and can be grown easily by following the usual steps of growing any plant.
For growing and maintaining a plant, you should be fully determined, and you should take proper care of your plants. Treat them just like your family members. In return, they provide you with beautiful flowers, a very calm and good environment. Your mood too lights up as soon as you look at the gorgeous and happy flowers in your garden.
Planting perennial flowers can be taken up as a recreational activity that keeps your mind and body busy too. It is a lifetime work as you will have to water your lovely plants every day, and also you will have to keep a check on their condition time to time.
Also Read: 10 Prettiest Flowers in The World.