"My body is my journal, and my tattoos are my story."
― Johnny Depp
Sister Tattoo – It cannot get truer than this, and all tattoo lovers will agree with us. Tattoos do tell an extraordinary story about us. Every tattoo has a meaning behind it, no matter how small it may be. Moreover, when two close individuals come together to sport similar or complementary tattoos, it can speak volumes about their relationship with each other.
Related: Small Tattoo Ideas.
The connection between sisters is one such bond whose depth can be wonderfully conveyed using amazing sister tattoos. Check out these deeply meaningful sister tattoo ideas which you can try out with your sisters:
1. Matching Sister Ankle Tattoos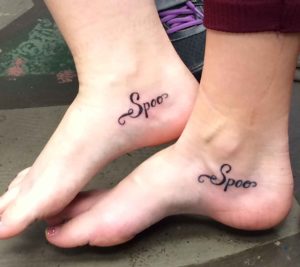 A pair of tattoo like above is excellent to have with your dear sister on your ankles. You can ink each other's name to this design to give your unique touch and celebrate your unique sister bond.
2. Triple Sister Tattoo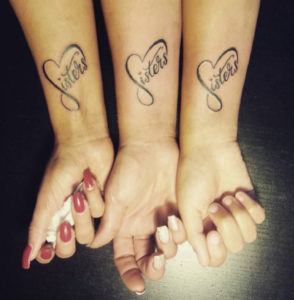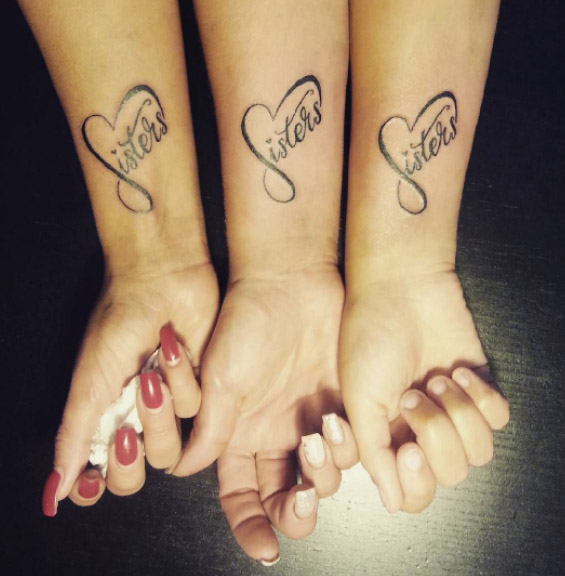 It is time for your sister triplet gang to get creative and courageous. This triple sister tattoo will make you stand apart and cement your unique bond with each other. The design may look like too simplistic, but after all, simplicity is the ultimate sophistication.
3. Cute Sibling Tattoo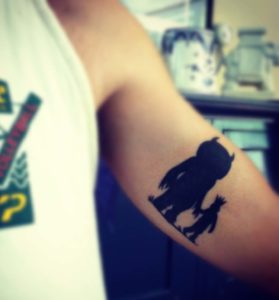 This one is a pretty one which will remind you of the good old days when your elder sibling sister used to be so protective of you. Ink this tattoo on your forearms and show your gratitude and love to her.
4. Infinity Sister Tattoo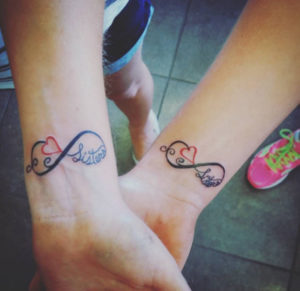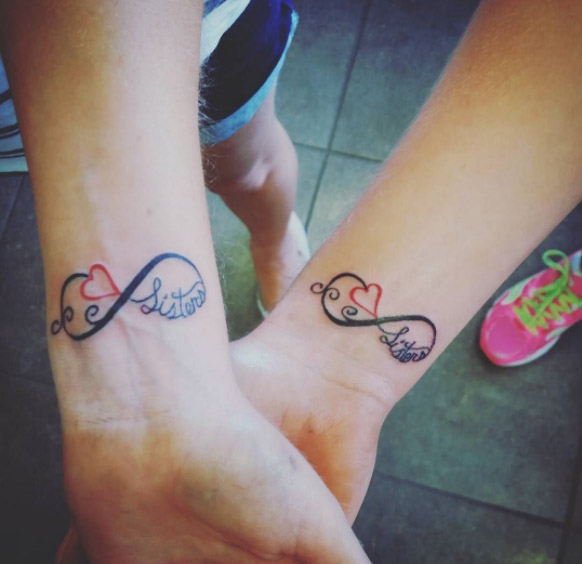 The crimson heart along with beauty of black infinity- this infinity sister tattoo marks the infinite nature of your lasting relationship with your sister. The blue and purple strokes further enhance the beauty of this sister tattoo.
5. Sister Bond Tattoo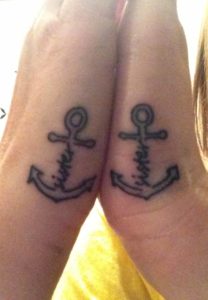 This stylish piece of tattoo with a cross-joint by sisters is apt to have with your sister. This sister tattoo gives a unique touch to your personality. Plus, the design will look quite cool on your forearms or wrists.
6. 3 Sister Tattoos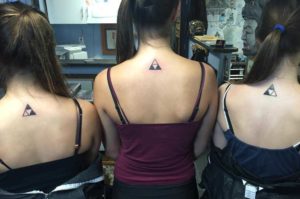 What a creative way to add a twist to 3 sister tattoos! You will agree with us when we say this is one of the most awesome tattoo ideas for three sisters. Put them at your back and flaunt your backs in style when you out.
7. Cute Sister Tattoo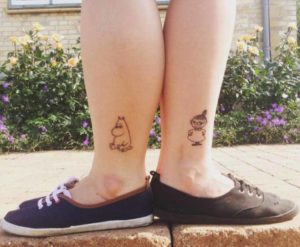 This pair of tattoo is the epitome of cute and sweet, isn't it? Share it with your lovely sister and after enjoying her reaction, you both can go and ink these tattoo on your legs,
8. 3 Sister Heart tattoos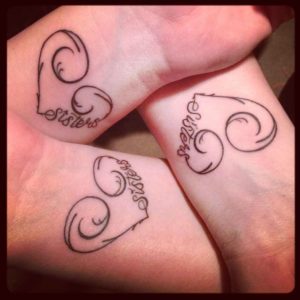 Another three sister tattoo idea for celebrating the unbreakable bond among all sisters.This heartwarming and designer sister tattoo will be an excellent way to showcase your loving relationship. Moreover, it will always keep your sisters in your memories forever.
9. Bird Sister Tattoo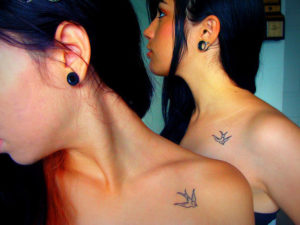 Admit it. Such kind of nature related tattoos on shoulders look splendid and enhance the personality by leaps and bounds. Moreover, when you try the complementary version of this tattoo with your sister sporting the same on her shoulder, the results are just priceless!
10. Artistic Sister Tattoo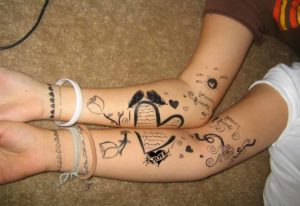 This one is for art lovers and sisters who loved to paint the walls of their homes in childhood with lovely scenery and natural surroundings. It is time to relive those memories by inking this stylish artistic pair of sister tattoos on your forearms. Super smart with precious memories! What a fantastic combination!
11. Sister Names Tattoo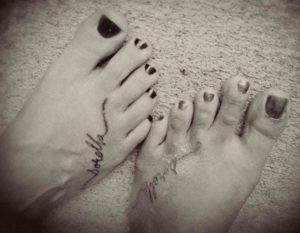 Inking the name of a person with whom you share a close bond is beautiful. What a fantastic way to express your love and respect towards each other by inking each other names with the help of a tattoo! This simple name tattoo on your feet is a superb way to do that.
12. Harry Potter Tattoo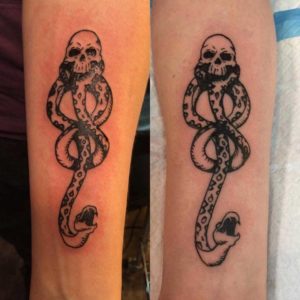 This, as you must have guessed by now is the iconic mark of Voldemort– the arch-nemesis of Harry Potter. This Harry Potter tattoo is picture perfect to celebrate your love of Harry Potter series. Like in series, this tattoo binds you forever with each other by your mutual allegiance to Voldemort.
13. Big Sister Little Sister Tattoo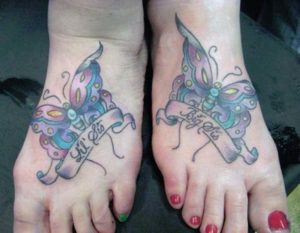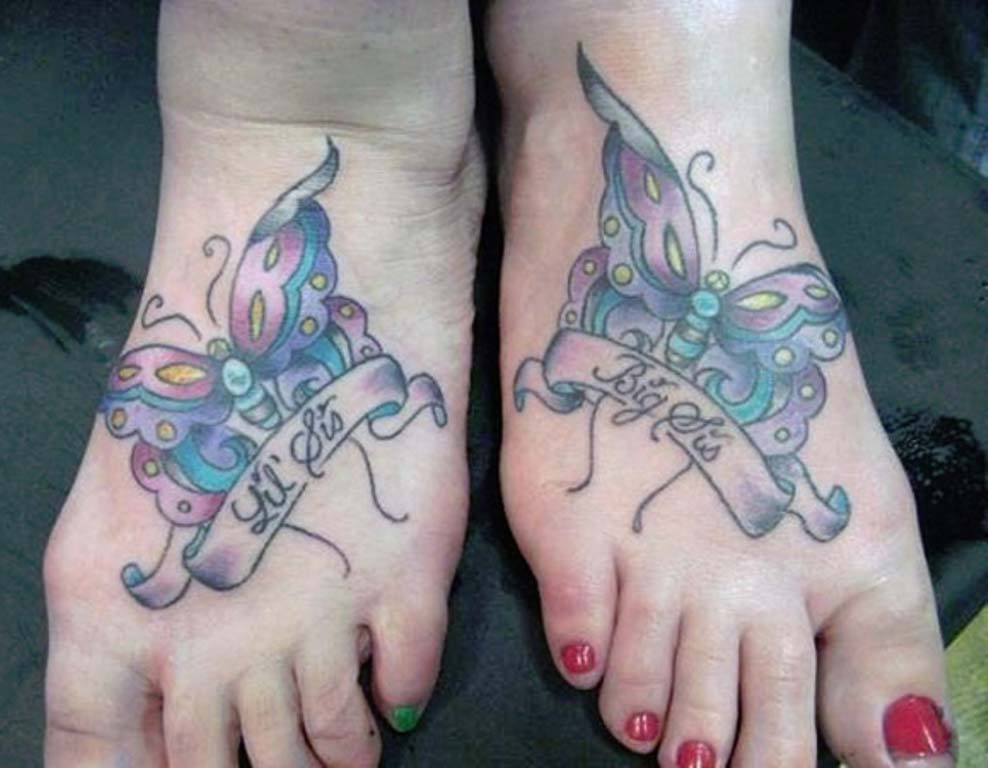 A dazzling tattoo of a butterfly just for you and your elder or younger sister. Flaunt this designer big sister little sister tattoo on your feet and let your relationship shine through it.
Related: Butterfly Tattoos.
14. Shoulder Henna Tattoo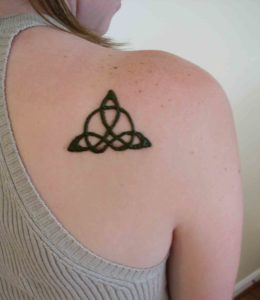 Henna is an amazing herb widely used for mehndi in various cultures. This shoulder tattoo made of henna is quite simple to make and will give you a taste of mehndi tattoo. If you like it, you can also try these elaborate and beautiful mehndi designs here.
15. Koru Sister Tattoo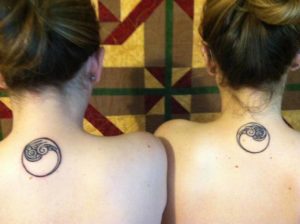 Koru is an ancient and important symbol of Maori art. Notice its spiral and coiled shape originating from the center. It signifies beginning of a new life, peace, growth and foundation strength. The symbol has a deep meaning and is perfect for you and your sister.
16. Funky Sister Tattoo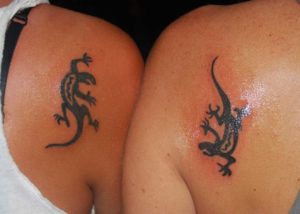 This funky sister tattoo depicting two lizards or may be dragons will bring out your camaraderie with your sister. The tattoo has definitely a wild and unique vibe to it. Don't you think?
17. Entangled Heart Sister Tattoos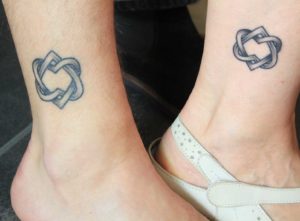 Two hearts are intertwined with one another just like the hearts of you and your sister. This sister tattoo perfectly symbolizes the heartfelt bond between you and your sister which transcends physical boundaries.
Also Try: Angel Tattoos.
18. Beautiful Heart Tattoo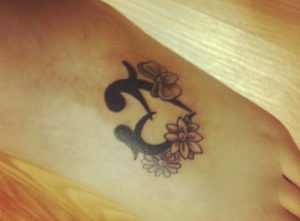 This cute little heart tattoo captures the emotions of two sisters quite beautifully. Notice those bird-like heads emerging on the top of these hearts signifying those secret talks between you and your sister.
19. Puzzle Sister Tattoo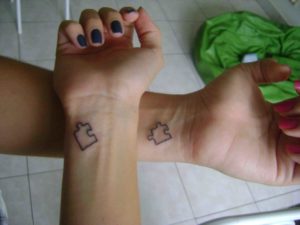 You must have wondered how different are the personalities of you and your sister. Still, when you are together, you fit with each other like missing pieces of a puzzle. This puzzle sister tattoo is the best way to remember this amazing connection between sisters.
20. Sister Heartbeats Tattoo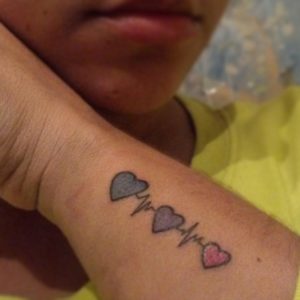 The unbreakable connection of your heartbeats with your sisters is hard to forget and let go. How about cementing this connection with a tattoo just for this type of deep relationship? If you are three sisters, this tattoo becomes even more apt to represent your bond.
21. Sun and Star Sister Tattoo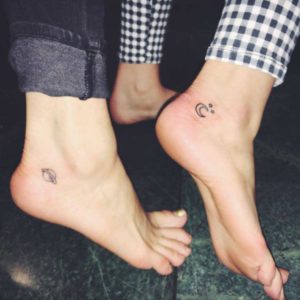 This tattoo may look tiny as compared to general tattoos. However, it represents the vast space and celestial bodies like sun, stars, and planets in the universe. Isn't that how you would describe your perfect bond with your sister- infinite, limitless, and never ending?
22. Cool Sister Tattoos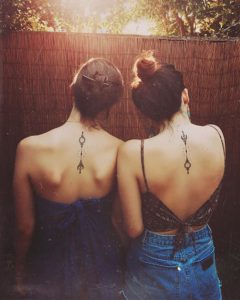 Cool, classy, and captivating- you can describe this pair of tattoos in a better way. This pair of sister tattoo is not only elegant but also quite eye grabbing. Give a royal touch to your looks by sporting this tattoo on your backs.
23. Inspiring Infinity Sister Tattoo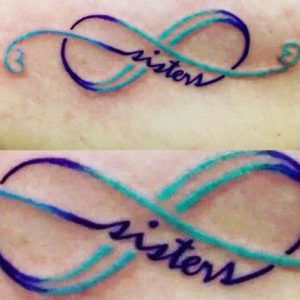 Infinity tattoos are perhaps the most popular tattoos among people. This is for a reason as the symbol is quite intriguing and compelling which has fascinated scientists and ordinary citizens alike since its discovery. You can also try this simple infinity sister tattoo which can inspire your relationship to go beyond the depth of infinity.
24. Sister Love Wrist Tattoo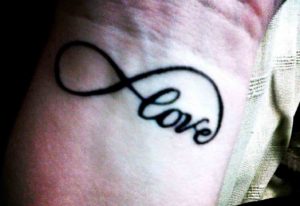 Love till infinity and beyond- that is what this fantastic tattoo design conveys. Have this tattoo with your sister on your wrists. You are going to love this adorable combination of love and infinity symbol.
25. Heart Infinity Feet Tattoos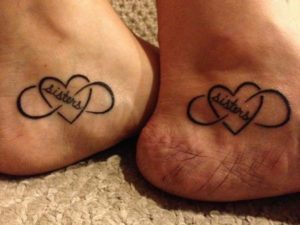 This combination of the heart and infinity symbols give an elegant touch to your feet tattoo. Ink this heart infinity tattoo on your feets and further deepen your relationship between your sister.
26. Sister Tattoo Quotes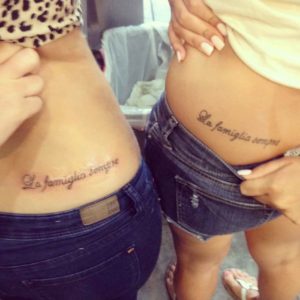 Tattooing your standard favorite quotes is another way to give a personal touch to your body tattoos. They will quickly set you apart from the rest of the crowd and embody your mutual likes at the same time.
27. Sister Freedom Tattoo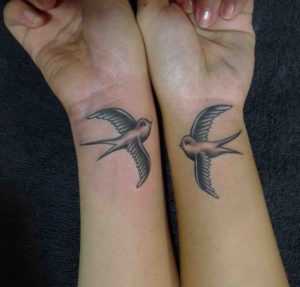 Fly high towards your freedom with this beautiful bird tattoo. The pure class of this tattoo is apt for the coming-of-age sisters. Celebrate your love of liberty with this sister freedom tattoo.
28. Cartoon Sister Tattoo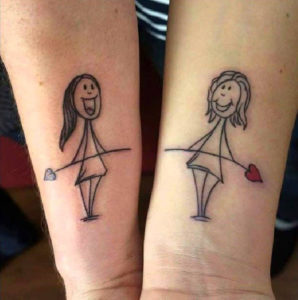 Quirky, funny, and cute- if these words describe the personality of you sisters then go for this incredible cartoon design sister tattoo. This totally captures the true essence of the innocence and fun of your relationship and will remind you of the good old days with your sister in childhood.
29. Designer Feet Tattoo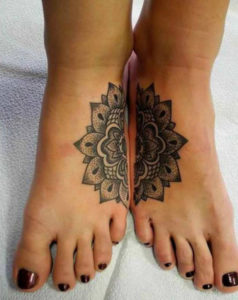 This designer tattoo goes extremely well with fashionable sisters who love exquisite designs. If you are one of those sisters, you and your sister will love this intricate designer tattoo for feet.
30. Mother Daughter Tattoo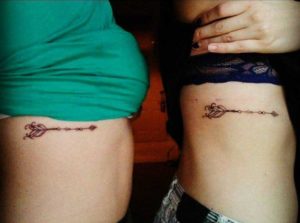 This one is a special one as mothers are often the best friends as well as no less than an elder sister. This is one of the elegant pairs of sister tattoos which can make the bond between you and your mother even stronger.
31. Three Sister Feet Tattoos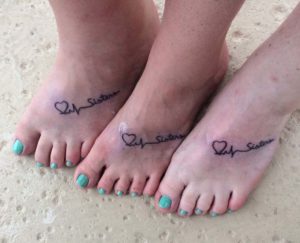 Enhance your looks as well as make your connection with your sisters stronger through this unique sister feet tattoos. The stylish markings along with a heartbeat sign add a fantastic look to this pair of sister tattoos.
32. Crazy Sisters Tattoo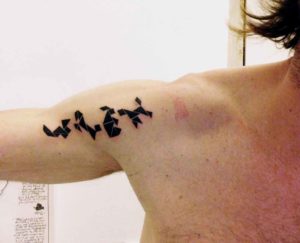 Amp up your crazy quotient with this abstract yet funky looking tattoo. No one is ever going to understand your long gossiping sessions and talks about literally everything and this tattoo is just perfect to represent that confusion.
33. Sister Peace Tattoo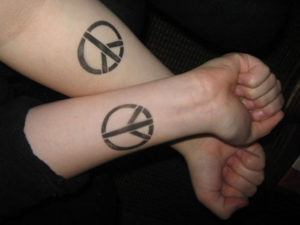 This one is for those ever fighting and arguing pair of sisters. At times, siblings fight and bicker among themselves and this tattoo is an ideal way to remind you of those times to call it a tie and observe peace.
34. Creative Sister Tattoo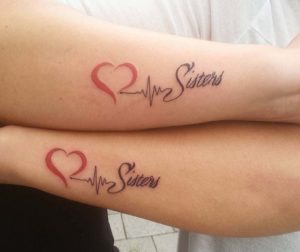 Even if you have separate heartbeats as individuals, but there is a common beat which originates from your hearts and keeps you united always. This creative sister tattoo just denotes that pure thread of relationship between two sisters.
35. Sister Forever Tattoos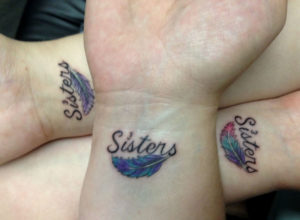 This one is for the lovers of simplicity and distinct pleasures of life. These tattoos show the bond among you sisters in the most straightforward and elementary yet in an elegant manner. Do not forget to notice that dash of design below the markings which adds a subtle touch of beauty!
36. Lovely Sibling Tattoo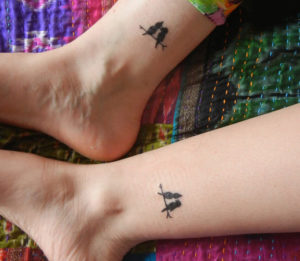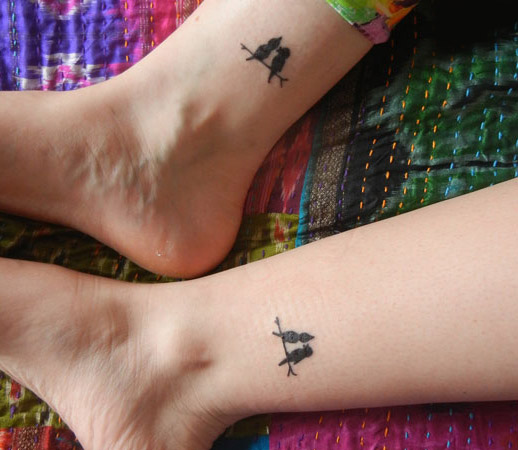 Two small birds are sitting together on a branch celebrating their moment of togetherness- isn't it a beautiful representation of the day when you two sisters sit together quietly gossiping and discussing your lives? The depiction of those moments cannot be better than this lovely sibling tattoo.
37. Yin And Yang Sister Tattoos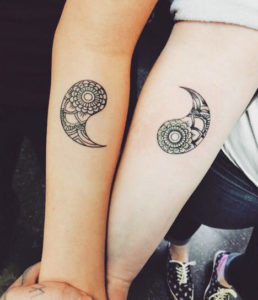 Yin and yang- the evergreen Chinese symbol to denote the unity of opposite is a mind-blowing idea for a tattoo, don't you think? If one of the sisters is a bold, confident and outgoing nature and the other is the epitome of cute and sweet, these sister tattoos will make a perfect choice for you.
38. Sister Symbol Tattoo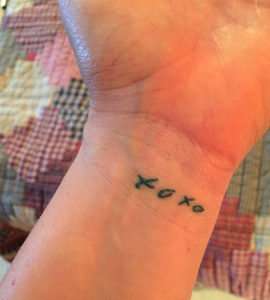 Ah! The most overused yet still relevant smiley which expresses the overflowing emotions of love and togetherness between sisters. It may look a bit cliche at first glance, but if you think about it, XOXO as a tattoo idea is just fabulous.
39. Diamond Heart Sister Tattoos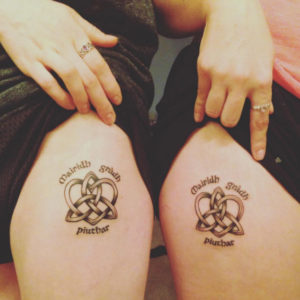 This pair of tattoos is simply perfect to demonstrate your connection with your sibling. The diamond shape along with embedded heart symbolizes the precious bond between sisters. And guess what, it looks incredibly classy!
40. Celtic Trinity Knot Tattoo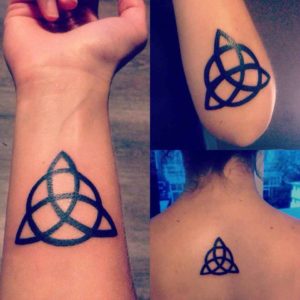 Celtic trinity knot signifies the eternal nature of life and relationships. By sporting these sister tattoos, you permanently mark your sister gang with a tradition cementing your bond forever. Plus, these triple tattoos will add another dimension to all personalities of all three sisters.
41. Heartbeat Sister Waist Tattoo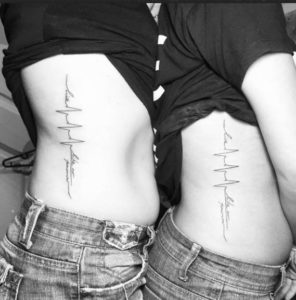 You have a heartfelt connection to your sister and what a better way to flaunt this long lasting relationship than this heartbeat sister tattoo. This pair of sister tattoos on sides look fantastic and totally complement your relationship with each other.
42. Birthday Tattoo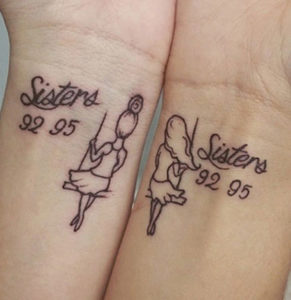 This is a brilliant idea to ink the year of your respective birthdays in the sister tattoos. Also, the creative art of two different individuals can capture the unique personalities of you and your sisters wonderfully.
43. Space And Rocket Sister Tattoo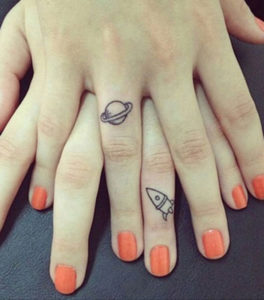 This one if for space lover sisters who love to explore and are fascinated by the outer space. Moreover, if you are not a fan of detailed, elaborate tattoos on your body, this small tattoo is perfect as it can be inked on your fingers.
44. Brother Sister Tattoo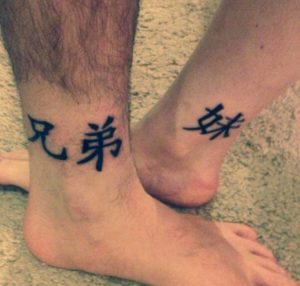 This tattoo with ancient Chinese symbols is one is for brothers and sisters. After all, a brother-sister relationship is unlike any other relationship in the world and needs a unique tattoo of its own. Share this tattoo idea with your brother or sister and ink this pair on your ankles for a distinct look.
45. Farsi Sister Tattoo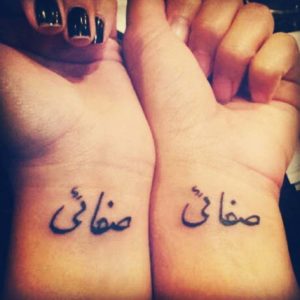 If you want to do something completely different, this Farsi sister tattoo is your best inspiration. You can try a similar tattoo by inking your names in your native language or any other world language on your wrist. After all, we are all global citizens and share a common thread of humanity and love among us.
46. Nature Art Sister Tattoo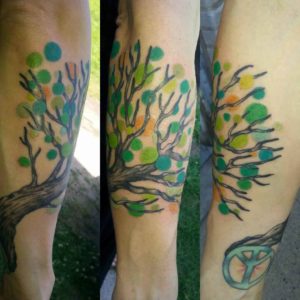 This is another breathtaking piece of sister tattoo with detailed artwork. The strong roots and green branches sprouting from the tattoo epitomizes your relationship with your sister built on roots of deep love and trust.
47. Wrist Sister Tattoo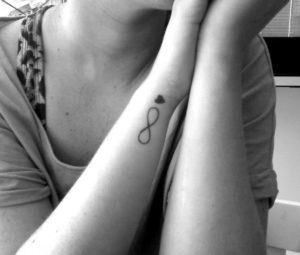 Infinity and heart have got a special place in the minds of all tattoo enthusiasts. You can also try basic yet elegant tattoo on your wrist and ask your sister to do the same. In this way, you can cherish your deep relationship with your sister which will keep reminding of your everlasting bond.
48. Friendship Tattoo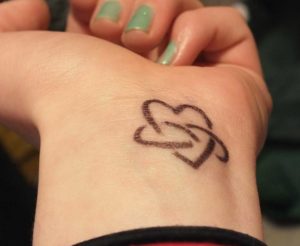 Your sister is also your best friend. Just like a friendship band, this friendship tattoo will rest on your wrists serving as a permanent reminder of your deepest friendship. It cannot get any better than this, isn't it?
Sister tattoos are one of the magnificent ways to express your love and celebrate your bond with your sister. Which of the above sister tattoos is your favorite?
Also Read : Angelina Jolie Tattoos that will Inspire You