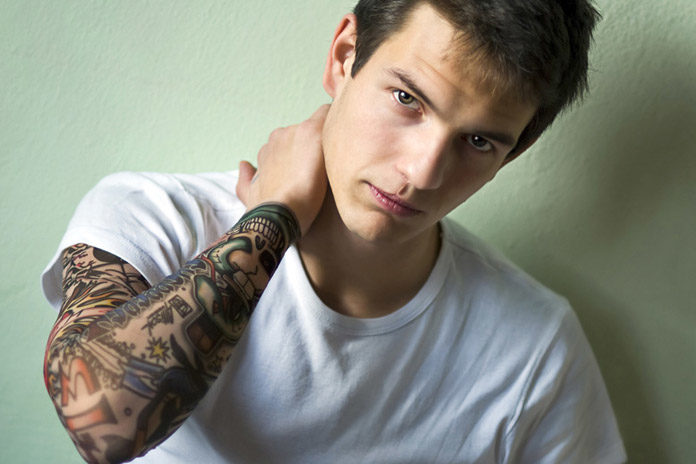 Sleeve Tattoos – The tattoo culture has influenced many people around the world. Some people prefer tattooing their body parts for cultural expressions. And some prefer tattoos for beautifying their arms with artistic look.
It's hard to hide tattoo designs made on face, neck or fingers but sleeve tattoos are the best option when you want tattoos that can be hidden easily at certain moments!
Also Read : Butterfly Tattoo Ideas.
Also, having tattoos on arms is safer than having a tattoo on the forehead or neck, talking regarding health. Given below are 27 tattoo sleeve designs for men, from which you can choose one for your arms.
RED BLUE FISH TATOO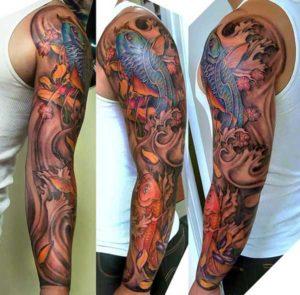 This cool tattoo features a stunning blue and a red fish. These fishes look quite lively and very realistic. Fish-loving people would love to move around with this aquarium like sleeve tattoos. The flowers have been painted beautifully.
Also Read: Koi Fish Tattoos.
SNAKY TATTOO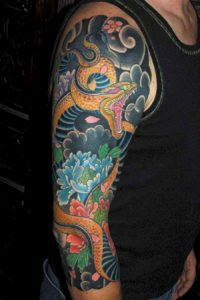 Colored in golden the snake looks stunning. This tattoo possesses a scary look like the snake shown here carries an angry expression but at the same time, it looks impactful too. If we carefully see the artwork put on by the tattooist, then one can say that the snake is about to jump out of the arms.
BLACK DESIGN TATTOO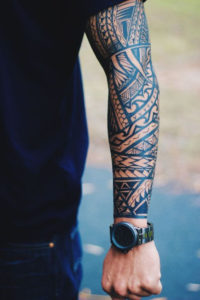 If you put on a half black T-shirt with this tattoo on your arms, then it would look like a part of your T-shirt with some beautiful look on your arms. The black colored design is fabulous.
ANOTHER BLACK SLEEVE TATTOO IDEA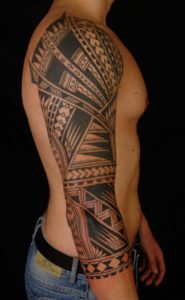 This tattoo like the previous one is made up of geometrical shape with total black shade and covers the whole of the arm and the shoulder part. The difference between tattoo 3 and 4 is that of the brightness of black color. The previous one is more of a 3D design. It seems like tribal tattoo.
WARRIOR TATTOO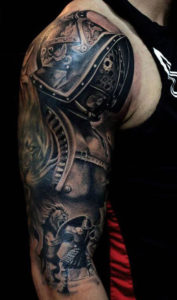 This full sleeve tattoo is shaded in black and represents a soldier wearing a metal shield. The tattoo is a sign of courage and shows a warrior fighting a beast.
Also Read: Celtic Tattoo Ideas.
ANGEL DEMON TATTOO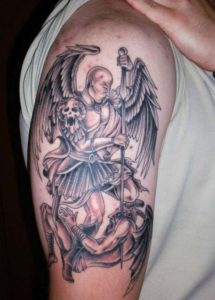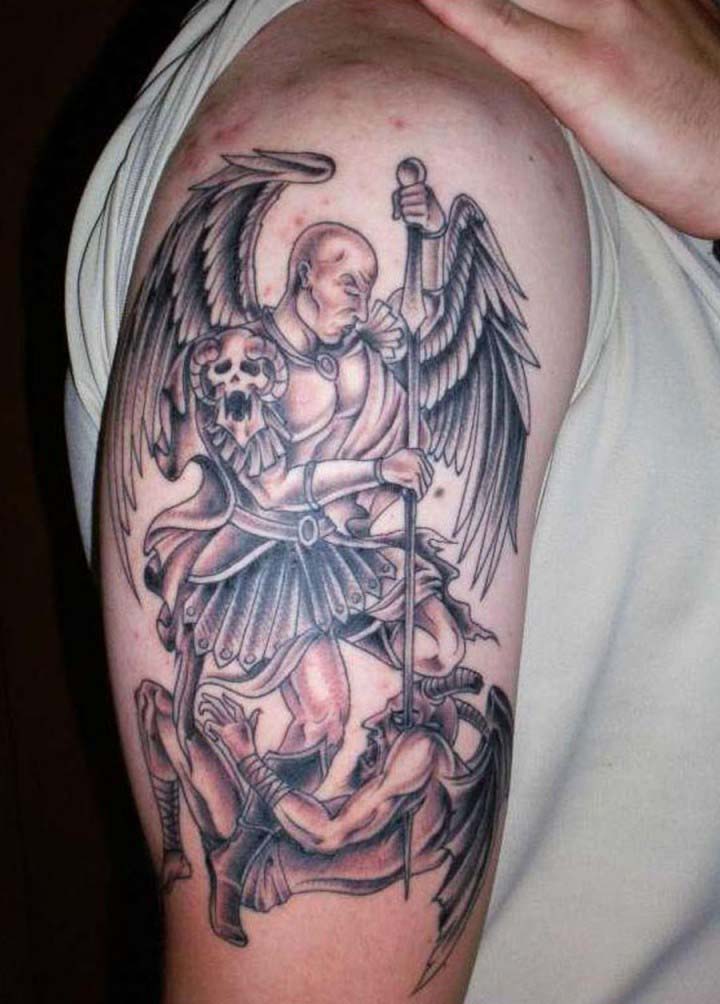 This angel tattoo sleeve represents the win of good over evil. An angel has stabbed down the demon. The size of the angel has been made larger than the beast to serve that good is always greater than evil. Indeed, one of the best tattoos sleeve ideas for men!
SIMPLE BLACK DESIGN TEXTURE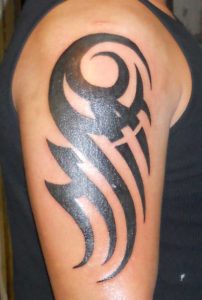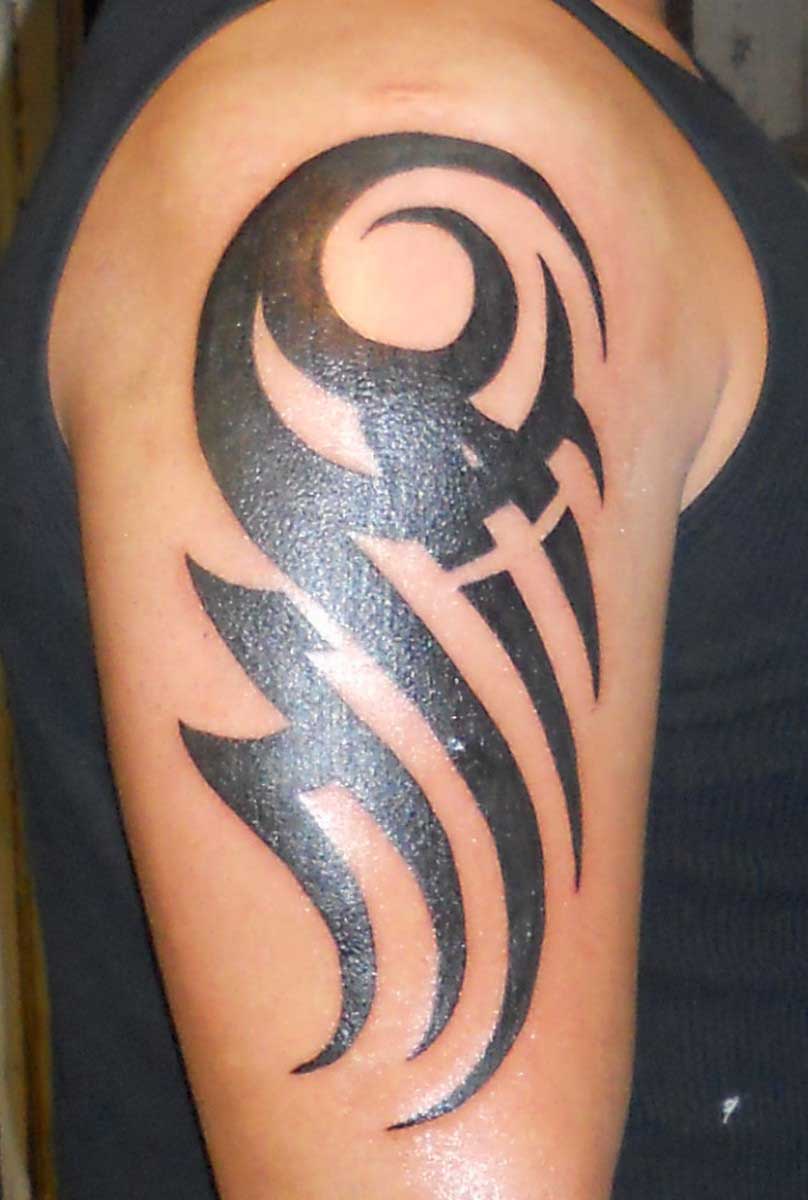 This tattoo is half the size of a regular full sleeve tattoo and has a very simple design which looks good. The whole pattern looks raised, giving a good texture to the arm.
OLD DRAGON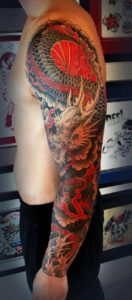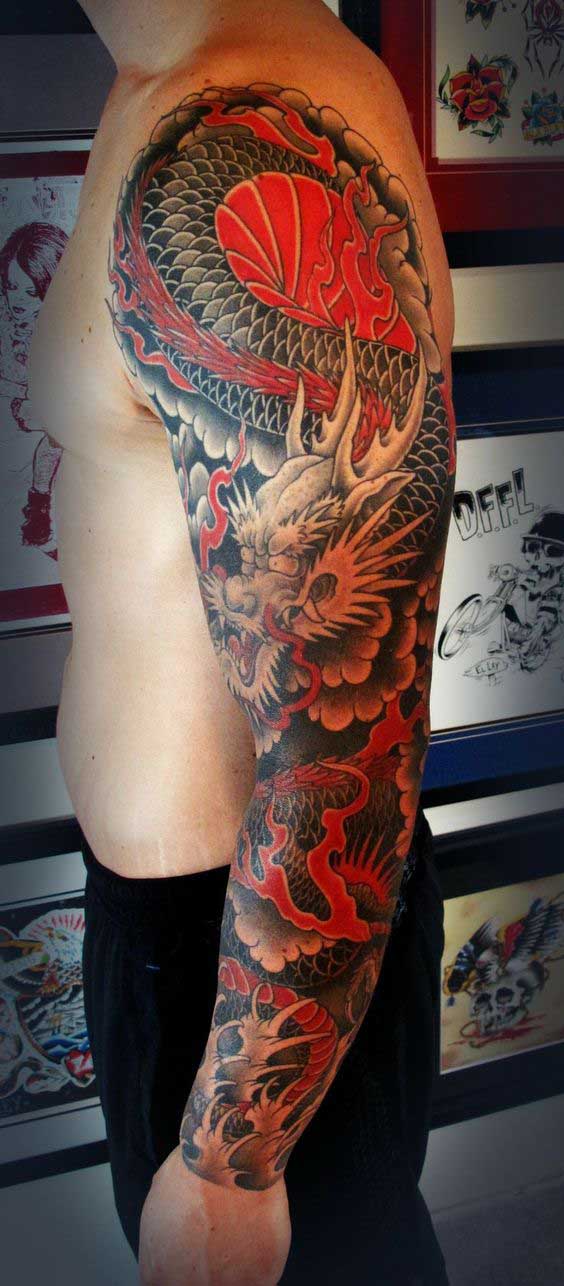 The red and black texture color of the dragon with a funny face looks like a part of full T-shirt on the man's arm. If you wish to have such sleeve tattoos on both of your arms with a similar pattern vest then no doubt everybody would love it.
COLLAGE OF FACES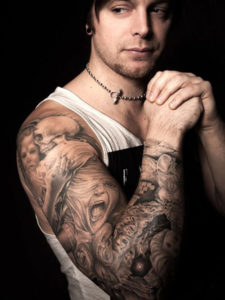 This one is the most complicated of all tattoos showcased here. At a closer look, you will discover faces with various expressions. Just look at it and try to find out the hidden faces!
FLOWERY SKULL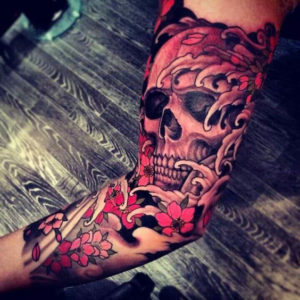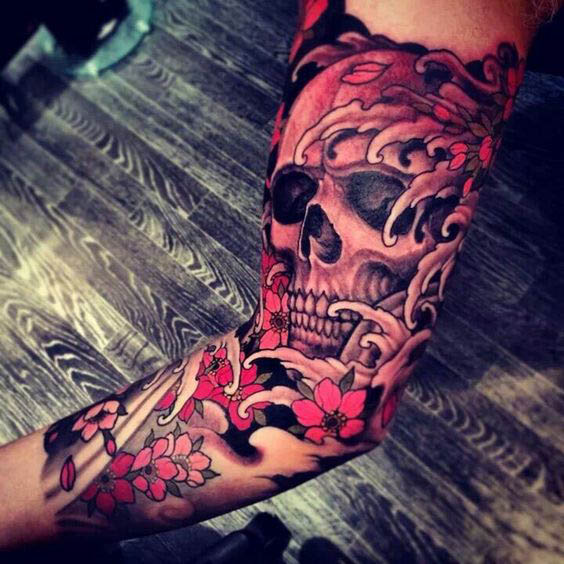 Observe the mixture of a flower and a skull here. Generally, we see that skulls are always with black backgrounds or with some spooky stuff. The skull is shaded red.
QUEEN EYE TATTOO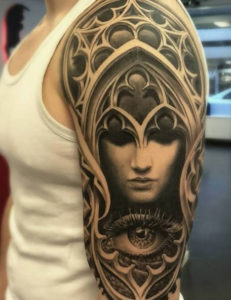 The golden and black shade for the queen's crown is the center point of this tattoo. The eye is portrayed creatively. The design of the tattoo has been made such that it looks more of a shield.
SPOOKY TATTOO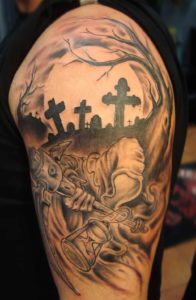 This can be a good spooky sleeve tattoo idea. The graveyard's atmosphere looks scary. This tattoo covers the shoulder's part and half of the arm. Anyone with such tattoos on their arms can be a sole believe in ghosts.
STAR TATTOO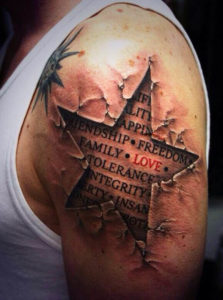 Love, tolerance, freedom, integrity are the terms used by many great people around the world to bring the world in peace. This design represents the same thing. The way the tattooist has drawn this pattern, we can say that the man with this tattoo has buried these terms down upon him. It is a good piece of art.
GIRL FACE TATTOO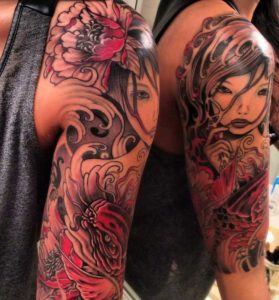 This one involves a young lady's face. She carries the expression of pondering upon something. The innocence on her face is seen entangled through hair that carries the look of branches. Beautiful colors, great creativity!
FlORAL & GEOMETRIC TATTOO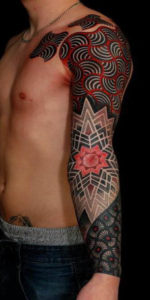 Three captivating patterns are combined into one in this pattern. The geometric pattern at the top is followed by a flower kind of design that has been created through geometric lines giving rise to a star that surrounds the flower.
The bottom area carries mini floral patterns made out of lines and dots. Such patterns are also used in Pakistani mehndi designs
TIMER TATTOO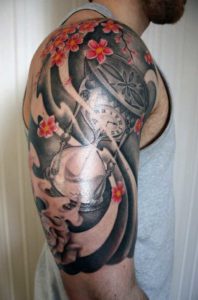 The value of time has been pointed out in this artwork. It shows that with time everything flows. The flowers grow with time and fall apart with time. The shine in the sand clock to show that it is made up of glass is a creative idea.
COLORFUL SNAKE & DRAGON TATTOO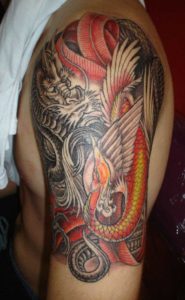 Using the vibrant shades of red, yellow and black, this piece of tattoo embeds a bird and a dragon. Flaunt this beautiful pattern on your arm and let the world know your taste for art!
FISH TATTOO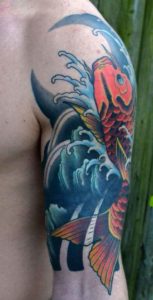 A goldfish like fish is trying to wave up with the water wave in this tattoo. The color looks so beautiful as if it is a real goldfish. We cannot call this a full sleeve tattoo, but you may refer to it as a half sleeve tattoo.
ANGEL TATTOO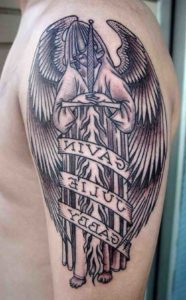 Now this design represents an angel. Angels are a sign of calmness and goodness. This tattoo does not take much of space and is about 10-15 cm long. A person who wants an arm sleeve tattoo that does not occupy the whole arm, this tattoo is the best choice.
GREYISH SHADE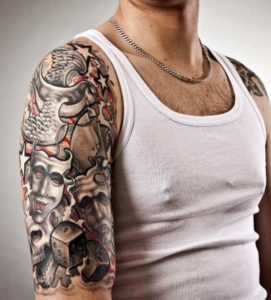 People without of the world mindset can tattoo their arms with this tattoo as this tattoo has some grayish tone masks gazing at something. This tattoo's primary purpose is hard to define but the artwork need's a serious appreciation.
COLORFUL BACKGROUND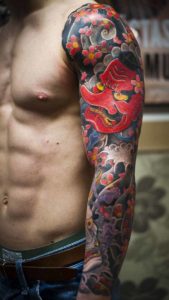 A good colorful tattoo sleeve design for men! There are different colors used in this tattoo with alluring flowers. The red-faced cartoon is the funny part of this symbol.
GREEK HEROES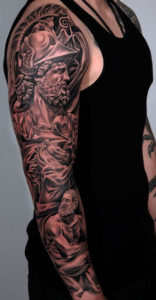 If you are a 300 movie fan and love, Leonidas, then you can ask your tattooist to make similar Greek heroes cartoons on your arms. The image shows that the man's arm is metallic.
MESSAGE OF PEACE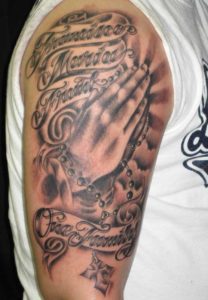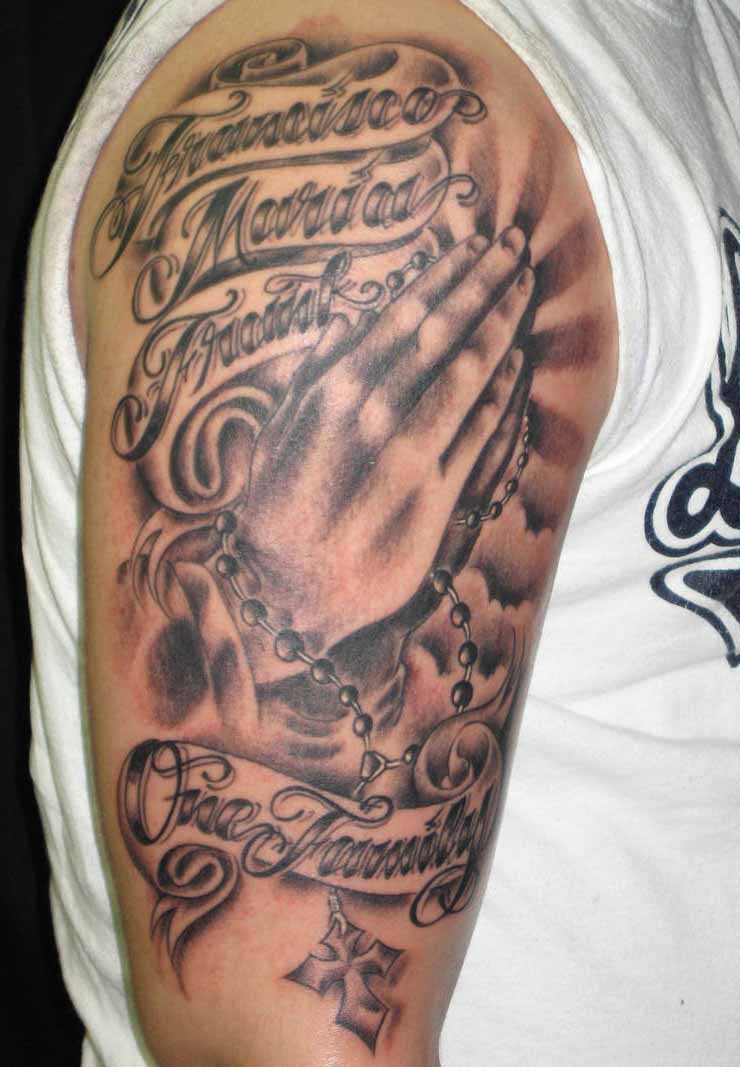 If you are a peacemaker, then you could have this or similar tattoos tattooed on your arms. The tattoo shows hands joined praying for enlightening (the five shades represent the light).
BLACK INK SKULL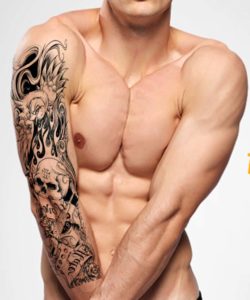 This tattoo has been drawn entirely in black ink. Skull is a symbolism of death and mortality. Death metal bands have skulls as their symbol. You will find the band members having skulls tattooed on their arms.
SIMPLE SLEEVE TATTOOS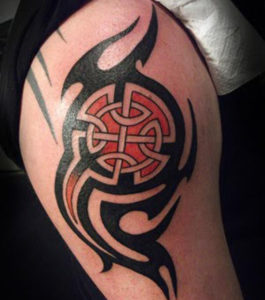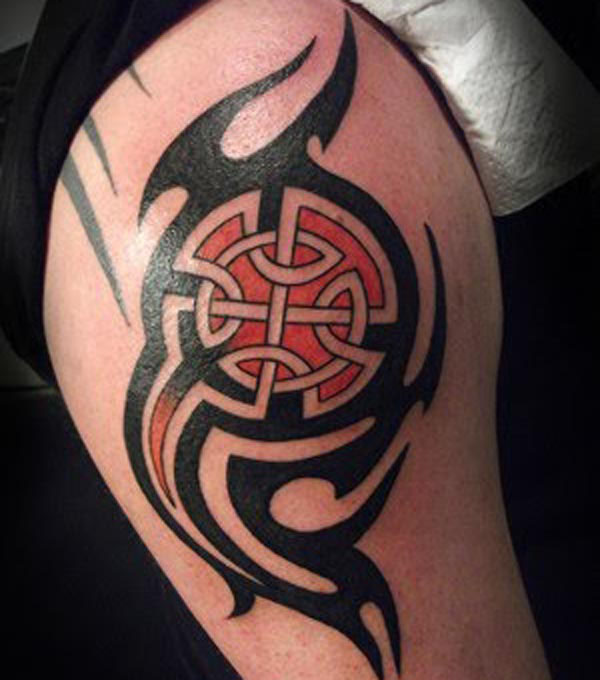 This tattoo is simple and elegant. The combination of red and black is considered the best in the world and the tattooist made it very intelligently.
ROYAL LOOK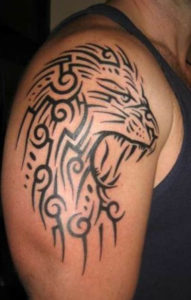 Looking for a royal look in men's sleeve tattoos? Try this one! It has got an image of a lion – majestic and graceful. The artist has carved this tattoo with simple black lines. It is an excellent idea for people with 'Leo' sign as lion symbolizes the leons.
UNIQUE LOOKING TATTOO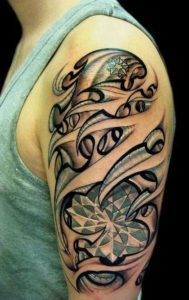 Combining the wavy pattern with a mini star and shades of black and gray, the tattoo artist has created a striking design. This unique looking design is one of the best sleeve tattoos for men.
These are some of the sleeve tattoos designs for men which have been made decorously. You can either ask your tattooist to make the same designs for you, or you can gather up the ideas and ask him/her to creatively make a new type of art. A real good tattoo can definitely make you stand out of the crowd!
Also Read : Small Tattoo Designs To Try.