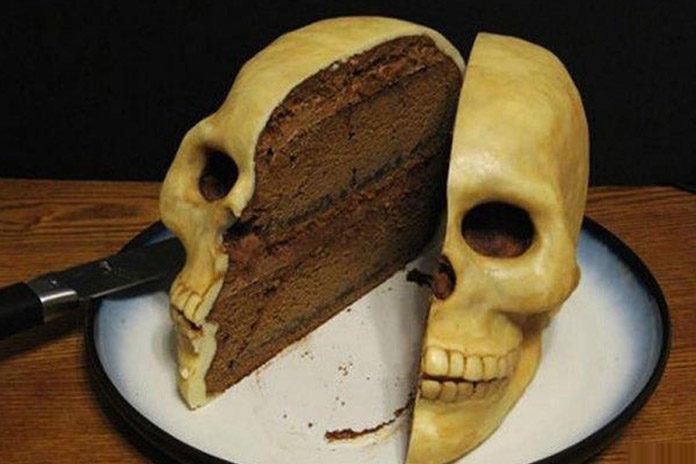 Weird Cakes – You Will Never Believe These Cakes Exist In Real
Who does not love the creamy, soft, yummy cakes? Even if you are on a strict diet and workout regime, it takes a mere sight of cakes to weaken your resolve and get your mouth start watering.
Did you know that people have made so weird cakes that they do not look like cakes at all?
Related: Disgusting Foods Around The World.
Today we bring to you this handpicked collection of jaw-dropping cakes which would leave you wondering if these are real cakes. Without further adieu,
let's look at some of the craziest and mind-boggling weird cakes from the world:
1. Unbelievable Cake Design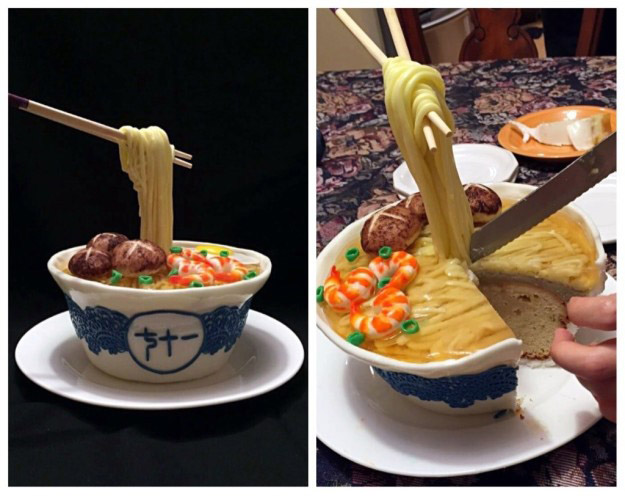 Can you believe this cereal bowl with spoons hanging in the air is a cake? Well, it is true, and it looks so yummy as well.
2. Who Wants to Eat This Painting?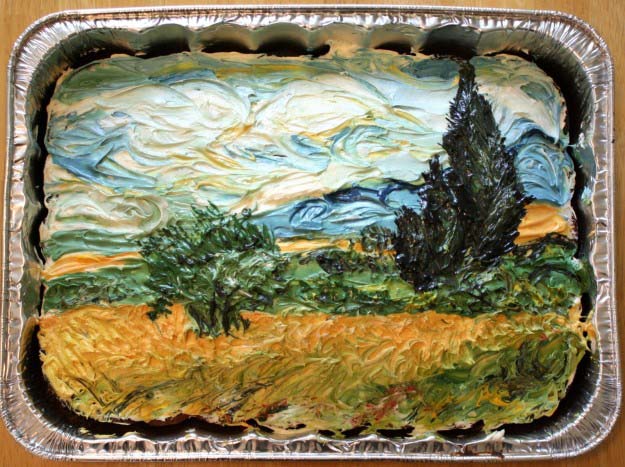 If you are thinking this is just a beautiful painting hanging in an art gallery, you cannot be more wrong. It is actually a tasty yet weird cake which you will never forget eating.
3. Weird Wooden Slump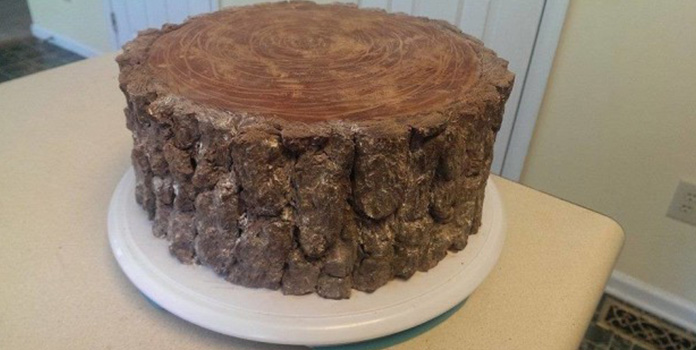 The weirdest cake ever! Don't you agree? If one may add, this is also quite ugly looking cake which you may not want to eat on the first glance.
4. Lord of The Rings Fantasy Cake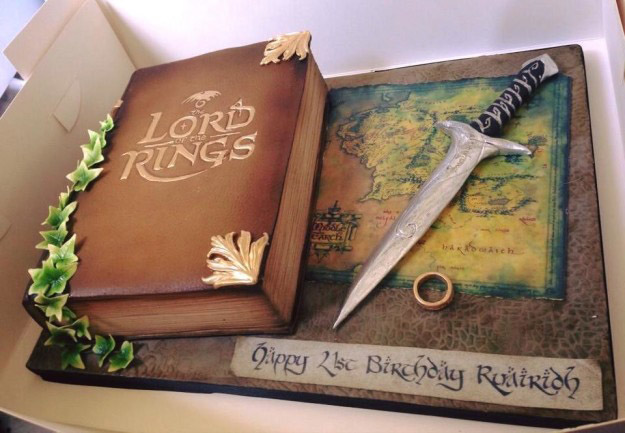 Your love for the Lord of the Rings cannot get any better. Take your time and indulge your senses completely while eating the cake of your dreams.
5. Terrific Terrarium Cake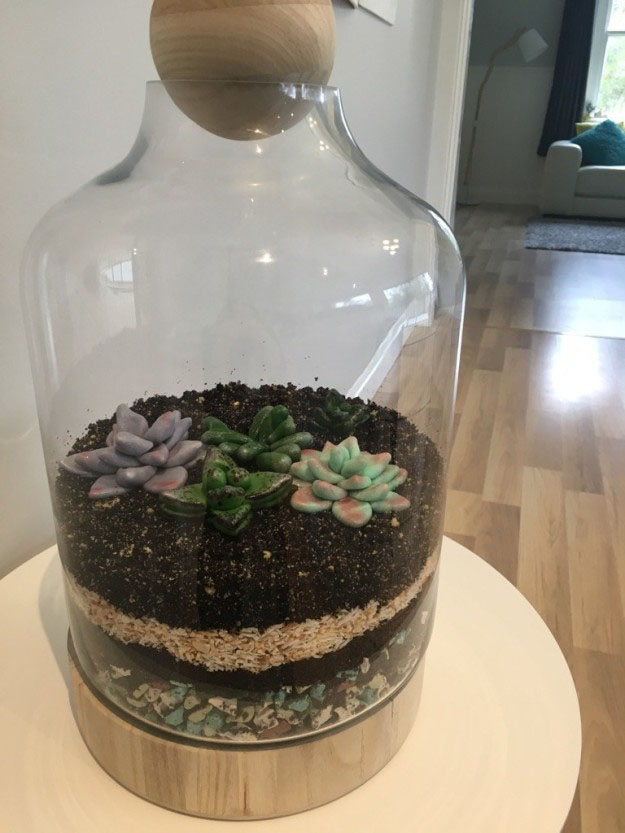 No. It is not another terrarium for your garden and plants. It is just a deceptively delicious cake which you will particularly love if you like gardening.
6. Harry Potter Cake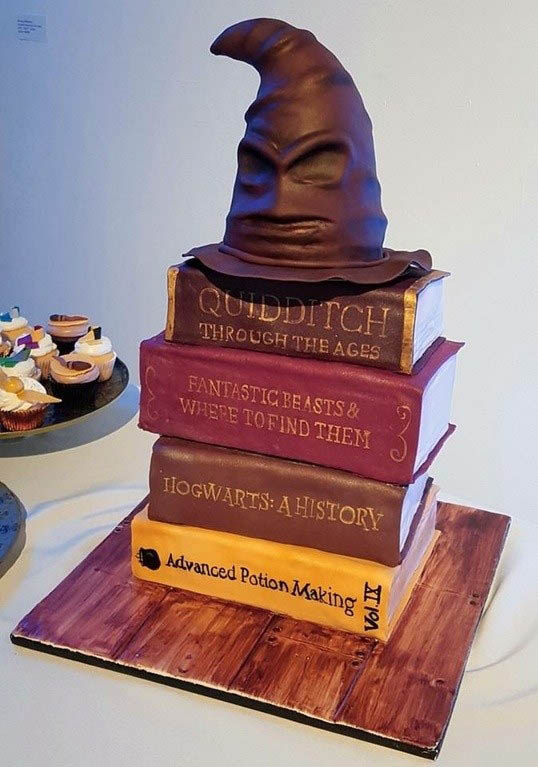 A sorting hat and a stack of thick unknown books by J.K. Rowling but this is not an actual stack of books or the real sorting hat. Relive the magic of Harry Potter with this magical cake!
7. Fruity Bonanza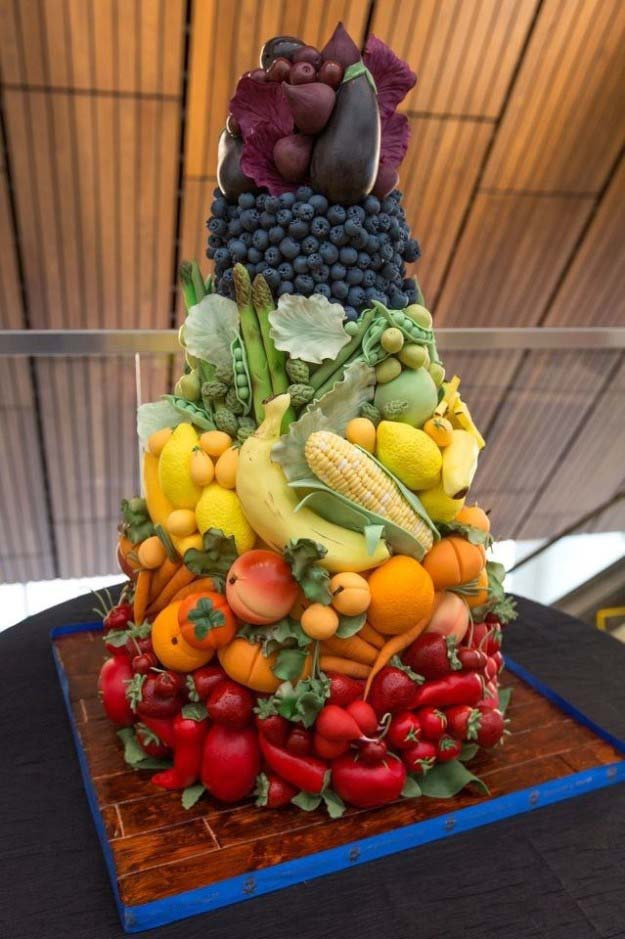 You may get the assumption that it is just a giant fruit salad or an assortment of fruits. However, this is in fact just a sweet, delicious cake which just looks breathtaking.
8. Drool Over This Yummy Cake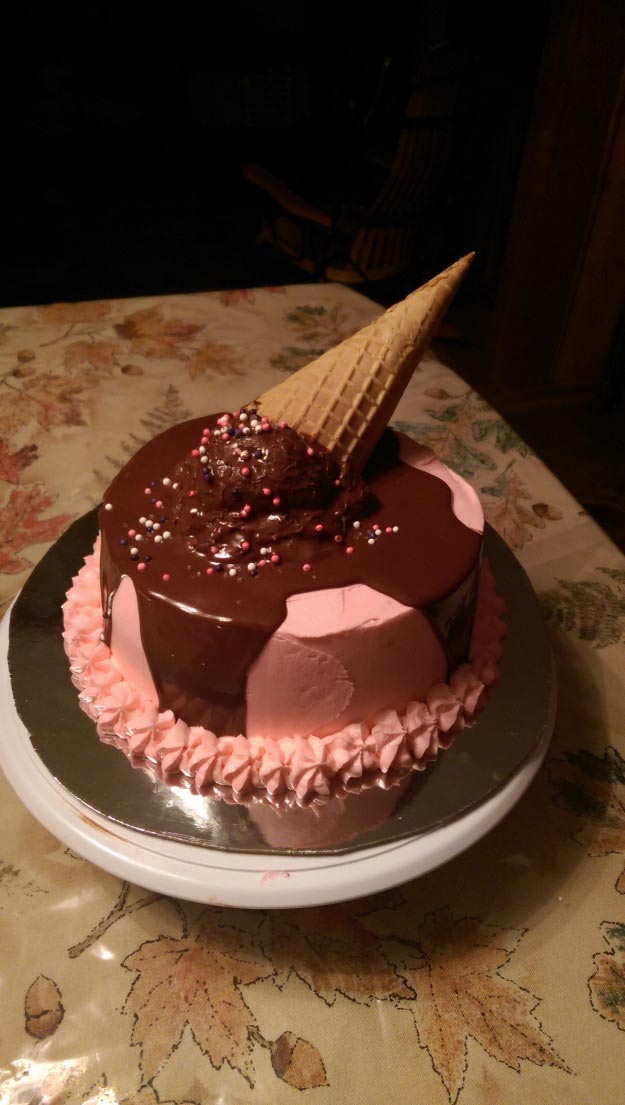 Are you already feeling your mouth watering at the sight of this cake? We can understand. The combination of an overflowing ice cream cone with creamy texture looks just too delicious to ignore.
9. Orea Pocky Air Cake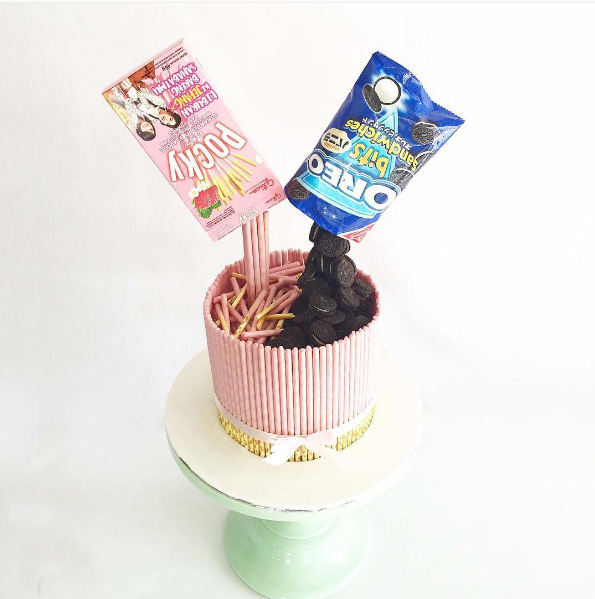 You won't be able to get your eyes off from this amazing display of culinary skills to make this cake. The evergreen Oreo and Pocky are hanging on the top with their yummy content in the air. Moreover, you must not forget that this is actually a delicious looking cake.
10. Cake of Pi and Pie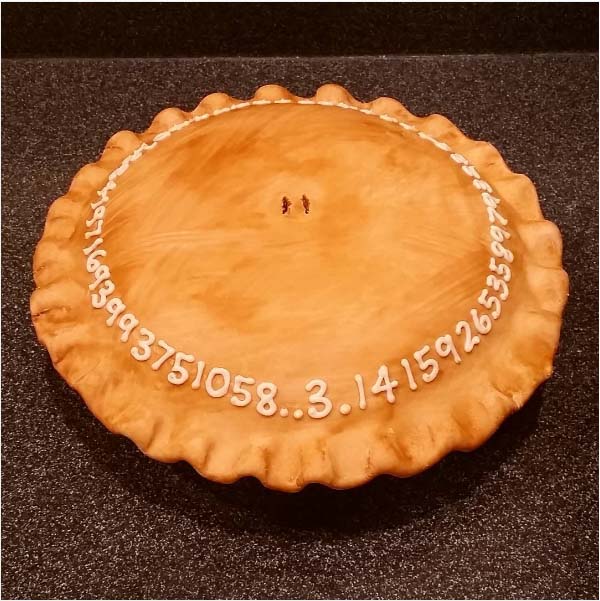 This one is for math wizard in you or pie lover if you prefer that. A cake in the shape of a pie along with inscriptions of the Pi number makes this a true nerdy cake!
11. Antique Cake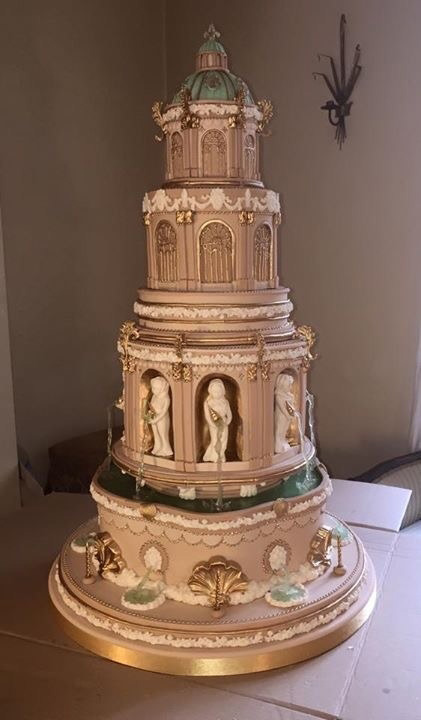 The art lover inside you may not want to eat this cake at all. In fact, had not we told you that this was a cake, you may have mistaken it to be a beautiful piece of antique artwork.
12. Instant Taco Temptation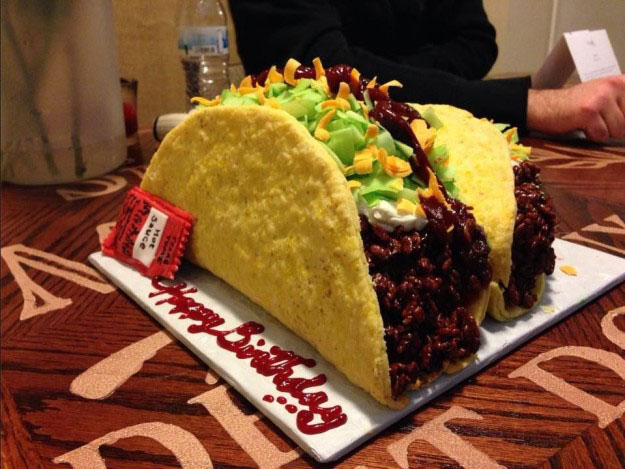 This delicious looking cake in the shape of a freshly prepared taco is guaranteed to make your mouth water just by the sight of it. Try this one to take it for a birthday party of your friend!
13. Cut the Ralph Wiggum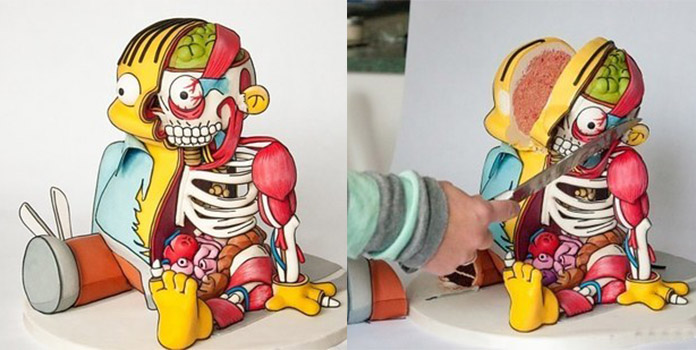 The cute character from The Simpsons, Ralph Wiggum cannot get cuter than this. You had always dreamt of meeting him when you were a child, isn't it? Now, you can have him as dessert at least!
14. Steak Cake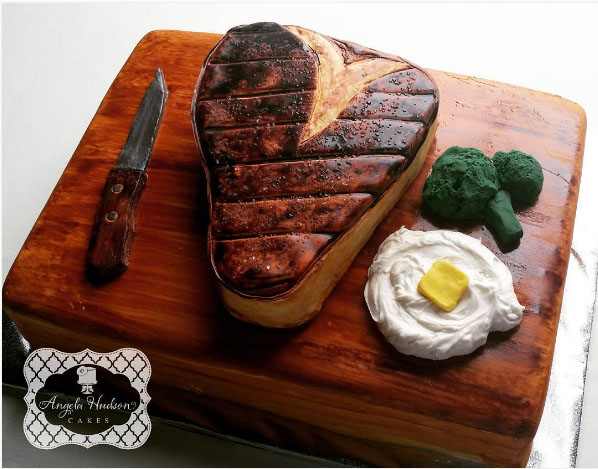 You will not believe that everything in this picture is just a tasty, creamy cake. Even the knife, wood stand, and the side accessories are made of just soft, heavenly cream and are just a pure delight to celebrate any party.
15. Delicious Doughnut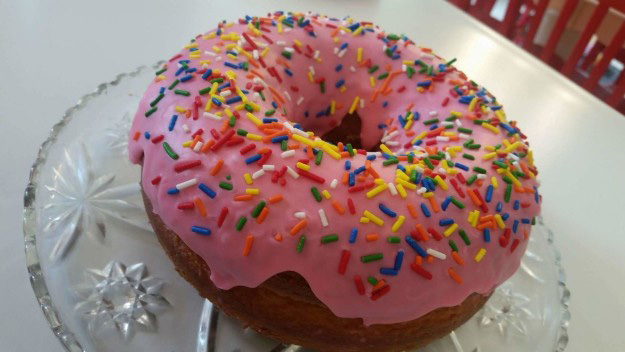 We are already drooling over this tantalizing doughnut-shaped cake which has colorful sprinkles all over it to make it even more delicious.
16. Yellow Fish Cake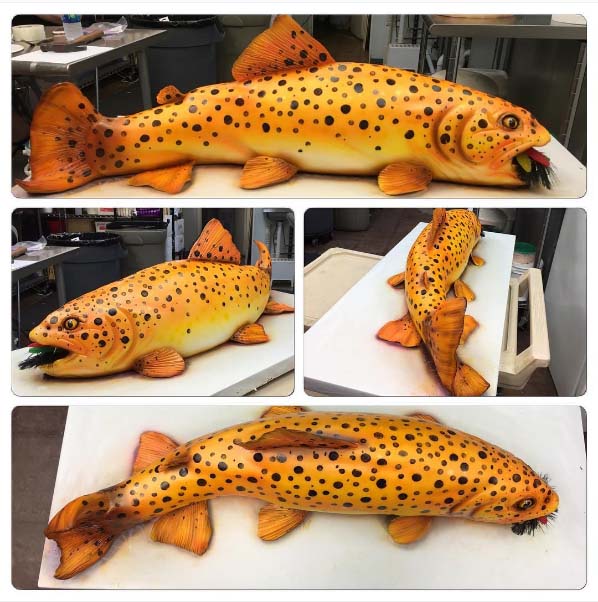 If you like fish, you will enjoy eating this unique fish cake. If you do not like fish, even then you will love eating this because it is cake after all and not really a fish! However, you must admit that this is one of the most weird cakes so far.
17. White Crystal Cake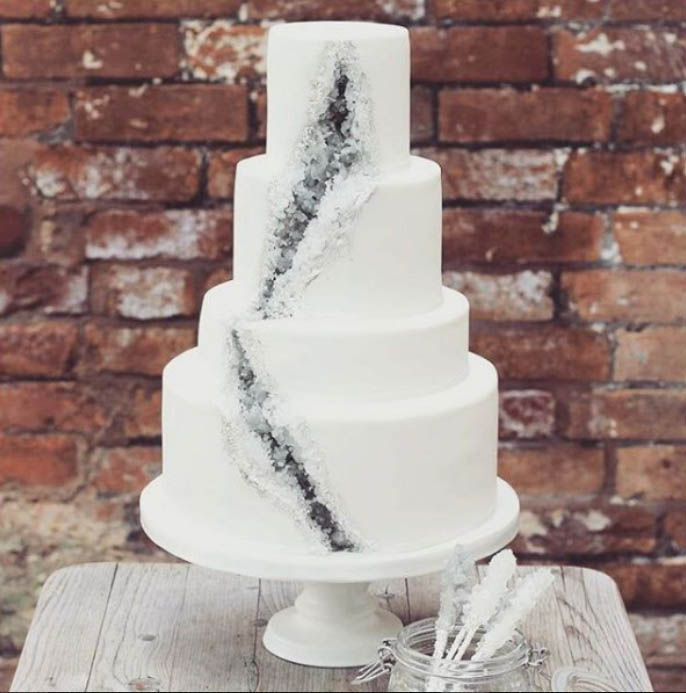 To eat or not to eat, that is the question. You will undoubtedly be confronted with this question on the sight of this white crystal cake. Forget your diet and indulge your senses with this cake.
18. It is for eating, not wearing!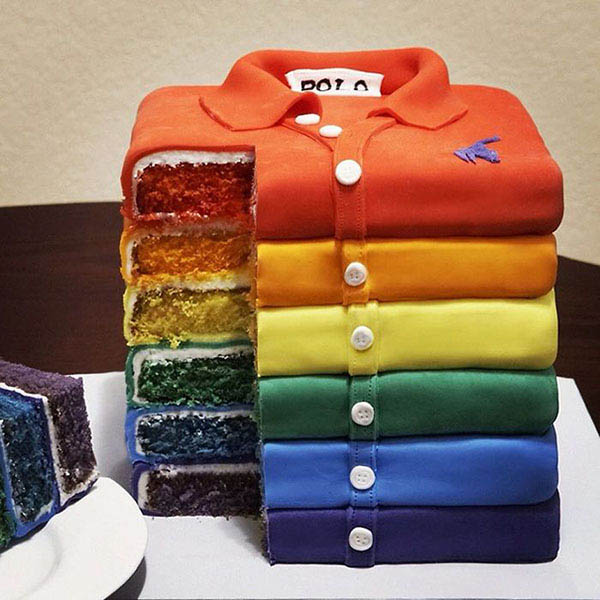 This could be one of the most creative and exciting cake ideas ever! If it was the full picture of an uncut cake, we bet you would have never guessed that it is actually a cake.
19. Monster Cake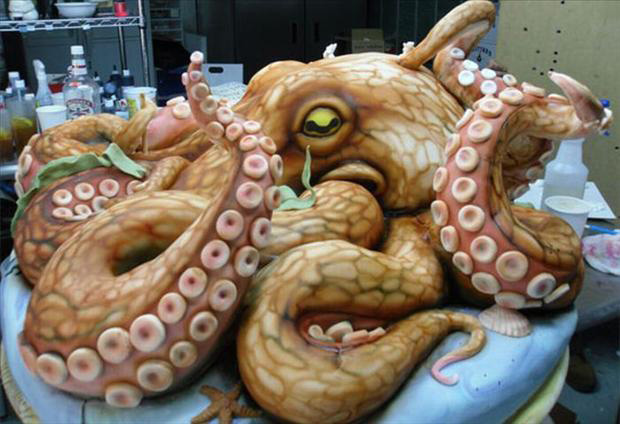 You may not immediately become ready to eat this cake (yes it is indeed a cake) as you may find it bit disgusting at first glance. However, we assure you that this cake is as sweet and yummy as any other cake.
20. Cool Cake Design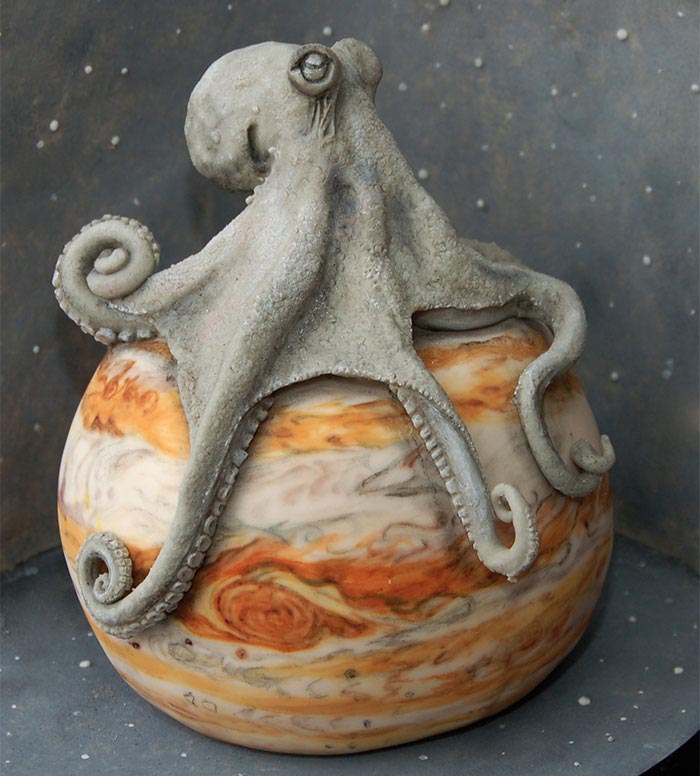 Want to flaunt your cooking skills at a family function or a cake competition? We challenge you to prepare this stunning cake which will make you a pro cake chef. However, your guests may put it into the list of weird cakes.
21. Skull Cake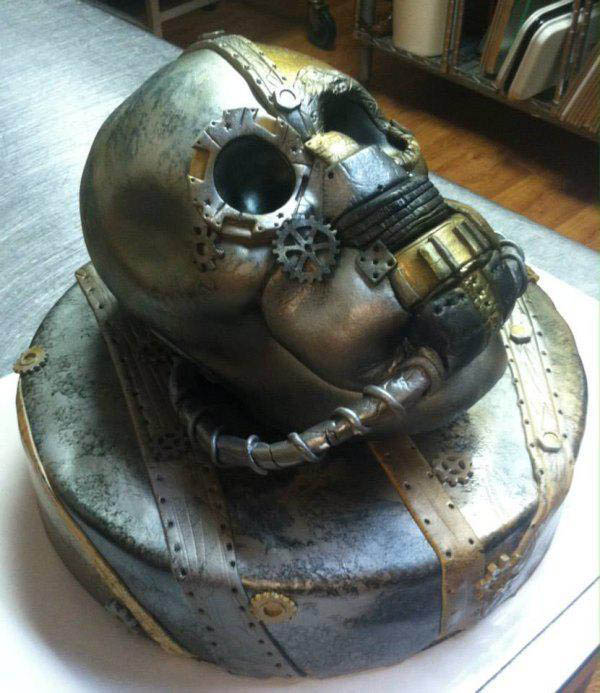 Bring out your funky side on the table with this brilliant skull cake. It may not look as inviting as other cakes, but it is undoubtedly delicious and mouthwatering.
How did you like the above weird cakes from all over the world? Did you ever imagine that cakes can look like that?
Also Read: Cooking Tips.