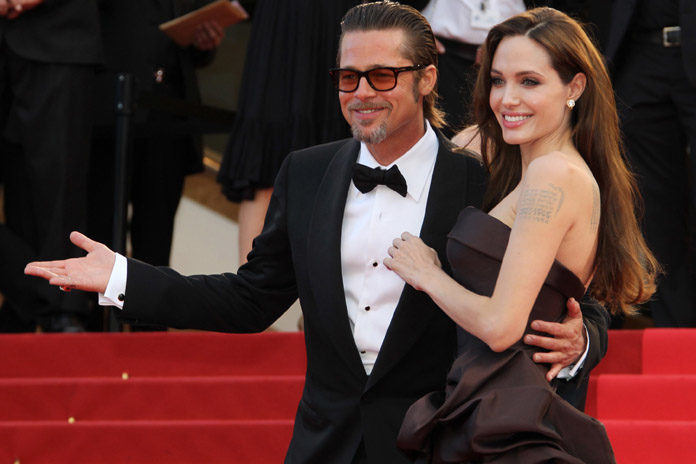 Angelina Jolie and Brad Pitt – Stylish, sexy, powerful, charming, graceful, lovely-any list of adjectives is not enough to describe the beauty and insane craze of Angelina Jolie and Brad Pitt. Often known as Brangelina among their fans, the couple is always a favorite of glossy tabloids and lifestyle magazines.
Related: Angelina Jolie Tattoos With Message.
The paparazzi is always looking for a sensational story about the private life of Angelina Jolie and Brad Pitt. The couple does not have a craze limited to a particular country, and it is a global super couple in a real sense.
Amidst the never-ending rumors about the relationship between Angelina Jolie and Brad Pitt, there are several lessons which you can learn from this super couple:
1. Importance of strong relationship foundation
If you look closely at the Angelina Jolie-Brad Pitt relationship over the years, you will easily find that the couple had worked hard to set their priorities straight before they got officially married.
In fact, they dated for over seven years before tying the knot, and you need not be a genius to figure out that the dating period was a lot more than just a random affair. They took their own sweet time to understand the fundamentals about what they really wanted from their lives and relationship.
Angelina Jolie once admitted in an interview,
"We spent a lot of time contemplating and thinking and talking about what we both wanted in life and realized that we wanted very, very similar things. We remained very, very good friends – with this realization – for a long time. And then life developed in a way where we could be together, where it felt like something we would do, we should do."
This is the number one lesson you can take from Angelina Jolie and Brad Pitt. Any long term relationship cannot be a happy and fruitful one unless both know and understand one another. It takes two self-aware individuals to form a relationship where both can stay happy and satisfied.
2. Bonding over Work
It is not necessary that two individuals in a relationship work in similar fields. However, if they do work in the same area, it can work wonders for their relationship. It is usual for two lead stars of the film to bond together which at times turn to temporary or long-term relationships as well.
However, most such relationships do not last for too long. However, it was different for Angelina Jolie and Brad Pitt.
Despite being famous celebrities of Hollywood, Jolie and Pitt had met for the first time on the sets of Mr. and Mrs. Smith. The amazing onscreen chemistry which you saw in Mr. and Mrs. Smith had a lot to do with the real life chemistry between them. During the shooting, they had a lot of fun together and found many similarities in each other. In the words of Angelina Jolie,
"Because of the film, we ended up being brought together to do all these crazy things, and I think we found this strange friendship and partnership that kind of just suddenly happened. Anything we had to do with each other, we just found a lot of joy in it together and a lot of real teamwork. We just became kind of a pair."
Finding lasting joy in the company of each other and having fun as a team together is one of the strongest trademarks of a happy relationship.
3. Distance from unnecessary attention
Angelina Jolie and Brad Pitt are one of the most powerful and popular couples in the world. Naturally, the whole paparazzi is always on the lookout for the latest gossips and pictures and news about the couple.
However, Pitt and Jolie have been hugely fortunate to stay away from this unnecessary attention. At times, they come out themselves for a photo shoot or in film festivals, but you will hardly see them grabbing headlines.
Despite many popular tabloids reporting on the rough patch of the couple, the couple has always been graceful in front of media while maintaining their distance. In fact, you will be shocked to know that despite having a faint idea, media never actually got to know about their marriage in France in 2014 until they released an official statement five days later.
In normal life, although you will not get any attention from world media unless you are a celebrity yourself, it is never good as a couple to focus on what other people think of your relationship.
In the age of social media where people share everything from their lives, sometimes this want of approval from external people for your relationship can become the cause of its downfall.Learn to keep your relationship private without keeping your partner a secret.
4. Family first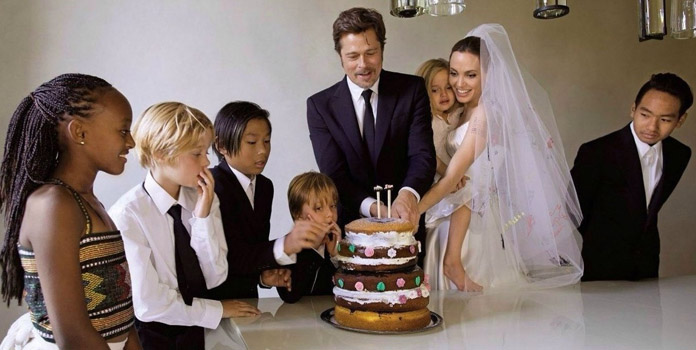 One thing which has cemented the bond between Angelina Jolie and Brad Pitt is their love and commitment towards their children. Angelina Jolie had already adopted Maddock when she first met Brad Pitt for the first time.
However, that did not deter Pitt from continuing his relationship with Jolie. In fact, both Maddock and Pitt bonded very well from the start ultimately leading the couple to live together. Brad even accompanied Jolie to Ethiopia to welcome their second adopted child in the form of Zahara.
Now, they also have their biological children in the form of Shiloh Jolie-Pitt and twins Knox and Vivienne in addition to third adopted child Pax from Vietnam.
Most importantly, against what anyone would normally believe, Pitt and Jolie raise their kids in a very normal, down to earth way. Many times the family is spotted at local KFC and McDonald's to celebrate important occasions. Both reportedly prevent their kids from watching American cartoons as well because they show fancy commercials for big toys.
The whole family is often spotted at film festivals and holidays together flashing a charming smile for the camera. Angelina Jolie and Brad Pitt also make adjustments in their shooting schedules to ensure that they spend quality time with their kids at home.
Since their children belong different ethnicities, they also encourage them to learn about each other's cultures and language. Jolie once revealed in an interview how her kids are learning various languages to bond with each other in a better way.
Any couple can take serious lessons of raising children and family from this power couple, don't you think?
5. Being together in tough times- Fight Against Cancer
Like any other couple, Angelina Jolie and Brad Pitt went through a rough patch. It was during the time when Jolie had lost his mother to cancer in 2007. She found out that she also has an 87% risk of breast cancer and 50% risk of ovarian cancer. Jolie then had to go through a double mastectomy to prevent the possibility of cancer.
This was a tough ordeal for her and a huge blow to her sense of beauty and sense esteem. She shredded much weight during that time and appeared very unhealthy in public appearances as well.
Like a perfect partner, Brad Pitt who was not even married to her then supported her to maximum level and set an example in front of males around the world to be by the side of their partner in any situation.
In addition to this, there have been rumors many times about the couple having differences and heading to a divorce due to former Brad Pitt wife, Jennifer Aniston. However, you can still see their pictures happily spending their holidays and anniversaries together putting rest to all baseless rumors.
In fact, some reports even suggest that they are planning to have a seventh child through another adoption.
6. Making Difference to The World Together
How many couples do you often see venturing out of their personal lives and making a difference in the lives of others? Angelina Jolie and Brad Pitt are more than just a typical celebrity couple flashing grins in front of the camera and loving the attention.
They are a perfect example of a power couple who understand their responsibility and role towards the world as a whole. Angelina Jolie has always been involved in humanitarian efforts. She was awarded Global Humanitarian Action Award by the UN Association of the USA for her efforts for refugees.
Post her relationship with Brad Pitt; the couple founded the Jolie-Pitt Foundation in 2004 to do contribute towards making this world a better place. The foundation carries out humanitarian tasks and provides funding for human causes.
The organization has contributed the maximum to Cambodia, Ethiopia, and Namibia. In fact, they have even adopted children from these countries, Maddox from Cambodia and Zahara from Ethiopia. Recognizing her contribution; Cambodian government conferred her with the citizenship of Cambodia
By contributing to causes they both care about, Angelina Jolie and Brad Pitt have set an ideal in front of every couple to go beyond their personal relationship and play a role together to make this world a better place.
It is due to above qualities and valuable lessons that Angelina Jolie and Brad Pitt continue to remain a favorite among their fans all over the world. Over the past few years, the example of their relationship and bonding has inspired many people.
What other qualities of Angelina Jolie and Brad Pitt do you like the most? Share with us in the comments below.
Also Read: Angelina Jolie Hairstyles.