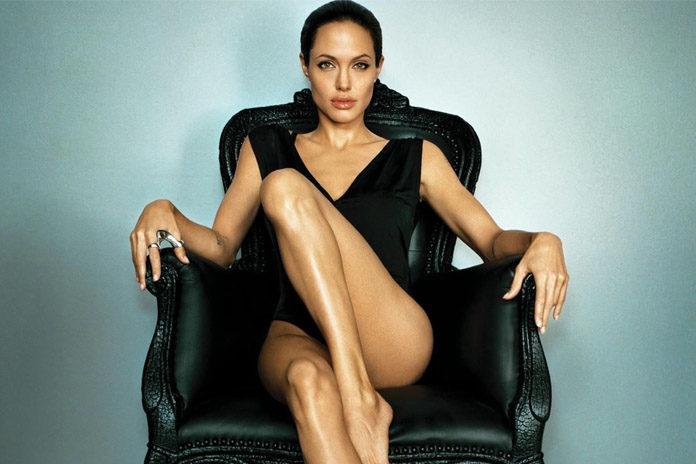 "We have a choice about how we take what happens to us in our life and whether or not we allow it to turn us. We can become consumed by hate and darkness, or we're able to regain our humanity somehow, or come to terms with things and learn something about ourselves."
-ANGELINA JOLIE
Angelina Jolie Biography: Angelina Jolie is perhaps the most famous and controversial celebrities of the modern world. One of the highest paid actresses in Hollywood, she has been the darling of media more for her personal life than her movies. Being a daughter of an Oscar winner, Angelina Jolie is used to the fame and attention of paparazzi and world media.
Related: Angelina Joile Tattoos Have Their Own Story.
However, despite a troubled personal life, Jolie has managed to inspire people all over the world with her humanitarian and cancer awareness efforts. This varied dimensions of her personality make the biography of Angelina Jolie an interesting one.
Let's have a look at the key moments from Angelina Jolie biography:
Angelina Jolie family and early childhood
Angelina Jolie was born on 4th June 1965 to Jon Voight and Marcheline Bertrand in Los Angeles, California. Jon Voight is himself a famous actor of Hollywood known for movies like Midnight Cowboy, Mission Impossible and Enemy of the State.
He even won an Oscar for Coming Home in 1979. The mother of Angelina Jolie has also been associated with acting throughout her life although she was limited to stage plays and theater productions.
Unfortunately, the parents of Angelina Jolie divorced just after two years of her birth after which Jolie started living with her mother. Since then, she has had a particularly estranged relationship with her father although both appeared together in one of the most successful hits of Jolie's career- Lara Croft Tomb Raider.
Troubled teenage and acting school
Initially, Angelina had a great time in Beverly Hills School and was known to be a notorious kid leading a group of girls. She has been a fan of Star Trek ever since childhood. However as she entered into her teenage, she no longer found the school attractive enough and suffered from low self-esteem.
Angelina herself admitted about suffering from low self-esteem issues in her younger days. Her peers often teased her about her skinny looks which made her life at school miserable.
At the age of 16, Angelina Jolie joined the famous Lee Strasberg Theatre Institute for learning acting. During her two years at the school, she learned the nuances of acting and was seen participating in numerous plays and theater productions.
Initial success of Angelina Jolie
Angelina Jolie faced the camera at an early age of five when she appeared in her father's film called Looking To Get Out. Later, after graduating from Lee Strasberg, she got her first leading role in Hackers in the year 1995. However, the film bombed at the box office, but people and critics applauded the performance of Jolie.
The first big success of Angelina Jolie as an actress came in 1998 when she enacted the role of supermodel Gia Maria Carangi in an HBO movie called Gia. Gia was a particularly disturbing and real story of the supermodel who was one of the first celebrities to die of AIDS. Jolie won a Golden Globe for the Best Actress for her heart-wrenching portrayal of Gia.
However, the biggest achievement of Jolie came in the next year when she won an Academy Award for Best Actress in Girl, Interrupted. She also earned a consecutive second Golden Globe for this movie in 1999.
Angelina Jolie Biography of Movies
Although Angelina Jolie has always been the favorite of critics earning their appreciation for even failed films at the box office, she rose to worldwide fame with her portrayal of Lara Croft in Lara Croft: Tomb Raider.
She starred along with her Dad in this movie which went on to gross more than $275 million worldwide. She reprised her role in the sequel to Lara Croft as well.
She went on to appear in popular movies like The Tourist, Wanted, Mr.and Mrs. Smith, Maleficent, and the insanely popular kid's movie Kung Fu Panda (voice-over as Tigress). She also directed several films like Unbroken, By the Sea, and In the Land of Blood and Honey.
Troubled personal life and Failed marriages
Despite earning enough fame and recognition, Angelina Jolie has mostly struggled to find stability in her married life. She has married three times so far with first marriage in 1995. During the shooting of Hackers, Angelina met Jonny Lee Miller, and instant sparks flew despite their age difference.
She married Miller in 1995 but got divorced soon in 1999. In the following year, Jolie married Billy Bob Thornton. At the wedding, both reportedly wore vials of blood during the marriage ceremony. However, even this marriage could not last beyond the year 2003.
Later she met Brad Pitt while shooting for Mr. and Mrs. Smith and got married to him in 2014 in a private ceremony. Pitt was married to Jennifer Aniston who accused Jolie of being a "marriage breaker".The couple, popularly known as Brangelina among fans, has six children together, out of which three are adopted and from different ethnicity.
Also Read: Angelina Joile Hairstyles.
Angelina Jolie Humanitarian Efforts and Fight Against Cancer
Despite the ups and downs of her personal life, Angelina Jolie has remained actively engaged in humanitarian work. She usually denotes one-third of her earnings to charity and supports various causes. Due to her active engagement, UN made her the Goodwill Ambassador for the UN Refugee Agency in 2001.
She did a commendable work for helping refugees in Jordan, Cambodia, and Darfur. To recognize her efforts for refugees in these regions, UN Association of the USA awarded her with Global Humanitarian Action Award.
Angelina Jolie is also quite active in raising breast cancer and ovarian cancer awareness after she lost her mother in 2007 due to cancer. She had lost her grandmother also due to the disease and later found out that she carried a hereditary gene which made her prone to cancer as well.
She revealed that doctors told her that she had 87% risk of breast cancer and 50% risk of ovarian cancer. In 2013, Jolie bravely spoke out in media about her double mastectomy to prevent breast cancer in future. In 2015, she revealed that she had undergone more surgeries to remove her ovaries and fallopian tubes to lower down the risk of cancer in future.
One could say that the life and biography of Angelina Jolie has been nothing short of sensational as well as inspiring. Keeping aside her personal issues, Jolie has been truly phenomenal in her career as an actress.
She has played her part of a conscious celebrity through her humanitarian efforts and fight against cancer. We are sure that Angelina Jolie biography has left you motivated with valuable lessons. Jolie is a highly stylish celebrity as well.
Also Read: Paul Walker Biography.