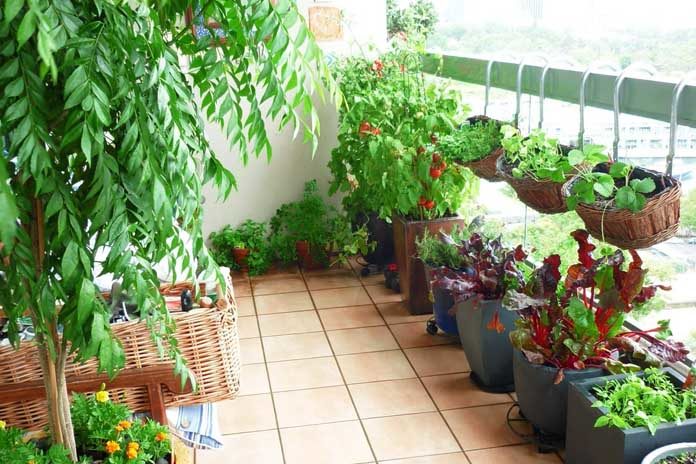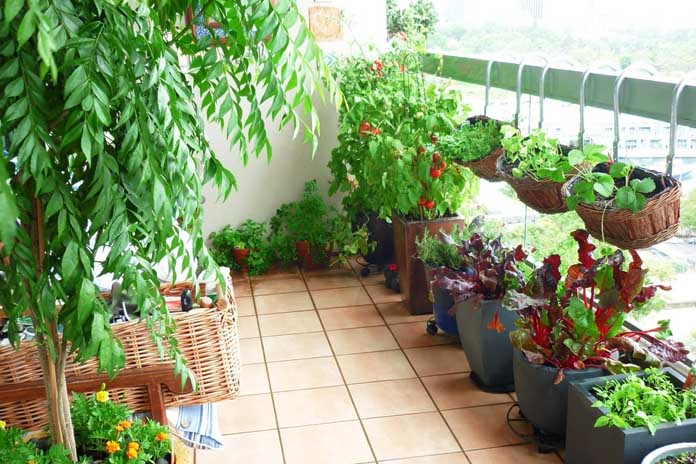 Balcony Garden – After a long tiring day of work, how wonderful it will be to unwind and relax amidst nature? When you live in a crowded city full of skyscrapers, it is not easy. However, it is not tough also.
With a beautiful balcony garden in your apartment, you can bring the nature inside your home. Balcony gardening is increasingly becoming popular among people living in metropolises.
Related : These Small Garden Ideas are Pure Perfection
Especially those who love gardening but cannot indulge in their hobby due to the limited space adore the idea of a small garden balcony. It is incredibly easy to create your little balcony garden. You only need to keep in mind few basic things before you set out to make a small balcony garden.
1. Decide Your Budget in Advance For Balcony Gardening
Balcony gardening seems like a little investment at first glance. However, it is not true. You need to plan your budget and decide how much you are willing to spend on your balcony garden.
In addition to keeping you prepared, this will also cause you to give a thought about the type of balcony plants you want and what kind of pots and containers will you use. Preparing a budget in advance will ensure that you do not buy unnecessary things which may make you regret later.
2. Access Your Balcony Area Thoroughly
This is the most important step which you have to do if you want to create a beautiful balcony garden. The growth of plants depends mostly on the environment of their surroundings.
In the case of a garden balcony, your balcony is the mini-environment for your future balcony plants. So, it is imperative to access your balcony area properly before you move on to other things. Some of the parameters on which you should access the area are:
Size of balcony
Well, balcony garden design is depends on size of your balcony. This seems like a no-brainer, but it is surprising how many people do not give it much thought to it. Find out the exact size of your balcony by measuring length, width and height of your balcony. It will immensely help you if you can make a rough sketch on paper. This will also give you a mental blueprint for the design of your garden balcony.
Direction of balcony
The direction of the balcony will give you a rough idea about the sunlight it will get. Sunlight is beneficial to all plants, particularly if you intend to grow flowering plants or vegetables in your garden. A north facing balcony won;t be suitable for this purpose.
On the other hand, a south facing balcony typically gets sufficient sunlight throughout the day and is ideal for these plants.
You may also need to go beyond this and observe your balcony area personally rather than relying on direction only. This is because your balcony may be surrounded by other buildings so it may not be getting enough sunlight despite being in a favorable direction.
Plus, this will also give you an idea about the exact duration of direct sunlight your balcony is receiving. This will further help you in selecting right balcony plants.
Wind
Like sunlight, the wind is another factor which is going to decide which balcony plants you are going to buy. Many plants do not do well while facing winds. Winds also cause the plants to wither and dry quickly. So, you will have to devote more time than usual in watering them. You can also try using mulching to protect your plants from winds.
3. Choose Your Balcony Plants Wisely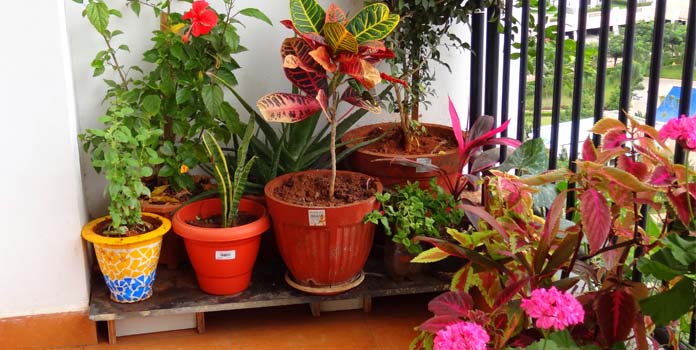 Now that you have decided your balcony area and accessed its environment, you can choose your balcony plants easily. There are two types of plant you can have in your garden balcony- annual plants which grow in particular seasons and perennial plants which are evergreen throughout the year.
Related: Container Plants.
Plant both varieties so you can enjoy some annual herbs, veggies in the season in addition to perennial plants. Begin small and bring only a maximum of 5-6 plants including 2-3 types of each variety.
Annuals are usually easy to grow and bloom beautifully in the season. Perennials, such as a rose plant, may take time and extra care but think about the rosy fragrance spread across your balcony. It will be totally worth it!
You can also check out these beautiful indoor flowering plants for that purpose. These are among the top indoor plants, that you might don't know about.
Another thing you need to keep in mind is whether your balcony is sunny or shady. Not all plants require sunlight, and if your balcony does not have regular sunlight, you can buy shady plants. Plants that love and need sunlight, such as flowering plants, will die in dim conditions.
Also Try: Indoor Growing Light.
Usually, people plant flowering or ornamental plants in their balcony garden, but you can also try growing other things. For example, it is very easy to grow edible herbs in containers. You can also find growing blueberries and currants quite simple to grow in containers.
4. Do Not Ignore Balcony Pots and Containers
Containers and balcony pots play a significant role in your balcony garden. Try to add a dash of creativity and experiment with matching or contrasting colors of containers with respect to your plants. Plus you can try hanging planters if you have small space in your balcony.
You can also go with similar color containers if you want to have a peaceful vibe. Good looking containers will enhance the look of your garden, but you also need to consider their placement, size, and material.
Material – You can buy different kinds of containers made of plastic, clay, ceramic and similar materials. Plastic containers are usually lightweight and perfect if you are planning to have hanging containers in the garden balcony.
However, they do not have let water escape from the soil and could lead overwatering and root rot. So, you may need to buy these with a drainage hole or put one hole yourself.
On the other hand, ceramic and clay containers are stable and strong which can protect plants from falling over. Moreover, these are made from porous materials and offer a better drainage system. If you want to give a uber cool look to your garden balcony, you may even use metal pots.
Size and Placement – A thoughtful selection of size and placement of containers can make or break the look of your balcony garden. If your balcony is smaller in size, use tall and narrow containers because they occupy less space than others.
You can also experiment with hanging containers to optimize your vertical space of balcony. In case, you are planning to grow vegetables; you will need planters and wide boxes.
To give a natural look to your garden balcony, use containers of varying heights. You can also add colorful stones, pebbles or gravels in your containers to give a different look to them. This could also act as mulch for soil.
5. Make Provisions of Watering in Balcony Garden
No matter what anyone tells you, plants do need care. The amount of watering which a plant may require may vary according to the plant type, but they will need it. If you stay out of the house frequently, you may need to install self-planting, drip irrigation system or self-watering pots with large reservoirs for your balcony plants.
Watering becomes even more necessary if your balcony area is windy or becomes too hot during day time. Your plants can become dry if you do not water them frequently in these conditions.
6. Furniture Can Completely Transform Your Balcony Garden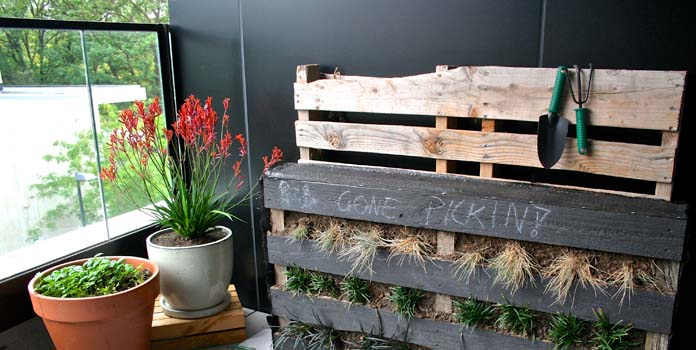 Adding furniture to your balcony garden may seem daunting at first particularly if you have a small balcony. However, it is possible with bit creativity and imagination. You can think of adding a small coffee table with foldable chairs to relax in the evening. This works like a charm in a small balcony.
If you have a balcony larger than usual, you can place a bookshelf along with a foldable sofa to enjoy reading in your private garden. You can experiment with both wooden and metal furniture though latter will be suitable for bigger balconies. Always aim to have lightweight and foldable furniture in your garden balcony to avoid clutter.
So, you see creating a balcony garden is not too difficult if you keep the above things in mind. A garden balcony can completely transform your home and give you a place to take a temporary refuge from reality in nature.
Also Read : A Beginner's Guide To Container Gardening