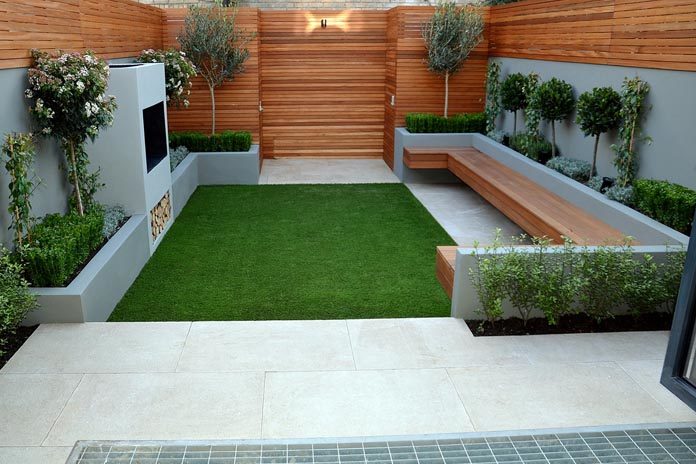 Small Garden Ideas – People have often been told that there's no such thing as a small garden. However, we debunk this myth. We have combined these beautiful small garden ideas that will simply light up your home.
Related: Gardening Tips to Follow.
Make a Smart Outdoor Room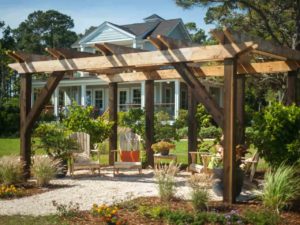 Convert your tiny patio into a beautiful outdoor room by constructing a freestanding pergola accompanied with a seating arrangement. This creates a sense of enclosure and makes the small patio look large.
Add Gravels and Broken Bricks to The Garden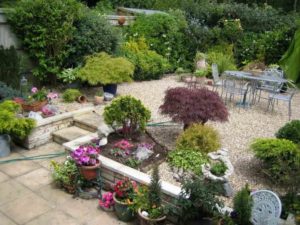 Add natural texture to your small garden by filling its surroundings with crushed bricks or gravel. This is a low-maintenance and inexpensive way of making your small garden appear aesthetically pleasing, However, don't forget to put a layer of landscape fabric before spreading the gravels to restrict weeds from growing.
The addition of gravels or flagstone aid in the percolation of rainwater to reach the soil instead of washing away downhill.
Add a Small Pond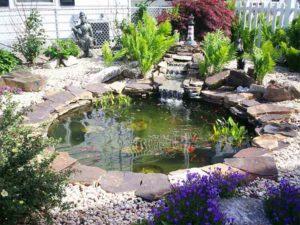 Having a small pond in your small garden setup is a great way of handling wet spots. It beautifies your garden and attracts an array of colorful butterflies and birds, adding character to it.
Install a Low Fences or Trellis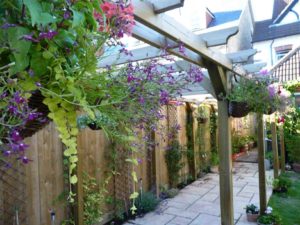 Double up the quantities of flowers and vegetables that are being grown in your small garden by adding a low fence or trellis behind each of the planting beds. In this manner, all the vine crops will automatically grow vertically instead of sprawling over their neighboring plants. This will create extra space for adding some more plants.
Also Read: Hydroponic Gardening.
Make it Bird Friendly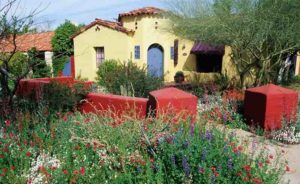 Having a small garden is all about creativity and innovation. The kind of plants you use and how you arrange them impacts the overall appeal of your small garden. Be smart while planning the layout of your garden for making it bird friendly. Choose the right kind of flowers that attract more birds and butterflies. Don't miss out on installing bird feeders and birdhouse.
Having a Mowing Strip is Important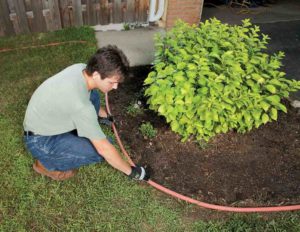 You can efficiently keep the turf grass from encroaching your garden beds by adding a mowing strip at the edge of the border. It is one of great small garden ideas, as it inhibits the growth of weeds and also provides a mud free passage, allowing movement of garden equipment such as wheelbarrows, mowers, etc. Also Read: Garden Edging Ideas.
Make it Look Dramatic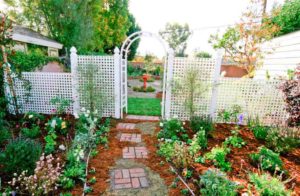 Don't feel bad if your garden is not big enough as there are some small garden design ideas, which you can use to make your small garden appear more spacious. One of the easiest small garden ideas to go about it is to add a big gate or an arbor at either end of your small garden. This will add drama to the character of your small garden and attract the immediate attention of the onlookers.
Pots are Essential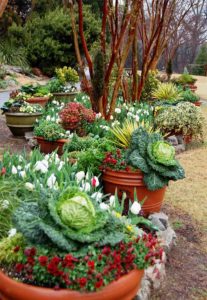 If you are short on space for setting up a small garden, use a variety of pots or planter for aesthetically fitting as many plants as you can. Alternate planters holding flowers with those with herbs plants and other ornamental trees for creating a visually appealing contrast. Use a large terracotta bowl to fill the center of your garden, as it would balance out its overall aesthetic appeal.
Be in Sync With The Seasons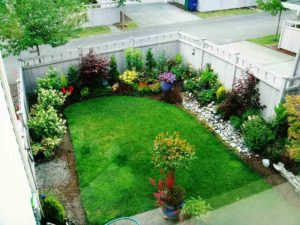 It is quite essential to smartly plan your small garden design before planting your selection of plants. Think about how your small garden will look throughout the year as some plants thrive during spring and early summer before they fade out by the fall. It is sensible to use perennial and annual plants that offer late-season color. If you are selecting shrubs and trees, choose the ones that bear colorful flowers and berries or have interesting barks.
Make Your Garden Colorful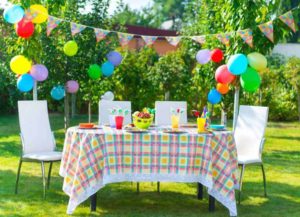 Looking for small garden ideas? Usually, small gardens for homes are built in the shady backyards, since they act as a great place to spend some snacks time during hot summers. However, such ends can get a bit dull and dark. Well, you can brighten the view of such a spot by adding colorful rugs, pots, and fabrics. Just tweaking things a little can make a dull spot look brighter and more attractive.
Mix and match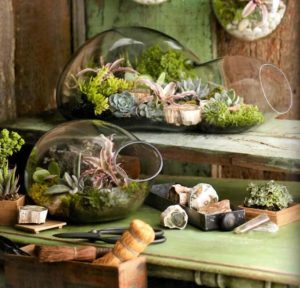 Not necessarily you have to use big pots and planters to fill up your small garden when you can do so much by alternating them with mini terrariums. Create a fabulous layout by using this alternating pattern, as doing so will render a visual contrast to your small garden and also cut your cost by half. Inexpensive and easy to make mini terrariums are best for housing ferns, mosses, peperomia, etc.
Pocket Plants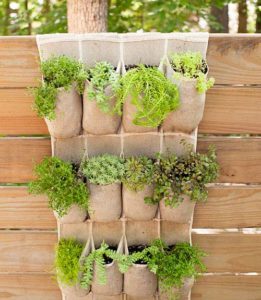 For those having a small fence surrounding your small garden, you can use it not only as trellises for supporting the vertical growth of vines but also a place for growing small plants in pocket planters. Get hold of an old over-the-door organizer or a simple canvas and fill each of its compartment with the potting mix before planting small house plants, vines or ferns.
Also Read: Container Gardening.
Add Character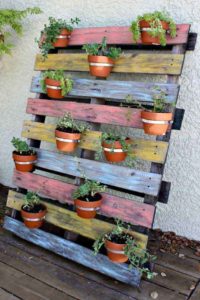 If you have a small old table or a palette lying around in your house, just clean it nicely and use it as a hanger for pots. All you need to do is to create hollow clasps for holding the pots by using stainless steel cable ties. Smartly space out this garden idea so that your plants have ample room to grow optimally. Utilize this garden idea for small space for growing your herbs.
Adding Contrast is The Way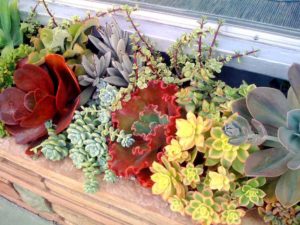 Get hold of a couple of window boxes for planting an array of succulents in them. Yes, you heard it right! Trendy plants such as succulents can be planted in the same pot with plants belonging to the same family, as neither do they grow quickly nor do they crowd their neighbors. Also, these plants even do well in poor lighting conditions and less water, given that their planters have good drainage.
Have a Green Screen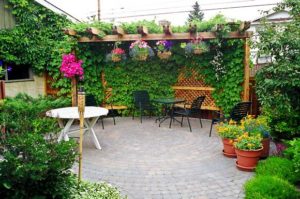 To shield your suburban garden from being viewed by strangers, use a green screen instead of a wooden fence or a door. Create a frill-free chain-like fence using plants like English Ivy. This is a smart small garden idea for adding some extra greenery to your space along with maintaining the privacy of your place.
So, now you have no reasons to avoid a small garden. Go ahead with these small garden ideas!
Also Read: Roof Top Gardening.