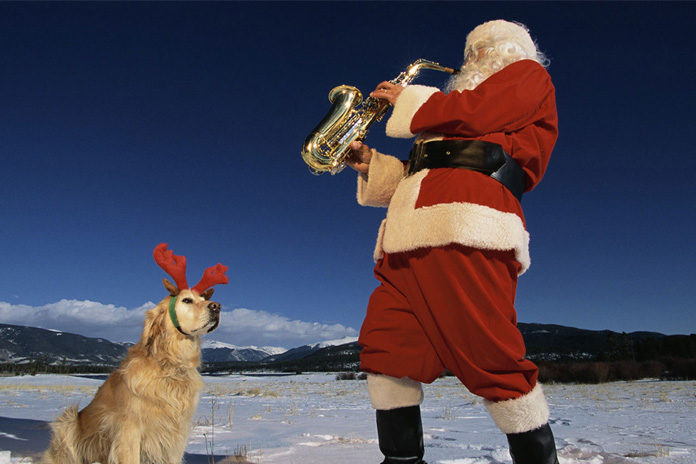 "If there is love in your heart and your mind
You will feel like Christmas all the time."
Yes, you may have love in your heart and mind. Still, it does not really feel like Christmas until you start hearing Christmas songs, right? Be it the upbeat holiday classics which make you dance or that sad Christmas ballad which make you remember that special someone, Christmas songs play a crucial role in getting everyone into the spirit of holidays.
Related: Best Christmas Movies You Must Watch.
Christmas Cocktail Party Dress.
So, get ready to revive your playlists and load them with ultimate Christmas songs of all time. This handpicked collection of holiday songs have a perfect mix. You can discover sad Christmas songs, Christmas songs for kids, romantic Christmas songs, and of course some peppy, merry Christmas songs as well!
More on Christmas.
Do not feel guilty of getting into the holiday mood much earlier than others. Feel the spirit of Christmas in your hearts and minds, raise the volume of your headphones, and enjoy these Xmas songs now:
1. All I really want for Christmas is You (Mariah Carey, 1994)

Many people consider this as the best Christmas song ever. It is also the highest selling Xmas singles of all time! Moreover, rightly so, the heavenly voice of Mariah Carey brings out the melancholy of a lonely heart on the Christmas night in an excellent manner.
2. Christmas Time, Christina Aguilera

Among top Christmas songs, this one definitely deserves its place simply due to the fascinating vocals of Christina which give you an ideal song to get into the holiday spirit.
3. It is beginning to look a lot like Christmas

This is one of the best Christmas songs of all time with a number of singers rendering their voice to it. A few noteworthy mentions would be Michael Buble, Bing Crosby, and Pery Como.
4. Santa Claus is Coming to Town

Yes, yes. We know it is perhaps the most played Christmas songs for kids. Yet how can you expect any list of Christmas songs to be complete without its mention?
5. Have Yourself a Merry Little Christmas

If one has to put together a list of top 3 Christmas songs, this could well be among them. While some of you may disagree with it, but the song is definitely a joy to listen in holidays no matter the singer due to its superb lyrics!
6. I'll be home for Christmas

This Christmas classic is among the sad Christmas songs bringing out the desire of a soldier away from his home to return in holidays.
7. Santa Tell Me, Ariana Grande

Teen singing sensation, Ariana Grande has a number of popular Christmas songs to her credit. However, Santa Tell Me has been one of the best Christmas songs by her.
8. Christmas Is All Around You

Love Actually was not just one of the best Christmas movies, but it also had a perfect Christmas song. Billy Mack, played by Bill Nighy made this one of the most popular Christmas songs!
9. White Christmas

You will be surprised to know that this song is perhaps the best selling songs of all times and not just best-selling Christmas songs!
10. Christmas Lights, Coldplay

Possibly the most favorite band of current times, Coldplay released this heart touching Christmas song in 2010 much to the surprise of many. The song may not be an upbeat, jazzy one but strikes the right chord with listeners.
11. Elvis Presley, Blue Christmas

Blue Christmas is another festive song sung by many artists. However, the legendary singer Elvis Presley does full justice to the vibe of this song!
12. What Christmas Means to Me

Another one of the classic Christmas songs, this one is a staple of all radio stations during the holiday season. While the first version sung by Stevie Wonder in 1967 remains among all-time favorite Xmas songs, many other artists have also lent their voice to it.
13. Step Into Christmas, Elton John

This song released in 1973, remains one of the most upbeat Christmas songs of all times. Of course, one does not need to introduce Elton John to anyone!
14. My Only Wish This Year, Britney Spears

When Britney came up with this song in 2000, nobody imagined that it would become a Christmas classic. However, it has successfully stood the test of time and now considered as one of iconic Christmas songs!
15. Where Are You Christmas, Faith Hill

Originally, Mariah Carey wrote a different version of this song and even recorded it. However, it was never released due to legal issues with her husband. Still, the song went on to become hugely popular and a favorite of many people. Moreover, once you get into it, you do realize that it is one of the most beautiful Christmas songs ever!
16. Snowflakes of Love, Tony Braxton

If you want a song to cuddle with your partner under the Christmas tree on the holiday eve, this romantic Christmas song by Tony Braxton is a must have on your holiday playlist.
17. This Christmas, Donny Hathaway

Even the songwriter Donny Hathaway had not expected this song to become a classic and that too after his demise. Yet, the truth remains that This Christmas is perhaps the greatest Christmas songs of all time!
The above Christmas songs will get you in a relaxed, holiday spirit as soon as you start listening to them. After all, there is no rule to not celebrate Christmas before December 25th, right? So, save these songs in your playlist forever and get into the holiday mood anywhere and anytime you want.
Also Read: Christmas Ugly Sweaters Ideas For Everyone.