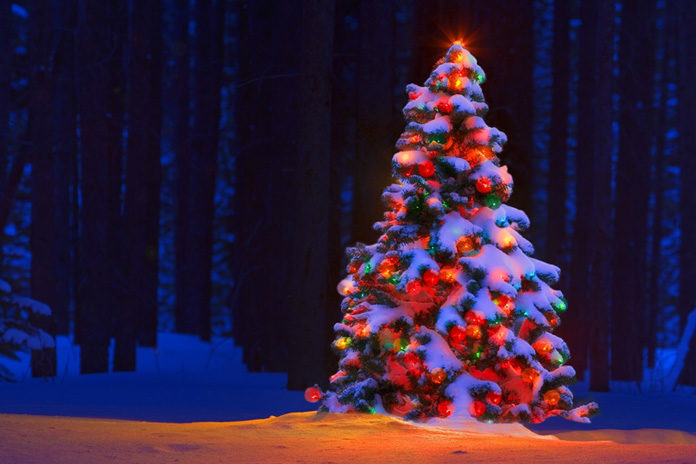 Christmas Tree Decoration – Have you become tired of the same old, green Christmas tree decoration ideas? It is time to add some spice to your Xmas tree. After all, it is the most crucial component of your decorations. That is why we have brought you these Christmas tree decorations which will give you fresh inspiration for unique Xmas trees.
Related: Christmas Indoor Decoration Ideas.
From personalized Christmas trees to wooden Christmas tree, you will find a broad range of breathtaking decorating ideas. In addition to the usual festive theme colors like red and green, you can have unusual colors such as white, blue or even red Christmas trees. So, get ready to have the most different Christmas tree decorations this year with this collection of several themes:
More On Christmas
1. Personalized Christmas Tree Decoration Ideas
If you are bringing a fresh Christmas tree to your home instead of an artificial one, you have to decorate it using personalized Christmas tree decorations. There can be several ways in which you can make personalized Christmas tree ornaments. Collect old family photographs including your childhood photos in black and white or sepia tones. Make a miniature version of these pictures and put them into mini glass frames.
Now you can use these frames as Xmas ornaments and hang them from Christmas tree. It is an excellent way to remember your loving family memories every year. Plus you can also use these personalized Christmas tree decorations later as home decor items as well once holidays are over! So, check out these Christmas tree decoration ideas now!
2. Homemade Christmas Tree Decoration Ideas
You can always buy expensive Christmas ornaments and premium decorations from the market. However, the real charm lies in homemade Christmas tree decorations. When you make Xmas decorations with your hand, you can easily choose particular Christmas tree theme ideas with specific color schemes depending on the room in which you place the tree.
Also Read: Homemade Christmas Gift Ideas.
A special Christmas tree theme gives a unique look to your Xmas decorations and attract the attention of your guests! Here you can check out several DIY Christmas tree ideas which you can make at home with help from your family members. It can also prove to be an excellent way to spend holiday time with them making such exclusive tree ornaments at home!
3. White Christmas Tree Decoration Ideas
Amidst the bold color schemes that go with festivals like red and green, be courageous and experiment with white Christmas tree ideas this year. White is a color associated with peace and harmony, much less with festivities and joy. However, white Christmas tree decorations look absolutely elegant and fantastic, particularly if you have modern Christmas decoration theme in your house. You can combine white with other colors as well such as silver or blue to add an exquisite charm to your decorations. If you want festive and bolder themes, you can also try a white Christmas tree with red and gold decorations. You can check out more of such similar themes in this collection of white Christmas tree decorating ideas!
4. Wooden Christmas Tree Decorations
A real Christmas tree with its lush green branches and natural scent of fresh leaves is the best thing in holidays. However, you may not want to deal with fallen leaves and cannot find time to take care of the tree if you bring it earlier than the festival. In that case, a pallet wood Christmas tree or reclaimed wood Christmas tree is your best option. Wooden Christmas decorations not only look antique and rustic but can also prove to be an interesting crafts activity in winters.
Here you will discover several such wood Christmas tree patterns which will help you make a large wooden Christmas tree for your house. The best part is that you can place these Christmas trees outdoors as well as indoors! You can also use them as cheap Christmas trees for various locations in your house and office!
5. Blue Christmas Tree Decoration Ideas
If you want to be a bit creative and different, try having blue Christmas tree decorations this year. Blue is a favorite color of many as it brings out the peace and tranquility amidst the chaos in the modern world. Moreover, this Christmas tree theme goes surprisingly well with almost all modern home decor ideas since blue is the prominent color scheme.
For adding a slightly feisty flavor of the festival, use shades of purple and lilac with blue Christmas tree ornaments. Instead of using a mono-color theme, you can also try a mixture of blue and silver Christmas decorations or blue and white Xmas decorations! Find more spellbinding blue Christmas tree decoration ideas in this collection and go for the blue theme in this holidays.
6. Outdoor Christmas Tree Decorations
The most useful advantage of using fake Christmas trees is that you can use them for outdoor holiday decorations. Either it is a wood Christmas tree or a simple store bought artificial Christmas tree, there are many ways of decorating it. This collection of outdoor Christmas tree decorating ideas will help you give a memorable look to your holiday tree this year. You can use all sorts of items like ribbons, lanterns, fruit replicas, traditional ornaments in addition to common Christmas items like wreaths, garlands, baubles, or jingle bells! Go through this handpicked collection of stunning outdoor Christmas tree decorations and take your tree outside this year!
Also Read: Outdoor Christmas Decoration Ideas.
7. Red Christmas Tree Decoration Ideas
Out of all Christmas tree theme ideas, red and gold Christmas decorations or red and silver Christmas tree ideas look absolutely fantastic. Moreover, unlike unique white and silver themes, red Christmas tree decorations completely match with the festive spirit of holidays. For a Santa-themed decoration, you can also try mixing red and white color schemes in your Christmas tree. You can check out more such red Christmas tree decoration ideas in this collection complete with beautiful baubles and lovely ornaments. So, give a different touch to your green Christmas tree this year by using these tree decoration themes!
The above Christmas tree decoration ideas are guaranteed to impress everyone in your family as well as your Christmas party guests. Pick a suitable Xmas theme and choose your Christmas tree accordingly. You can even use wooden or artificial Christmas trees if you want to keep your tree outside your house. The possibilities are really endless. If you are running short of ideas, then check out this awesome collection of outdoor Christmas decorations for a perfect holiday exterior!
Also Read: Nerdy Christmas Ideas.