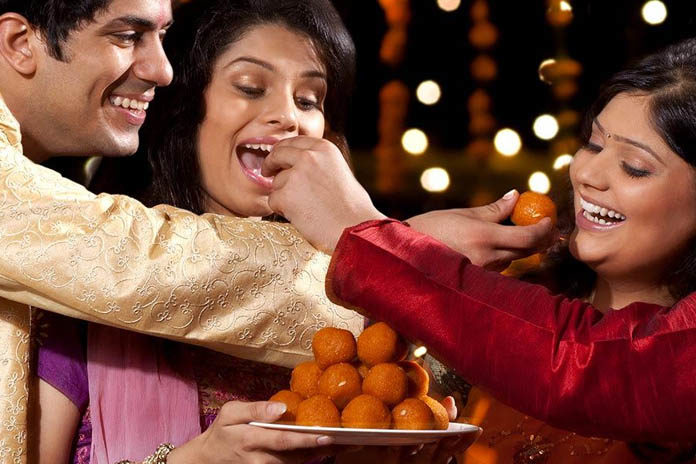 Diwali Recipes – Diwali celebration is incomplete without having mouthwatering Diwali sweets and snacks. While many of these sweets are readily available at your nearest sweet shops, one cannot beat the taste of home-made items.
You will save yourself from commercial sweeteners and impure ingredients and can enjoy the delicious Diwali food at home. However, you may not have time to look through Diwali recipes and go through each of them before deciding which one to make.
Related: Diwali Pollution.
Do not worry as we have brought you most popular Diwali sweets recipes which you can easily try at home. Not only are these recipes for Diwali quick to try but you will also be able to enjoy special Diwali sweets and snacks made at home.
After all, what occasion better than Diwali to test your culinary skills!So, get ready to don your chef hat and try these Diwali special recipes right now:
1. Killer Kaju Katli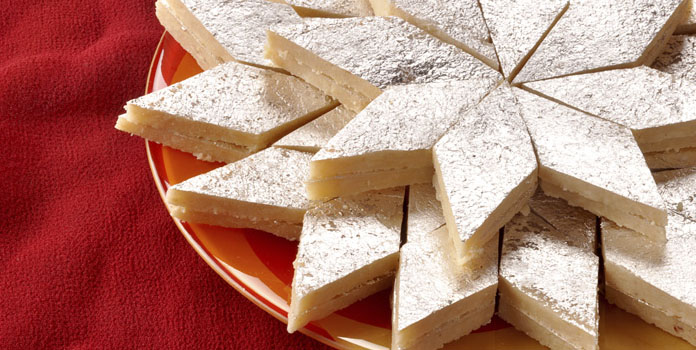 Kaju Katli is a delicious Indian sweet which never fails to enthrall the taste buds of food lovers. Try this easy Diwali recipe of Kaju Katli at home on festive occasion.
What will you need: Cashewnuts, rose water, sugar, milk, saffron (kesar) strands, and silver foil.
Process: Soak cashew nuts in the water for 3-4 hours. Drain the water and make a paste of them with a grinder. Add sugar to this paste and cook it on a slow flame to prepare a dough. If the mixture is too hard, add rose water.
In a separate vessel, dissolve saffron strands in milk and warm the mixture. Add this to the slightly cooled dough of cashew nuts and mix it on an even surface. Spread the silver foil over this layer and cut it into diamond pieces and serve them with pride!
2. Royal Shahi Tukda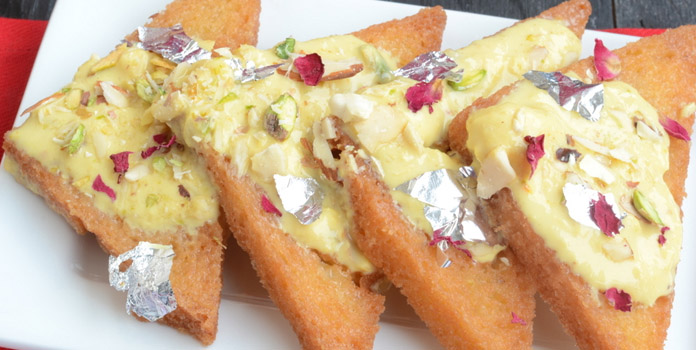 You must have a bite of Shahi Tukda which is premium Diwali sweet made primarily from bread toast and crumbs. This is one of the quickest Diwali recipes you will ever find.
What will you need: Bread toast, breadcrumb, condensed milk, milk, cardamom powder, pistachios, silver leaf, almonds,
Process: For rabri, combine milk, condensed milk, cardamom powder, and breadcrumbs in a wide, non-stick pan. Boil this mixture on low to medium flame while stirring continuously until the mixture becomes thick.
Place pieces of bread toast in a deep serving dish and pour warm rabdi over it. Now, refrigerate these pieces until they become chilled. Garnish them with almond, silver leaf, and pistachios before serving them to your guests.
3. Magical Mohanthal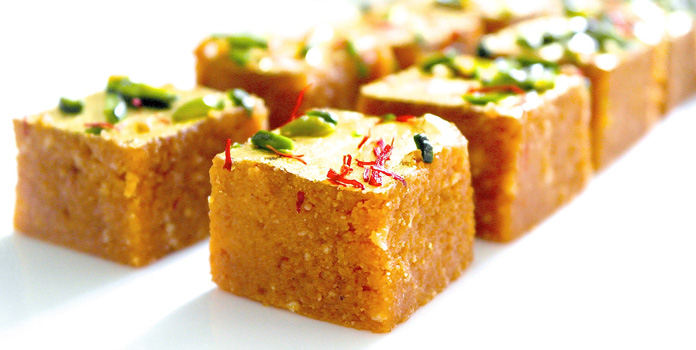 Mohanthal is a delicacy mainly made in Rajasthan and Gujarat. You will find its recipe as one of the best Diwali recipes ever.
What will you need: Bengal gram flour(besan), condensed milk, saffron (kesar) strands, milk, pistachios and chopped almonds, ghee
Process: Mix up milk and besan properly and keep them aside for 30 minutes. Heat ghee in a pan and add the milk-besan mixture once hot. Saute for 30 minutes and add condensed milk to it. Cook for 15 minutes more while stirring contents regularly till it becomes thick. Now add saffron strands and mix them properly.
Remove the pan from flame and pour the thick mixture on a greased plate. Garnish it with chopped almonds and allow it to cool down. Cut it into the desired number of pieces and serve this magical Mohanthal on occasion of Diwali.
4. Chocolate Peda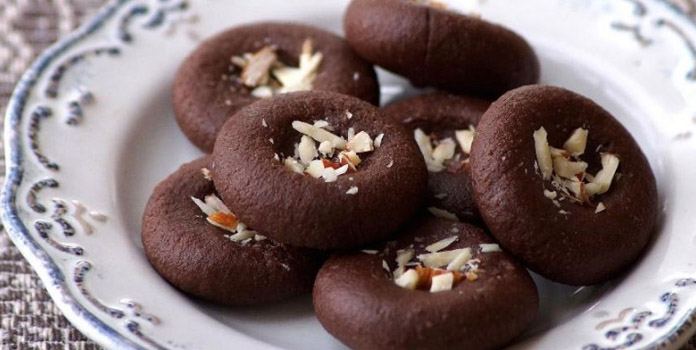 Indulge your taste buds in the goodness of chocolate and milk in this Diwali sweet. This is perhaps the most different Diwali recipes you will ever discover.
What will you need: Khoya (mawa), pistachio for garnishing, unsweetened cocoa powder, granulated sugar
Process: Add sugar and khoya to a frying pan and heat it on medium flame. You will notice that sugar will melt so that a paste is formed into the pan. Continue stirring it until it leaves the sides of pan and moisture is evaporated. Add cocoa powder to this mixture and mix it properly.
Take out the mixture and place it on a plate to let it cool down. After 5-10 minutes, when the mixture is warm to touch, make small shapes of peda (like small burger patty) with your palm. Garnish these pieces with pistachio while it is still hot in a way that pistachio sticks to these pieces.
5. Cornflakes Chivda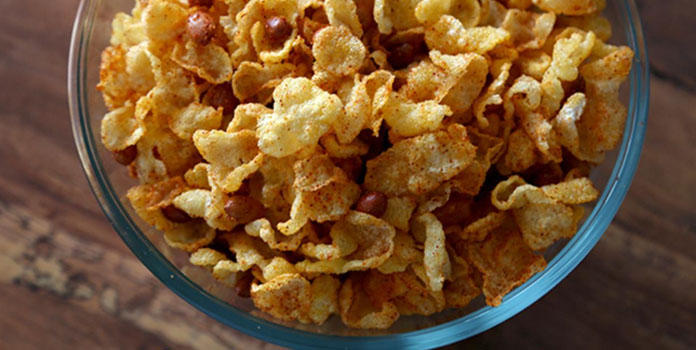 While people usually eat sweets on the occasion of Diwali snacks also form as essential part of Diwali foods. Try this Diwali special recipe made of corn flakes.
What will you need: Cornflakes, curry leaves, raisins, peanuts, salt, red chilli powder, halved cashew nuts, oil.
Process: It is a simple Diwali recipe for making cornflakes chivda which you can eat as a Diwali snack. Fry peanuts and cashew nuts in little oil until they turn light brown. In another pan, cook the corn flakes in small batches as they expand rapidly on heating. After frying corn flakes, add dry curry leaves and fry till it becomes crisp.
After cooling down all fried ingredients, mix them together and add salt and red chilli powder to the mixture. You can store this cornflakes chivda in air tight container and can eat it later as a snack.
6. Besan Laddoo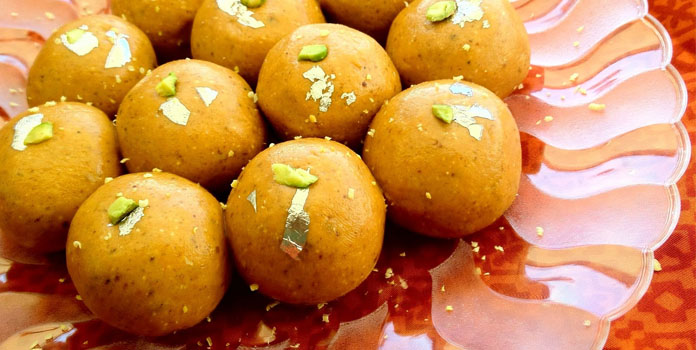 It is one of the most common Indian sweets which is a part of every occasion. You just cannot think of Diwali without Besan Laddoos. It is also one of the simplest sweet recipes for Diwali.
What will you need: Powdered sugar (boora, tagar), gram flour (besan), cardamom powder, ghee/clarified butter.
Process: The key to delicious besan laddoos is proper roasting of besan (gram flour). Add little ghee or butter to the frying pan and heat it on low flame. After it becomes hot, add besan to the pan and start stirring.
In the beginning, it will be lumpy but keep stirring it. Slowly, it will start loosening up, and you can feel the lightness. Let it change its color to shiny brown with a delicious nutty smell.
Remove it from pan and add it to a plate to let it cool down a bit. Add sugar and cardamom powder to this warm paste and mix it with your fingers to form a dough. Prepare small balls of ladoos from this paste and allow them to cool down for 15 minutes. They may lose the shape so reshape them after 15 minutes. Your besan laddoos are ready.
7. Chocolate Barfi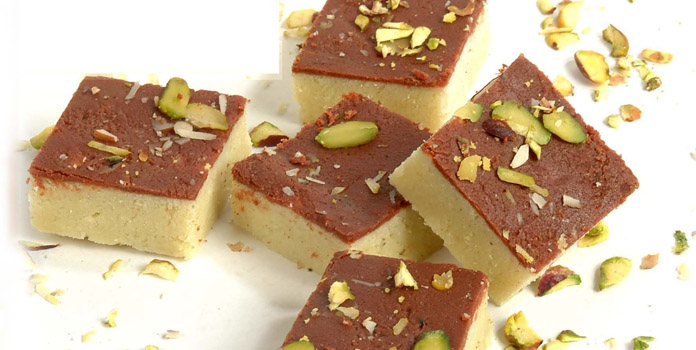 If you are looking for unique Diwali sweets recipes, look no further than chocolate barfi- a blend of chocolate and khoya which is sure to tantalize your taste buds.
What will you need: Sugar, milk, khoya, cocoa powder, nuts for garnishing.
Process: Add few drops of oil or little butter on frying pan for greasing. Heat khoya in this medium pan heat until it melts. Make sure that it does not turn brown. Add milk and sugar to it and mix them well while continuing to hear the pan slowly.
Heat the mixture till it becomes thick and remember to stir it continuously. Once the mixture has got thick, divide it into two parts.
Spread one part in separate pan evenly and add cocoa powder to the other half. Mix cocoa powder properly with it and spread it on the first pure white layer. Sprinkle chopped nuts on the combined layer and press them gently so that they stick to the surface. Let it cool down and cut it into square pieces and take out the pieces from the pan.
8. Gulab Jamun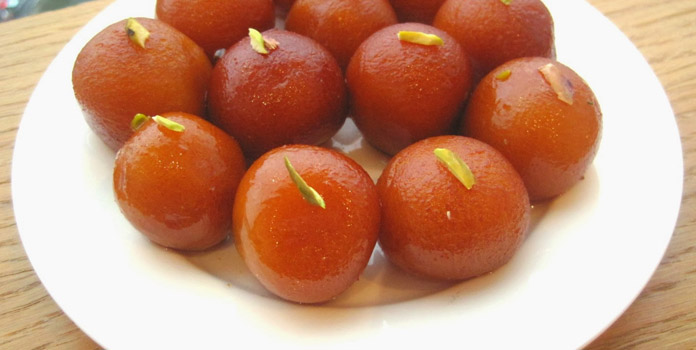 Diwali celebration cannot be complete without the sweet, spongy gulab jamuns. You can easily make them by using this recipe at home.
What will you need: All purpose flour (maida), Khoya (mawa), cardamom powder, strands of saffron, rose essence, water, sugar, oil.
Process: Prepare a dough of khoya, all-purpose flour, and cardamom powder using water. Make small balls from this dough. Ensure that the balls are smooth and do not contain any wrinkles. Keep the balls in the refrigerator for 10 minutes. To make sugar syrup, heat water, sugar, cardamom powder, saffron, and rose essence in a large saucepan on medium heat.
In another pan, heat the oil on low heat and when it is hot, add jamun balls into it. Deep fry these balls until they turn golden brown. Make sure that oil does not become smoky. Keep these fried balls into the sugar syrup and let them soak for 2-3 hours before serving.
9. Poha Mix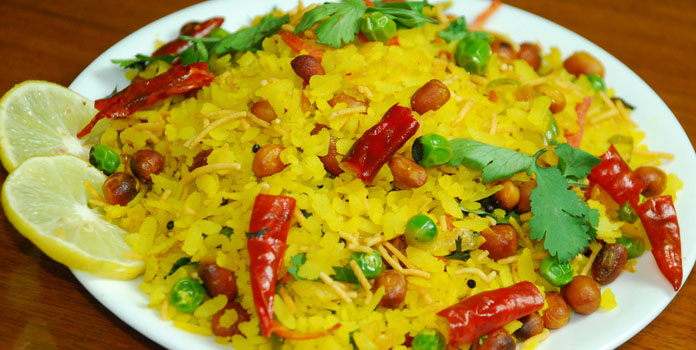 Do not forget to make a light Diwali snack in the form of Poha mix out of all Diwali recipes available everywhere.
What will you need: Rice flakes, curry leaves, cashews, peanuts, turmeric powder, roasted gram, chilli powder salt, Cooking oil
Process: Deep fry the rice flakes in cooking oil in a frying pan. Mix the other ingredients- roasted gram, peanuts, cashews, and curry leaves and fry them together in a separate frying pan.
Now combine the contents of both frying pan in a large bowl and add chilli powder, salt, turmeric powder to the mixture. You can also add other items like raisins, dry fruits to the mixture according to your preference
Which of the above Diwali recipes are you going to try on the occasion of Diwali this year? How many of these recipes did you find the easiest to make? Share your experiences in the comments below. Do not forget to share these recipes for Diwali with your friends as well to help them enjoy various homemade Diwali sweets and snacks.
Also Read: Halloween Party Games.