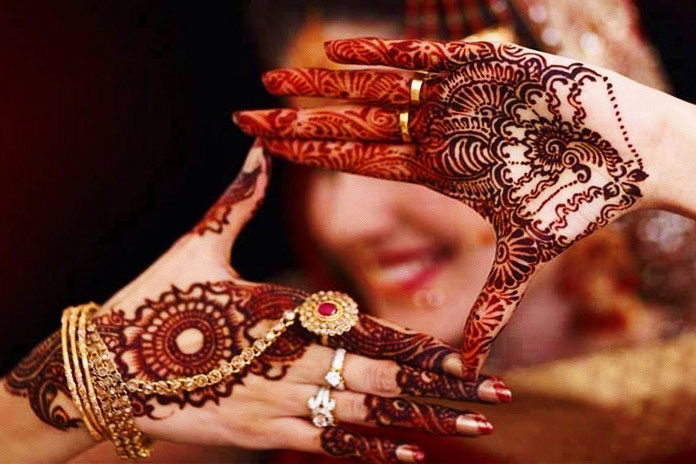 Karva Chauth Mehndi Designs – Are you looking for special mehndi designs for the occasion of Karva Chauth? After all, it is the day when you are going to dress up at your best for your loving partner, and a beautiful mehndi can take your look to an altogether different level. You are at the right place to discover some truly grand mehndi designs
Editor's Pick
Karva Chauth was once a part of religious custom but nowadays has become hugely popular among the modern generation. Every married couple celebrates this day with much style and aplomb! Ladies dress up beautifully in gorgeous Indian sarees and apply mehndi (henna) on their hands.
Related: Bridal Mehndi Designs.
If you are also going to celebrate Karva Chauth this year on October 19, you are going to love these exclusive Karva Chauth Mehndi designs which are guaranteed to impress everyone you will meet on this day:
1. Beautiful Backhand Mehndi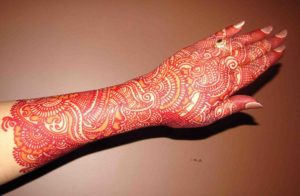 On the occasion of Karva Chauth, you strive to look your best, and this Karva Chauth Mehndi will help you in dressing up like never before. Apply this simple mehndi design over the back of your hands which will enhance your look in a way that your partner will not able be able to get enough of you.
2. Stunning Mehndi for Karva Chauth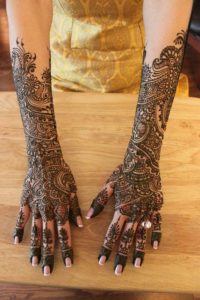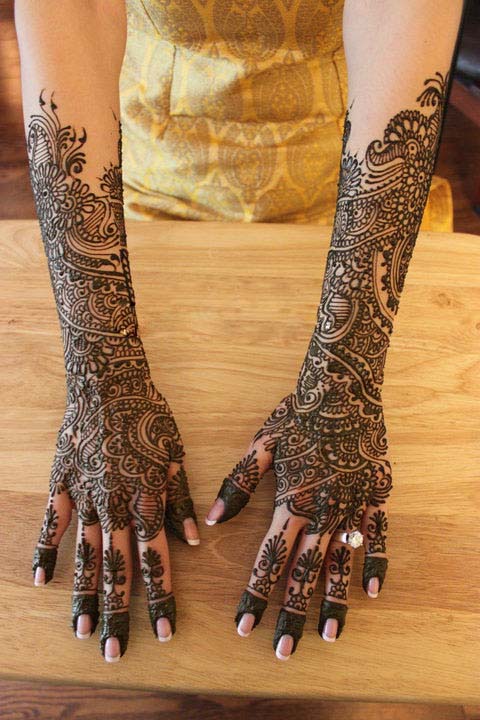 This Karva Chauth Mehndi design is ideal if you are looking to apply mehndi on the back of hands. The design could look a bit complicated, especially if you are a beginner in using mehndi. The stylish strokes and curves in this design make it worth to put in hard work to create this design. You will be amazed at the results.
3. Flower Karwachauth Mehndi Design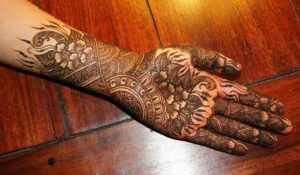 Nothing works greater than the original design of flower and petals in mehndi. You can also try this unusual pattern on the occasion of Karva Chauth. You may have to spend some time in drawing this design, particularly the thin lines around fingers.
4. Designer Karwa Chauth Mehndi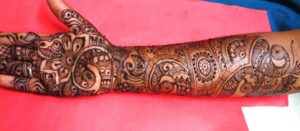 Show off your superior skills as an artist and make this exclusive Mehndi on Karva Chauth on your hand or hands of your friends. This one is a complete killer design and will look great on any hand.
5. Traditional Mehndi Design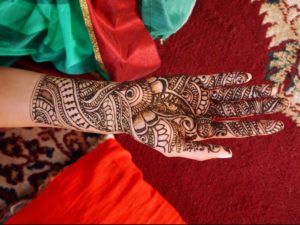 This one is a relatively less complex mehndi design making it suitable if you are a working woman or do not have much time to draw mehndi pattern before Karva Chauth. Moreover, this design carries a traditional feel to it with its curvy lines on fingers and wrists. The rest of the pattern lies between these lines giving an elegant touch to your Karva Chauth.
6. Full Hand Mehendi for Karva Chauth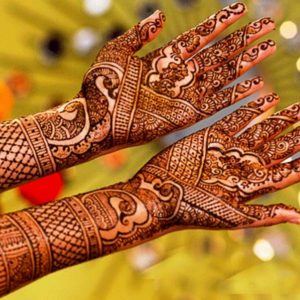 Try this particular mehndi design before the evening of Karva Chauth. You may need to take help from your friend or another person to accurately make this design on your full hand. This one also has a typical Indian feel with a dotted and line design complete with a bird-like pattern.
7. Gorgeous Bridal Mehndi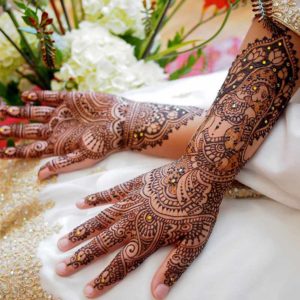 Karva Chauth is a time to pray for the long life of your partner with whom you have been married for all this time. What a better way to celebrate this occasion than this gorgeous mehndi with a bridal pattern on it. Moreover, you will also find the dark flower outline very appealing with light design and lot of white space near the wrist and fingers.
8. Dark Mehndi Design for Karva Chauth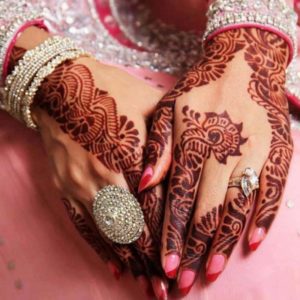 In Indian tradition, people believe that darker the mehndi, deeper is the bond between the couple. So, how about celebrating this relationship on Karva Chauth by sporting this deep, dark pattern which will last for days even after the festival has passed?
9. Red Karva Chauth Mehndi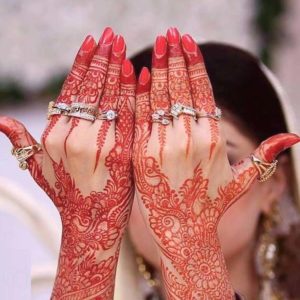 Red is the color of love and passion. You will rarely come across a mehndi design which looks as beautiful as this one in red color. The intentional space on the back side of the palm left in this pattern looks simply great!
10. Pretty Mehndi for Karva Chauth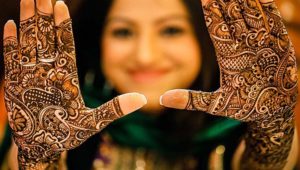 This dotted designer Mehndi will look amazing on any occasion. However, if the occasion is of Karva Chauth, you can be sure of having a unique mehndi design among all your friends. No design on fingers and thumb add an excellent contrast to the intricate design on rest of hands.
Karva Chauth is one of the most auspicious occasions for married women in India. On this day, they observe fast for the whole day and pray for the safety and longevity of their husbands' lives. Mehndi is a significant part of all religious and festival ceremonies in India, and you can never go wrong with the above exclusive mehndi designs for Karva Chauth ceremony.
Which of the above Karva Chauth Mehndi designs are you going to try this year? Is there any design which has already become your favorite? Tell us about it in the comments below.
Also Read: Hand Mehndi Designs.