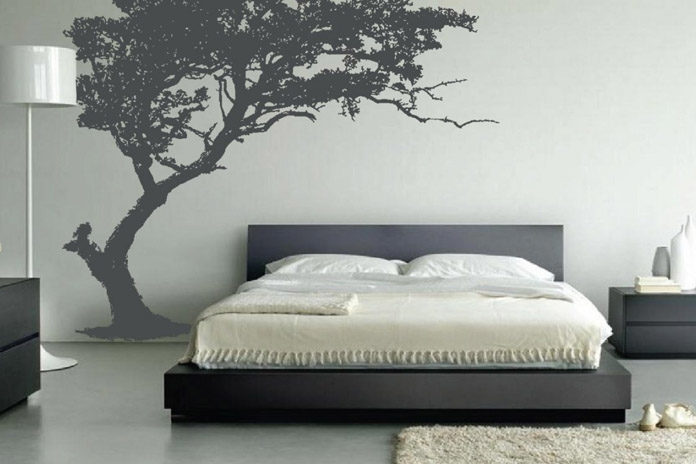 Grey Bedroom Ideas – Deciding the color of your bedroom is one of the most challenging things if you want to have a peaceful, relaxed environment at your home. Every time you enter the bedroom and feel a sense of serene surrounding you that means you have chosen a great color tone.
Related: Bedroom Storage Ideas.
When you use a grey color tone in your bedroom, it gives an altogether different feeling to the overall vibe of the room. We have handpicked some of the most pleasing grey bedroom ideas which are guaranteed to inspire you to make significant renovation to your bedroom.
More On Home Decor
Here you will more than 20 exciting grey bedroom ideas which will ultimately transform your bedroom and give you a great feeling of joy whenever you enter your room:
1. Dark grey bedroom with designer flooring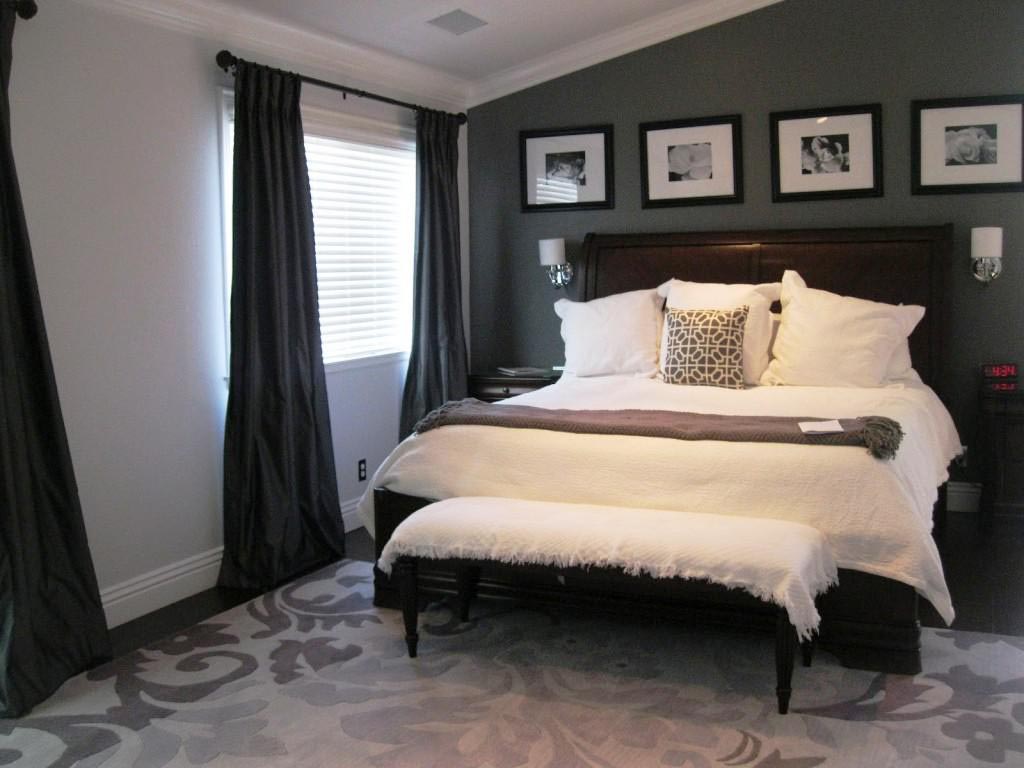 The design presents a strong contrast with a predominantly dark grey theme. The curtains and walls of dark grey color are complemented with light bedsheets and pillows. The dark brown bed is giving another shade of contrast to complete the premium feel of this design. The overall setting is enhanced by a beautiful use of designer flooring.
2. Peaceful grey bedroom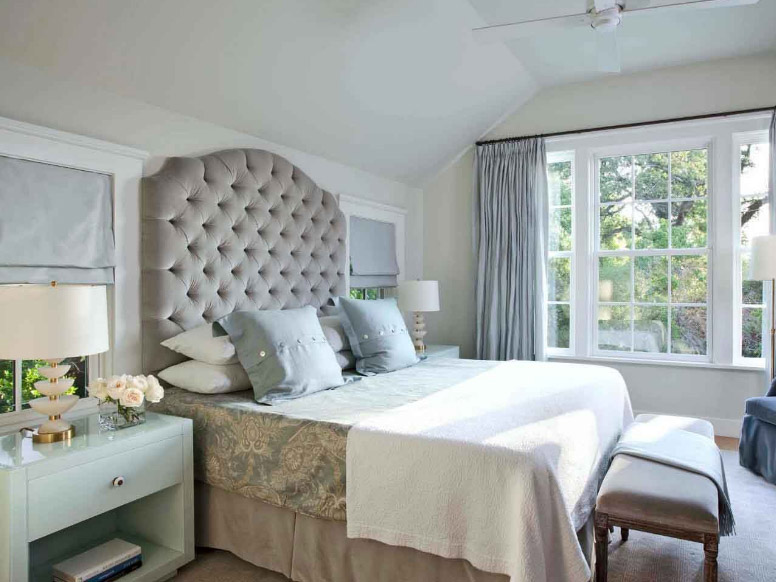 Grey is a very cool shade which can do wonders to bring out a serene environment in your bedroom. This bedroom design is the perfect example of this quality of grey tone. Plus when you pull the off white curtains aside, the outside environment of nature is a perfect backdrop for this bedroom design. You will surely love this design for your home in the countryside.
3. Elegant grey and white bedroom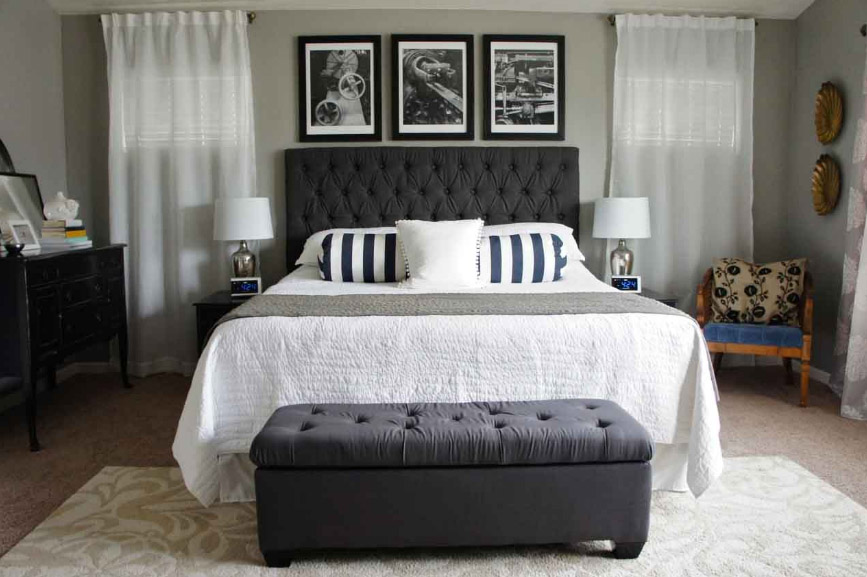 This is among the most simple and attractive grey bedroom ideas. You cannot go wrong with this combination of white and grey for your bedroom design. This is a simply elegant design for your bedroom guaranteed to give a fantastic look to your bedroom. The use of a subtle dark gray tone along with pure white bedsheets and pillows will surely make you feel relaxed every time you enter this bedroom.
4. Comfy grey and yellow bedroom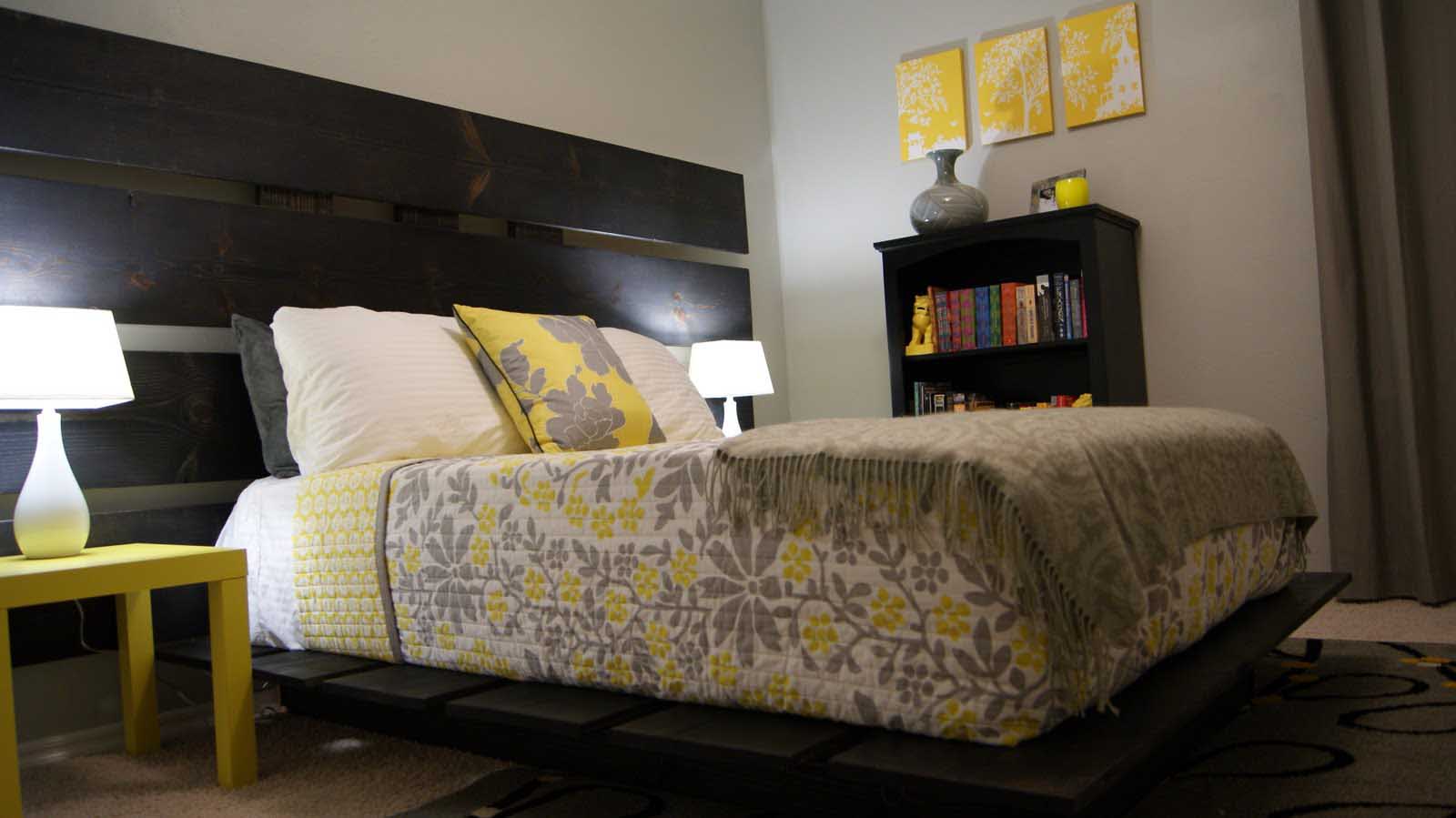 This one is perfect for your cozy bedroom with a dark wooden furniture. The alternate use of grey and yellow color on wall paintings, table, vase, and bed accessories is quite splendid to make this design into a perfect grey and yellow bedroom. You cannot help but adore this design especially if you have a wooden furniture as a backdrop like in this picture.
5. Purple gray palace bedroom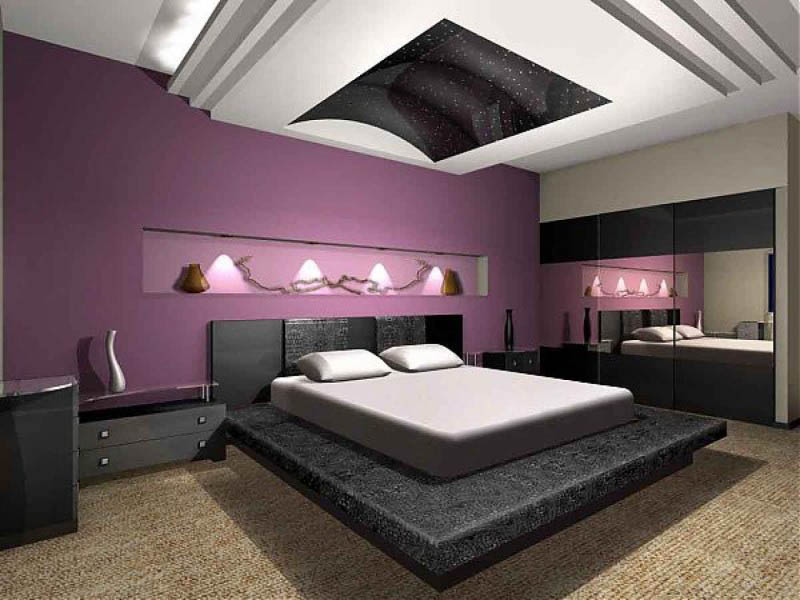 Add a royal touch to your bedroom by using the premium purple color to decorate the back wall. The dark gray color of bedroom decor adds another stroke of elegance to complete this palace like look. If you want to experience a nap in the bedroom of a royal palace, the color combination in this bedroom is what you need. The stylish designer ceiling further enhances the look and make it one of the most breathtaking grey bedroom ideas.
6. White bedroom with Grey and yellow print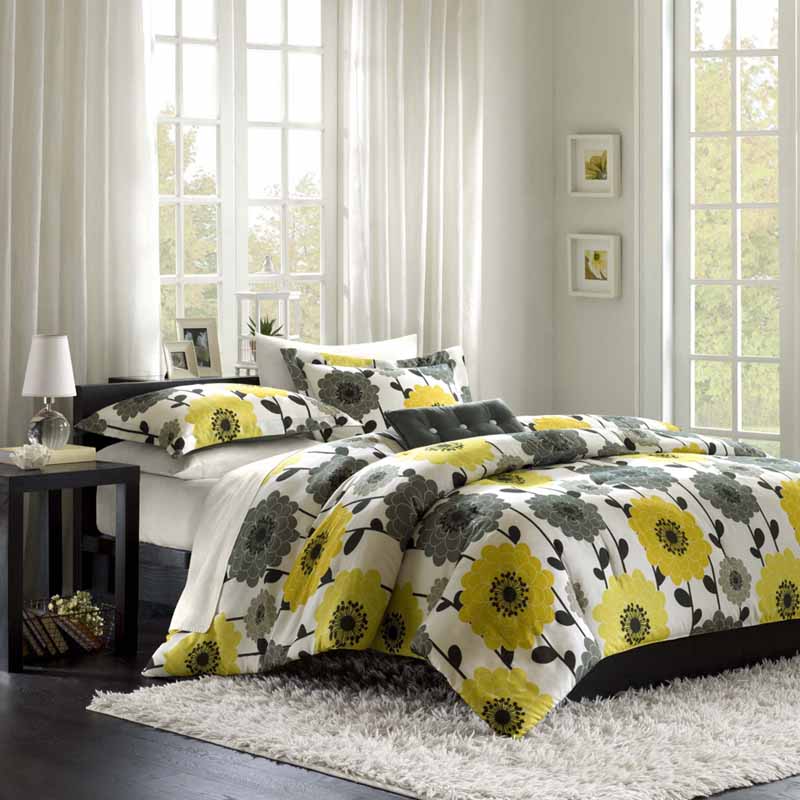 If you have a predominant white theme in your bedroom and want to try out a gray yellow combination, this is a perfect way to try it. Just buy this type of bedsheets and pillows having beautiful yellow grey print and you are ready to go. On top of it, the graphite color flooring looks just flawless with this grey and yellow bedroom design.
7. Grey bedroom with yellow glow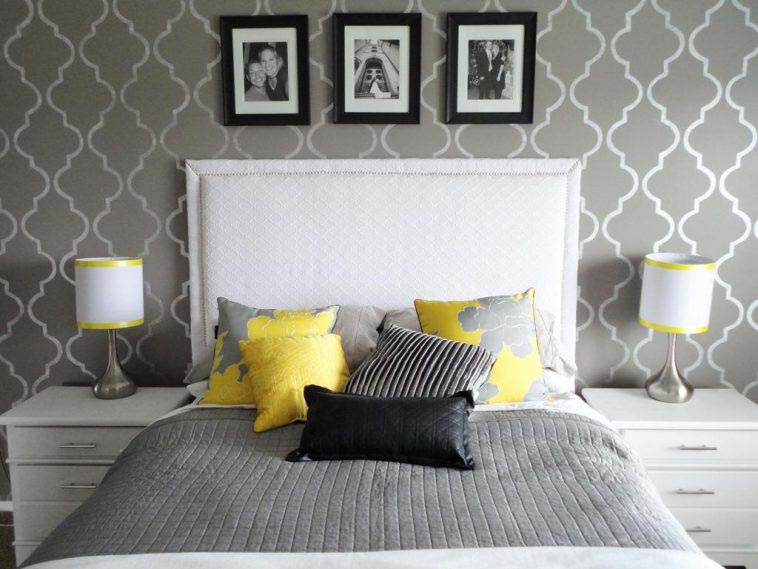 Add a sparkling light of yellow to this grey bedroom design to achieve the combination of these two complementary, lovely shades.What is interesting is the use of both yellow and gray in bedroom accessories instead of going with a monochromatic tone. The artistic design on the back walls of this bedroom adds a cherry on the cake.
8. Delightful grey yellow bedroom with designer bedding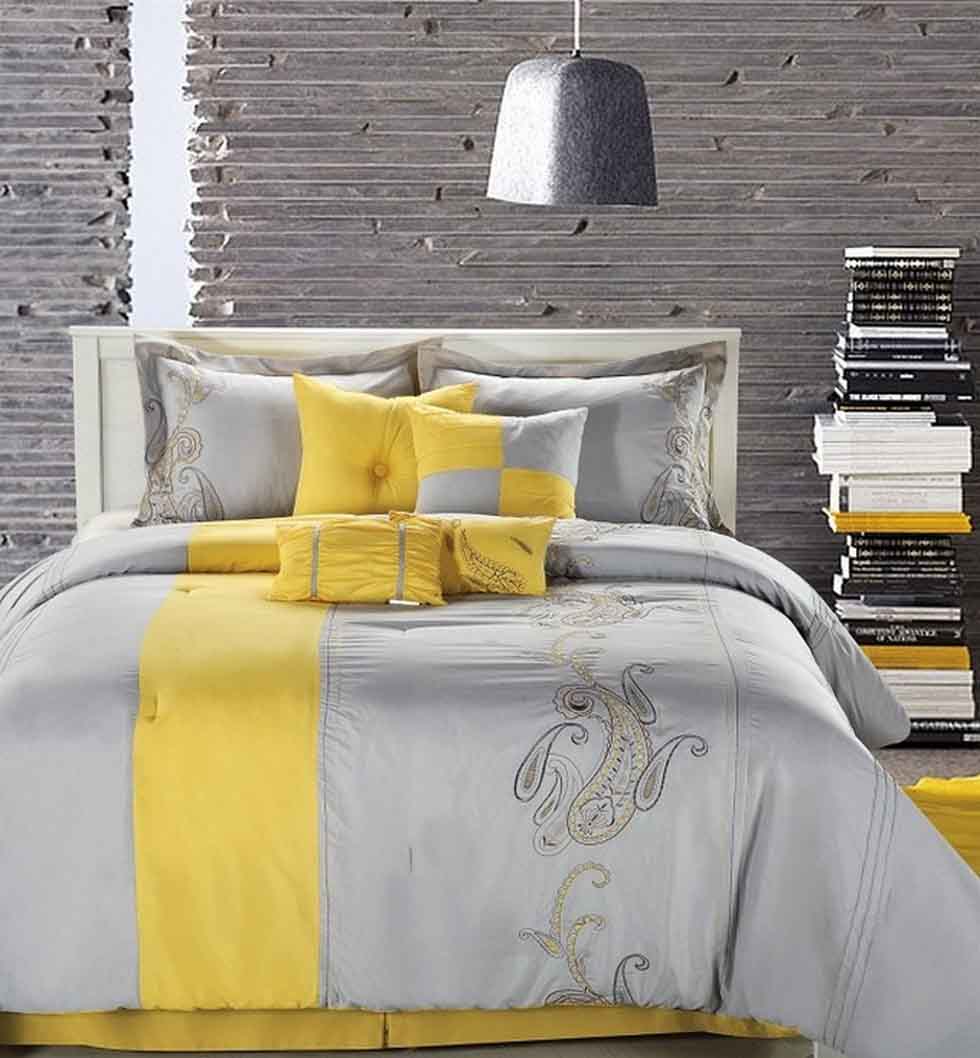 Who would have imagined that you can achieve a pure, delightful bedroom by using a relatively serious gray color? As you can see, just a minor tinkering with yellow color on pillows and bed sheet manages to achieve that delightful look. The gray hanging lantern along with designer drawings on bedding adds a charming, funky look to this bedroom design. If you have a geeky kid, try this plan for decorating his or her room. He/she will surely like book rack alongside the cool bed.
9. Classic gray bedroom design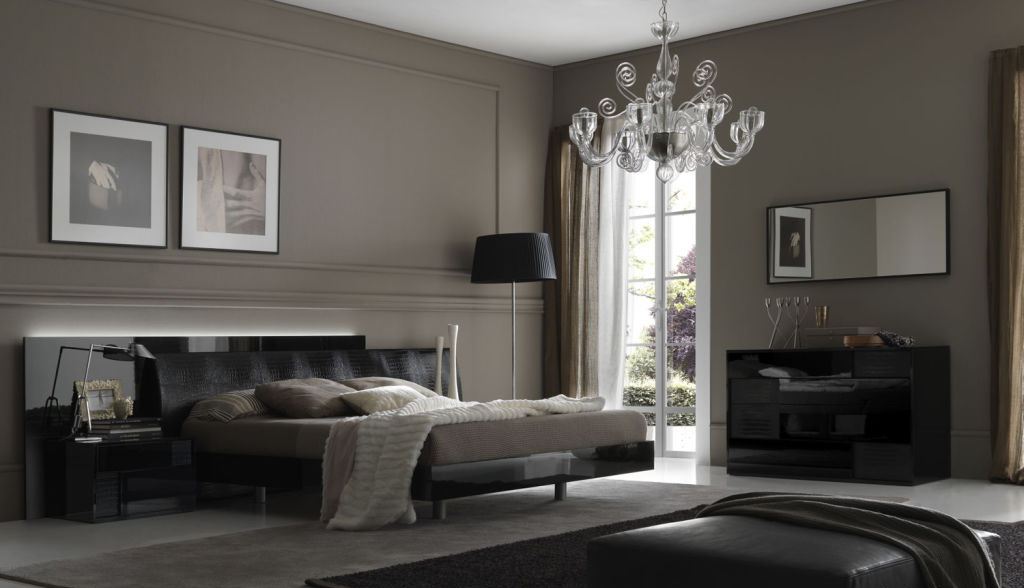 If you want a serene, peaceful environment in your bedroom where you can just relax and do nothing after a long tiring day, then this classic gray bedroom is perfect for you. The no-nonsense simplicity of this design is visually striking making it a unique design despite its seemingly straightforward, simple tone. The silver chandelier hanging in the middle of the room further sets it apart from other bedroom designs.
10. Yummy Yellow Grey Bedroom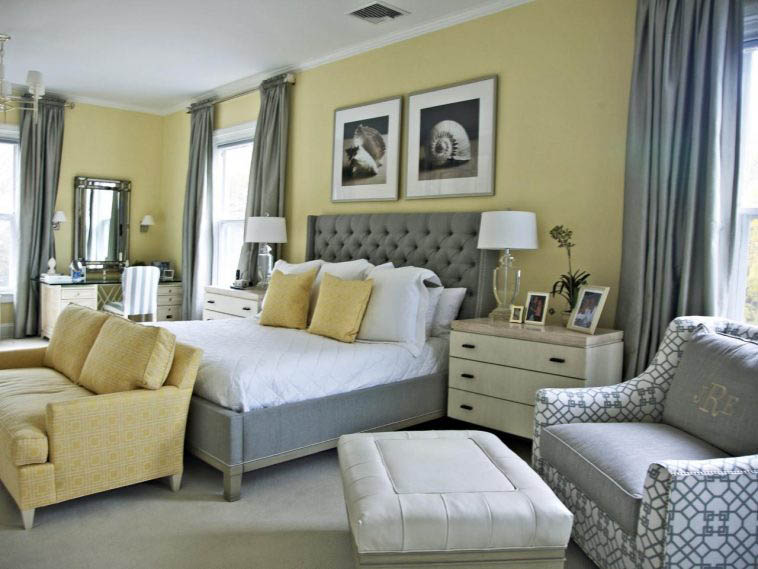 Notice the combination of yellow walls with a white ceiling in this yellow grey bedroom design. Isn't it just marvelous? Add to it the grey curtains and grey back of the bed and you have got a perfect yellow, grey combination for your bedroom. This one works wonderfully if you have a spacious bedroom with added furniture in the form of a couch.
11. Chic purple grey bedroom design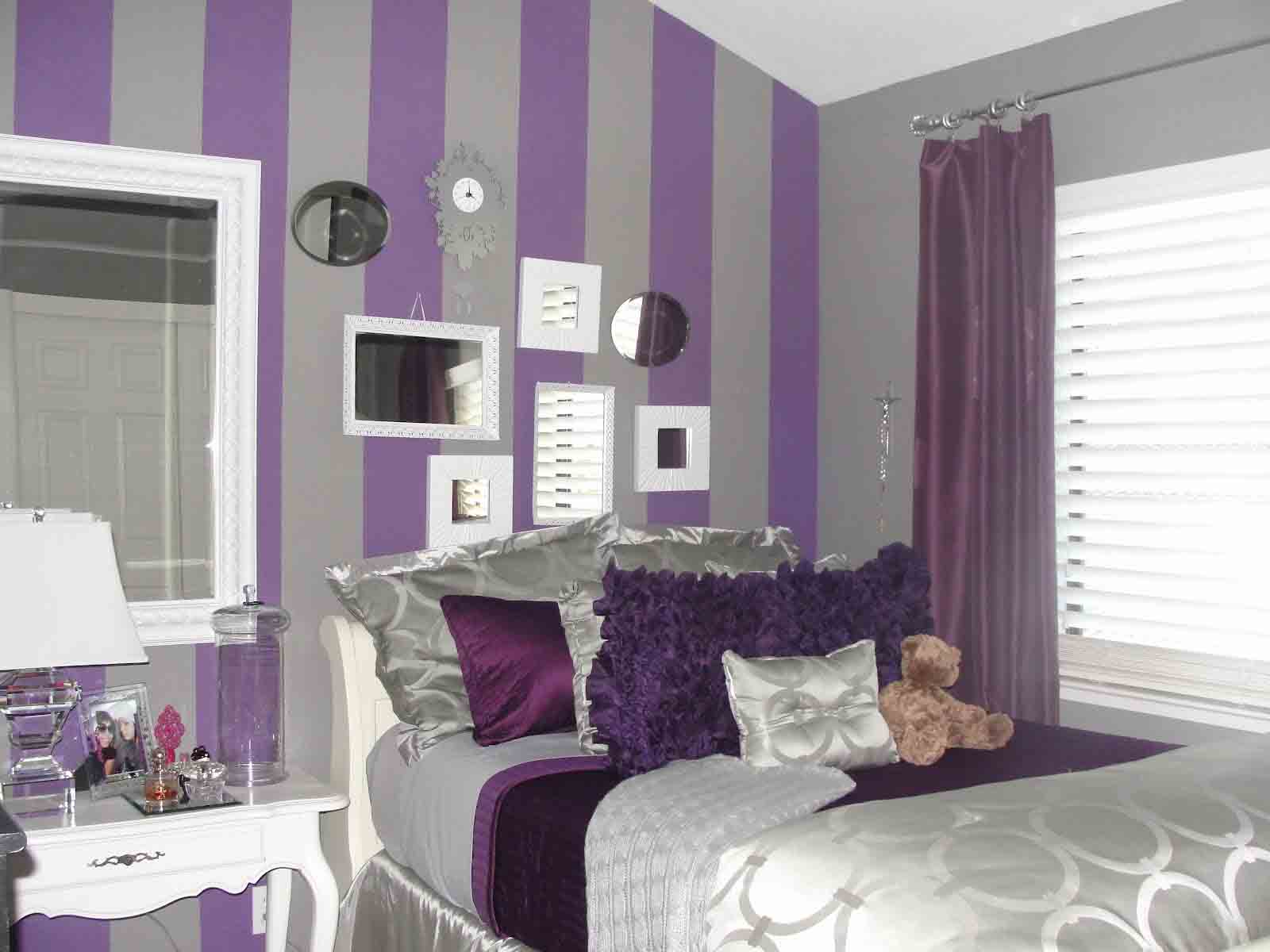 This dazzling design with a mixture of purple and grey brings out your bubbly and chic nature. The alternate use of purple and grey on walls as well as bedroom accessories gives a bright touch to your bedroom. Moreover, the varying shades of purple used in this design in curtains, walls, and pillows is a masterstroke to bring out the liveliness of this bedroom further.
12. Cozy grey bedroom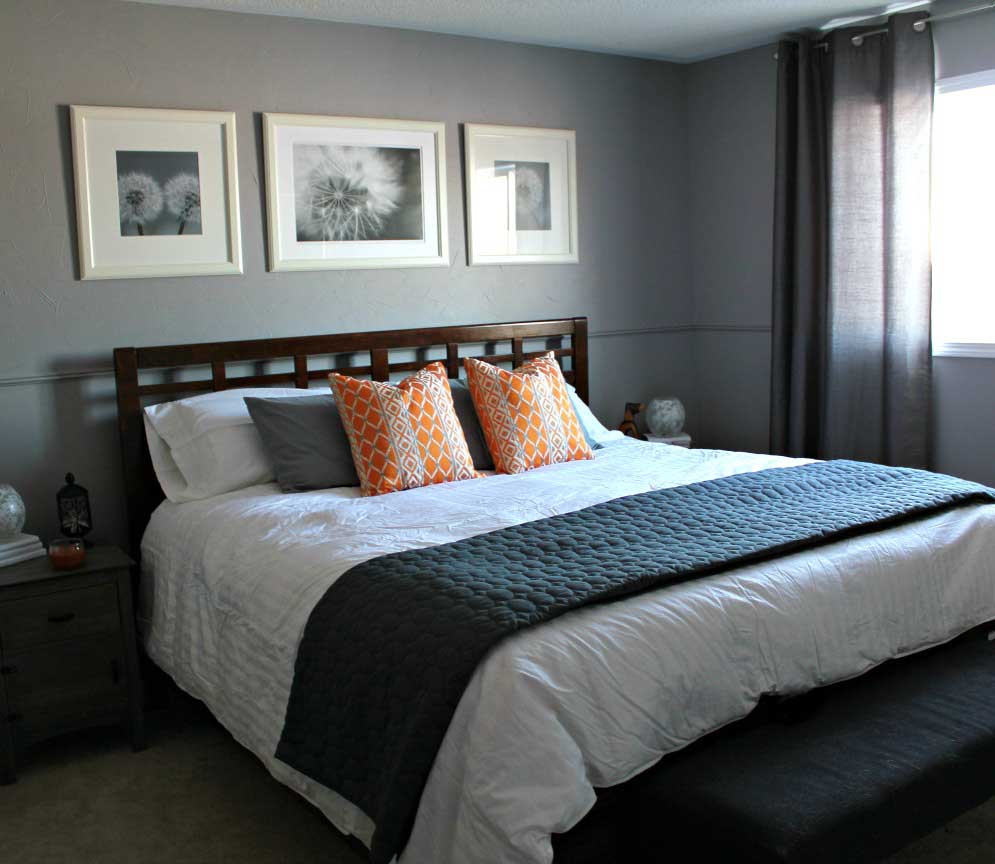 This ever cool monochromatic shade of grey will add a relaxed and peaceful vibe to your comfortable bedroom. You will fall in love with the serene aura of your bedroom when you design it in this way. The wooden bed is further enhancing the look of grey walls and curtains making it one of the best grey bedroom ideas.
13. Magical metallic grey bedroom idea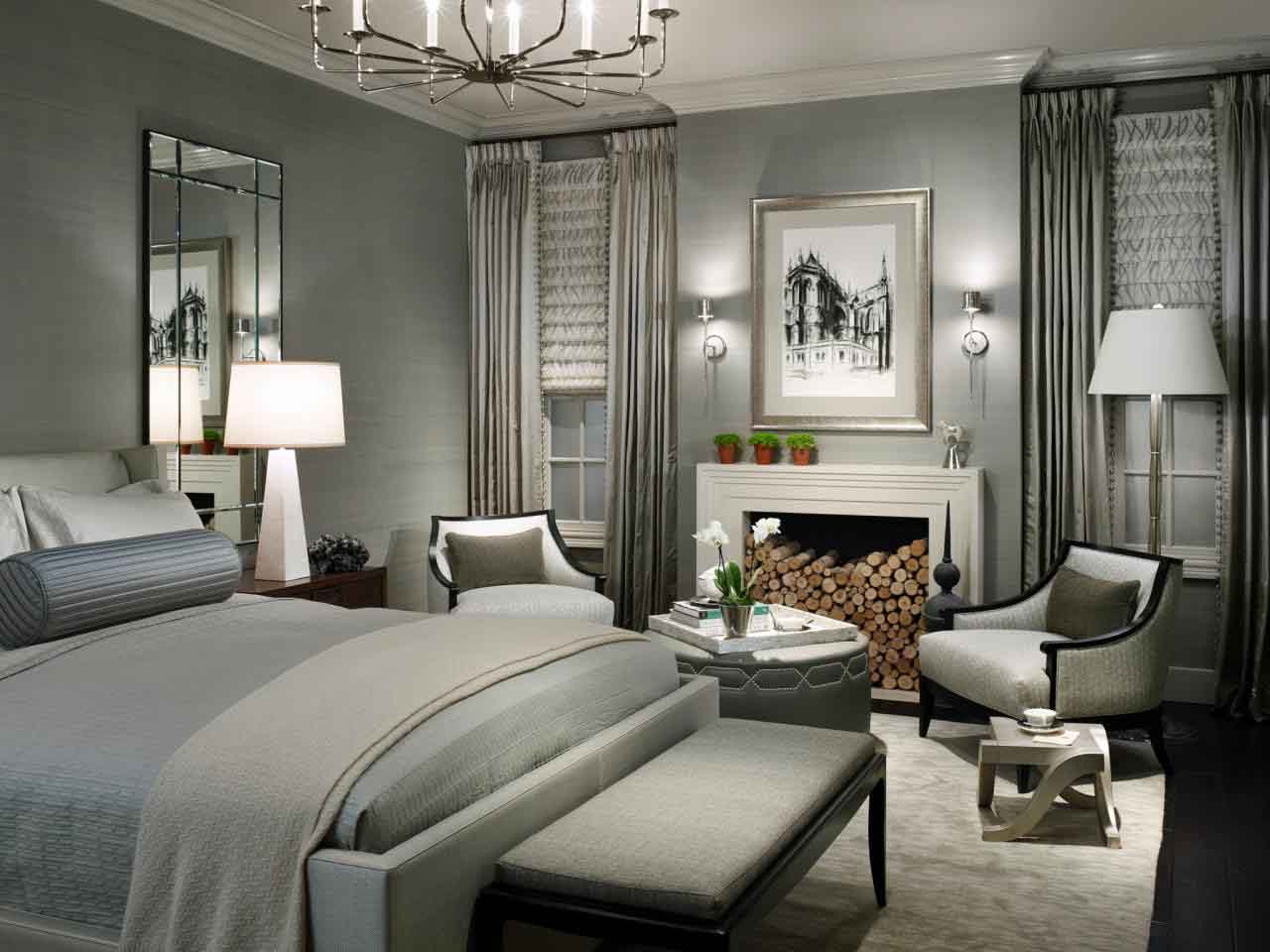 One of the most rarely used shades of grey, metallic grey when used properly can totally transform the look of any place, be it your bedroom or living room. This bedroom idea involves an ideal application of metallic grey with a shine to almost magically transform your bedroom. The silver chandelier on the ceiling with a fireplace at the backside and a green pot on the table- this bedroom idea truly has much potential for you to experiment with bedroom design.
14. Pretty pink touch to grey bedroom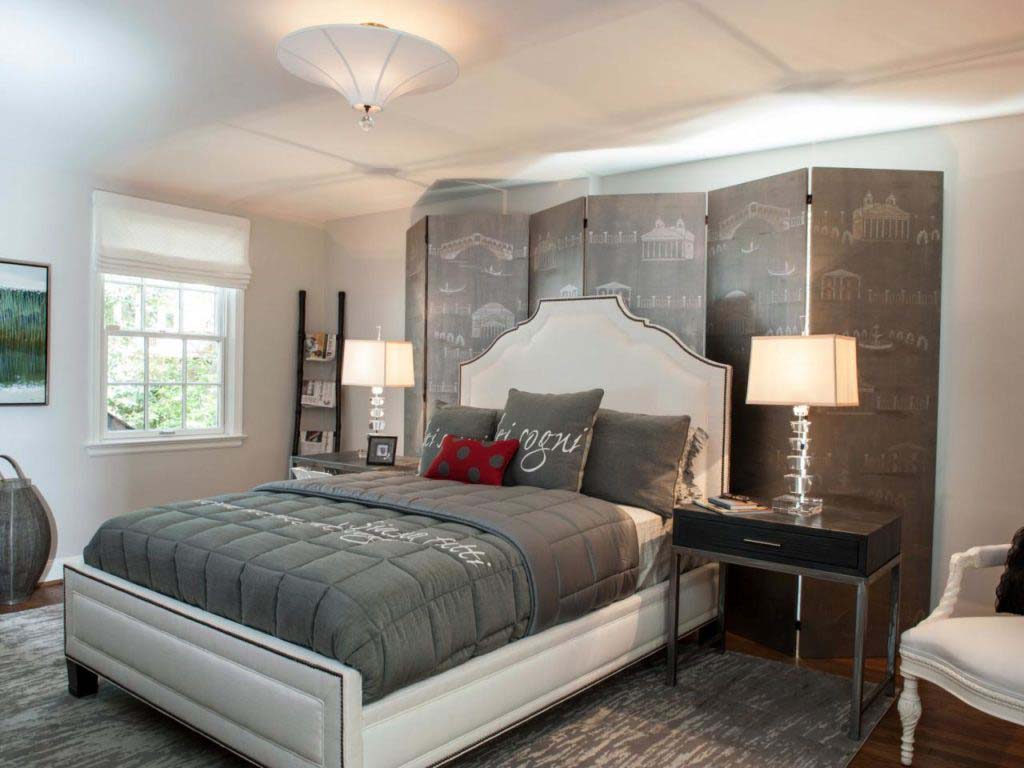 It just cannot get better than this. What an ingenious way to use a grey tone with an entirely opposite shade of pink. The pink tinge is casting a warm glow over the grey interiors of this bedroom. Do not forget the exquisite use of wooden flooring and stylish brown wooden partition at the back side. We are sure you or your daughter will love this cute pink touch to an otherwise serene grey tone.
15. Gorgeous grey and yellow bedroom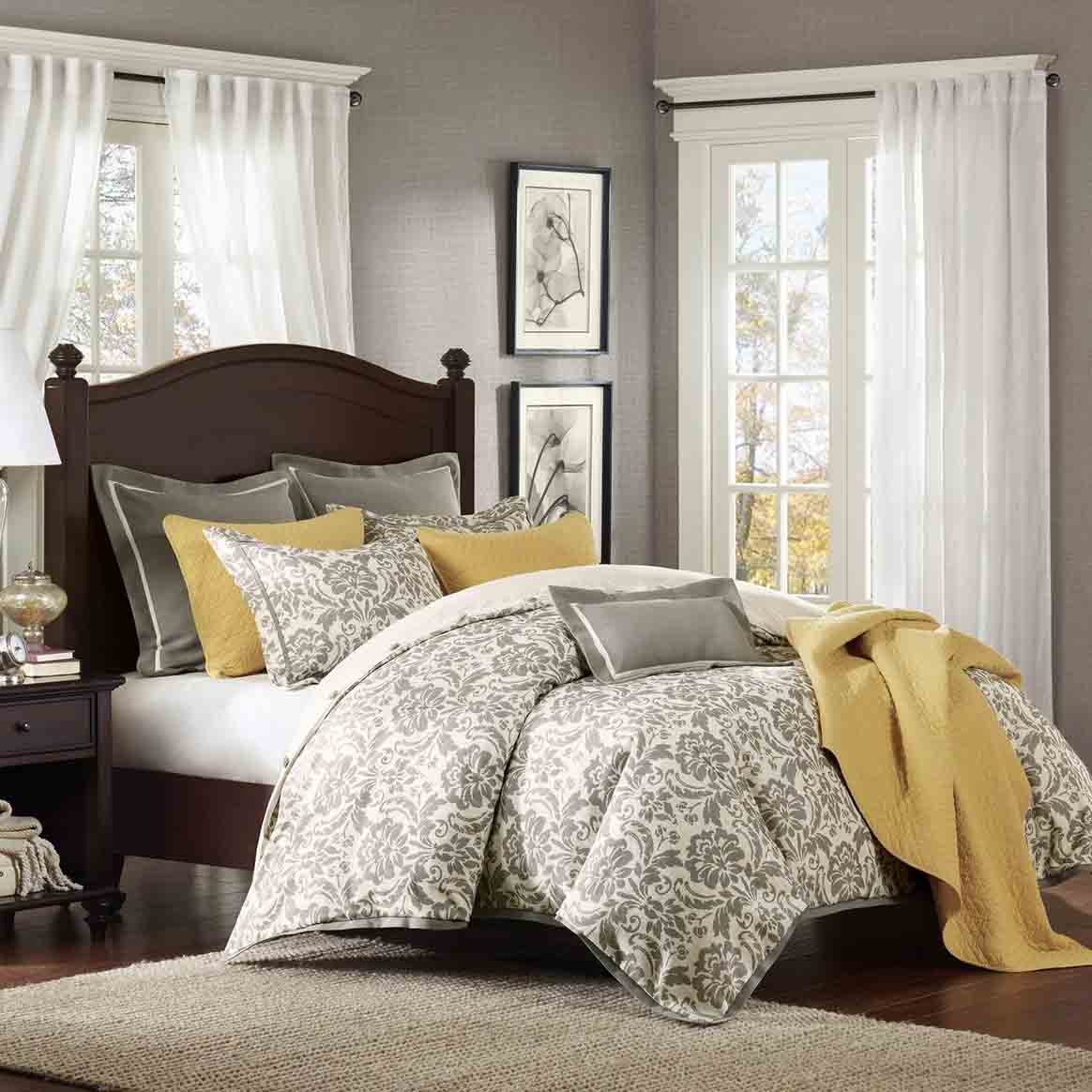 Another impressive combination of grey with yellow. This is a light shade of yellow which is matching with the grey and white shade of the room. It will give a refreshing look to your bedroom with the gorgeous look of grey color. The wooden furniture and flooring bring out the element of antiquity to this grey and yellow bedroom idea.
16. Creative grey yellow bedroom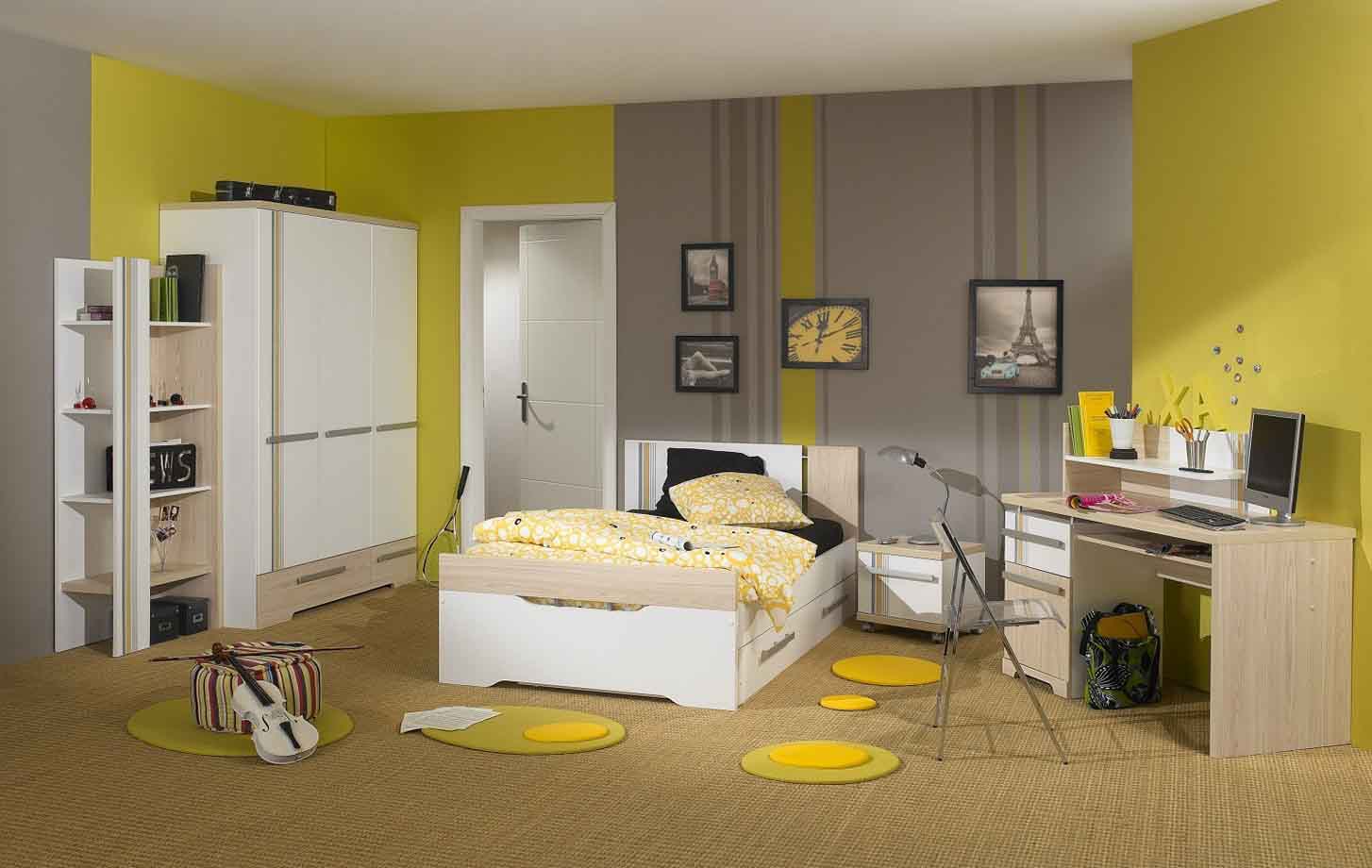 This one is for all artists and people with a creative heart. The spacious bedroom is marked by the use of bold yellow color along with light shades of brown and white. You can have a matching desk along with a bookshelf as well if you have a big bedroom like this.
17. Subtle grey and purple bedroom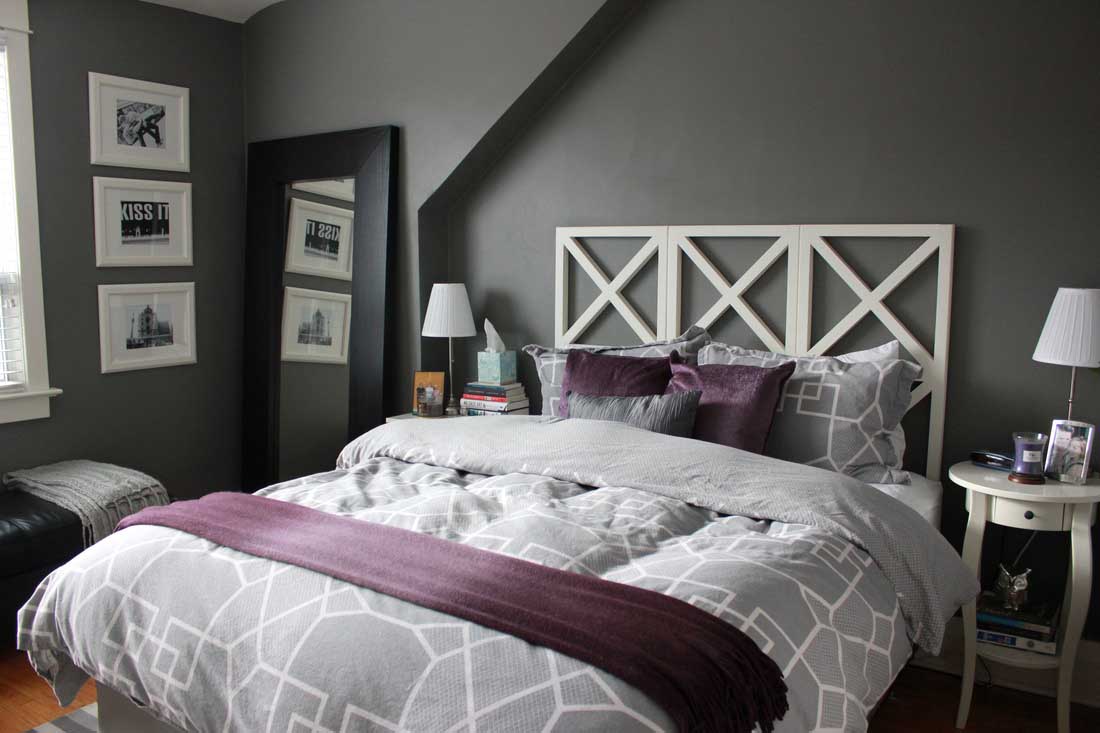 You can add a little touch of purple to your grey bedroom design in this manner. The white designer bed with white lamps looks great with a light grey back wall. Also, do not forget the wooden color of flooring which further enhances the overall look of this grey and purple bedroom. This combination is among unique grey bedroom ideas you will ever find.
18. Cheerful gray and yellow bedroom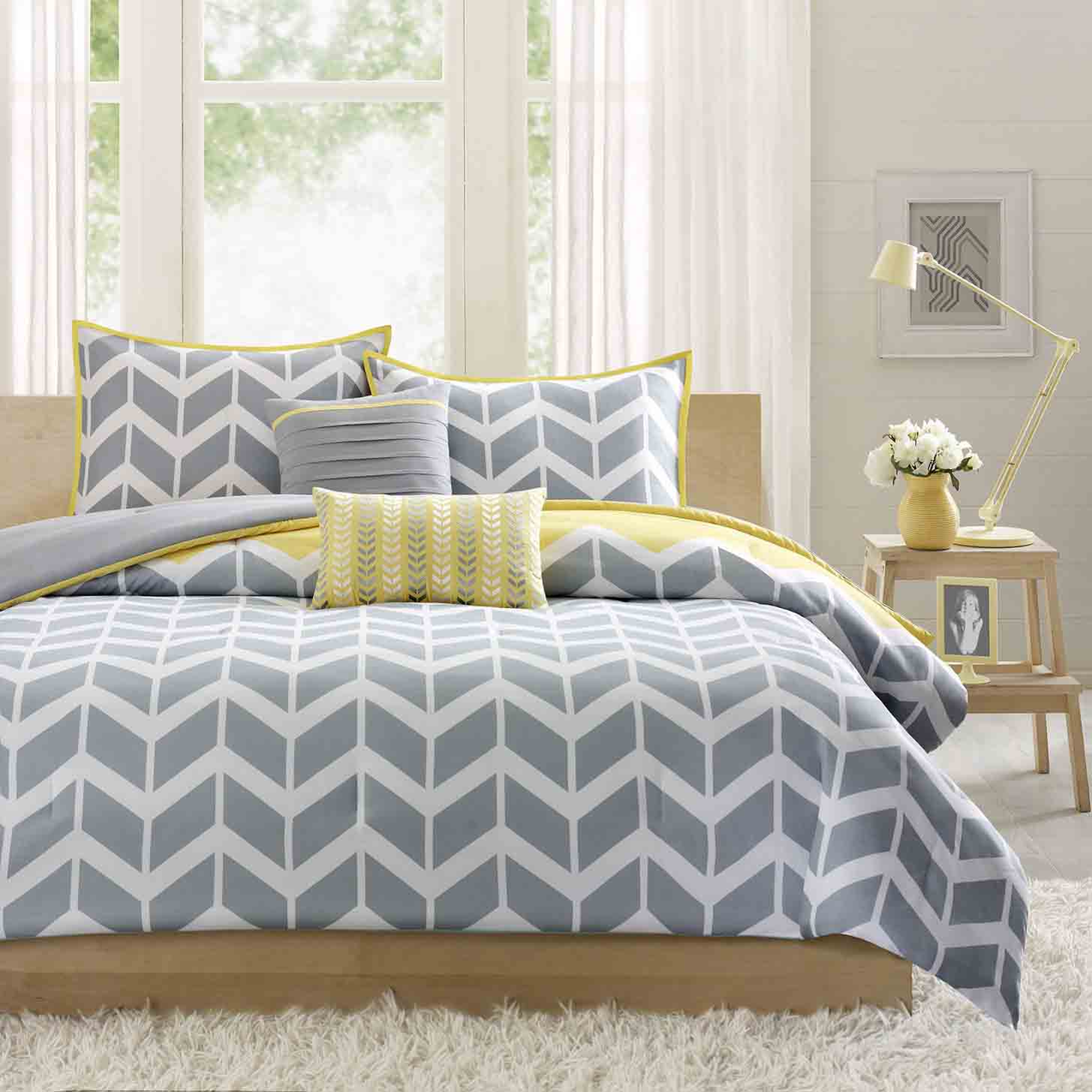 The innovative use of white and grey design on sheets gives it a pleasant sensation to this gray and yellow bedroom. You cannot help but marvel at this color tone which manages to bring out the bold colors despite a predominant white theme. The background view from the window totally matches with the interior of this gray bedroom idea.
19. Elementary gray bedroom with a yellowish tinge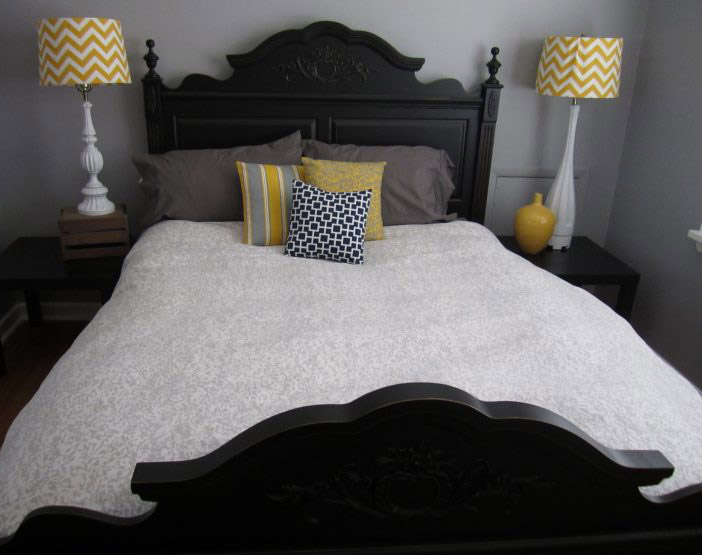 You are going to love this delightful cocktail of colors- black, brown, grey, and yellow in one frame. The most amazing part of this bedroom design is that it manages to incorporate these varieties of colors without getting too tacky. The intelligent use of yellow color in accessories along with wooden flooring and black bed ensures that no color goes overboard.
20. Cool yellow grey bedroom concept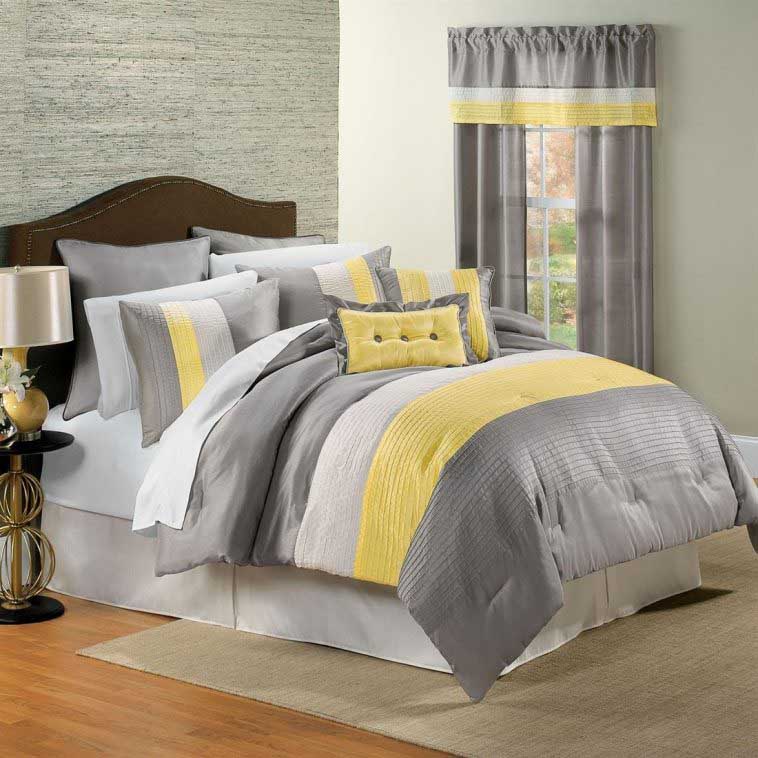 Even if you have a comparatively smaller bedroom, you can use this evergreen combination of yellow and grey to decorate your bedroom. The use of yellow stripes on curtains and bedsheets completely breaks the uniformity of grey bedroom design and adds an interesting twist to the overall setup. You will love this different setting if you do not like any of the above grey bedroom ideas.
21. Designer dark grey with breezy yellow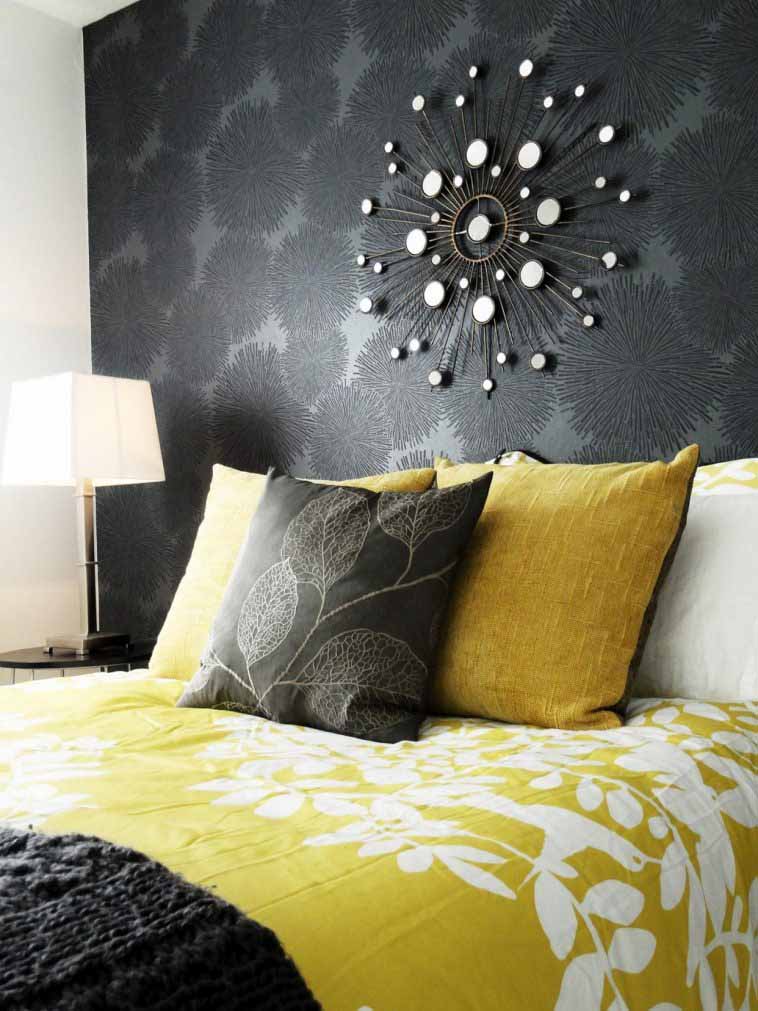 If you love to incorporate cool designs into your interiors, you are going to love this dark grey yellow bedroom idea. The most striking feature of this approach is the designer piece situated on the back side of the wall. The piece is further complemented by the use of alternating shades of grey to give a textured look on the back wall for further decoration.
22. Soft purple and grey bedroom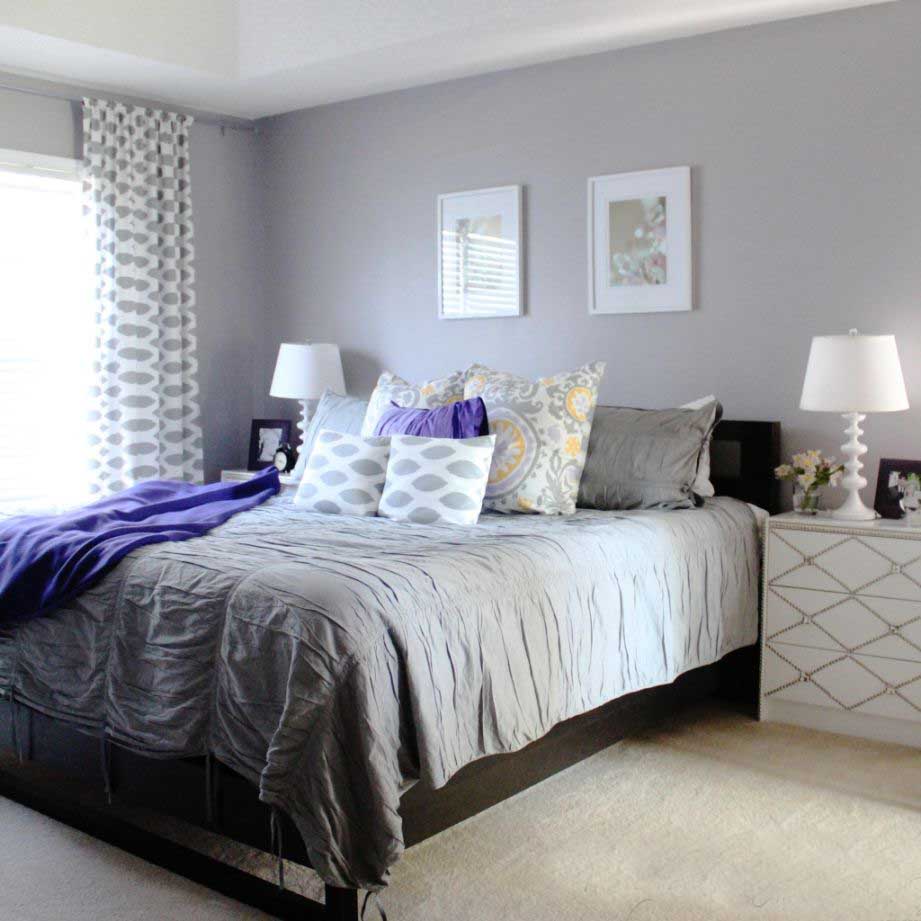 There is a hint of soft purple on the otherwise uniform shade of gray in this bedroom design. By using purple at selective places in bedroom accessories, you can achieve the right balance between two colors. You will also be able to avoid the monotony associated with grey color in general by throwing in the peppy purple in the design.
23. Light Yellow bedroom with gray shade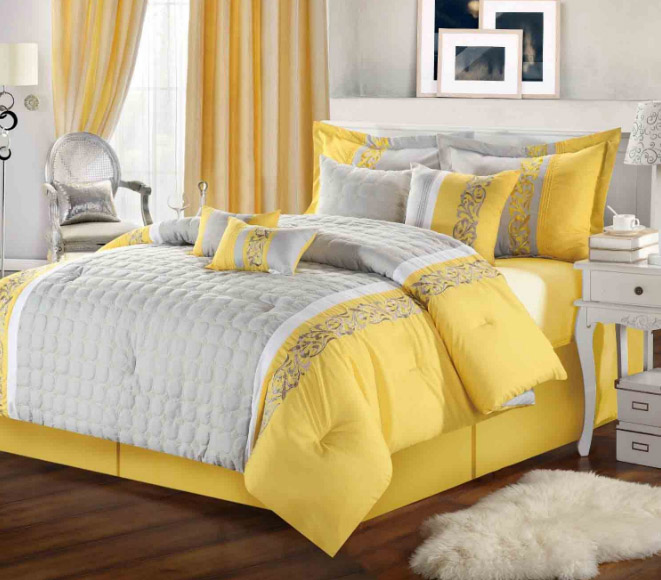 This one is a classic bedroom design with just right shades of yellow and grey. Both colors are present in their respective light shades which give a breezy feeling to the whole bedroom. The use of yellow colors as bedroom accessories in the center of the room is quite ingenious; you have to agree. Try this yellow grey design to have a beautiful room if you want to give a twist to grey bedroom ideas.
24. White grey purple bedroom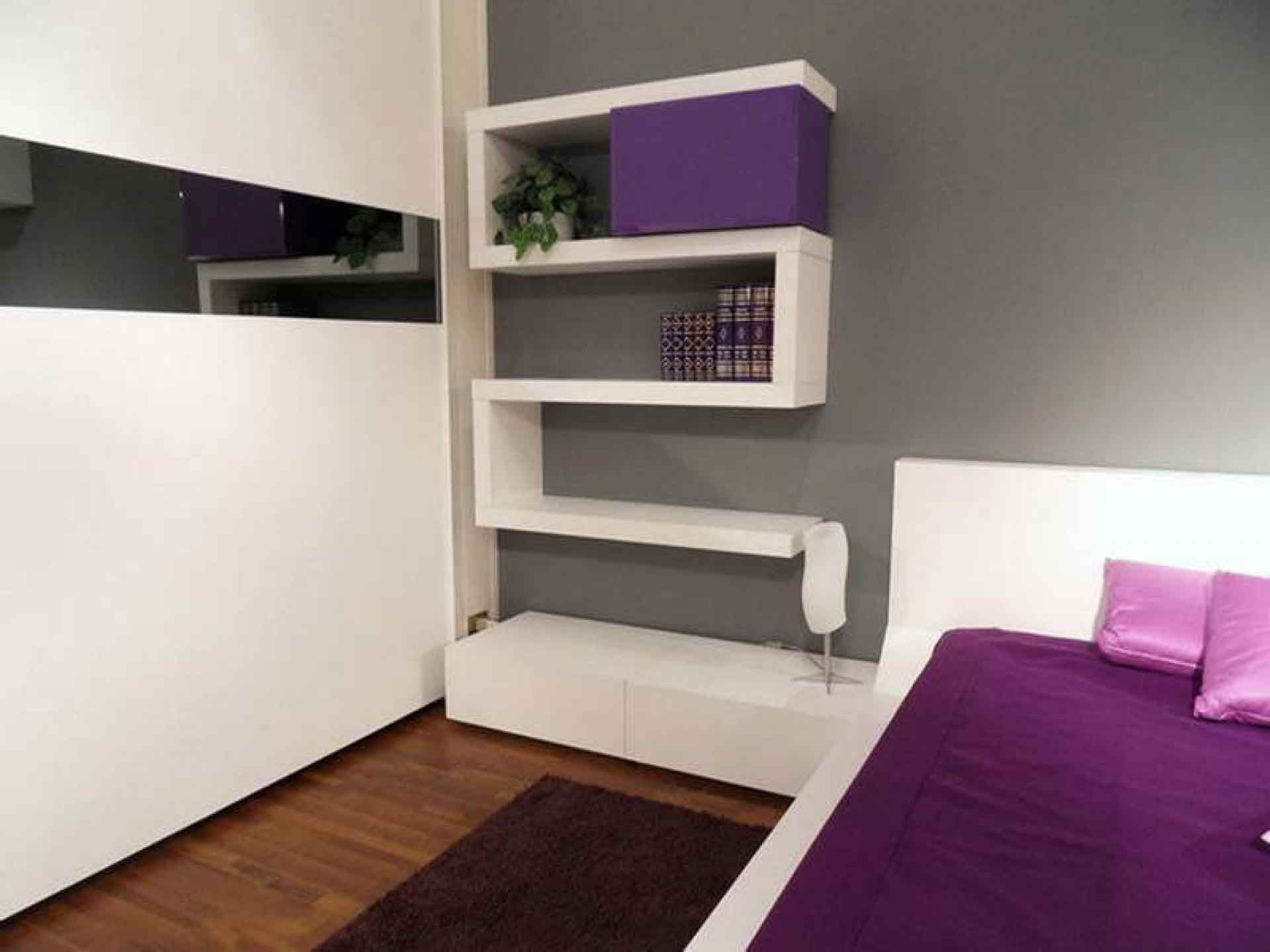 Three of the most popularly used colors in a bedroom- White, Grey and Purple are together in this bedroom design. This trinity of colors is giving this bedroom an eccentric yet different feel. The bright shade of purple is in perfect contrast to the subtle shades of grey and white used in this bedroom. Moreover, you can also add a splash of green in the room by placing your favorite plant in the corner.
How do you like these grey bedroom ideas? We are sure you must have got various ideas for your next renovation of the bedroom. Tell us about your favorite design in the comment below. You will also love these beautiful blue kitchen cabinets for giving a fantastic look to your kitchen.
Also Read: Bedroom Ideas for Inspiration