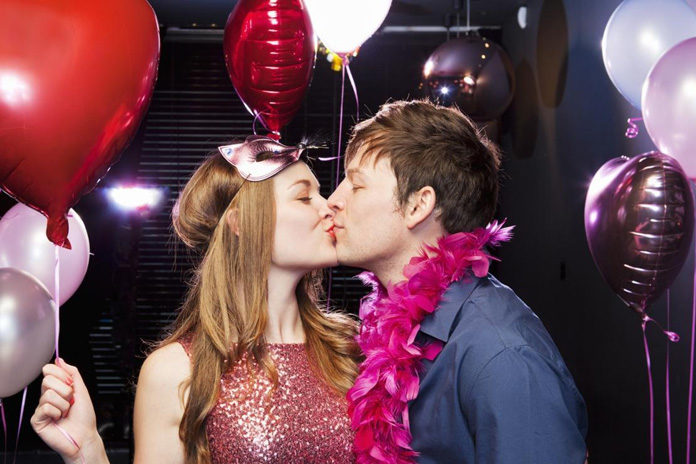 Valentine Party Games – What is fun in a party without some exciting games to play? Don't you hate going to parties where there are only formal conversations among unknown strangers, a little booze, party foods, and a number of periods of awkward silence? Do not let this happen to your party on 14th February and be prepared with some fun Valentine party games.
Related: Valentine's Day Movies You Must Watch.
We bring you the best collection of awesome Valentine party games for adults and couples. Your party guests are guaranteed to have a gala time at your party by playing these games. You will find party game ideas for both singles and couples here. So, if you are inviting some people who are single on Valentine's Day, you can plan a fun evening for them as well!
Don't forget to try these men's party wears before your Valentine's party.
Hence, get ready to throw the best Valentine bash at your place with these Valentine party games for everyone:
More On Valentine's Day
1. Who's Who
It is a perfect game to play on Valentine Eve, especially if your party guests love to watch romantic movies. All you have to do is to write down the name of popular Valentine movies on pieces of paper. When your guests arrive, stick one paper on the back of each guest with the name of movie. Now every guest has to guess the name of the movie by asking questions to other guests about it. The one who discovers the answers first is declared as the winner!
2 . Who's My Secret Valentine
Let's admit it. The long silence is often the worst part of any party. You won't have to face that situation as this is one of the best Valentine party games to introduce guests to one another and get the conversation flowing. You have to ask your guests to write five traits about him or her on a piece of paper. Mix up those cards and randomly hand over each card to your guests. Now every guest has to find out the person whose card he has by interacting with people present in the party. This helps them break the ice and get to know others well in the party!
3. How Well Do You Know Each Other?
This is the best Valentine party game to play when there are many couples in your party. To play this game, you have to write down few questions about likes and dislikes of people. Now make couples sit with their backs facing each other. You have to ask questions about their partner and they have to answer them. The couple who can answer the maximum questions about each other can be termed as the Valentine Couple of the night.
4. Guess The Love Song
It is time to test the lyrics knowledge of your party guests. Write down few lines from popular love songs on chits of paper. The lines should contain generic romantic expressions and typical lines. Now call volunteers from your guests who would have to say aloud these lines in a different tone and the rest of guests have to recognize the song!
5. Mending Broken Hearts
This is also one of the best Valentine party games when your guests do not know each other well. You will need many Valentine hearts (made of cardboard) to do this activity. Now randomly cut each heart into two pieces such that no two pieces are alike. Ask each of your party guests to pick one-half and look for the other half by approaching other people in the party. It is a great way to introduce people to one another in your Valentine Day party.
6. Never Have I Ever
It is a classic drinking game, quite popular in all adult parties. The rules of this party game are simple- one person states a deed or activity which he or she has never done before. Now all those who have done that activity have to take one shot of their drink. It is not just a great game to enjoy booze but also get to know people deeply.
7. Pin Dance
If you plan to have a dance party on the eve of 14th February, you can start off by playing this party game. You will need large pieces of cloth or papers (preferably the poster board of butcher paper). Each couple has to dance on one piece of cloth or paper while ensuring that they do not get out of edges. When the song changes, they have to fold the piece into half and dance on it again. Those couples who step out of while dancing are eliminated. The process continues until the last couple is dancing. After this game, everyone can join in and dance their hearts out with their partner!
8. Blind Date
To play this Valentine party game, you have to separate males and females and take them to different rooms. Blindfold both men and women and now take women to the room of men. While staying blindfolded and without speaking anything, the couples have to find their partner. The couple who finds each other first wins the prize which could be the Best Couple of Evening title or anything else!
Also Read: Date Night Dresses.
9. Kissing Game
Raise the temperature of your Valentine party with this exciting party game for couples. The rules of this party game are deceptively simple. Ask one of the partners from each couple to put on the deepest, darkest lipstick. Set a timer of 30 seconds during which one person has to make the maximum number of lipstick marks on the face of the partner. The couple who manages to implant the maximum number of kisses wins this game! Keep your cameras ready, though as everyone will surely want photos of this memorable evening!
The above Valentine party games will definitely turn your gathering into one of the most happening Valentine parties in the town! Your guests won't be able to stop raving about how much fun they had at your Valentine party for years to come! So, be prepared with these party ideas in advance and throw the best love party ever! If you plan to spend the Valentine Eve with your partner, check out these cute things to do on Valentine's Day.
Also Read: History of Valentine's Day.