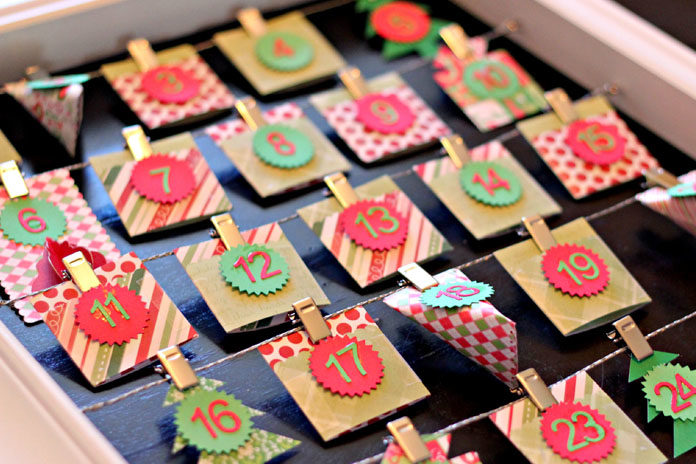 Advent Calendars – Remember the time when you eagerly began to wait for Christmas no sooner than Thanksgiving was over? What were you most excited about during that phase?
Related: Indoor Christmas Decoration.
Of course, it was those awesome, sometimes delicious advent calendars. Advent calendars are a significant part of holiday festivities. Not only you wait for the ultimate holiday season of the year to start but also curious about what item does your family advent calendar has for the next day. As a kid, you may have loved chocolate advent calendars the most.
More On Christmas
However, when you grow up, there is a wide variety of advent calendars you can find to spark your interest. You will find DIY advent calendars to be immensely enjoyable if you love to do crafting activities.
On the other hand, beauty and makeup advent calendars would tempt you if you love everything about beauty, style, and fashion. Here you will discover similar advent calendar ideas of various types which will make your countdown to Christmas full of fun, excitement, and joy:
1. DIY Advent Calendars
Bring excitement to your holidays and relive your childhood memories of the countdown to Christmas by using these advent calendar ideas. Making DIY Advent calendars can be a refreshing and fun activity to do at home with your kids. You can put food items, toys, and Xmas goodies in the advent calendar to arouse curiosity among children.
Also Read: DIY Christmas Gift Ideas.
While making a DIY Advent calendar for toddlers, ensure that you do not keep anything which can harm them. In this particular collection, you will find several homemade advent calendar patterns as well as ideas for fillers.
Apart from your regular chocolate advent calendars, you will discover several other ways to make a handmade advent calendar! So, get ready with your DIY Advent calendar kit and explore through these ideas for a great advent calendar!
2. Wooden Advent Calendars
When you want to bring a practical touch to your room, try these wooden advent calendar ideas. This is because by using wood, you can also give a rustic touch to your Christmas decorations while you count days to Christmas. For example, a wooden advent calendar with drawers can be a brilliant way to countdown to Christmas.
Similarly, you can even hang Christmas ornaments on wooden advent calendar to go with the spirit of Xmas. However, it is children who are the most excited about advent calendars. So, you can try a wooden advent calendar house that can act as both countdown to Christmas as well as building toys for kids!
Explore various wooden advent calendar plans in this collection that will help you choose the best wooden calendar as per your Christmas decoration theme.
3. Beauty Christmas Advent Calendars
Ask any fashion and beauty enthusiast about her favorite Christmas gift? Chances are they will say a perfect beauty advent calendar! They might be a recent phenomenon with brands like Sephora and Nyx bringing their version of makeup advent calendars. You can find a mind-blowing collection of little beauty and makeup items like lip glosses, mascara, lipsticks, bathing accessories, and much more in beauty advent calendar ideas!
These calendars come in various forms and can be an excellent way to give a beautiful touch to your personality for the holiday cocktail parties! Find an extensive collection of such makeup and beauty advent calendars here and get ready to be amazed. However, be warned that you may end up opening all boxes in the calendar at once rather than patiently waiting and counting days to Christmas!
4. Beer Advent Calendars
Say goodbye to cute chocolate advent calendars from your childhood and give an adult twist to countdown to Christmas. Alcohol advent calendars are a great way to indulge in festivities of Christmas without letting your childhood fun of counting days away. Yes, you may end with an unusually heavy advent calendar, but it is totally worth it.
These days craft beer advent calendars and wine advent calendars are particularly popular among enthusiasts. You can discover more such beer advent calendar ideas in this collection and select a suitable one for counting days to Christmas. Have a heavenly holiday season with this particular collection of advent calendars!
5. Christmas Tree Advent Calendar
What happens when you combine two of the most traditional holiday symbols? You get another brilliant way of counting days to Christmas. Christmas tree advent calendars can be a wonderful way to make cheap advent calendars at home. You can make such calendars at home using different materials like wood, felt, fabric, etc.
Fabric Advent calendars are especially famous among many people as you can make it easily using old clothes and bit of creativity. It can be one of the best homemade advent calendar ideas which will make your wait for Christmas worthwhile. Check out this collection for more ideas for Christmas tree advent calendars!
Pick any of the above advent calendar ideas and be assured of a super exciting countdown to Christmas. You do not have to be a child again to experience the excitement of waiting for the holiday season with advent calendars. As you grow up, you can also discover a broad range of adult advent calendars which will leave you counting days to Christmas in a unique style. And while you are preparing advent calendars, how about checking out these adorably ugly Christmas sweater ideas?
Also Read: Christmas Gift Ideas For Boyfriend.
Christmas Gift Ideas For Girlfriend.