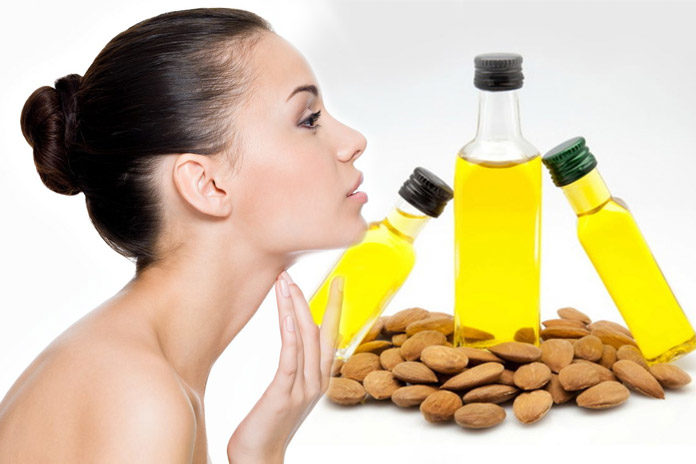 Almond Oil for Skin – Who does not want a healthy, youthful, and radiant skin? After all, a vivacious skin is the ultimate hallmark of flawless beauty and helps in enhancing the personality of any individual. However, in the age of modern cosmetics which are mostly loaded with chemicals,it is tough to maintain a beautiful skin by natural means.
Related: Almond Oil For Face.
Moreover, most of these cosmetics are quite expensive which can leave a large hole in your pocket. In this scenario, the best way to take care of skin is using almond oil for skin.
Yes, that sweet-smelling almond oil is one of the best ways to promote not only healthy skin but also to treat various general skin problems. If you do not believe us, check out these tried and tested benefits of almond oil for skin:
Get Clear and Healthy Skin
Almond oil is naturally rich in healthy fats like Omega 3, Omega 6, Omega 9 and other monounsaturated fatty acids. It contains loads of vitamins like Vitamin E, Vitamin B, and Vitamin A which further aids in keeping a healthy skin.
On top of it, almond oil is incredibly light and quickly gets absorbed into the skin to provide nourishment. Many modern hair cosmetics also have almond or almond oil which imparts them with an ability to treat skin and skin issues.
Almond Oil For Skin Diseases
Eczema & Psoriasis are two of the most common skin conditions. These skin diseases often cause irritation and red skin which leads to itchiness and inflammation of the skin. The situation becomes worse when you itch the area and harm it further exposing it to external elements.
It could also lead to fungal and bacterial infection if it is untreated. Almond oil helps to relieve these diseases by keeping the skin soft and hydrated. It is also mildly hypoallergenic which makes it ideal for application on skin during these conditions.
Also Read: Natural Home Facial.
Stay Young With Almond Oil
Regularly using almond oil on skin helps you to stay young. This is because antioxidant properties of vitamin E present in almond oil aid in fighting free radicals. These free radicals increase with age and are known to be a primary cause of degradation of cells and tissues leading to aging. Almond oil also helps in rejuvenating the skin by softening it and removing dead skin cells.
Sore Muscles? Apply Almond Oil
Almond oil has been traditionally used to treat fatigue and muscle soreness for centuries. Aromatherapy makes extensive use of sweet almond oil for releasing stress from muscles and joints. By quickly penetrating the skin, almond oil is one of the ideal oils to massage your muscles after a long tiring day.
It not only eases the tired or strained muscles but also helps in reducing their inflammation. You can also warm the almond oil and place a wet towel after applying it to achieve best results.
Almond Oil For Skin Cleansing
Due to its easy penetration and exfoliating properties, almond work can miraculously work to achieve a deep cleansing action on your skin. It can effectively remove day to day dirt and visible particles accumulated on the skin. Almond oil with white sugar can act as an excellent natural scrub for your face to remove dead skin cells and revive the facial skin. In addition to that, using almond oil for dark circles can also give you result in few days of use and give you clean and glowing skin.
Fights Signs of Aging
If you are in the mid-30s or early 40s and worried about wrinkles and fine linings which have started appearing on your skin, you can use almond oil to minimize their effect on your appearance. A healthy skin contains a protein called collagen.
With age, free radicals began to increase and reduce the tightness of skin leading to wrinkles and fine linings. Regularly applying almond oil in small doses with a cotton swab can effectively mitigate these wrinkles and promote healthy and glowing skin.
Natural Sunscreen
Almond oil can effectively protect your skin against harmful UV rays of skin.The excess exposure to the sun not only causes premature aging of skin but can also be the cause of skin cancer. An advantage of using almond oil as a sunscreen is that it can also heal and reverse the existing damage to skin caused by the sun.
Almond Oil For Removing Makeup
Since almond oil can easily enter the skin and open up the pores, it acts as a fantastic makeup remover. You will not need any chemical agents to remove makeup if you use almond oil.
In fact, you can use almond oil to remove even waterproof mascara. The greatest advantage of using almond oil is that it will also nourish your skin and prevent any chances of acne or pimples.
Remove Skin Tan With Almond Oil
Excessive exposure to the sun often leaves a fair amount of tanning on skin. While it looks good in a limited amount, it can lead to skin damage and irritation if you go overboard. It may also result in a red or patchy skin which might be painful. Applying almond oil on these areas will heal these conditions quickly.
Almond Oil For Skin Rashes
Skin rashes are common in infants as well as adults. These are most commonly caused due to constant rubbing action due to diapers in infants. Adults also face this issue when they wear tight clothes which lead to friction between thighs and lead to chafed skin.
Such condition may cause burning sensation and soreness. Almond oil gently heals this skin condition by providing necessary moisturizing action. Moreover, it also contains plenty of zinc- a common ingredient found in chemical creams to treat rashes.
Cracked Feet? Apply Almond Oil
Almond oil can act as a perfect replacement for your foot cream. You must be using these creams for treating your cracked heels. Almond oil, being naturally light with incredible moisturizing action can nourish your feet skin wonderfully.
It can easily penetrate the tough skin of your feet and softens it by cleaning the accumulated foreign particles present on the skin. The zinc content in almond oil can also heal cracked and rough skin of your feet.
Which of the above benefits of almond oil for skin are your favorite? Is there any other almond oil skin benefit we might have missed. How do you use almond oil for skin? Tell us about it in the comments section below. Also, read these beauty tips for face to get a more glowing and natural skin.
Also Read: Almonds Oil For Hair