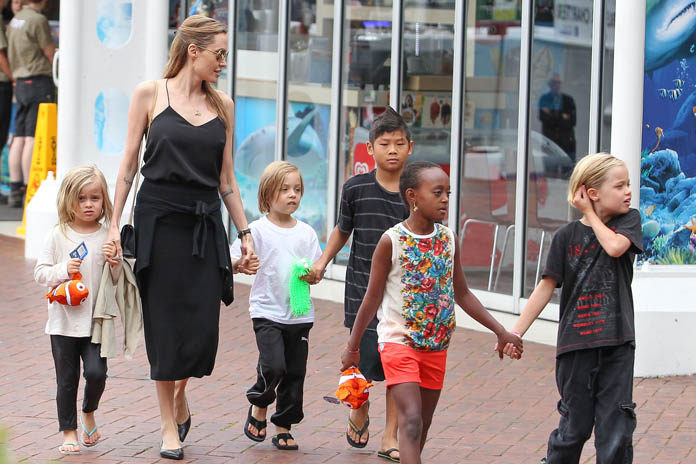 Angelina Jolie Kids – Brad Pitt and Angelina Jolie, often known as Brangelina among their fans, were one of the most powerful and popular celebrity couples in the world. They might have broken up now but the couple was an ideal example of running a family which was multicultural and multiethnic.
Related: Angelina Joile Hairstyle You Should Try Once.
Three out of six Angelina Jolie kids originally belong to Cambodia, Ethiopia, and Vietnam.
We are sure that you will be curious to know this fascinating tale of Angelina Joli kids. So, without further adieu, read on to discover about the lives of Maddox, Zahara, Shiloh, Pax, Knox, and Vivienne.
Maddox Jolie-Pitt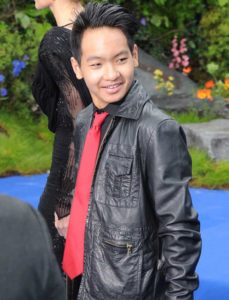 Maddox is the eldest of the Angelina Jolie kids. Angelina Jolie adopted Maddox from an orphanage in Cambodia. She was shooting for her famous film Tomb Raider in 2001 in Cambodia when she visited a local orphanage. There she found a three-month-old baby named Rath Vibol whom she connected with instantly.
After doing the required paperwork, she finally adopted that child in March 2002 and gave her the name of Maddox Chivan Thornton Jolie. At that time she was married to Billy Bob Thornton that is why Thornton name was added to Maddox. However, the couple separated after a few months after which Thornton name was dropped.
Initially, Jolie faced much resistance from the US government to get the custody of Maddox as it had banned adoptions from Cambodia due to child trafficking allegations. She was able to get full custody of Maddox in the year 2007 and since then he has been a part of Jolie clan.
Brad Pitt and Angelina Jolie once revealed to media about the nature of Maddox. She said that he was a real intellectual and professional as well as a mature big brother. He has already shown signs of being in the show business. He appeared in a cameo role in one of his father's movies- World War Z. He is also often seen accompanying his mother on the film sets.
In fact, Maddox worked as a production assistant to Angelina Jolie when she was directing a film called By The Sea which starred Brad Pitt as well. He is also assisting her in a movie called First They Killed My Father which has his origin country Cambodia as a backdrop.
Zahara Jolie-Pitt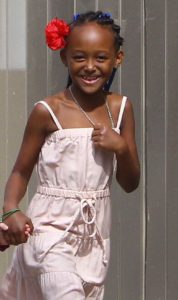 Zahara was originally born in the African city of Awasa, Ethiopia on January 8, 2005. Her birth mother Mentwabe Dawit named her Yemsrach initially. However, due to the widespread poverty and malnutrition spread in the region, she had left the child in an orphanage. The orphanage changed her name to Tena Adam.
Reportedly, Maddock often loved to go traveling with his mother Angelina and Africa is one of the favorite places of Maddock. On his insistence for a little sister, Jolie adopted 6-month-old Tena Adam from the orphanage in Ethiopia. 
Angelina Jolie changed her name to Zahara and brought her into the family in July 2005. Brad Pitt had already joined the family at that time, and he also accompanied to bring the new member of the family to their homes.
However, Zahara immediately fell ill on the way to the US and was found to be suffering from dehydration, malnutrition, and salmonella poisoning. Initially, doctors even mistook her to be infected with AIDS thinking that her biological mother had died of the disease. However, the information was later proved false after medical tests.
Later, Mentwabe confessed that she had left her in orphanage thinking that child would die of malnutrition.
Doctors in the US indeed believed that she would have indeed died of malnutrition if Jolie had not decided to adopt her. There has been some controversy surrounding Zahara involving her biological mother who apparently wanted to have her back to Ethiopia.
As per several media reports, Brad Pitt and Angelina Jolie were facing issues in their marriage and family because of this issue as well. Nevertheless, Zahara continues to be a loving part of the group of Angelina Jolie kids.
Shiloh Nouvel Jolie-Pitt- First Biological Child of Brangelina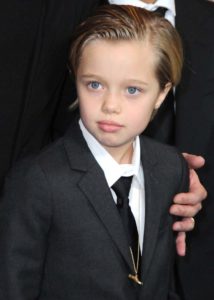 The decision to have their own child initially surprised many people as Pitt and Jolie already had two adopted children. Nevertheless, their first biological child named Shiloh Nouvel grabbed mainstream headlines on her birth on May 27 in 2006 in Namibia. Jolie named her Shiloh by getting inspired from a name her parents had in mind for a kid which did not get born due to miscarriage.
You will be surprised to know that the pictures of Shiloh as a newborn baby were sold to magazines People Magazine and Hello Magazine for a staggering 4.1 million USD and 3.5 million USD respectively. The couple reportedly donated the amount to an undisclosed charity.
When she grew up further, it was clear that she had inherited the gorgeous looks of her parents. She looks strikingly similar to childhood pictures Angelina Jolie. However, she eventually became the center of attraction of media for an entirely different reason. Shiloh has always dressed up like a tomboy wearing masculine clothes, suits, and ties and dresses up like a boy.
Several media journalists have questioned this attitude of Shiloh and even criticized her parents for dressing her up like a boy. The issue came into highlight when two years ago new photos of Shiloh appeared with her wearing a dapper suit at the premiere of Unbroken directed by her mother.
However, Brangelina has always supported her decision to look like a boy. Jolie had openly admitted that she supports her decision if she wants to become a boy. In fact, Brad Pitt revealed in an interview with Oprah that Shiloh wants to be called as "John" instead of her usual name. And it is her choice to dress up like boys, and they were in full support of her decision.
Pax Thien Jolie-Pitt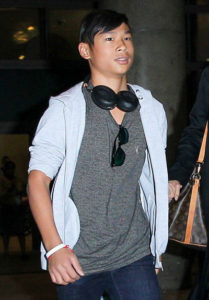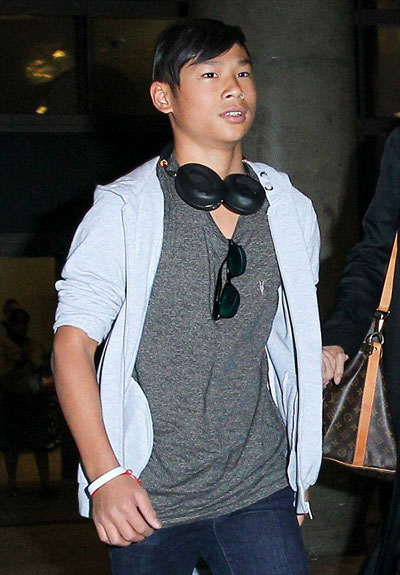 After the birth of their first original child, Shiloh, Pitt and Jolie were worried about the reaction of other Angelina Jolie kids to her. Moreover, since Shiloh looked a lot like them unlike Maddock and Jahara so it increased the chances of their alienation from the rest of family.
Moreover, Jolie also wanted to have someone from a similar ethnicity as of Maddox. Consequently, she started looking for adoption again, this time from Vietnam.
There was an orphan named Pham Quang Sang in an orphanage called Tam Binh Orphan Center. He took birth on November 29, 2003, in Ho Chi Minh City in Vietnam. His biological mother was reportedly a heroin addict and people say that she ran away after giving birth to him.
This was because Pham had a liver problem and she could not afford the bill. Later, when Jolie requested for a healthy baby, Pham found a new identity in as Pax Thien meaning" peaceful sky." Angelina adopted Pax in the year 2007 when he was already four years old. He is the second eldest child of Angelina Jolie family with only Maddox elder than him.
However, having stayed at an orphanage for a long period and sharing room with 20 other kids, Pax initially had many difficulties adjusting to his new environment. He even reportedly used to bully his siblings and had aggression issues.
Brad Pitt and Angelina Jolie had hired a therapist to take care of the issue, and that therapist even once traveled with them to Europe on one summer holiday. Jolie even admitted herself that Pax is the wildest of her kids and very protective of his teddy bears.
Nowadays, like his brother Maddox, Pax is also working on the sets of film by Angelina. As per media reports, he is also an excellent cook and even baked the wedding cake during the time of marriage of Pitt and Jolie.
Twins Knox Leon and Vivienne Marcheline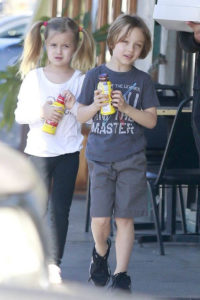 The youngest of Angelina Jolie kids, Knox Leon and Vivienne Marcheline, were born on July 12, 2008 in the city of Nice in France. Like Shiloh, the twins are also biological kids of Angelina Jolie and Brad Pitt and generated a lot of curiosity among the paparazzi.
The couple named the twins on the name of their parents. Vivienne got her middle name from the mother of Angelina who had then recently died of cancer in 2007. Similarly, the other twin Knox got his name from the maternal grandfather of Brad Pitt named Hal Knox Hillhouse. Mindy Cohn, the famous star of Facts of Life is the godmother of twins.
Like the first original Shiloh, the pictures of twin were sold off to magazines for massive amounts, and they donated that amount to unnamed charity. However, unlike Shiloh, Vivienne is the perfect miniature girl version of Jolie who reportedly likes pink and behaves typically like the daughter of one of the most beautiful women in the world.
On the other hand, her twin brother, Knox has inherited looks from his dad and bears a striking resemblance to Brad Pitt. Vivienne has already made her film debut in the Disney film Maleficent starring her mother. She played the younger version of Princess Aurora and looked extremely comfortable in front of the camera like her mother.
One must admit that the multicultural family of Angelina Jolie and Brad Pitt is the perfect example of embracing our unity as a human race. The wholehearted acceptance and love received by Angelina Jolie kids from their parents are surely an ideal put forward by the celebrity couple about how we need to rise above cultural and ethnic differences and treat the whole world as our family.
After reading this tale of Angelina Jolie kids, you will also love to know about Angelina Jolie herself in this concise Angelina Jolie biography.
Also Read: Angelina Joile Tattoos With Messages.