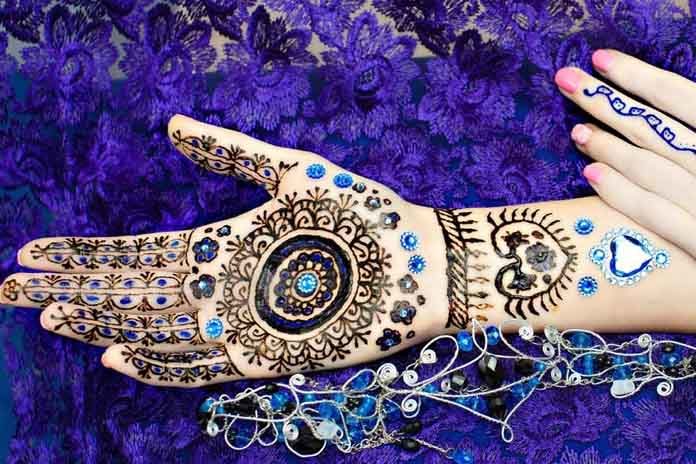 Eid Mehndi Designs – Eid Al-Adha, often known as Bakra Eid is round the corner and you must be busy with its preparations. Amidst these preparations, you must also be planning to style yourself differently on the occasion of this highly auspicious festival. If you are looking to sport a Mehndi on this occasion, you can find much inspiration here with our choice of hand picked Eid Mehndi designs.
Related: Simple Designs of Mehndi.
The evergreen, traditional Mehndi is an excellent choice to enhance your personal style on any festive occasion. Discover some of the exclusive Eid Mehndi designs here and let your beauty and style shine on this day:
1. Beautiful Eid Mehndi Design for Back Hands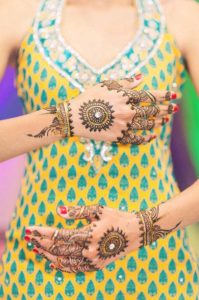 This Eid Mehndi design perfectly captures the spirit and joy of Eid festival. The dark red nail paint against the beautiful mehndi patterns with a trendy chakra in the center looks just splendid. Try this mehndi design on the back of your hands and show off your style on the festive occasion.
Also Try: Back Hand Mehndi Designs.
2. Heart Eid Mehndi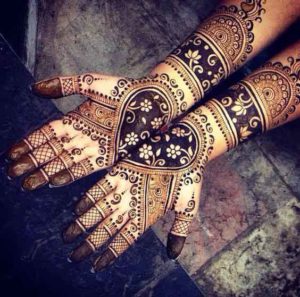 You do not always easily find Eid Mehndi designs as graceful as this one. This creative mehndi design amazingly forms the shape of the heart on bringing your palms together and signifying the heartfelt emotions and joy of the celebration of the Greater Eid.
3. Designer Eid Mehndi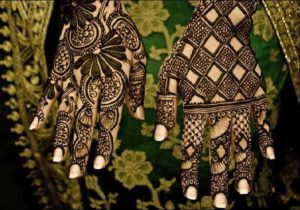 Eid Mehndi designs cannot get better than this. The ideal and intricate mehndi design is perfect for the festive occasion. The dark color strokes of the design along with intentional leaving of space between patterns look incredibly fantastic.
4. Pretty Eid Mehndi Design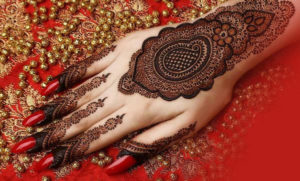 You want to look traditional as well as trendy on the day of Eid. This lovely mehndi design is an ideal way to go with any ethnic or festive wear. You can even sport this Mehndi after the festival along with your modern fashion accessories. Nothing works better than the fusion of modern and traditional and this Eid mehndi design is made for that fusion.
5. Festive Eid Mehndi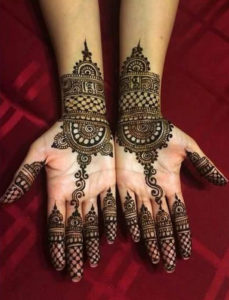 This exclusive Eid Mehndi design brings out the traditional festive spirit of Eid with its image of ancient and holy tomb-like structures. This mehndi design mainly boasts of an intricate pattern of fingers and a simple design in the middle. Unique but effective!
6. Amazing Arabic Mehndi for Eid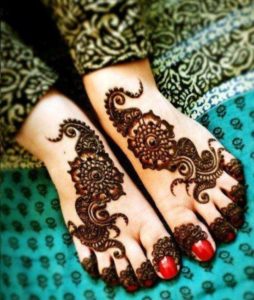 When it is time to design a mehndi for Eid, you can never go wrong with Arabic Mehndi designs. Especially this mehndi design with a gorgeous pattern for your feet looks just stunning. You will also love the cute decoration of your fingers with mehndi in this mehndi design. More Arabic mehndi designs.
7. Elegant Eid Mehndi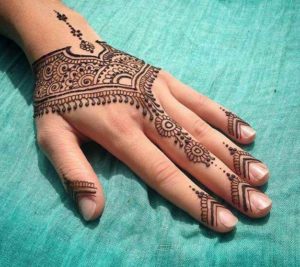 If you do not have time and are busy in preparations for Eid Al Adha celebrations, you will find these Eid mehndi design very easy to make. Not only is this mehndi design quite simple to make, but also looks very elegant on this auspicious festival.
8. Stylish Eid Mehndi Design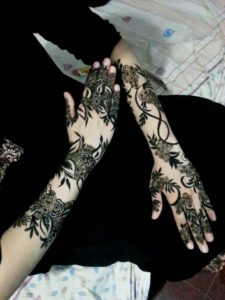 Want to flaunt your style without compromising the traditional values of the festival? This stylish Eid Mehndi design is for you. This full hand mehndi on the back of your forearms boasts of an excellent designer pattern which is perfect for Eid. You are guaranteed to be overwhelmed from compliments of your friends and family for this stunning mehndi design.
You can take your style to an altogether different level on the Greater Eid with the above Mehndi designs for the festival. Did you like these Eid Mehndi designs? Which of the above designs do you like the most?
Also Read: Mehndi Design For Fingers.