How To Get Fit – Can high-intensity interval training be fun? Isn't it too difficult to stick to an exercise routine? Exercising is quite essential for staying fit. Even short rounds of intense exercise can change your DNA & promote better health. However, most often, we try committing ourselves to exercise programs only to fail! It can be tough, the whole huffing and puffing makes us want to drop the idea of being healthy altogether.
Also read: 8 best exercises to reduce thigh fat
However, maybe, yes maybe, it can all be fun. So you might be able to do it long term!
Recently, researchers in Denmark conducted a study to develop a new approach towards high-intensity interval training. According to the researchers, this technique will make exercise appealing to those who are not enthusiastic enough to push themselves! However, what's better- it can help you stick to an exercise program.
Initiated by Jens Bangsbo, Professor of Physiology, University of Copenhagen, Denmark, this technique is called the 10-20-30 method, which can make exercise a whole lot fun!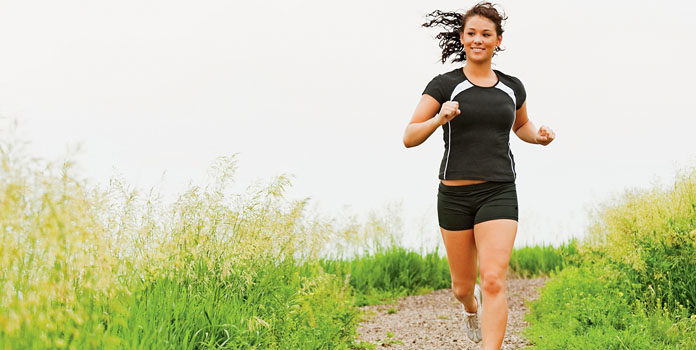 But before going into the detail about the approach, let's see how the plan came into the picture. The inspiration for Bangsbo's approach came from a study conducted in New Zealand. In 2014, researchers from Canterbury District Health Board, University of Canterbury, Lincoln University, Christchurch Polytechnic Institute of Technology and University of Otago combined their efforts to conduct randomized controlled study to make HIIT more accessible to the real world. For this purpose, they correctly chose overweight, obese and inactive participants.
The participants were given following choices- one that consisted of four minutes of fast jogging and rest followed by four more minutes of vigorous jogging and the other was to complete three sets of 30 seconds' hard interval training followed by rest. However, the supervision of the exercising sessions varied quite immensely.
While some sessions were administered strictly, many were left unsupervised, at the mercy of the volunteers. The study was carried over a course of 3 months.
Both these programs were intended to get the volunteers in better shape. But the results were vastly different. Only a few participants had significantly lost weight or become fitter in the 30-second interval group. Researchers assume that this happened because several members abandoned the program early in the study.
The results of this study along with other similar studies worried Bangsbo. Bangsbo has been involved in the study of the effects of high-intensity interval training. While his work theorizes that HIIT can make people fitter, healthier and faster, it didn't take non-athletic and overweight people into account. In fact, most of his studies till then were focused on highly motivated athletes instead of general people.
This prompted Bangsbo to find a more practical approach to HIIT, an approach that anybody from a newbie to an athlete could follow. After many efforts and trial and error, the team devised a 10-20-30 interval training program.
Also Read- Activities to Enjoy during the Spring.
What's the 10-20-30 program?
Well, it is quite straightforward. The idea is to perform any aerobic activity, like running riding a bike or rowing for 30 seconds and then accelerate the speed to a moderate for the next 20 seconds followed by sprinting as hard as possible for another 10 seconds.
So, the sprint session is basically your HIIT duration. Then, you repeat. The idea is to get unfit people acclimatize to the concept to high intensity and help them get fitter.
How is the program enticing?
The most difficult part of this program only lasts for 10 seconds
It is more manageable than 30 seconds or 4 minutes of continuously complicated interval programs
It is easy to remember
One doesn't necessarily need a gym membership for following this routine
It is low tech and doesn't require any heart rate monitor or flow chart
The efficiency of this program has been tested by Bangsbo on the regular group of people. In their study of the program, Dr. Bangsbo and his colleagues approached several running clubs throughout Denmark and recruited 132 middle aged recreational runners. These volunteers were asked to substitute two of their usual weekly workouts with 10-20-30 training. To serve as the control group, 28 runners were also recruited who were asked to continue their normal training.
What happened during the study?
At the beginning of the test, the recruits were put through physiological testing, which included a 5 Km. race. Then, the runners were turned loose and asked to continue with or abandon their training, as per their wishes. After eight weeks, it was found that almost everyone in the 10-20-30 group was following the program.
The 5 Km. race was once again repeated, and the results showed that the volunteers had cut down an average of 38 seconds from their times. However, the runners in the control group remained unaffected.
The study basically proves that replacing slower training methods with HIIT can significantly improve a person's health. However, those results will not be visible if the individuals abandon the program. That's why, an approach that gets them used to HIIT is a viable option to help people get fit.
So what makes 10-20-30 different than regular aerobics?
While on face value this training program might seem similar to your regular aerobics, it actually is quite different. Why? Because it prompts you to go to the HIIT max interval stage for at least 10 seconds whereas aerobics is usually a continuous heart rate with no increase/decrease in the intensity.
According to Dr. Bangsbo, this training method increases self-confidence among volunteers, as they train less and lose more (because of HIIT incorporation). Moreover, at the same time, their self-esteem rises because they notice the difference in their endurance capacities.
Also Read- How Exercise Keeps Us Young
So, how should I follow the 10-20-30 Program?
Dr. Bangsbo says, the ideal way of following this routine is to substitute it with one or two of your normal weekly workouts. Start by warming up with easy jogging or pedaling or rowing followed by the 10-20-30 training.
The 30 seconds portion is meant to make you feel relaxed, whereas the 20 seconds, portion gets you in the grove followed by the 10 seconds full speed, where one should aim to cover as much distance possible. One should be able to do five sets of the 10-20-30 intervals continuously without any pause, then rest for two minutes and repeat five more sets of this routine.
The whole session generally lasts for 12 minutes excluding the warm-up and cool-down. As you get in shape, you must introduce this technique to other workouts, increase the number of sets and reduce the rest times.
So, this sounds fun, doesn't? Go ahead and try it! You might just stick to a workout regime!
Also Read: Run To Stay Young.