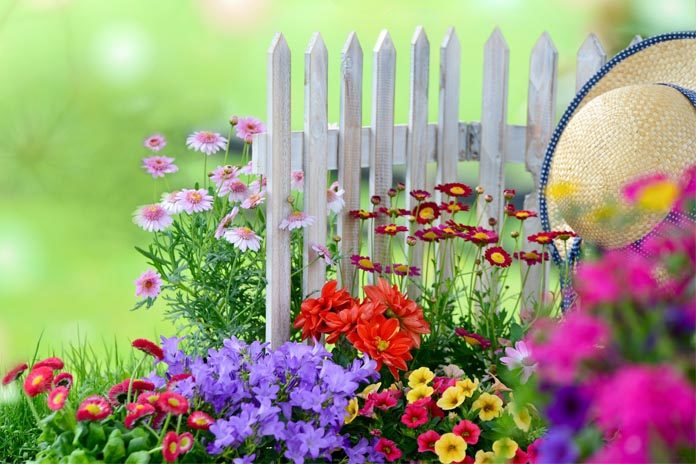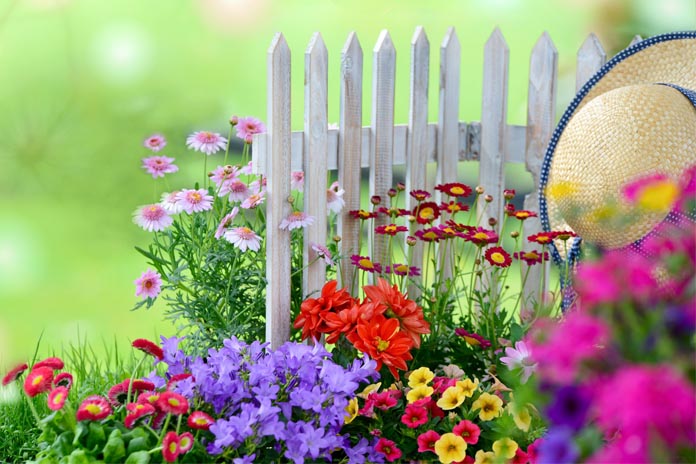 Flower Garden – Who does not love nature's colorful blooming blossoms? Imagine the world with green landscapes with no added colors of the flower. It would be a dismal world. However, that is not the case today; we have this beautifully flushed nature with colorful blossoms. You might have seen many gardens glimmering brightly with flowers of different colors. If these gardens tempted you to have these glorious blossoms of your own, then we can give you some tips for a beautiful flower garden.
Related: Balcony Garden Ideas.
You will need to put in a sincere effort for planting flowers and plants in your garden. It is not easy to have trees or flowers in a garden and then again modify the garden to make it look better. You will have to take proper care of your plants by watering them regularly and in the right amount too. You also need to take care of the nutrients your plants require.
Try to use more of organic materials and natural composts for your plants. Use artificial fertilizers and pesticides in moderate quantity so that they do not spoil the air with their smell too much.
More On Gardening.
So, with all these things keeping in mind, you can use some of the ideas given below to create or modify your garden into a more beautiful site!
1. Choose a width
The width of flower beds depends on the size of your flower garden. If you have an average sized garden i.e. say 200 square feet, then you should at least decide your flower bed width to be about 3 feet. Now, width is a matter of personal choice, but if you have a thicker flower bed, then it looks better.
2. Create a partition
A line of partition between the grassy region and flowery region of your garden beautifies the look of your garden. It adds elegance to your home. Some people prefer the curved line of partition, and some prefer a straighter one. Whatever type you choose, just make sure that the lines are not wiggly like a sinusoidal curve unless you think that wiggly lines too can make a beautiful design.
The designs you prefer whether it is wiggly, straight or curved, it should separate the garden and the flowery area neatly. If you have heard of garden edging, then you can apply innovative ideas for creating division. You can separate your garden and lawn with ropes, bricks, steel, concrete, any other thing that you feel would look good for separation.
Also Read: How to Make Potpourri?
3. Plant trees too
A tree in the middle of your flower garden surrounded by flowers in a circular fashion is a creative idea. If you have trees standing tall with pride at the edges, then you should create an arc of flowers just in front of them.
The other thing you can do is surround your house's walls with medium sized trees and parting the garden, and the tree with a line of cool looking flowers. Flower growing done through this way looks quite appealing!
4. Symmetry and asymmetry in your garden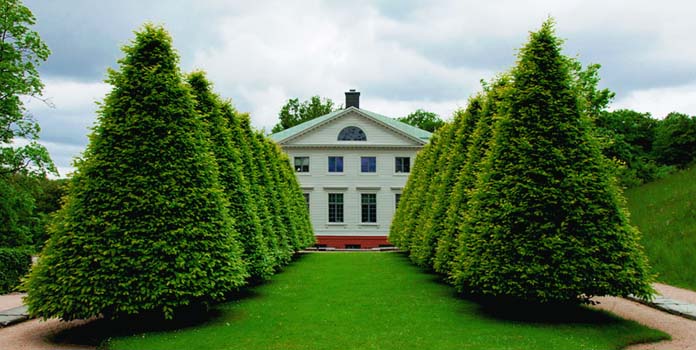 For a symmetrical flower garden, you can plant all your flowers and trees of the same size. Alternatively, you can also plant some flowery plants of the same size in one area and another size in the other area of your garden.
How would a garden with trees on one side and flowers on the other side facing each other be? That too would be counted as symmetrical as you will have similarity on both the sides with contrasting characters possessed by each group.
5. Plant flowers with different colors
So, for working more innovatively you can plant flowers with different colors alternatively i.e suppose, you have four different plants whose blossoms have different colors. That means you have four different colored plants to be planted. In that case, you can plant all your different plants in one line and then repeat the sequence.
Also Read: How to Make Rose Water.
So, when your plants grow, you would have a garden with a cluster of various colored flowers repeating in sequence. You can apply other ideas like planting same plants which will have different color shades of their flowers. If you like, you can also plant flowers in single color for uniformity in your flower garden.
6. For a lush green garden
If you have a garden, and it has only green grasses and nothing more, and you do not want to remove a single strip of grass from your garden but still you want flowers in it to beautify it even more then we have an idea for you.
Buy some beautiful pots and place them in order where you want flowers, you can either arrange them in circles in the middle of your garden or place them sideways. Those colorful blossoms would look great on a green background. So, now you too have a flower garden!
7. Plant in groups
You can create your garden like a botanical garden. Try and plant plants of same species in one group and other species in the other group.
For some modification, you can plant one group of your flowery plants in a rectangular region or any shape you prefer in one area and then plan the other species in 2-3 feet gap with grassy region connecting them. Moreover, if you have big gardens then try and plant as many species of plants as possible. You can also conduct a garden exhibition to educate curious students in your area about different plant species!
8. Monuments in the garden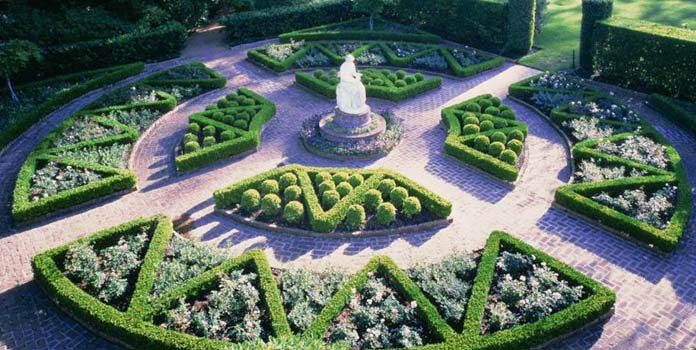 Different artistic sculptures and monumental pots would make your garden look massively royal. You can set up hanging plants on your garden sculptures to dignify its presence. How about a fountain? You would not say no to that! Fountains too are common in huge gardens.
9. What if you do not have garden space?
Most of us do not have space for gardening. In that case, flower pots are our best friend. Buy some flower pots and place them in the little area which you assume to be a garden. Place as many pots as space allows you to, and that will do great. We also have a better idea than this, and that is a rooftop plantation. You can have these indoor flowering plants for this purpose. These are well researched and well-picked.
Yes, you read it right! You can plant your plants and flowers on your roof. There are various ideas for planting your favorite greens on your roof but for that you should take help from a gardener who is an expert in planting plants. Flower pots on rooftops are also not a very bad idea.
You can also grow crops on your roof if you like. Before you plant crops, flowers or plants in your rooftop make sure to waterproof your terrace before doing this activity. Terrace plants can reduce the temperature of our house and keep our house cool in summer season.
10. How to grow a flower garden?
In earlier paragraphs, we have discussed beautifying gardens with flowers in different ways. Now, for those who have never grown flowers, we will describe simply how to grow flowers. You do not need to know how to plant a flower; you just need to know how to plant a plant! Moreover, why is that?
Well, flowers are a part of your plant, they blossom after your plant fully grows. If you want flowers in your pot, all you need to do is fill your pot with some soil, and you can only buy some flowering plants from a botanical garden and dig up some soil from your pot and place the roots properly and fill up space with more soil.
Water your plants regularly and when time comes you will find beautiful blossoms blooming in it. For planning flowers in your garden, you can dig up your garden soil and place the seeds simply in the soil and fill up space.
Water it appropriately and regularly when you feel that the soil is drying up. Remove all the unwanted weeds from your garden as they spoil the look and also some unwanted plants are not good for your plant growth.
Must Know: All About Garden Pests.
Planting a flower garden is a matter of hard work and some innovative brain. One thing you will get for sure from plants and flowers in your flower garden is fresh air. The environment will be calm and on a hot sunny day, you can get some shade. The green surrounding will be a serene area that will give you so much peace; you cannot imagine.
If you are a nature lover, you would love growing flowers and plant some plants in your house even if you do not have enough space. We suggest that everybody should at least plant a tree or some plants in or in front of his or her house. If this happens, then you will find birds chirping among themselves and other beautiful animals like squirrels finding nuts.
Talking regarding the environment then we say that the degrading environmental condition would be balanced by our small efforts.
Also Read: Small Garden Ideas.