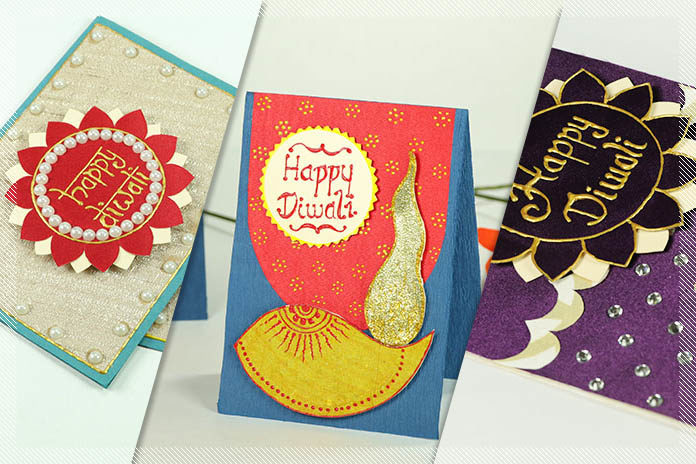 Handmade Diwali Cards – Don't you love it when someone takes out time to make a personal card rather than buying from Archie's Gallery? Isn't it a heart touching feeling when you receive a homemade greeting cards from people?
Related: Must Visit These Places On Diwali Once In Lifetime.
How about you make someone feel like this way on the occasion of Diwali this year? Today we are going to show you how you can do this with these cute handmade Diwali cards.
Related: Diwali Decoration.
By doing this Diwali cards making activity at home, you can surely bring a smile on the faces of your loved ones who will appreciate this gesture a lot. So, what are you waiting for? Try making these DIY greeting cards at home yourself and spread love and happiness this Diwali:
More On Diwali
1. White Green Designer Diwali card
Impress your loved ones and relatives by making a handmade Diwali greeting card for them. You need to have a thick handcrafting sheet of various colors to make this beautiful greeting card.
Using watercolors and decorative pearls, you can easily do this DIY crafting activity and prepare beautiful cards for the festive occasion.
---
How to Make Diwali Cards Step by Step, Greeting Cards Making
Step By Step Tutorial to Make Diwali Cards: Learn how to make Diwali cards at home with this exclusive greeting cards making activity for Diwali.
2. Purple Golden Happy Diwali Card
Slightly different from the vibrant colors of Diwali, this greeting card looks very elegant due to an unconventional color choice of black, golden, and purple. The golden black flower with the message of Happy Diwali in the center looks simply fantastic.
---
Handmade Diwali Greeting Cards Making Idea
Handmade Diwali Cards Tutorial: Making handmade greeting cards on Diwali is one of the most fun activities you can do during Diwali holidays.
3. Red Blue Diya Decorated Diwali Card
This DIY greeting card for Diwali is quite simple to make at home yet has a premium feel to it. With a common blue base of the handmade sheet, you can prepare two different cards by making minor changes in the color of patterns.
Moreover, you can also use this card as a showpiece item on your central table on the Diwali night.
---
Handmade Diwali Cards: DIY Greeting Cards Making Ideas
How to Make Handmade Diwali Cards: Learn to make a traditional Diwali card with this step by step tutorial by Crafting Hours.
4. Red Diwali Card with Diya
Who does not love decorations with shining crystals and acrylic gemstones? This particular greeting card looks just superb with its outer borders made of acrylic gems. These are also used to decorate the main Diya in front which leads to the perfect card for Diwali.
---
How to Make Diwali Cards, DIY Greeting Cards Tutorial
DIY Greetings Card for Diwali: Personalize your greetings this Diwali by learning how to make Diwali cards at home.
5. Cute Round Diwali Card
The combination of blue, golden, and white works wonders in this homemade greeting card shaped like a flower. You can also see the traditional touch in this Diwali card with the use of sacred Indian thread which is often tied on wrists after religious ceremonies.
Here it is used as the second boundary with artificial pearls surrounding them with mind-blowing results.
---
DIY Greeting Cards: Diwali Greeting Cards Making Ideas
How to make DIY Greeting cards for Diwali: Learn to make unique handmade Diwali cards in the shape of a flower through this video by Crafting Hours.
6. DIY Greeting Card with Golden Beads
You need handmade sheets, golden beads, and acrylic gems of silver and red colors to make this Diwali greeting card at home. People will never forget this splendid greeting card from you as it truly looks fabulous with a royal touch. In addition to using it on Diwali, you can also use this Diwali card for other special occasions.
---
Home Made Greeting Cards: Diwali Cards Making Ideas
DIY Homemade Greeting Cards for Diwali: Learn how to make home made greeting cards with another amazing video by Crafting Hours.
7. Blue Red Cyan Happy Diwali Card
The triple color combination of red, cyan blue, and white look supremely superb in this DIY Diwali card. The decoration by pearls around the red flower and boundary of the card is a cherry on the cake giving a gorgeous look to this card.
---
Diwali Greeting Cards: How to Make Diwali Cards Step by Step
Step by step tutorial to make Diwali greeting cards: Learn how to make a diwali card with Crafting Hours in this DIY greeting cards video.
8. Red Pop Up Greeting Card for Diwali
This is one of the best handmade Diwali cards which you can make for your loved ones using a simple pop up greeting cards making activity. When you open this card, you can see an unusual pattern emerge in the center with Diwali Diyas, crackers, and a simple Diwali message.
You can make such DIY greeting cards using a lovely combination of red and green color while decorating the boundary with colored marker pens.

Diwali Greeting Cards: Pop-up Greeting Cards Making
DIY Red Popup Card for Diwali: One of the most impressive Diwali greeting cards you can find, is pop-up greeting cards.
9. Designer Diwali Greeting Card
If you want premium looking handmade Diwali cards, you cannot go wrong with this stunning greeting card laced with golden beads and acrylic gems. Making this Diwali card at home is also quite easy, and you can prepare a bunch of cards in the holiday season with the help of your kids.
---
Diwali Cards Making: How to Make Handmade Greeting Cards
Easy Diwali Cards Making Activity: Do you want to learn how to make handmade greeting cards?
You must have enjoyed making homemade greeting cards as a crafting activity at school when you were a kid. As you grew older, you may no longer have extra time to make these greeting cards yourself.
However, these stunning handmade Diwali cards will help you reignite your childhood creativity and make personal cards for your friends and family.
Also Read: Diwali Celebration | Diwali Funny Videos