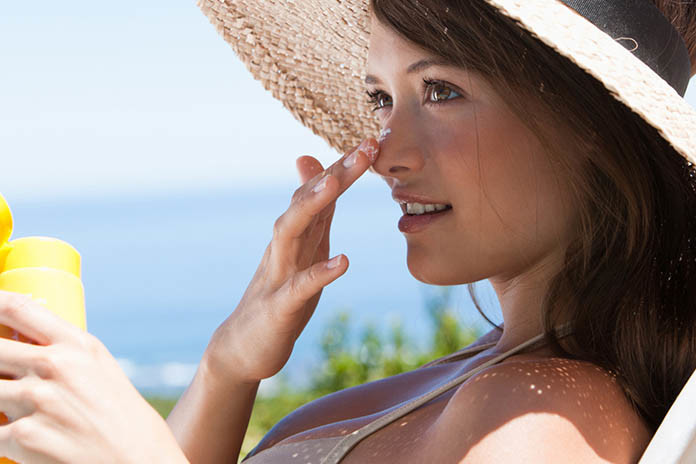 Summer Skin Care Tips – Summer's here! It is the time to don those shorts, get the tan, show some skin, wear a bathing suit and rejuvenate at the beach. And while that warmth and sun are all good, it can also be bad- especially for your skin. Summers can leave your skin dry, dull, and lifeless with pigmentation and skin spots. It can also lead to increase in acne and skin allergies.
Related: 13 Beauty Habits You Must Follow Before Bedtime For Your Skin
So, this year when you decide to don those shorts and bathing suits, make sure that your skin is protected. Don't be lazy with your skincare regime and follow these simple skin care tips for summer for staying healthy.
These beauty tips for summer will help you see a noticeable difference in your skin's health.
Stay Hydrated
Water is your best buddy for summers. This is the time when your body is more vulnerable to losing much moisture. It is essential that you hydrate yourself by consuming lots of water at frequent intervals.
Drink at least 8-10 glasses of water to remove toxins from the body while keeping your skin soft and moisturized. If you are not fond of drinking water, don't grab that soda. Instead, use coconut water to hydrate yourself. This is by far an essential summer skin care tip that you must follow.
Avoid Aerated Beverages
Aerated drinks are known for containing lots of sugar and phosphoric acid, both of which aren't great for your health. So, stick to water, juices and coconut water for that beautiful summer skin. When stepping in the sun, avoid caffeine products, as they are slightly diuretic and deplete water levels in the body.
Use A Toner
Skin protection in summer can be a challenging task. But a simple toner, like rose water can be your summer friend. You can make your summer skin care regime more effective by using a skin toner, as it can help in reducing pores that open up in summer thereby reducing the chances of developing acne and pimples.
Protect That Pout
The delicate tissue on your lips can get dehydrated and dry during summers. So, use a chapstick or a lip balm for ensuring lip skin protection in summer.
Get Beauty Sleep
Most often, people sleep better during winters. And due to vacations or work, they tend to sleep lesser during summers. However, one of the most important skin care tips for summers is that you sleep properly.
Seven to eight hours of sleep is a must. And you should avoid napping in the daytime during summers as that can prevent you from getting REM sleep during the night.
Cover Up
That tan looks beautiful, but most often, sun rays also cause aging and are primarily responsible for skin cancer. So, use this beauty tip in summer and cover yourself, especially the hair when the sun is at its peak, or avoid stepping out from 11 AM to 3 PM. In your free time apply mango on your face to heal your skin from inside.
Apply Sunscreen
No matter if it's sunny or cloudy outside, you should wear sunscreen. This is one of the best summer skin care tip for keeping your skin protected. However, don't be lured into thinking that high SPF means more protection.
This true because sunscreens with SPF in the range of 50-100 just provide 2-3% of extra blockage as compared to SPF 30 products. So, use a regular, non-toxic sunscreen and reapply every 90 minutes. To protect your face skin you can apply face mask for glowing skin.
Cleanse Your Skin
Cleanse your summer skin at least twice a day using a gentle face wash that suits your skin type. This is especially important for oily skin care in summer. You can also use face mist to refresh your skin during summers.
Exfoliate
It is important to exfoliate your skin at least two to three times a week, preferably with walnut scrubs. Doing so exterminates dead skin cells that might be clogging your pores in summer. It improves blood circulation and ensures better skin protection in summer.
Take A Cold Shower
A cold shower is one of the best summer skin care tips! If you are in a habit of taking warm showers even in summers, then give away the habit. The cold shower will rejuvenate your body during the season. After the shower, use a fade cream for sunspots and an eye cream for protection. However you can also try the baking soda for bath to get more luscious skin because the baking soda uses are undeniable.
Use these summer skin care tips daily and you will have luscious, beautiful soft skin to show off this season!
Also Read: 6 Baking Soda Remedies For Health, Skin and Hair