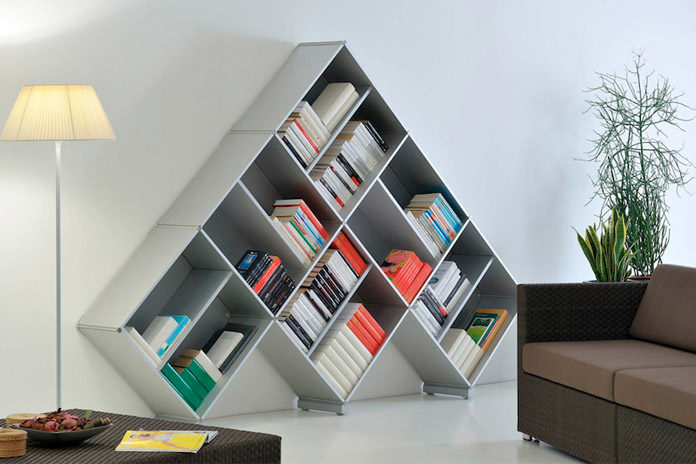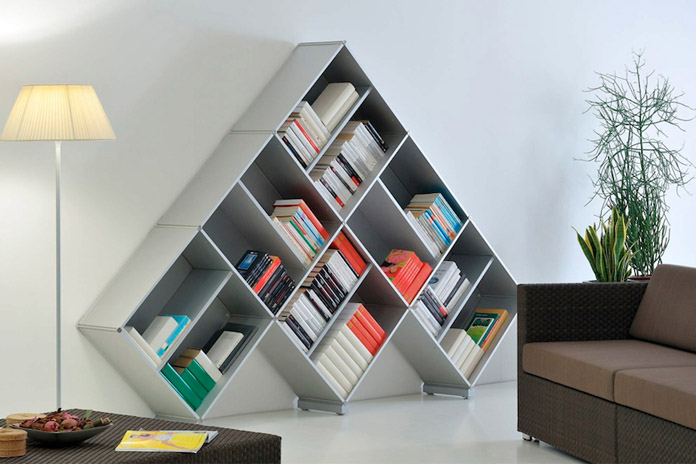 Unique Bookshelves – Are you someone who cannot live without books? Books are an integral part of your life, and you always have more books on your reading shelf than you can complete. Sometimes, it gets difficult to keep track of your books maintained in a closed bookshelf. You may forget a book which you bought but have never read so far.
Related: DIY Decoration Ideas You Gonna Love.
What a blasphemy! Right? You must read books and for that, you need to keep them where you can see them. That is the purpose of unique bookshelves which are essential in any home where people love to read. However, what is fun in traditional boring bookshelves? Right?
Also Read: Amazing Bathroom Tiles.
So, today we bring you a collection of most unique bookshelves which you may have never thought of. These awesome bookshelves are perfect for that nerdy bibliophile inside you. Even if you are not a book lover, you will love them as they are excellent home decor items. Check out this fantastic list:
1. Minimalist Book Shelf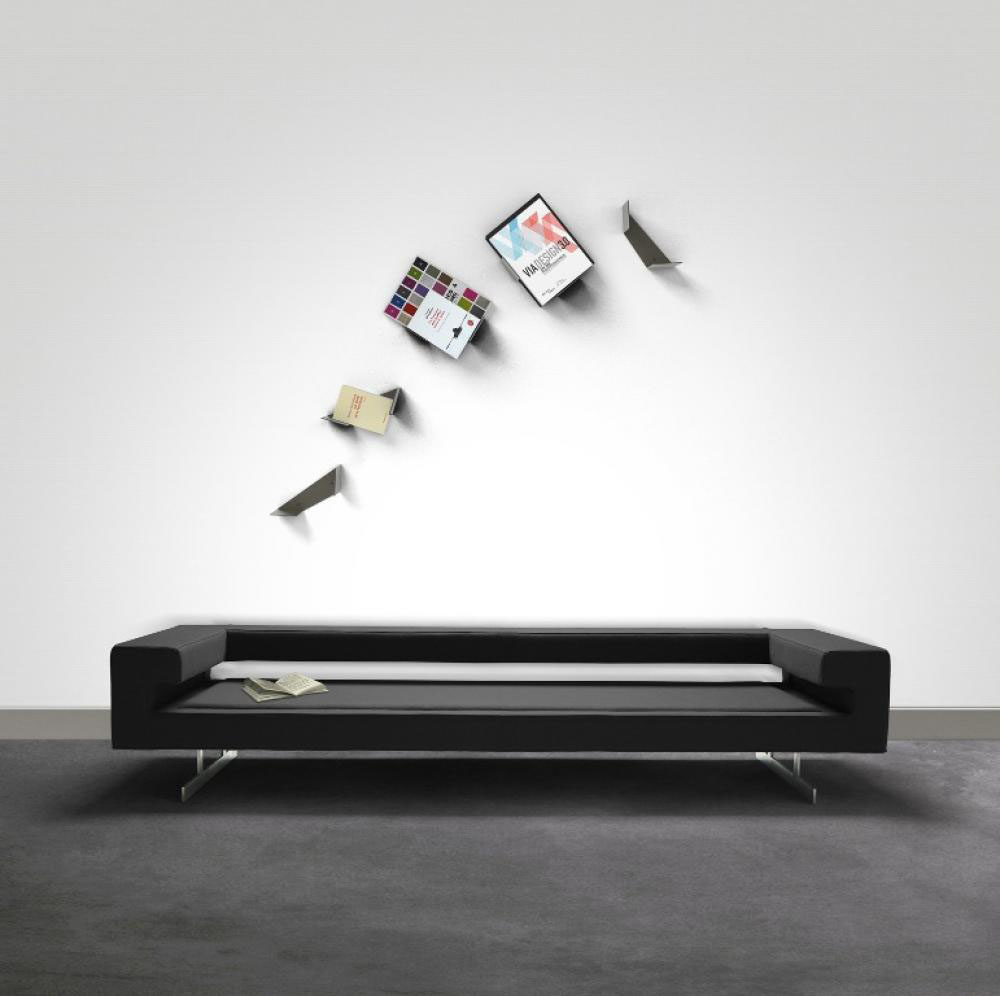 You will not find a better minimalist bookshelf than this one. This one just has a few shelves arranged in a stylish manner which is enough to keep a dozen books or so. You can use it for your yearly reading challenge when you keep all books you want to read in next 12 months on this shelf by adding few more shelves completing the arc.
2. Funky Designer Bookshelf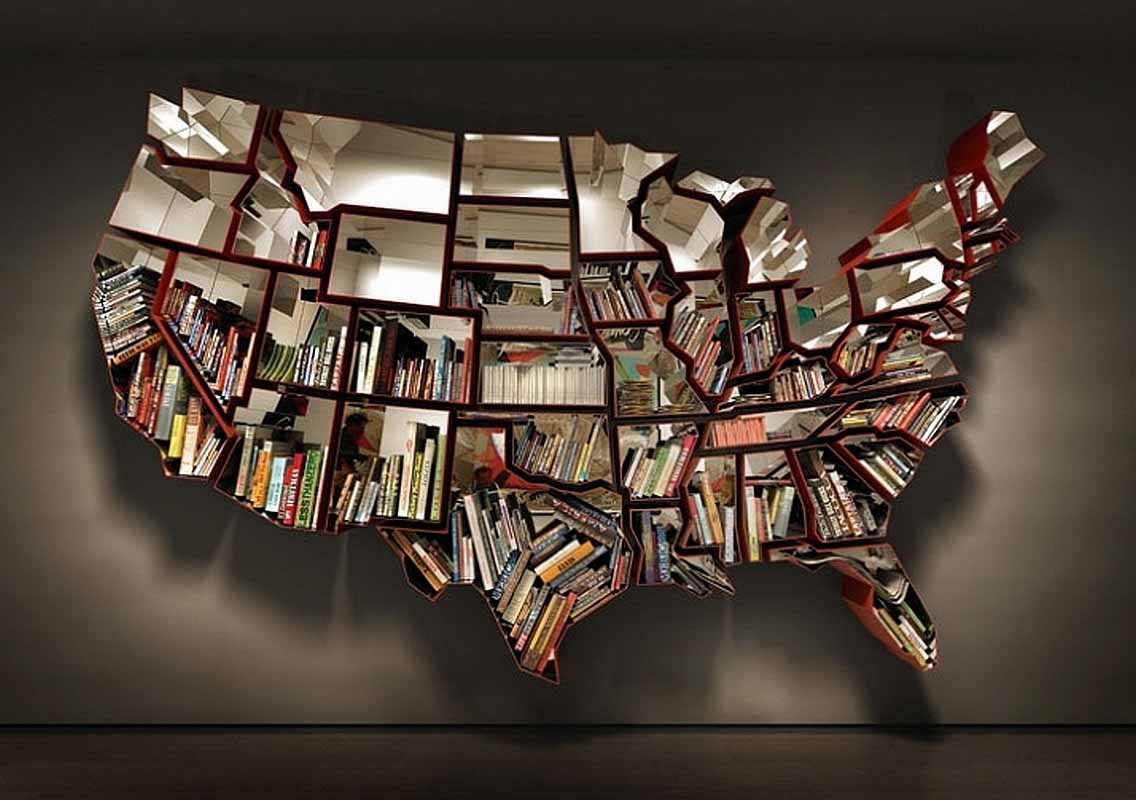 Love to read many books? Does your current reading list contain more than books than you could read? Then this funky designer bookshelf is just for you. It has the right amount of creativity and sophistication which should be on a bookshelf of any bibliophile.
3. Modular Creative Bookcase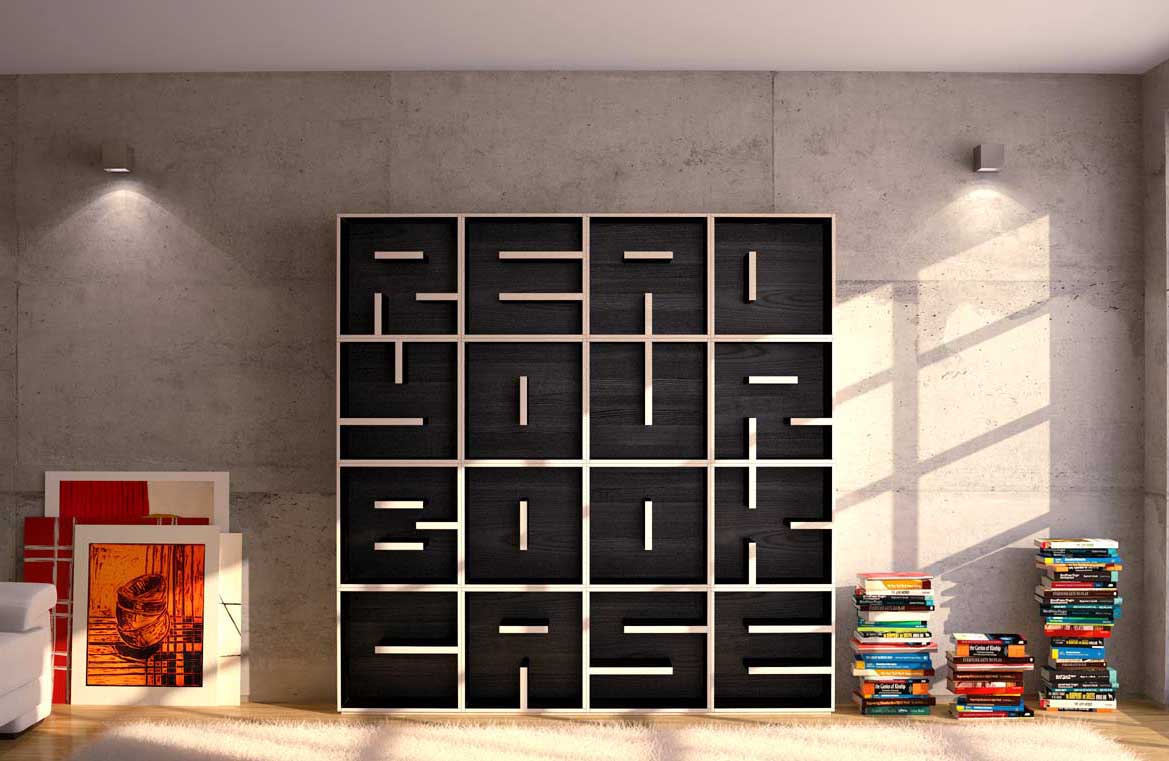 This is one of the most creative bookshelves you will come across. If you pay attention, then this modular design has cleverly hidden the phrase, "Read your bookcase" in the front and added a nerdy look to the whole setting. This one is perfect to flaunt your love of books among your friends.
4. Beautiful Wall Mounted Bookshelf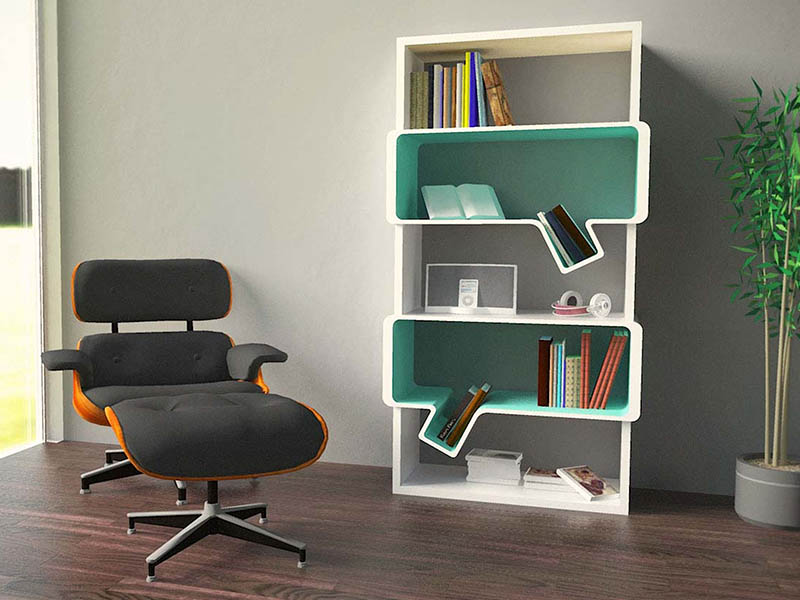 You are simply going to love this wall mounted bookshelf. The impressive design has two distinctly colored shelves which have different extra shelves protruding out of them. This is quite a simplistic yet elegant design, don't you thin?
5. Cool Batman Bookshelf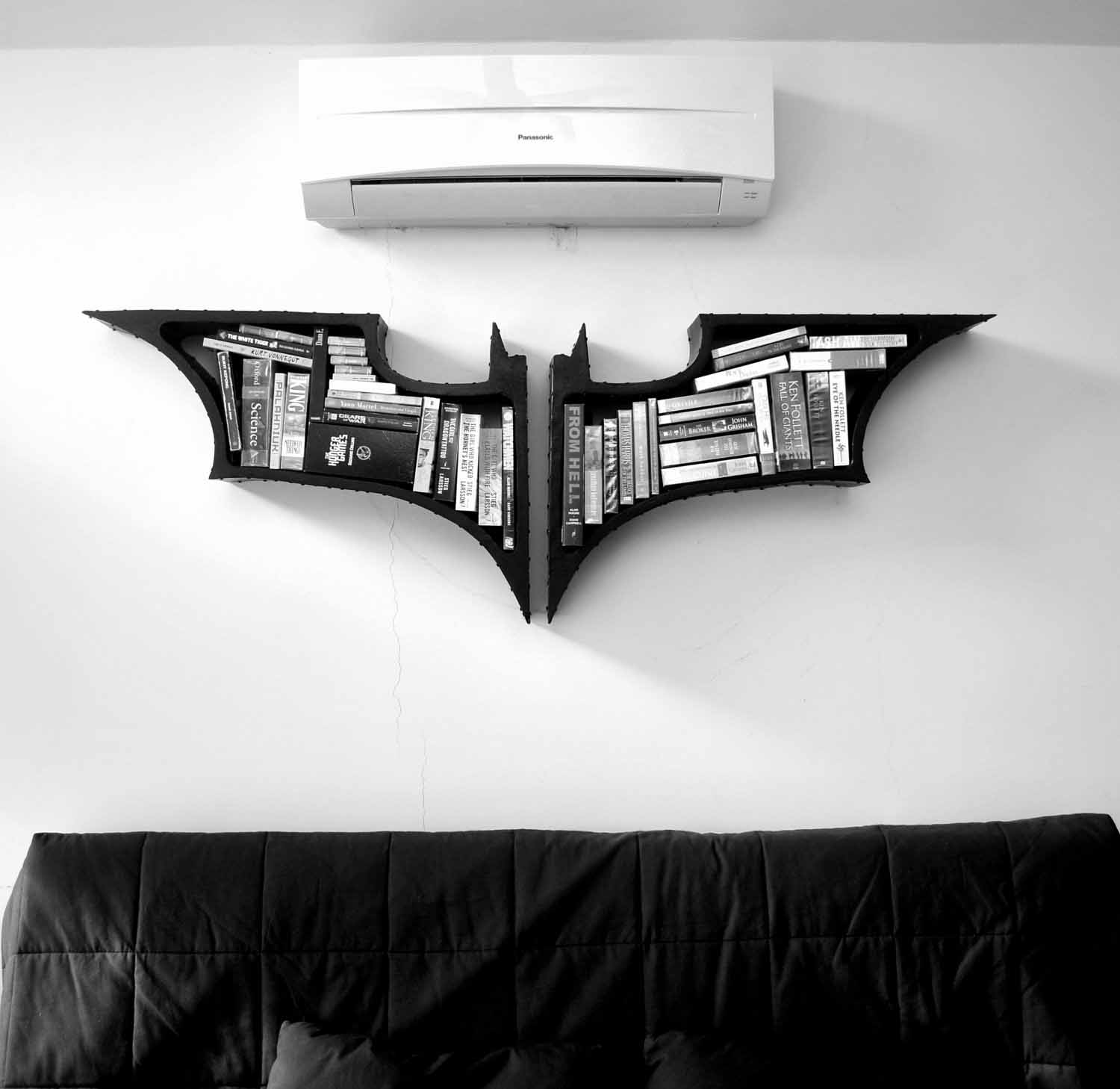 This bookshelf is the definition of fresh and geeky and perfect to justify your adoration for The Dark Knight. If you are a fan of Batman, there is no way you can even think of using another one of unique bookshelves other than this one. The bat sign is just an ingenious design for a bookshelf, we must say!
6.Bookshelf with Sitting Arrangement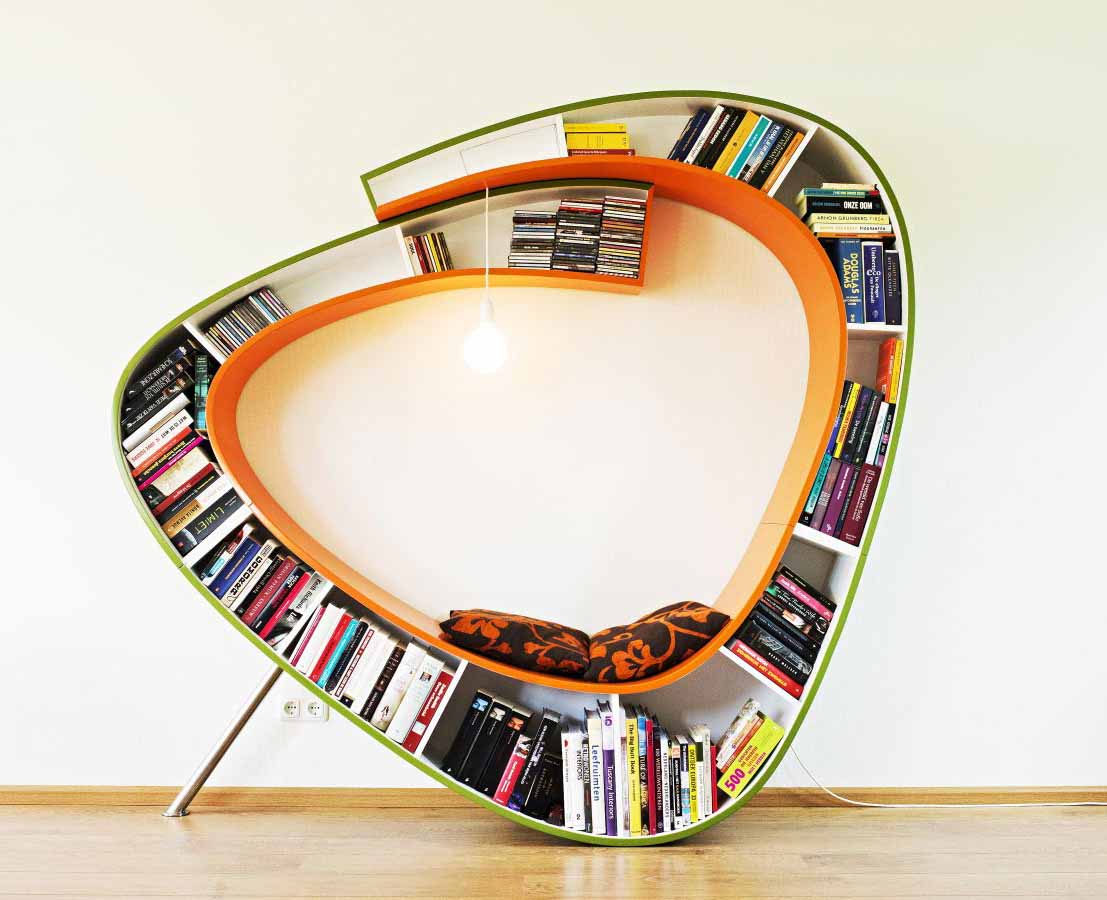 Many people like to read while sitting alongside their favorite collection of books. If you are one of those book lovers, this is the bookshelf for you. This unique design has not only stylish racks to hold books but also has space for you to sit and enjoy your favorite books.
7. Unique Bookshelves Now Superman Style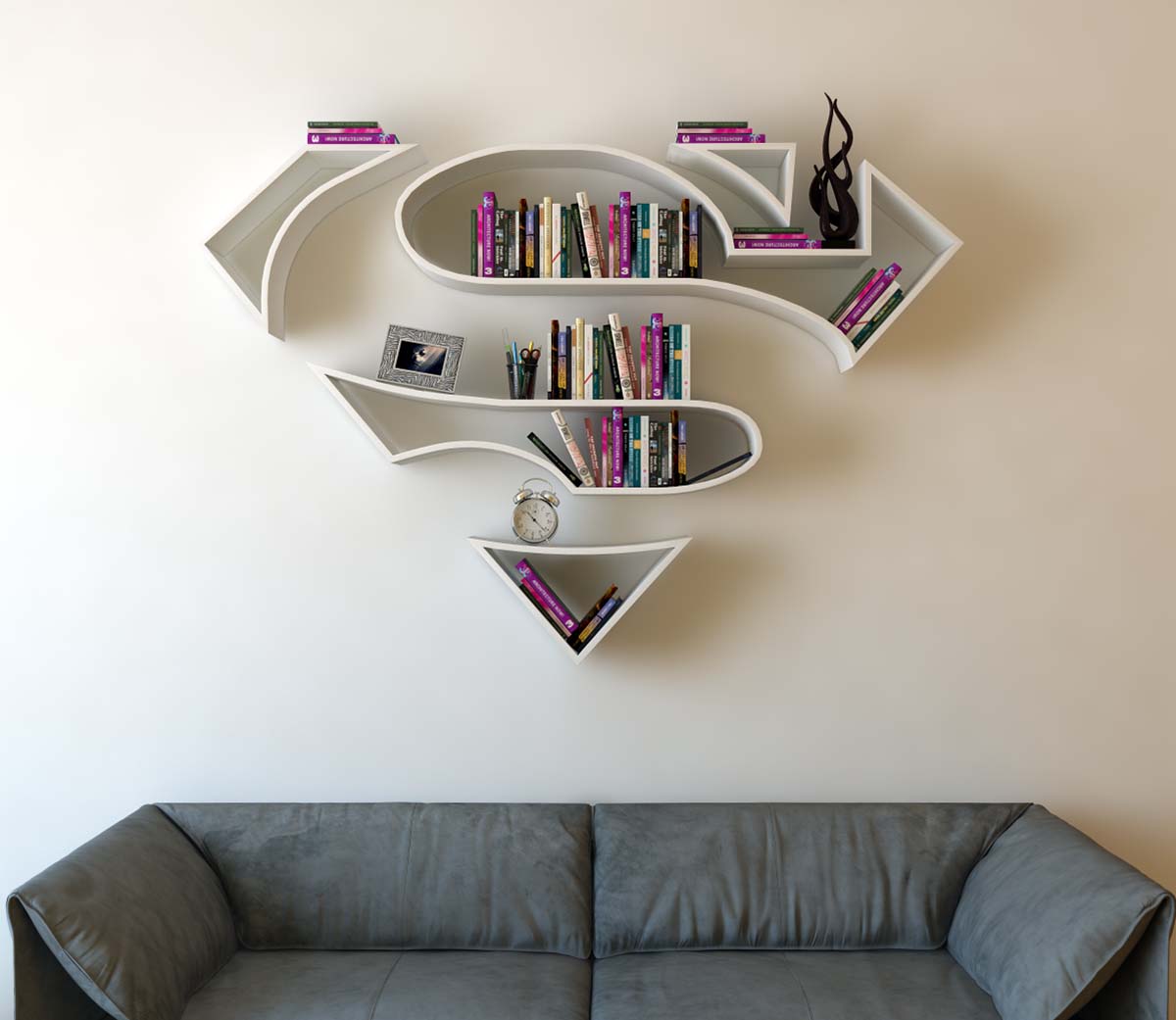 Do you love the son of Krypton and cannot get enough of the superhero? Match your passion for Superman and reading books with this supremely creative Superman bookshelf. If you want more space for your library, try combining this design with the above Batman bookshelf and you have got yourself a whole "Dawn of Justice" bookshelf! How cool is that!
8. Wall mounted Designer Bookshelf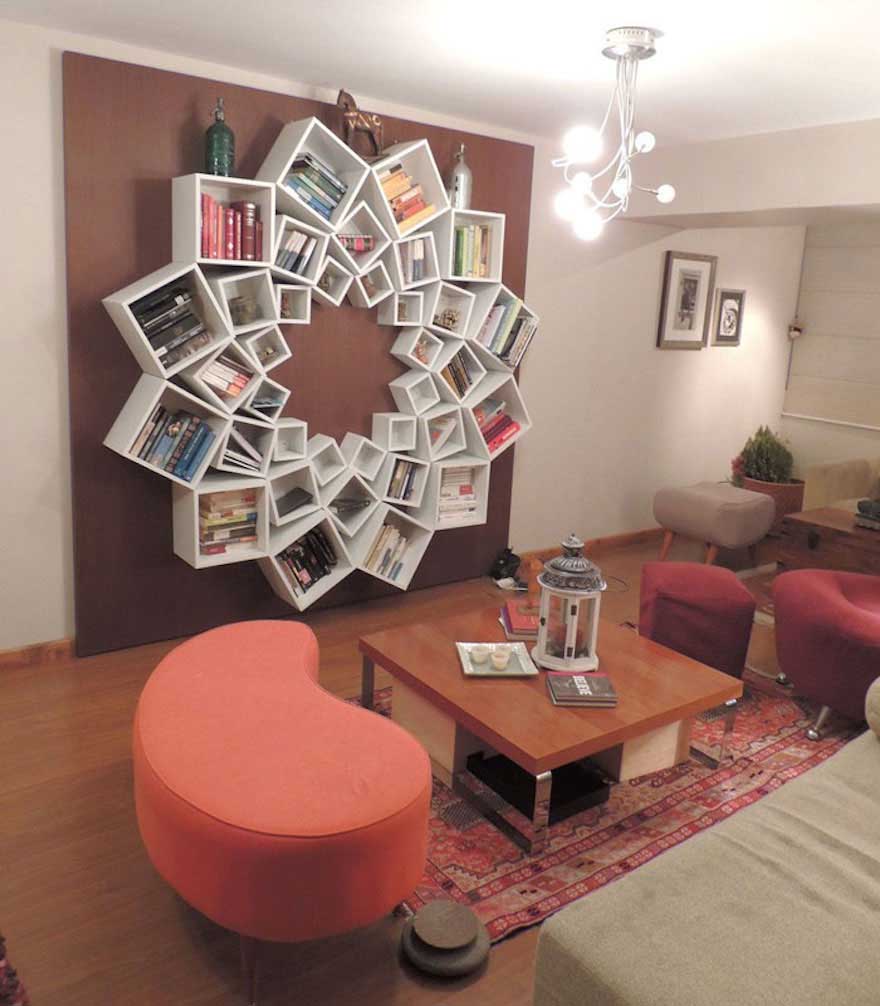 Nothing works better than a beautiful wall mounted design! Moreover, when this design is for a bookshelf carrying your favorite books, the feeling cannot be expressed in words. In the closing of shelves, you can keep your books while on the open outer side; you can place show piece items which will enhance the look of your room as well.
9. Simple Yet Stunning Bookshelf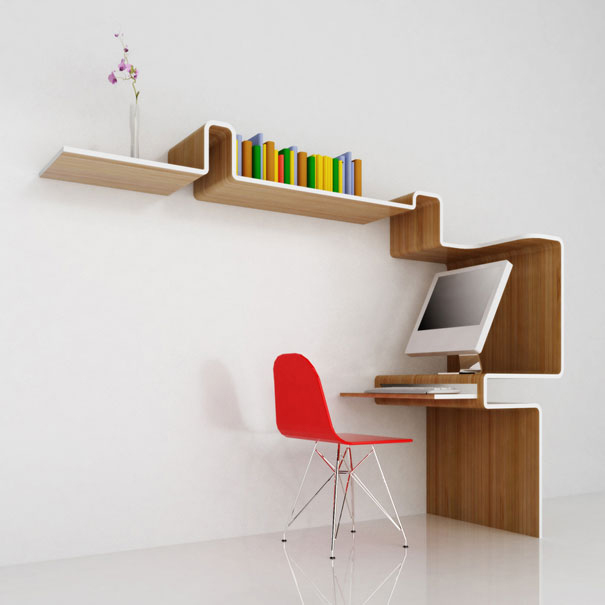 If you like simplicity and do not prefer flashy stuff, then this stunning bookshelf is just what you need. There is the right amount of space to keep your favorite and reading list within your sight. It will work the best if your room design is also minimalistic although you can try this bookshelf in any room where you want to read.
10. Cool Bookshelf Idea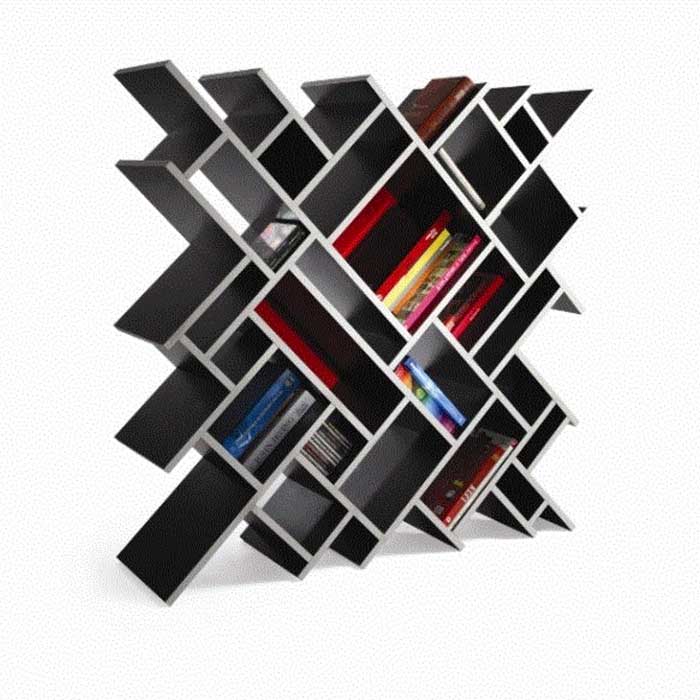 This is one of the most unusual yet a grand design for a bookshelf. Whether you are a hardcore fan of X-Men comic series or just love different ideas, this bookshelf idea will fulfill both your needs. Keep it in your living room and let your love of books and trendy shine through it!
11. Inspiring Bookshelf idea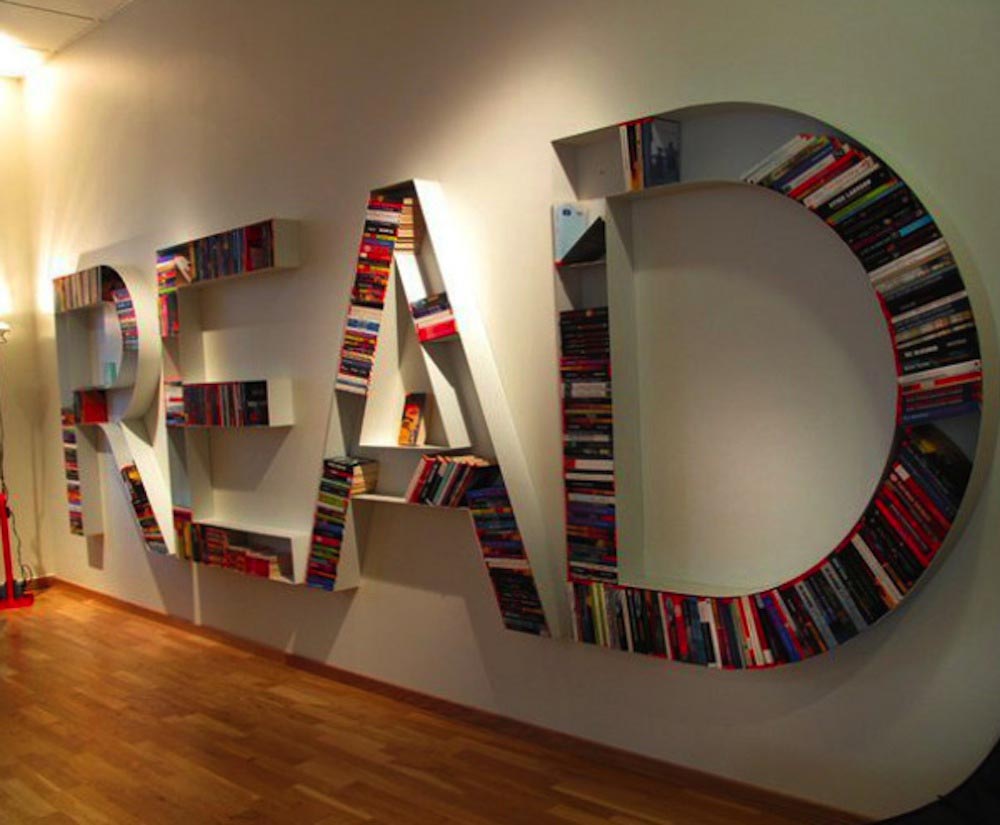 You may have just started a reading habit but often lack the inspiration to read daily. This bookshelf design is guaranteed to remind you to read every day whenever you look at it. We simply love the creativity associated with this design. Don't you agree?
12. Classic Bookshelf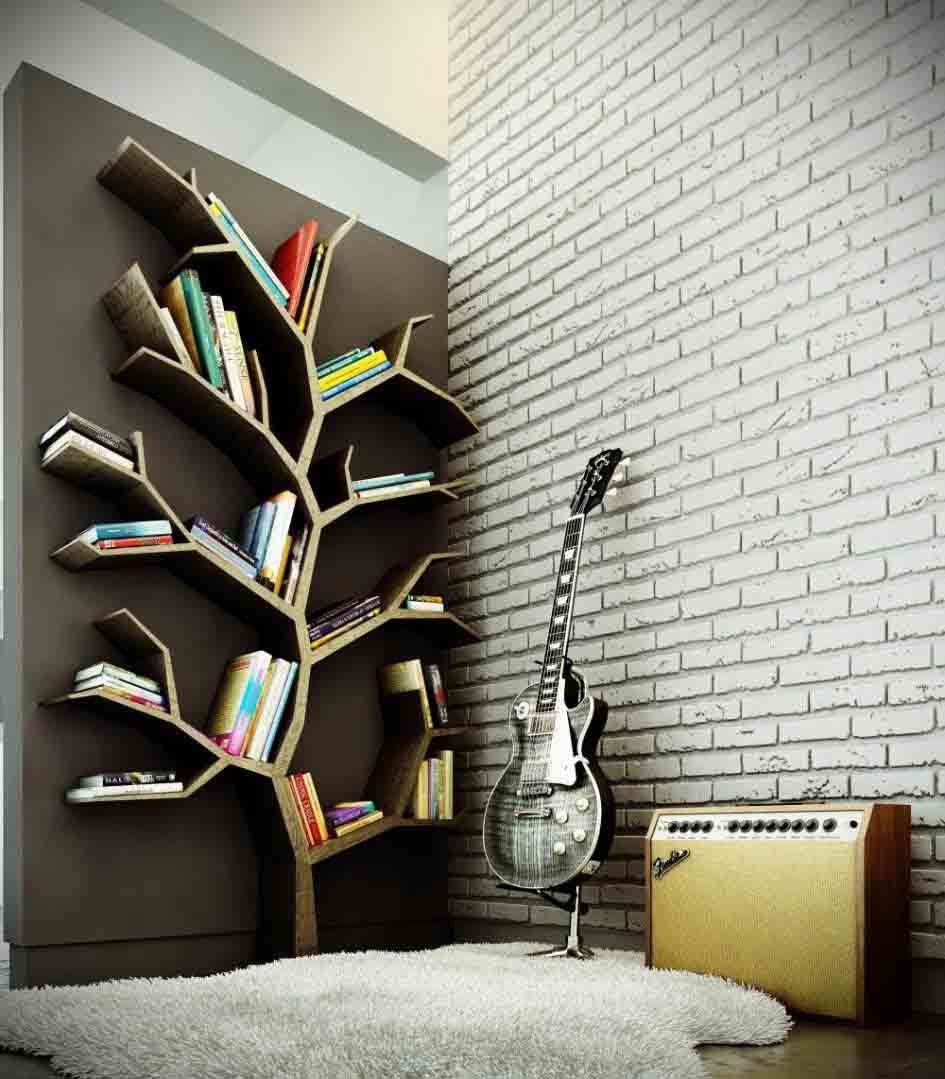 It is hard not to adore this classic design in the shape of a tree, perfect if you also have a unique design of your room like this one in the photo. The tree design of this bookshelf is an ideal symbol of the growth of knowledge you get when you read plenty of good books.
13. Trendy Jaguar Bookshelf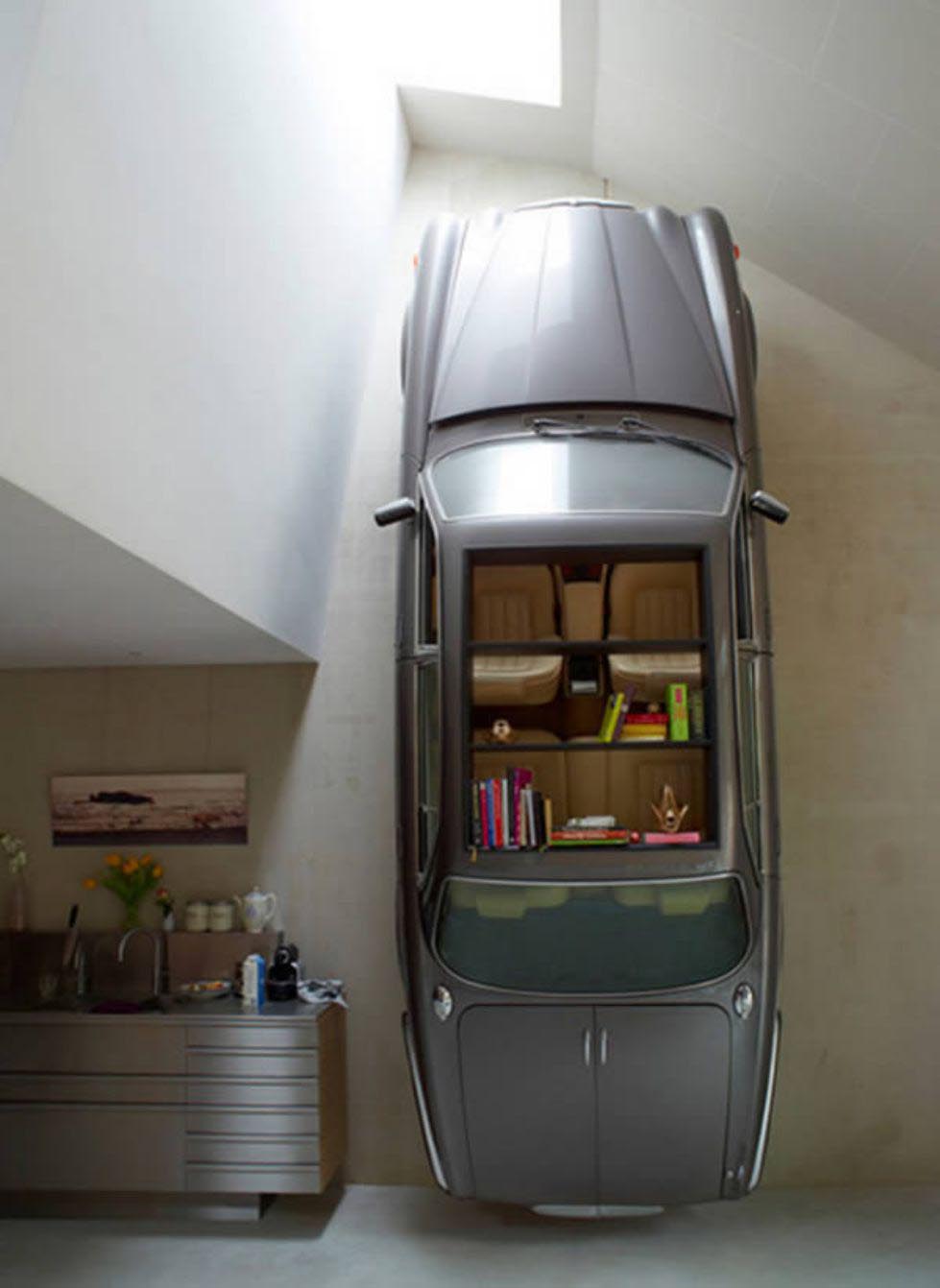 You will never look at your bookshelf with the same eyes once you have this bookshelf inspired from the design of popular automobile Jaguar. This design gets full marks for the cool concept and sheer creativity. Getting books from this bookshelf is just another excuse to rejoice at your unusual choice of design.
14. Cute Bookshelf for Kids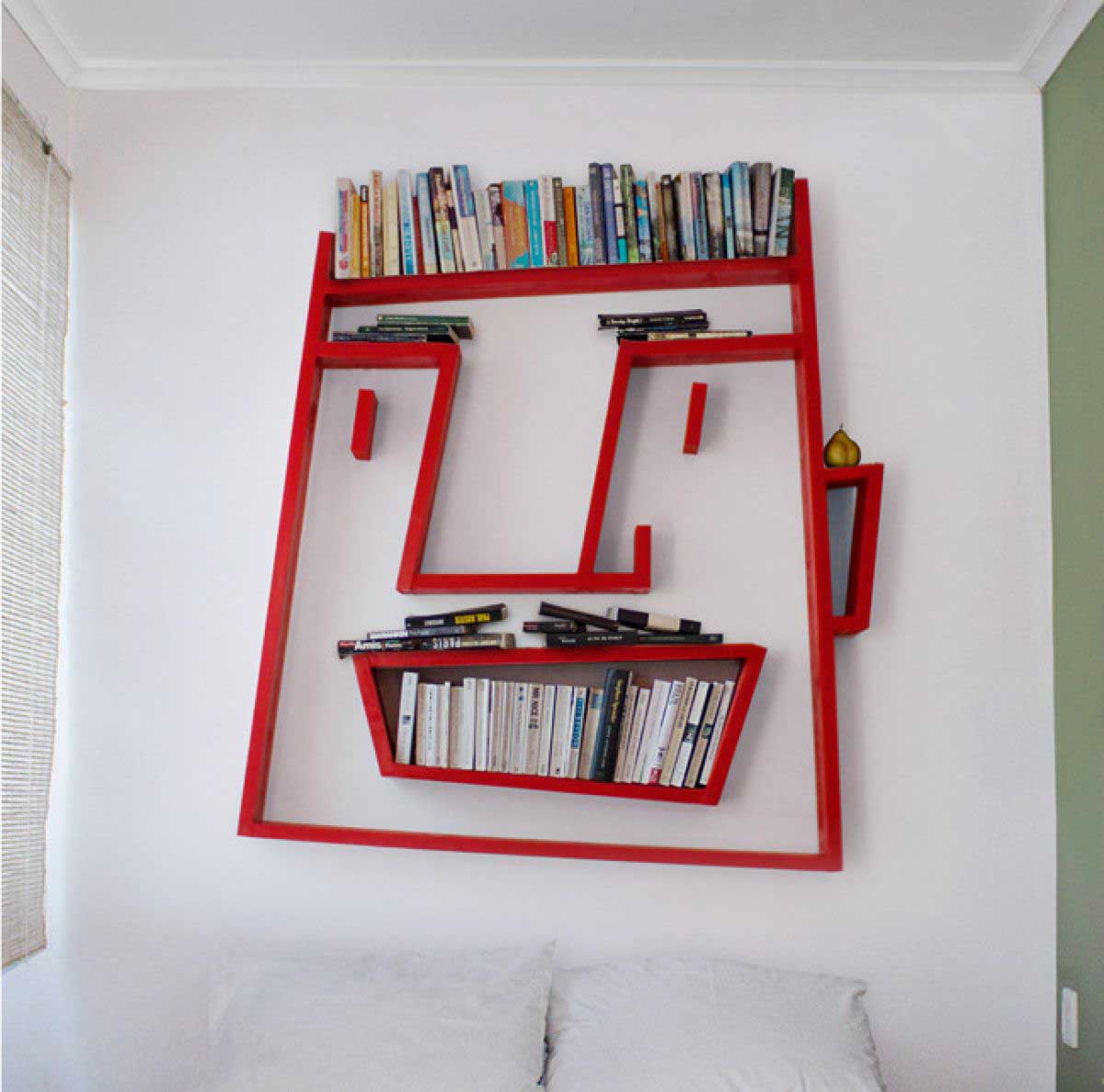 If you want your children to read more and spend less time on TV and video games, how about creating this cool bookcase for them? This seriously impressive design is sure to attract your kids towards books placed these shelves.
15. Stunning Stairs Bookcase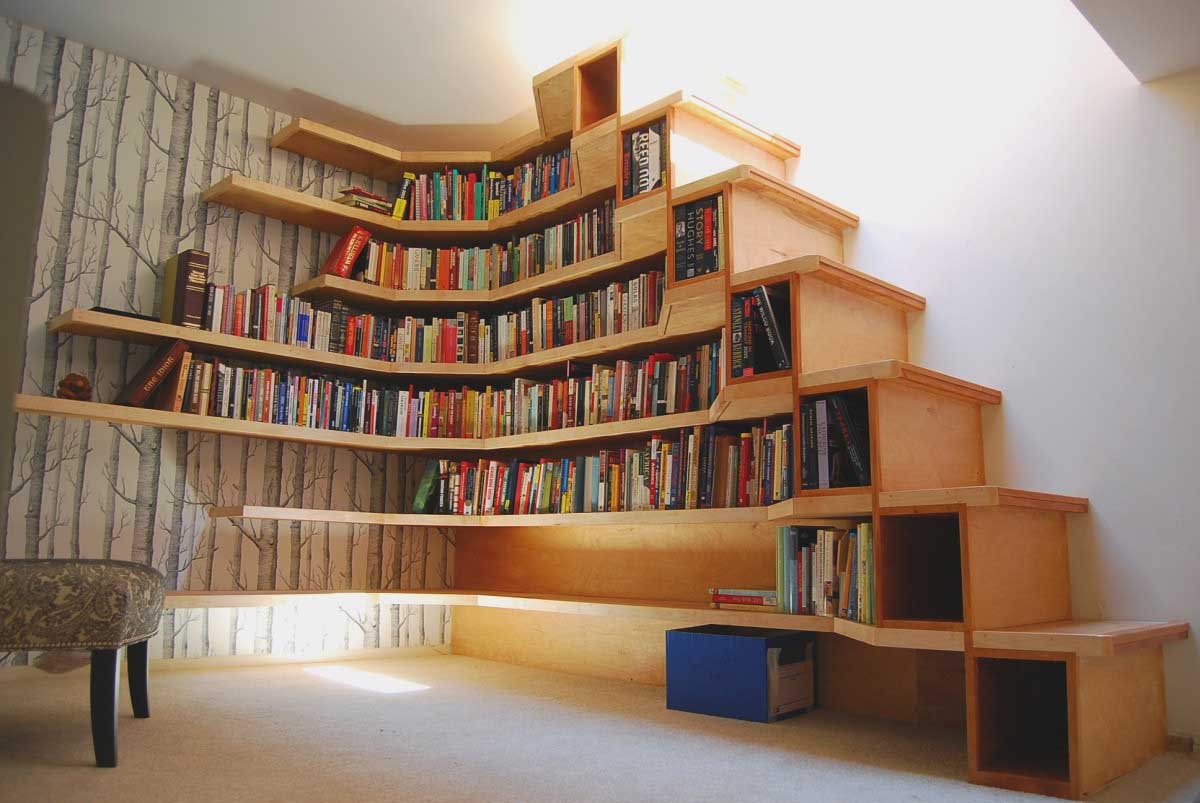 It just cannot get better than this. You not only get an ample space for arranging your books, but you can also enjoy them reading while sitting on cleverly planned staircase with each rack on the bookshelf.
16. Elegant Book Stand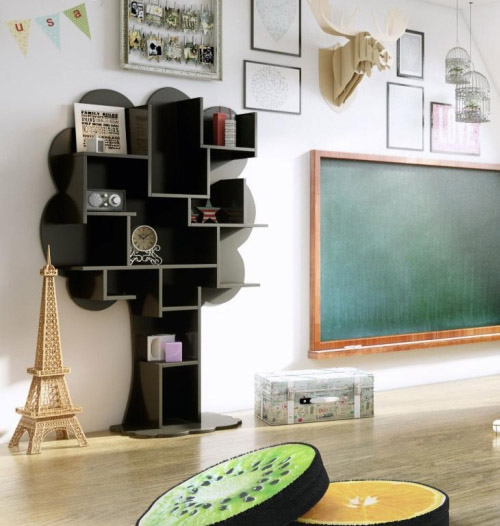 Make your living room more awesome with this elegant book stand. If you have a room full of creative stuff, this tree like book stand can enhance the overall look of the room. You can not only place your books and magazines but also showcase antique items on extra shelves of this book stand.
17. Circular Bookshelf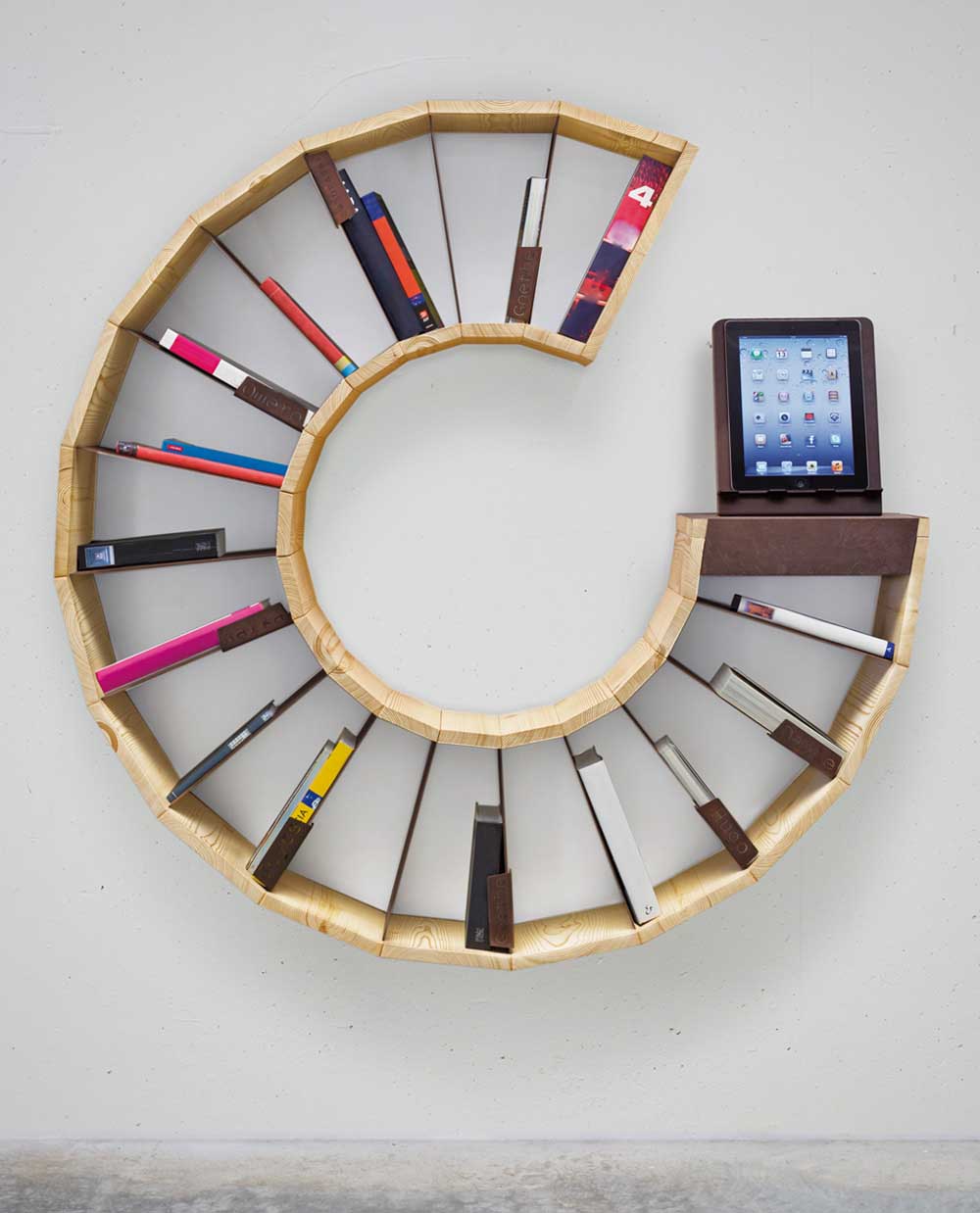 This is unlike any other bookshelf in this list. The unique circular design whose quarter portion is cut to make space for placing any decorative item makes this bookshelf a must have for all art and books lovers alike. Do try this different design and see the reaction of your guests!
18. Lovely Magazine-cum-Book shelf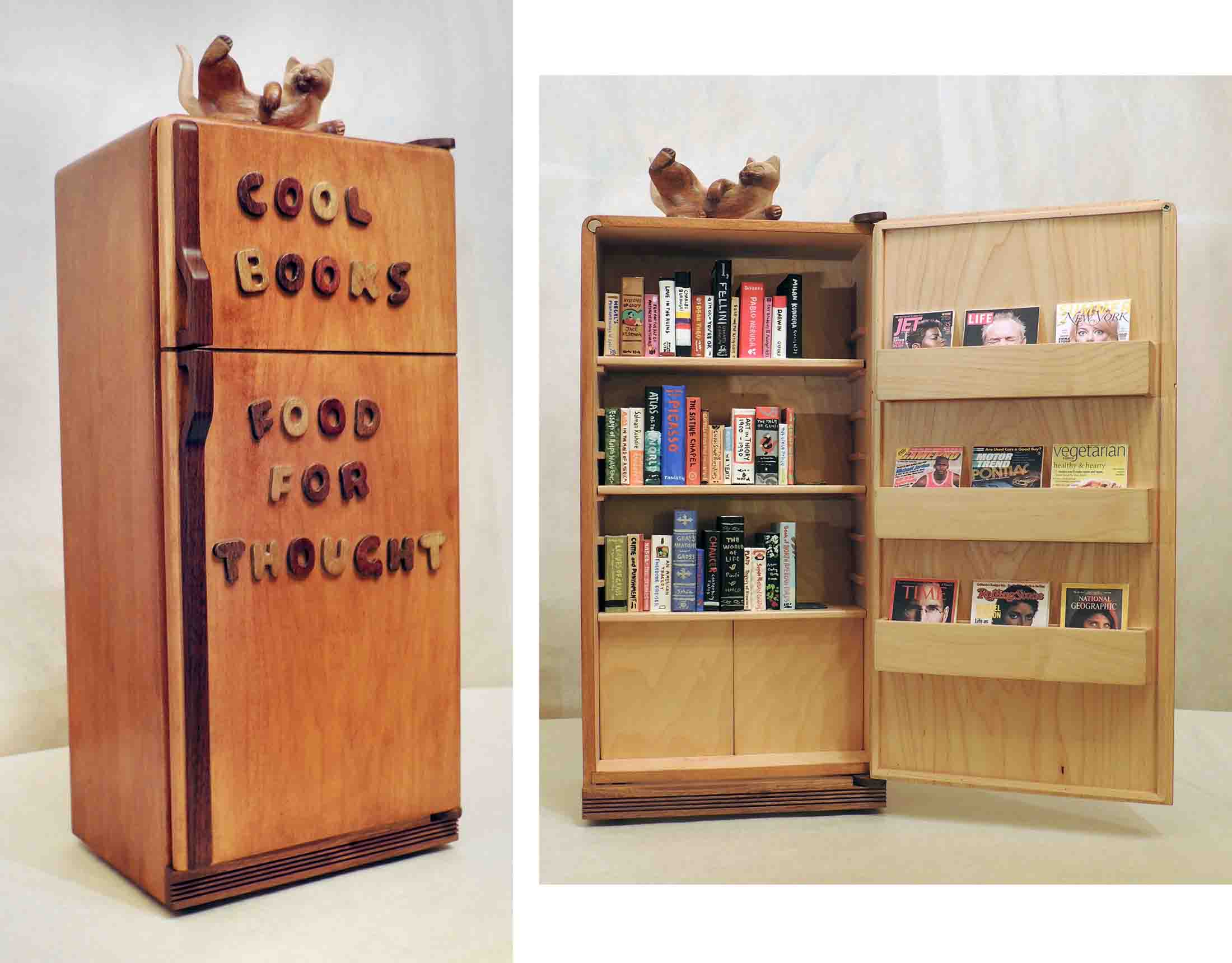 You will surely love this bookshelf for your study room as it is perfect to showcase your heavy books as well as magazines and journals. The wooden material of this shelf adds a superior touch of grace and beauty to the overall environment of the room.
19. Super Stylish Bookshelf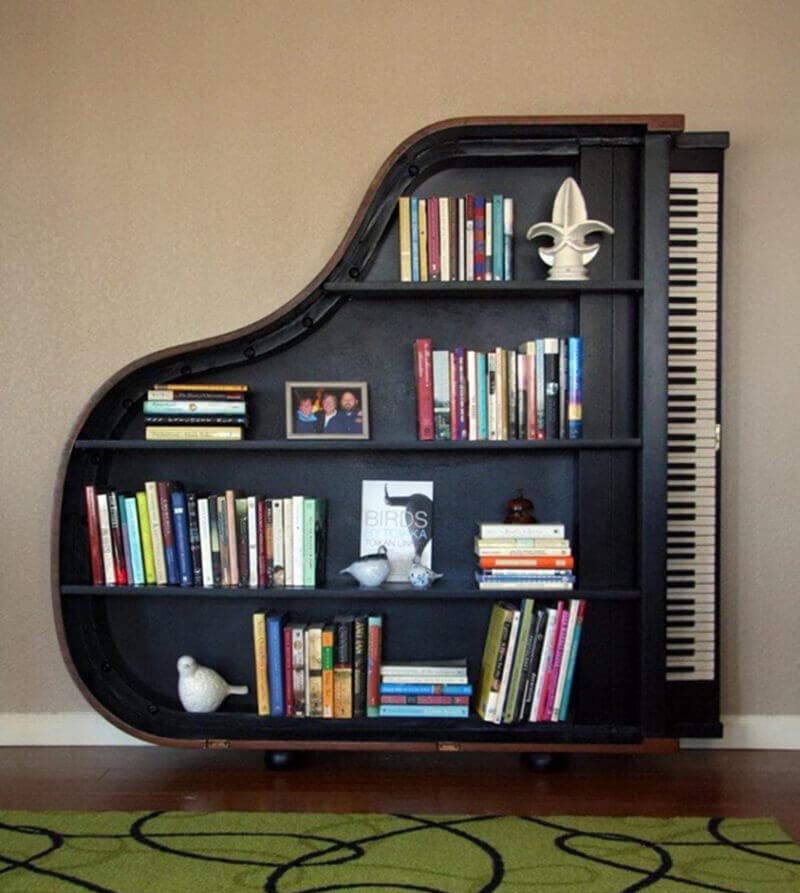 This one is for all music lovers who also love to read books. The ingenious use of piano design to make a bookshelf is just outstanding. It will not only serve the purpose of a beautiful bookshelf but will also enhance the look of your room by acting as a brilliant home decor item.
20. Mind blowing Bookshelf Design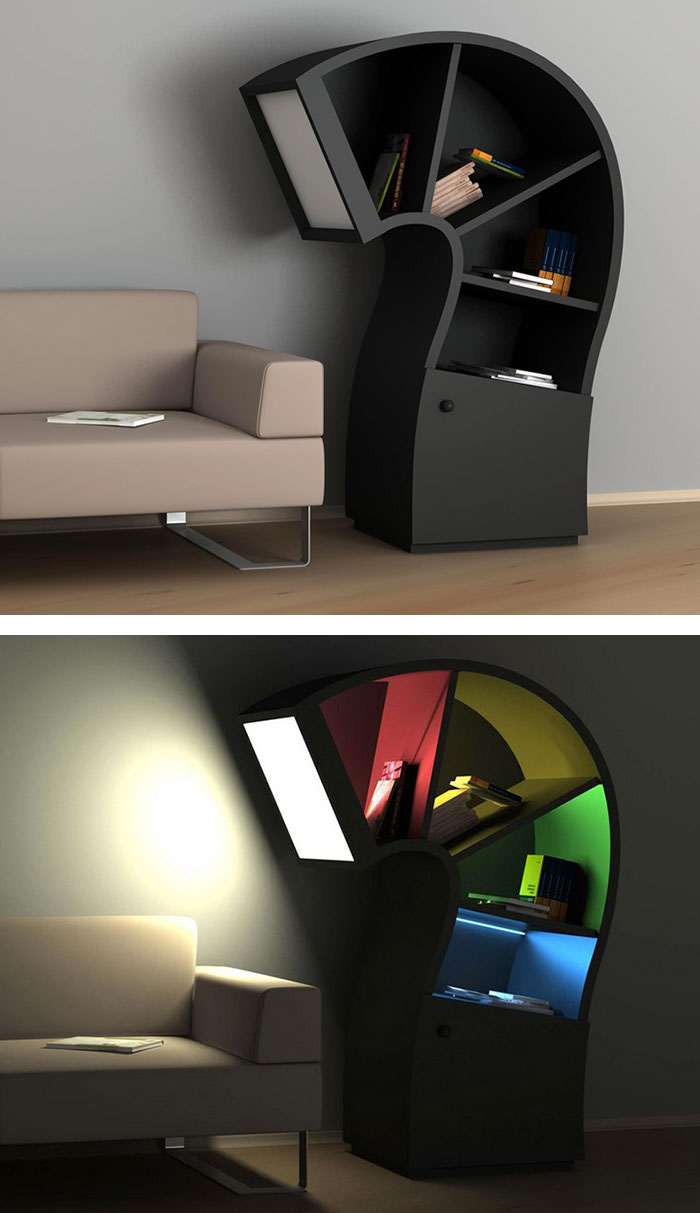 Your guests will not be able to stop raving about this amazingly different and mind-blowing piece of the book case. In addition to its stylish design, it also features a night time lamp for a great reading experience at the end of the day. The soft glow of light will allow you to devour your favorite book with utmost ease and satisfaction!
How do you like the above unique bookshelves? Is there any bookshelf which is your favorite or, are you finding it difficult to select one favorite piece? Share your thoughts about these unique bookshelves in the comments below and share this article with your book lover friends!
Also Read: Ultimate Guest Room Ideas.