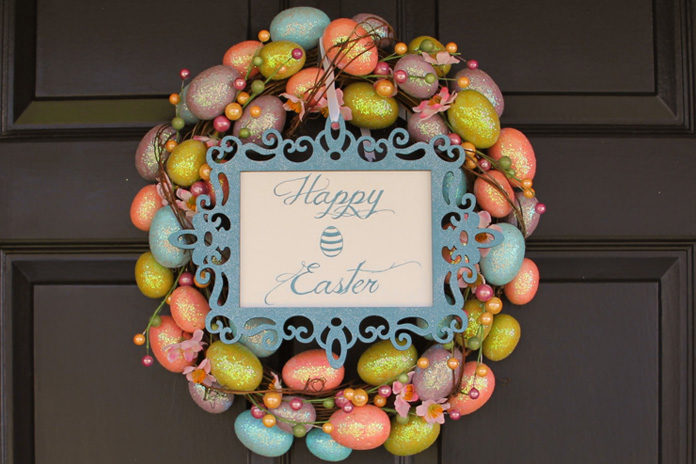 Easter wreaths are an indispensable part of Easter decorations. Whether you are the one for flashy decor items or like to keep it simple, there are so many ideas of Easter wreaths that can go with any theme.That is why we bring you a handpicked collection of 25+ Easter wreaths that are sure to take your decorations to another level.
Be it Easter bunny wreaths, mesh wreaths or traditional spring wreaths, you will find all types of door wreaths in this collection. So, get ready to be inspired and use one or more of these summer wreath ideas for the Easter season:
More on Easter:
1. Pastel Easter Egg Wreath With Twigs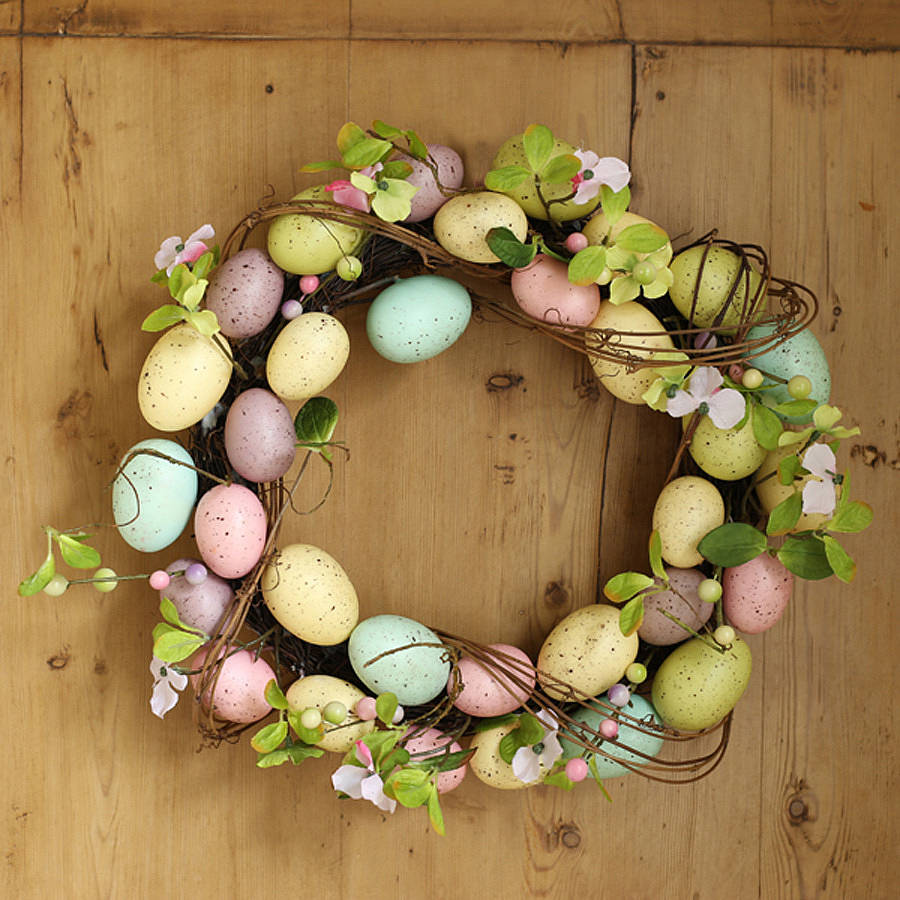 Colored Easter eggs indeed look beautiful for any Easter-related activity. Try coloring them with pastel colors and use some twigs for stunning Easter wreath decorations.
2. Polka Dots Easter Egg Wreath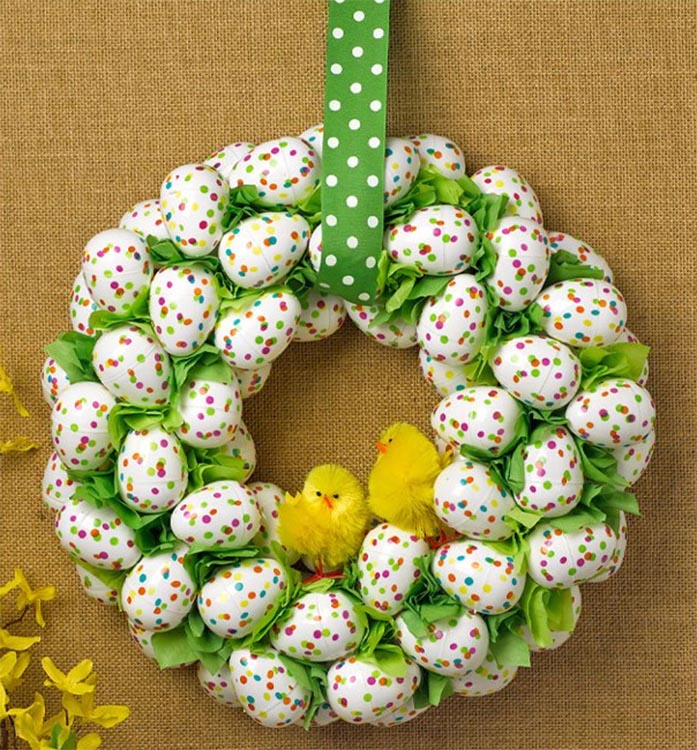 You may like or hate polka dots but they look wonderful in this Easter egg wreath. The fresh green theme around this wreath further adds to spring celebrations!
3. Easy Handmade Easter Wreath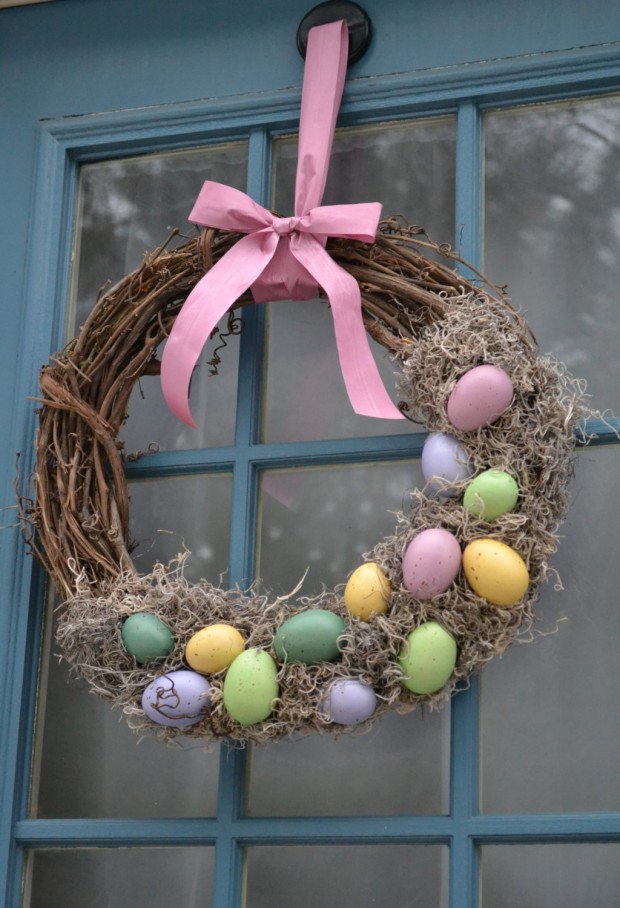 Easter wreath becomes a simple thing to make when you know how to use natural items such as twigs to make them. Hang wreaths like that on the entrance of your house to enchant your guests!
4. Colorful Easter Wreath for Front Door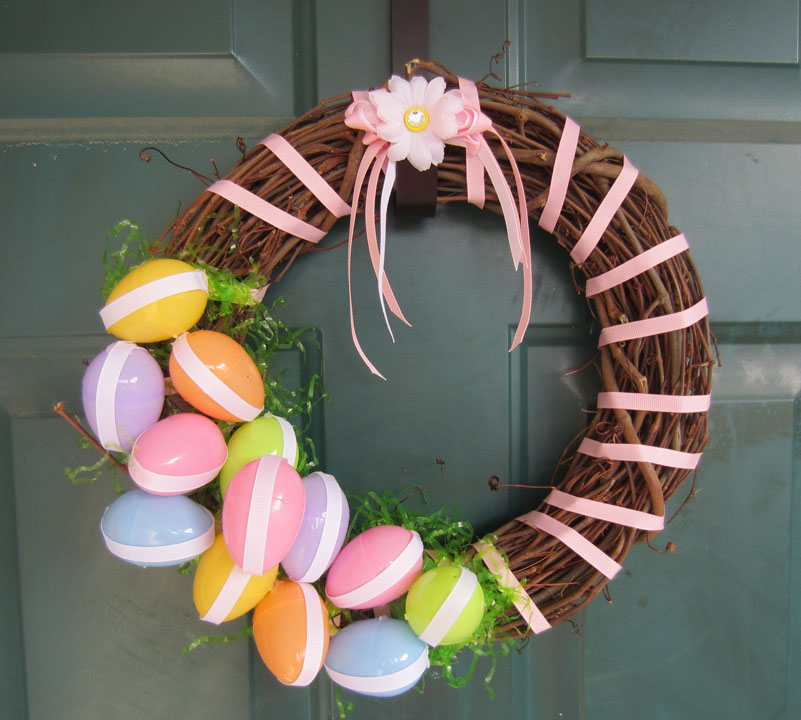 All you need is a few pink ribbons, colored Easter eggs, artificial or real grass whatever you prefer, and twigs of high quality to make this Easter wreath for your front door.
5. Designer Easter Wreath Decoration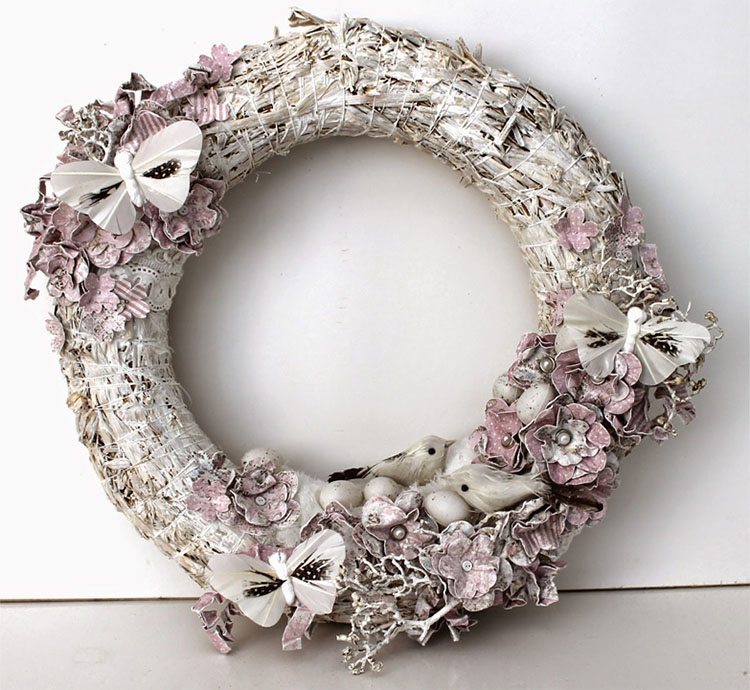 When you are tired of the traditional look of Easter wreaths, go for this unique wreath that will look exquisite on your front door.
6. Shabby Chic Easter Wreath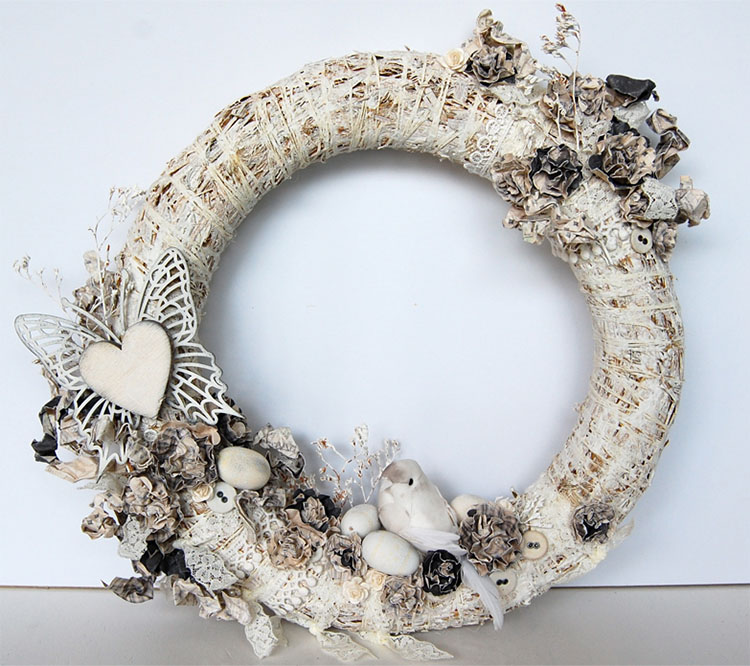 If you love different styles of interior designs, you will surely love this Easter wreath in shabby chic style. This will definitely give an antique look to your Easter decorations.
7. Burlap Ribbon Wreath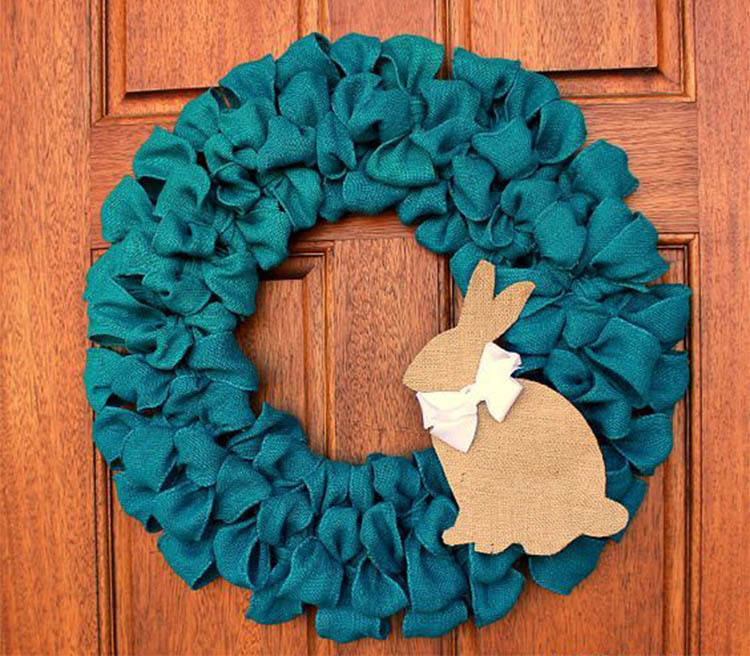 This is an excellent fun idea for DIY Easter wreaths since burlap ribbon looks superb for decorating items. Plus the silhouette of Easter bunny is an added bonus for the Easter theme decorations.
8. DIY Easter Egg Wreath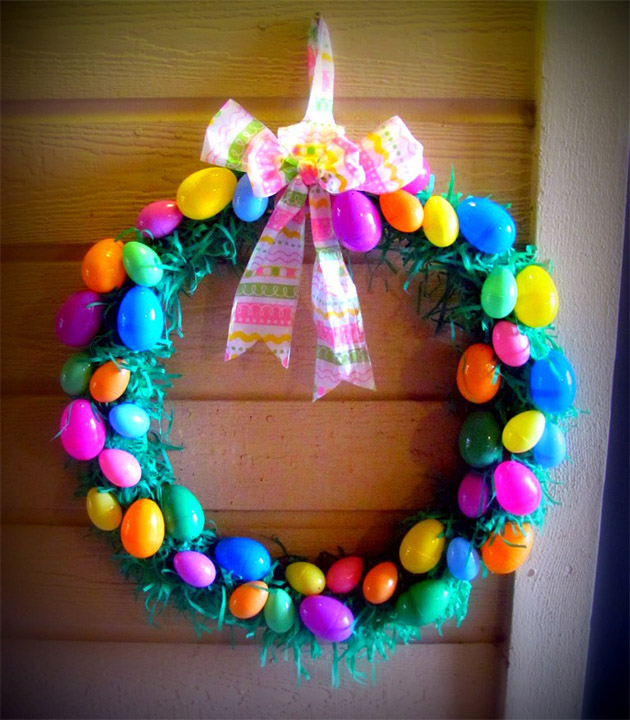 You are going to end up with many eggs after Easter activities with your kids. So, why not use them to make a lovely Easter wreath?
9. Outdoor Spring Wreath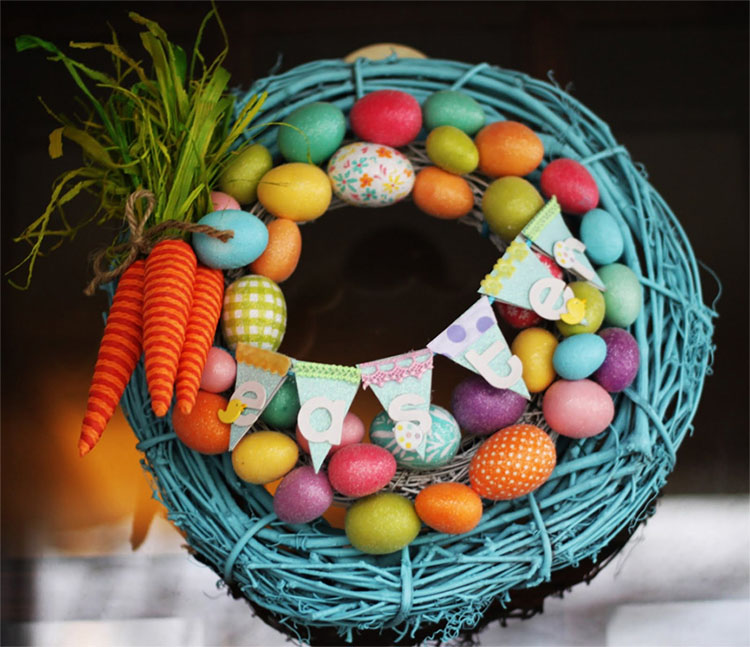 You can paint twigs with a soft, turquoise color, add some colored eggs along with few carrots to make a stunning outdoor Easter wreath for spring.
10. Handmade Easter Bunny Wreath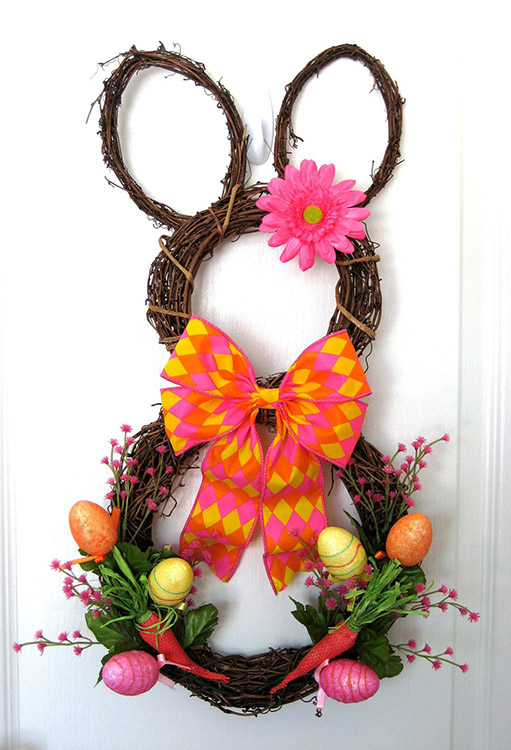 This is one of the unique Easter wreath ideas that will win the attention of anyone. The wreath made of twigs arranged in the shape of a bunny ideal to welcome the spring season.
11. DIY Outdoor Easter Wreath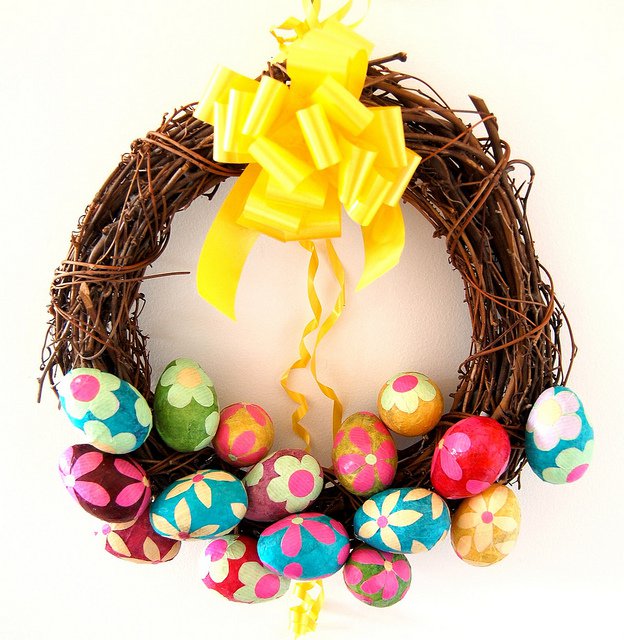 DIY wreaths not only look stunning but are also lighter on your pocket. This outdoor wreath is simply perfect for your front door decorations on Easter Day.
12. Easter Egg Garland Decor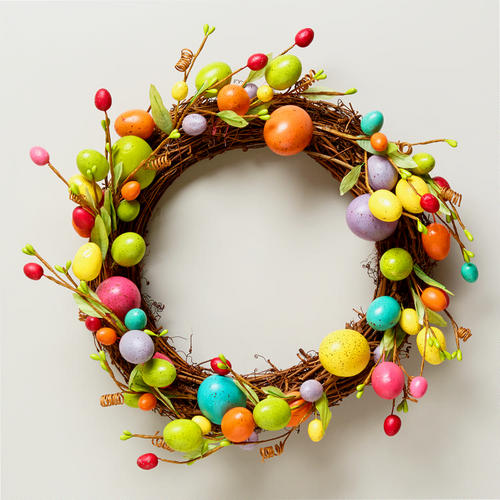 You can make a wreath like this while doing Easter activities for kids at home. Not only kids get to color Easter eggs in different styles but also decorate the wreath in any colorful way they want!
13. Egg and Feather Easter Wreath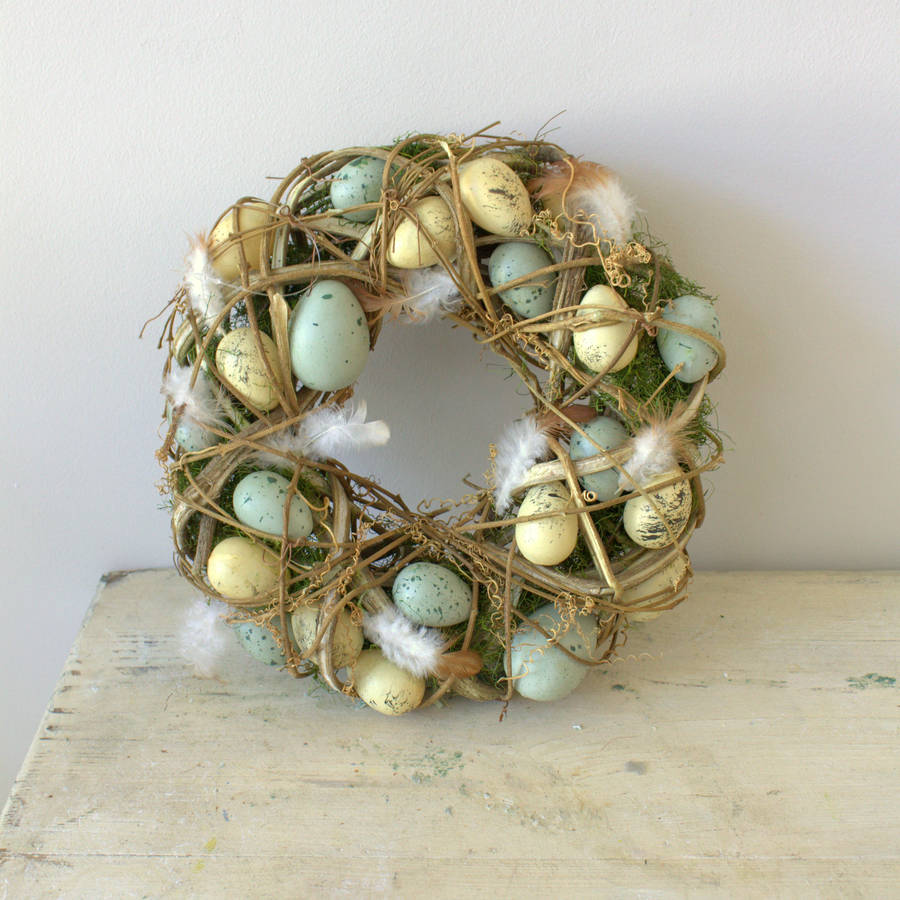 This egg and feather wreath is perfect for the traditional theme of Easter Day. You can make this door wreath using old twigs, branches, feathers, and artificial or real eggs.
14. Plastic Easter Egg Wreath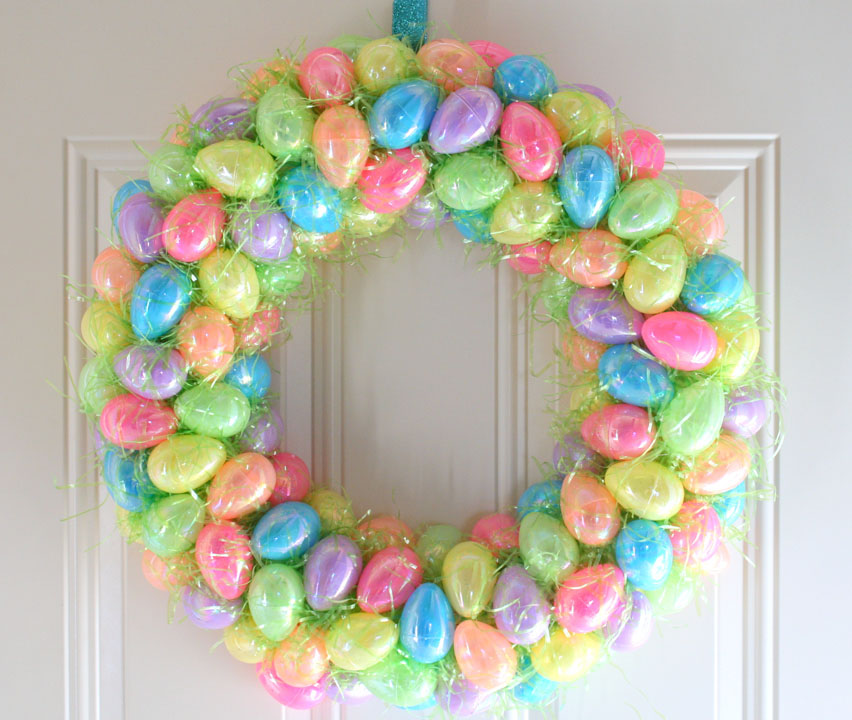 Using real or edible eggs for Easter decorations can turn out to be a bit messy. That's why using plastic eggs to make an Easter wreath like this is one of the best Easter wreath ideas.
15. Easter Egg Door Wreath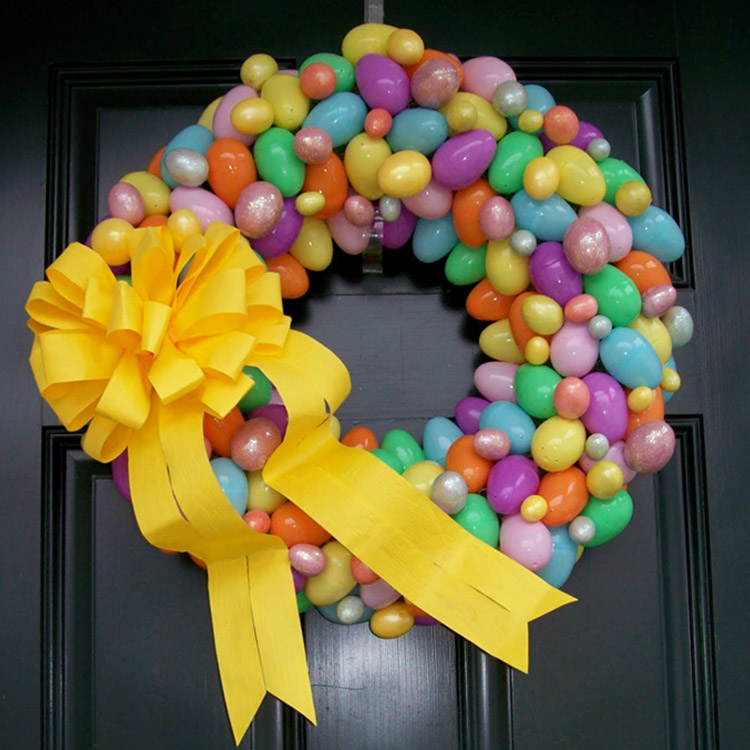 Apart from using traditional eggs for Easter decor, use a fancy, silk ribbon to add that touch of elegance to your door wreath.
16. Happy Easter Wreath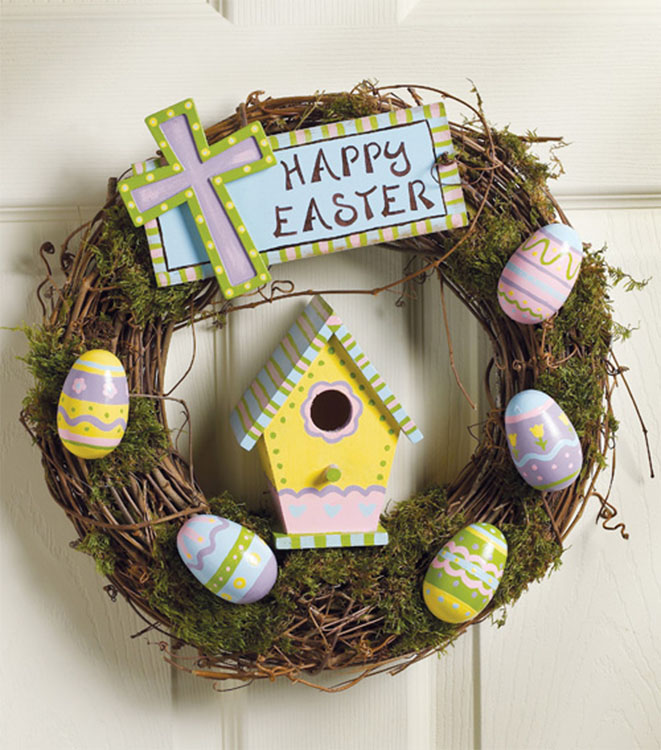 Making this cute wreath with your kids can prove to be an immensely enjoyable activity. A simple message of Happy Easter 2017 also makes this wreath unique to your decorations.
17. Homemade Easter Wreath with Carrots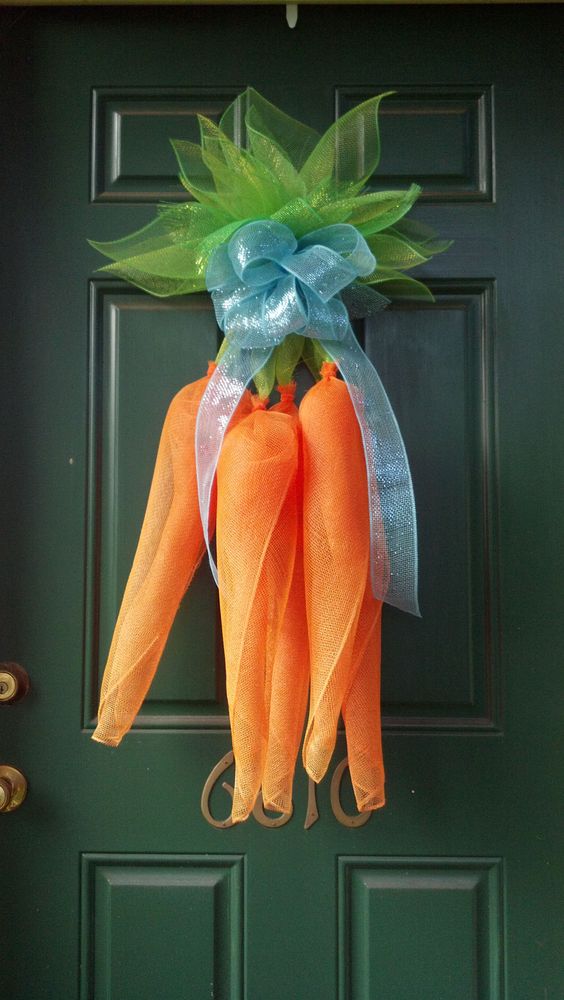 This is one of the unique Easter wreath ideas. Instead of a circular shape, the wreath is made up of carrots decorated with colored ribbons.
18. Marshmallow Easter Wreath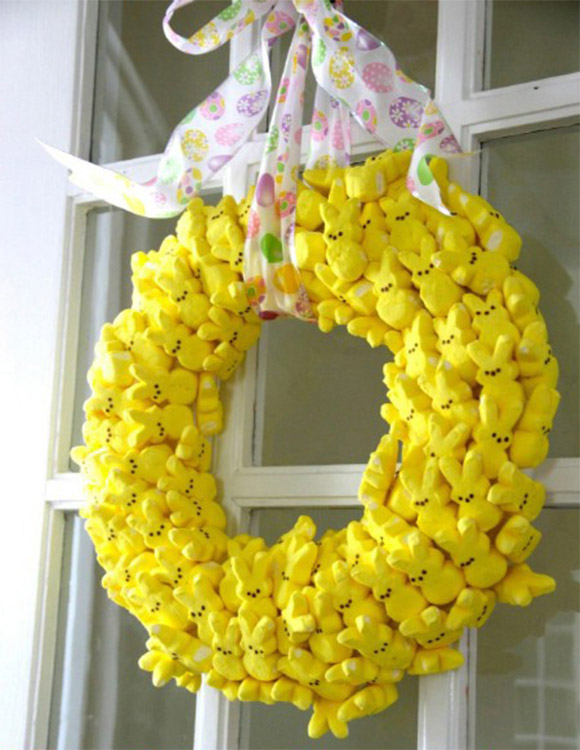 Peeps are not only great Easter candies but can also be used to make Easter wreaths. You can take inspiration from this stunning wreath made of marshmallow candies.
19. Easter Hat Wreath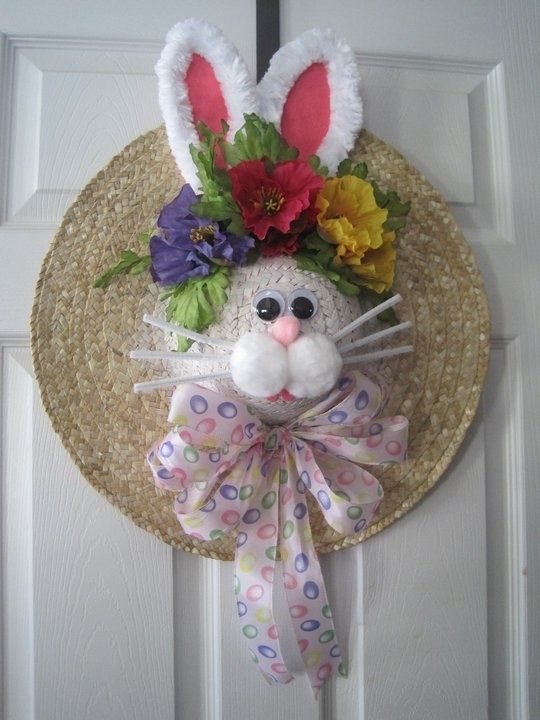 Yes, you can even use Easter bonnets as wreaths. All you need is bit creativity and imagination to make a wreath like this cute bunny wreath.
20. Pom Pom Wreath for Easter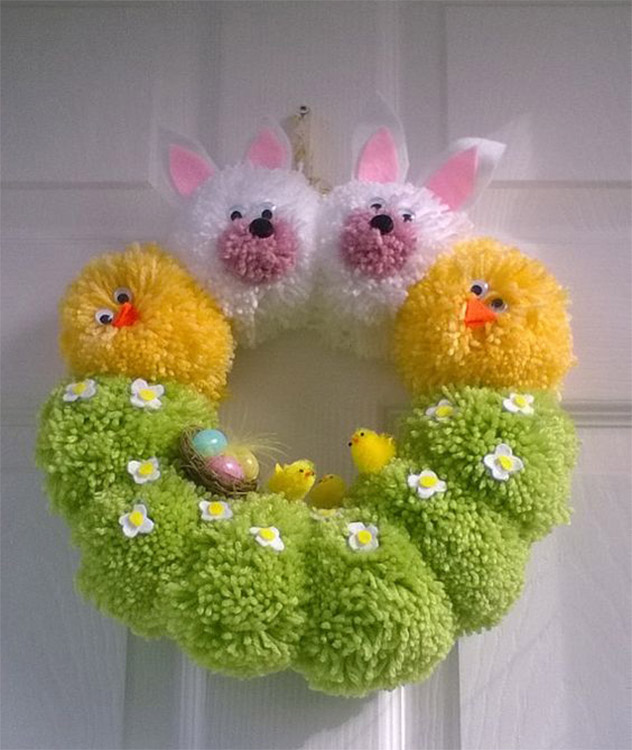 Pom poms are wonderful materials and commonly used in arts and craft activities. You can even use differently colored pom poms to make an Easter wreath like that.
21. Easter Bunny Burlap Wreath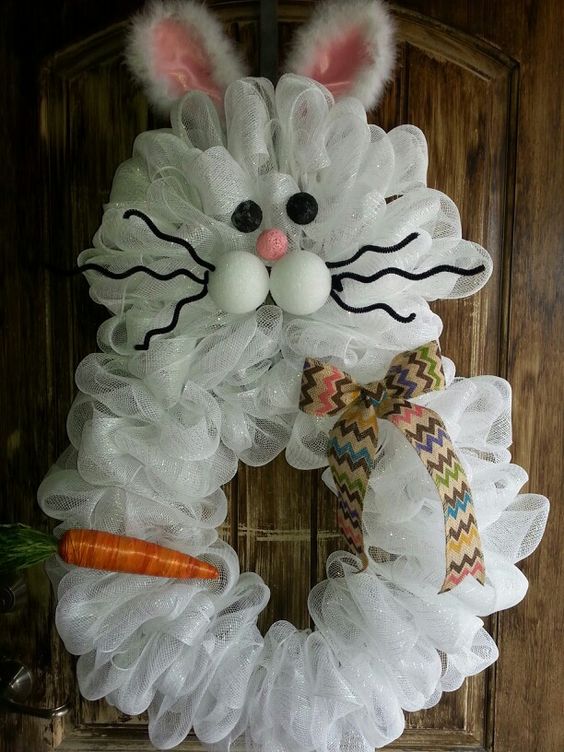 Making Easter bunny wreaths made of burlap is quite easy. You can easily give it a shape of your choice to make different wreaths for Easter.
22. Easter Mesh Wreath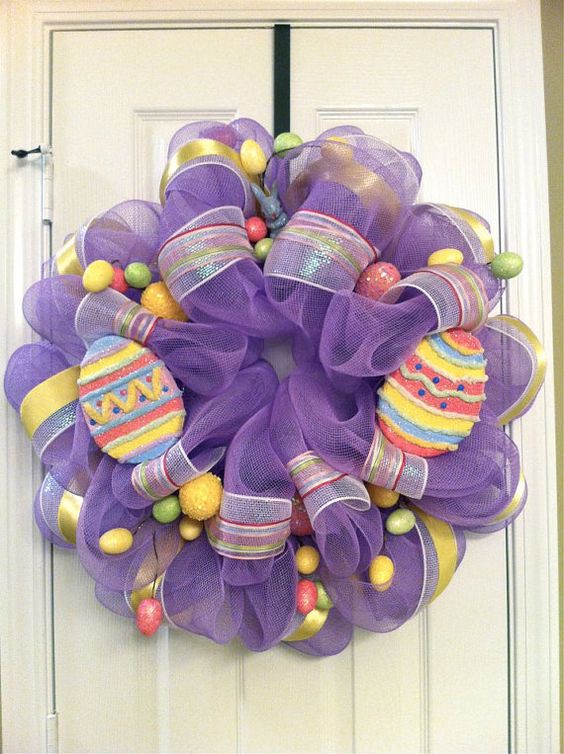 Burlap can also be used to make a mesh like this to make a spring wreath for your home. This one is sure to gain the attraction of guests who come to visit on the Easter Sunday.
23. Door Bunny Wreath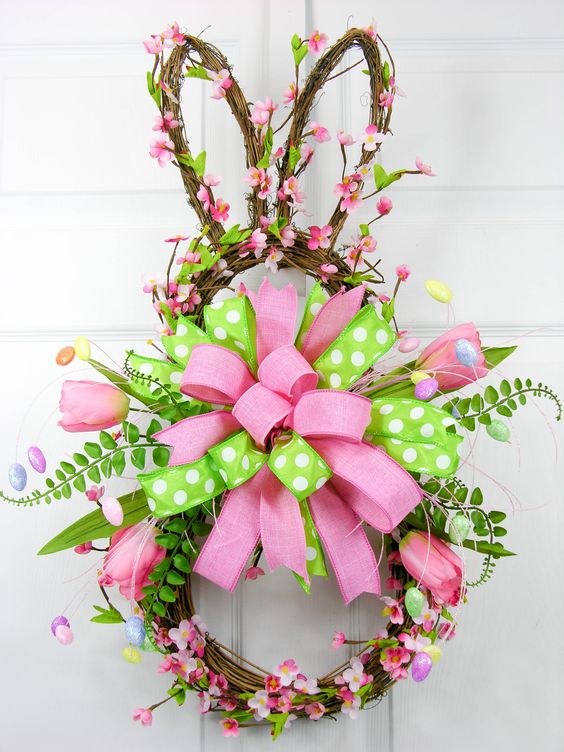 You can use simple materials like flowers and twigs to give it a shape of the bunny and hang on your door as lovely Easter wreath. Just add fancy ribbons to decorate it further and you are good to go!
24. Rustic Easter Wreath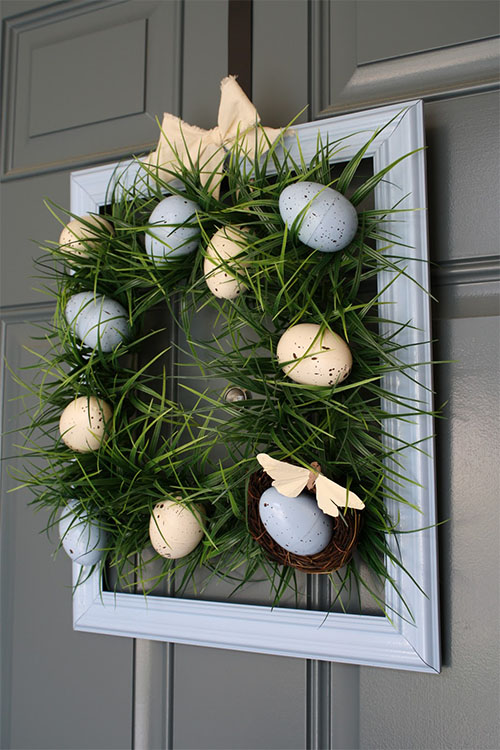 Give a rustic feel to your Easter wreath decorations by using fresh grass from outside in addition to lightly painted Easter eggs.
25. DIY Spring Wreath Decoration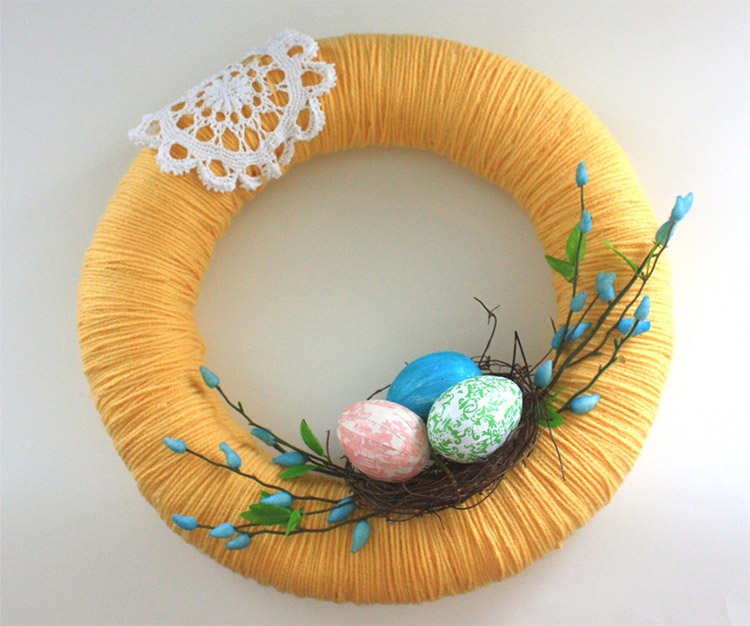 DIY wreaths look a lot more attractive than store-bought wreaths. Plus you can make homemade wreaths like this one within a short time period.
26. Easter Egg and Feather Wreath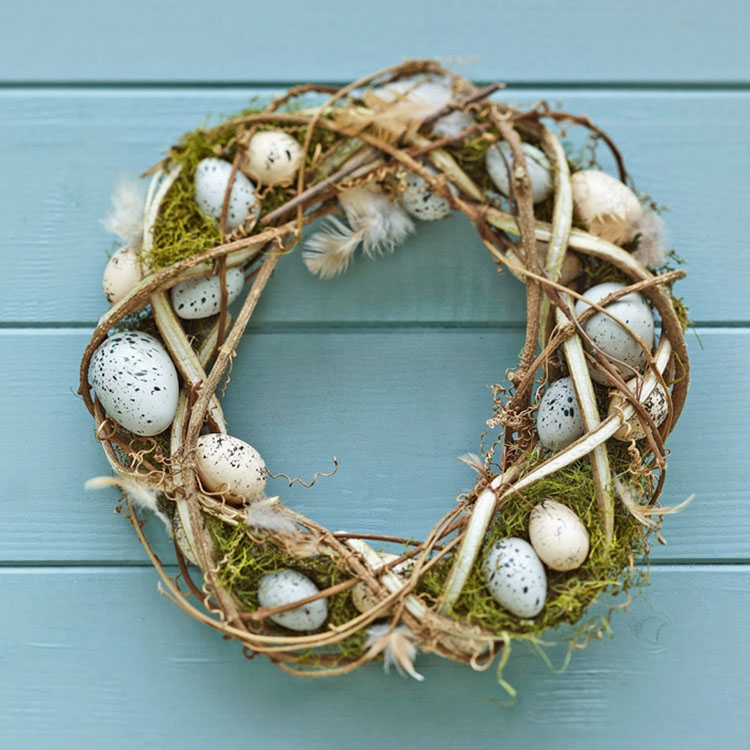 If you did not get time to make a wreath, do not worry. You can make this egg and feather wreath quickly without any special materials.
27. Dollar Store Easter Wreath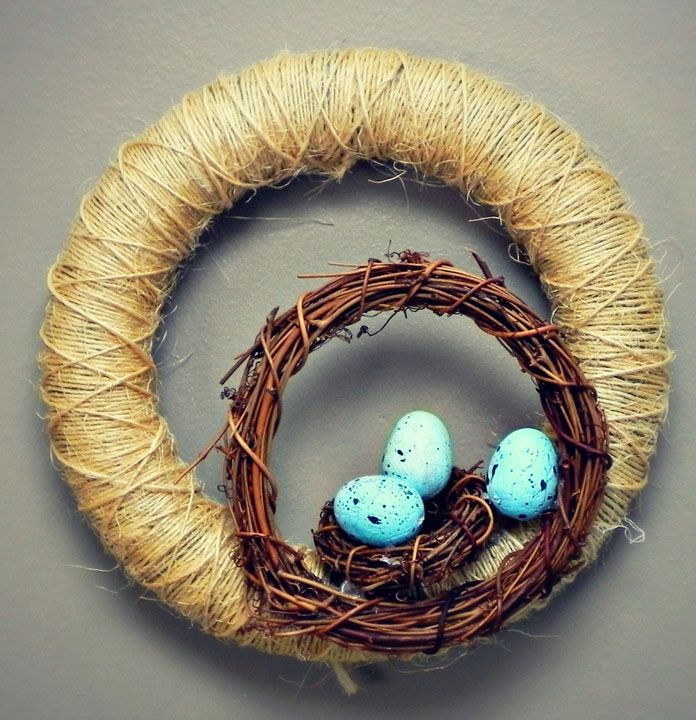 A dollar store basket can prove to be an invaluable (and inexpensive) thing to use to make Easter wreath. Just cut off the upper portion of the basket and cover it with any material of your choice to turn it into a door wreath.
28. Stylish Easter Egg Wreath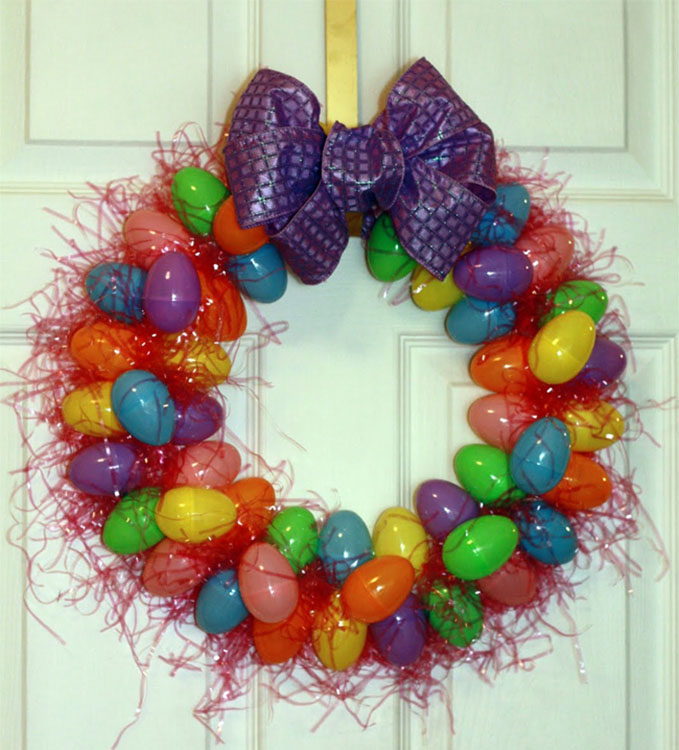 Collect dozens of cheap colored plastic eggs and stuff them in a wire mesh. Give it a round shape and tie it with a stylish ribbon. Your egg wreath is ready!
29. Simple Easter Door Decoration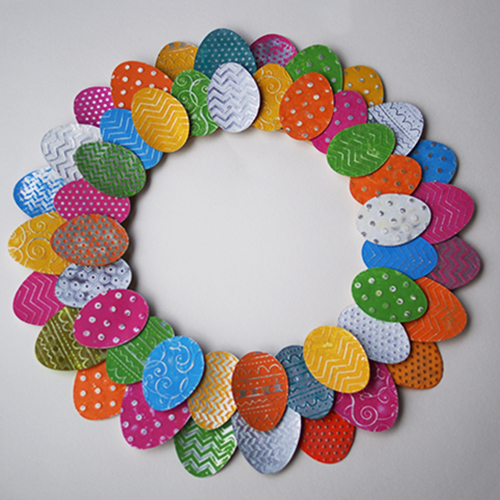 This is one of the easiest Easter wreath ideas. Just collect small paper eggs that you can ask your kids to make during their Easter projects in school.
The above Easter wreaths are just a tip of the iceberg when it comes to decorating on the Easter day. You can also discover some of the best Easter flowers that can help you decorate your spring wreaths. After a long, cold winter, nothing feels better than preparing and welcoming the spring season. Isn't it? You'd also love to check out these Easter songs and hymns that are perfect to celebrate the resurrection of the Jesus Christ and new beginnings!
Also Read: Easter Cactus Ideas.