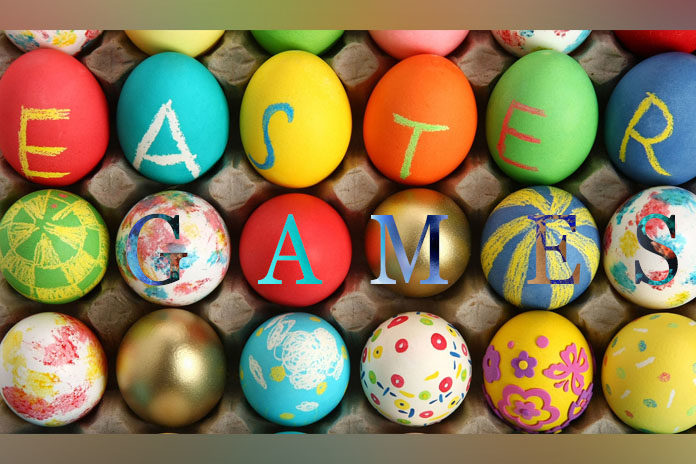 Easter Games – Easter is on its way and it is time to say goodbye to the old and welcome the new with spring season. Although you may no longer enjoy the childhood excitement of Easter bunny bringing you candies and Easter eggs, that does not mean you cannot have fun on Easter Sunday.
Related: Easter Facts & History.
You can have fun with Easter games and activities with your kids and party guests. Classic Easter games will surely remind you of your own childhood while playing with your friends or watching your children have fun with these activities! That is why we bring you 12 best Easter Games that will certainly make your Easter egg-citing. Make sure you include these Easter activities in your Easter party:
More on Easter:
1. Easter Egg Hunt Reloaded
Give a twist to the easter egg hunt and introduce some changes in this traditional Easter game. You can turn it into an outdoor activity by organizing a treasure hunt. It may involve a hunt for usual eggs, golden egg, candies, or gifts using a map for every item.
You can even replace candies or chocolates with other gift items such as movie tickets, cash, goodie bags, stickers, and more. However, make sure that every kid in your party gets Easter gifts. This modern touch will also work among outdoor easter games for adults and youth groups!
2. Egg Relay Race With Spoon
This one is sure to get everyone into the spirit of Easter and have a lot of fun on this day. Team members have to carry raw or hard boiled eggs (go with the raw ones if you are daring enough! ) on a spoon. One member will transfer the spoon to another member after walking through pre decided distance.
The first team to complete the task without dropping the egg emerges as the winner. Even grown-ups will enjoy this game immensely and you can easily put it into your list of Easter games for adults.
3. Easter Crafts Party
If you are looking for easter activities for preschoolers, kids, or toddlers, look no further than cute Easter crafts that are guaranteed to keep them entertained and engaged for hours. Different types of Easter crafts such as the Easter bunny, easter eggs, easter bonnets, easter baskets, etc. will also allow you to make children familiar with regular Easter traditions!
You can even try some Easter crafts for adults and hold a DIY competition amidst other Easter activities to see if grown-ups are as good as kids when it comes to creativity and imagination!
4. Nose Nudge The Egg or Egg Rolling
Egg rolling is a popular game even played at the White House every year on Easter Day. This is one of the best outdoor easter games for kids as well as adults. All you need is some hard boiled eggs according to the number of people in your party. Paint these eggs in order to differentiate them with one another.
Now give an egg to each guest and put a white egg at some distance in the center. Everyone has to roll their eggs towards center using only their nose! Keep your camera ready as you would want to capture everyone trying to nudge their eggs with their nose!
5. Toss The Egg
This is a fun Easter game for kids as well as adults. Divide people in your party into teams with two partners each. Give each team a raw egg and make them stand in front of each other at a gap of about 2 feet. On the sound of the whistle, one person from each team has to toss the egg towards the other team member.
Any team which drops the egg is out from the game. In the next round, increase the gap between team members and repeat the egg tossing process. The team that stays with their egg till the end is declared as the winner!
6. Easter Egg Decoration
If you're a grown-up it might be already hectic for you to prepare for Easter holidays as you fill Easter baskets with candies, chocolates, and gifts for your kids. While you play the role of Easter bunny for your kids, how about inviting some of your friends over and do some Easter activities together.
And Easter Egg decoration can be an egg-cellent activity to try. You can also make special Ukranian eggs called pysanka using a wax-resist method! You may even hold an egg decoration competition among adults. Later, you can use these eggs for other Easter games in this article.
7. Pin The Tail On Easter Bunny
Everyone loves the classic party game of Pin the Tail. You can give an Easter twist to the game and make it about pinning the tail on Easter Bunny. You will need a drawing board with Easter bunny printables. Blindfold your party guests and ask them to draw the missing tail of the bunny. This is one of the best Easter games for preschoolers and a great way to teach them about Easter traditions and identifying parts of animals!
8. Easter Bunny Says
Kids are sure to love this game which is a variation of classic children's game, Simon Says. Any adult or older kid can play the role of Easter Bunny who will give instructions to other kids to do certain things. For example, hop on one leg, raise your hands in the air, shout like a cat, and so on. The catch is that before giving instructions, Easter Bunny may or may not say, "Easter Bunny Says". Only if the bunny says then kids have to do the actions and anyone does an action without "Easter Bunny Says", he or she gets out of the game!
9. Easter Dessert Exchange
If you have ever had a holiday party where guests brought their own Christmas foods, you know how fun it can turn out to be! So, how nice it would be to have dessert exchange on Easter as well! You will immensely enjoy hanging out with your friends and having a potluck party on Easter day. This can even turn out to be one of the most memorable Easter activities for adults especially if you do not have kids around! You can also try these amazing food ideas for Easter night.
10. Bunny Hop Race
This is one of the best Easter games for kids especially when there is a clear sky outside and you are in the mood for some outdoor fun! Give each kid a sack or a pillow case such that it at least reaches till their waist. And then the just have to hop their way through to the finish line! Call it a sack race or bunny hop race, your kids are sure to enjoy themselves with this game on Easter Sunday!
11. How Many Eggs in Jar
If you did not get time to plan your Easter party for kids, do not worry as you can organize this game quickly. You will need a plastic jar and lots of chocolate eggs to fill in the jar. Make sure you count the number of eggs you have put into the jar and write down that number on a piece of a paper. Also, arrange to have many pieces of paper which you can give to children to write their guess of eggs! Whoever guesses the number of eggs accurately or nearest to the right number, gets to take the jar of eggs home!
12. Secret Bunny
Just like you play Secret Santa to give Christmas gifts to your loved ones, you can play Secret Bunny on Easter. After all, everyone loves secret gifts and Easter is all about renewal, resurrection, and welcoming a new season. So, when you receive secret gifts on this day, you can expect to have a fresh start all over again! Plus, as much as kids love to receive presents, you can even encourage them to pick secret gifts for their elders and pack them on their own! It is guaranteed to become one of the annual Easter activities in your family!
Keep a camera ready to capture all fun moments while you play the above Easter games. You may need to plan in advance for some of these Easter activities but we assure you that the experience will be worth the effort. Also, check out these Easter movies that you can watch with your family on Easter Sunday and have a movie marathon as another Easter activity!
Also Read: Easter Songs to Listen.