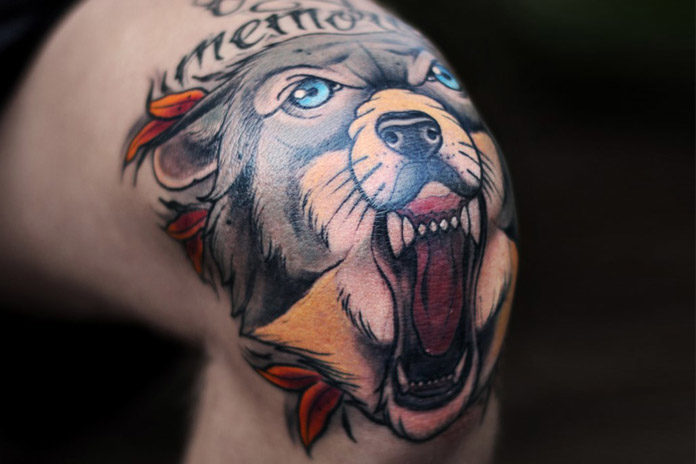 Wolf Tattoo – Wolf tattoos have always been in fashion for a long time. Apart from their factor of looking good, these tattoos are also coveted for their representation of protection, grace, and cleverness.
Related: 29 Back Tattoo Ideas
If you are also a fan of wolf tattoo designs, check out these 18 fantastic ideas for the same!
Simple Tattoo Wolf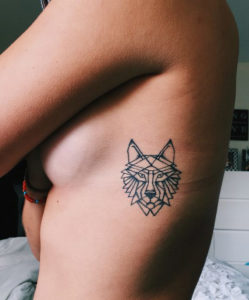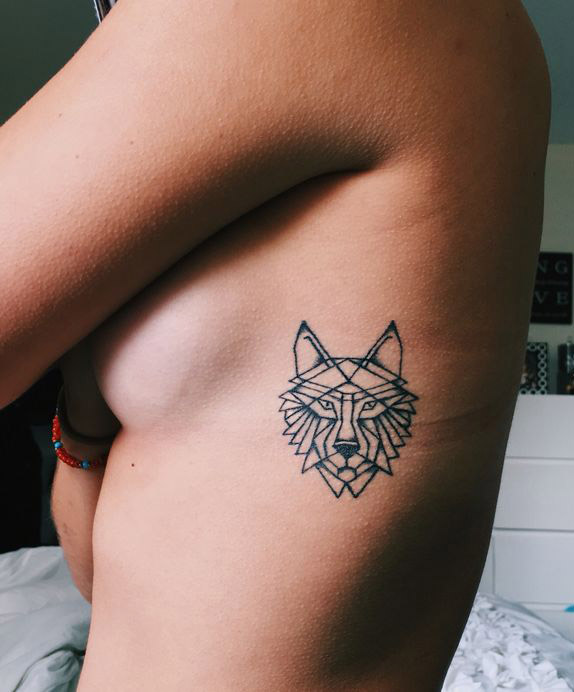 If you are trying a wolf face tattoo for the first time, try this pattern. It is simple and has been drawn using a linear model. You can try this medium sized tattoo on your ribs, arm or chest. You can also add a name or a message with this pattern.
Also Read: Angel Tattoo Designs.
Combo of Three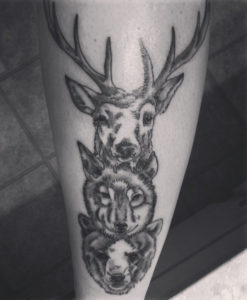 Why not try this fantastic combination of the wolf, deer, and fox? It looks quite trendy and gives a meaningful message too. The fox represents cleverness; the wolf signifies fearlessness and deer depicts innocence. Undoubtedly, all these qualities can take you to a better level in life.
Wolf with a Background Design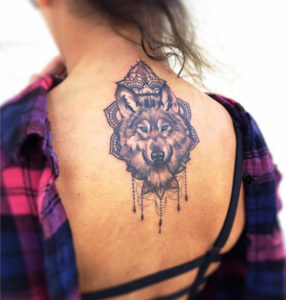 You can also find plentiful of wolf tattoos for women. This particular pattern fits the back neck area. It shows a wolf face with a diamond shaped pattern in the background. The bright blue eyes of wolf look quite realistic.
Cool Wolf Tattoos for Arms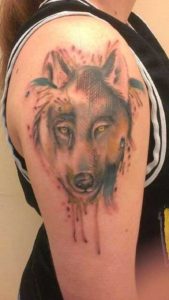 Show your toned and shapely arms in an exciting way by using graceful wolf tattoo designs. You can find these symbols in the watercolor pattern or a real-looking appearance. Choose a black wolf tattoo or get some colors in your tattoo of wolves.
Beautiful & Loving Wolf Tattoos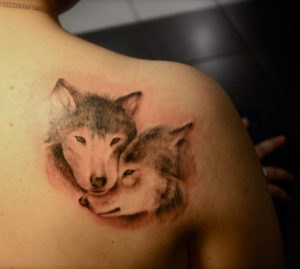 This beautiful tattoo image shows two wolves cuddling each other. It is indeed one of the best wolf tattoos as it demonstrates the love for family. The wolf tattoos do not only symbolize strength and courage but also show immense love for their near and dear ones.
Wolf with a Human Skull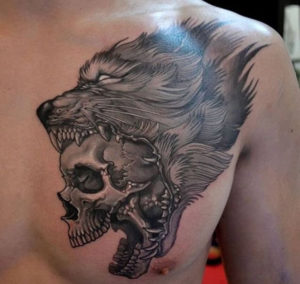 In some cultures, the wolf is honored as a protector of the souls of dead people. Here, in this image, the human skull represents death. This tattoo design is actually for those who want a fierce look in their tattoo designs.
Simple & Graceful Tattoo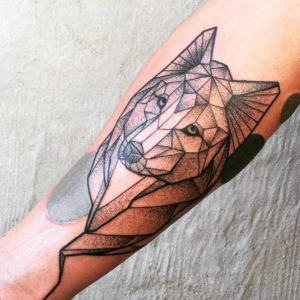 Try this elegant wolf tattoo design on your wrist area. It shows a wolf image made creatively. The artist has cleverly designed this tattoo as if several pieces of stones have been joined to made the picture of the wolf!
Real Looking Wolf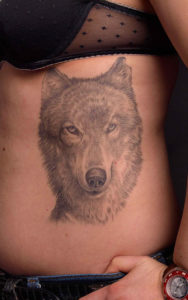 Interested in getting a real-looking tattoo design? The expression, hair, and eyes of the wolf look quite real and impressive. You can place this tattoo on your ribs or chest area. You can also use a bigger form of this design if you want to cover your back with some distinctive back tattoos.
Excellent Combination of Wolf, Tiger & Rose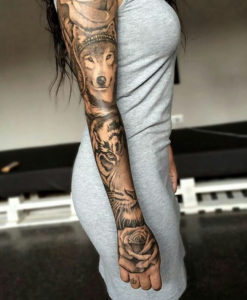 Who says wolf tattoos are for men only? Well, just take a look at this intriguing feminine arm which is covered with a combo tattoo idea of a tiger, wolf, and a rose. The wolf symbolizes instinct & strength while the tiger represents quickness and power. Also, the rose sits wonderfully on the wrist and represents the feminine beauty! Plus you can these Tribal Tattoos.
Two Howling Wolves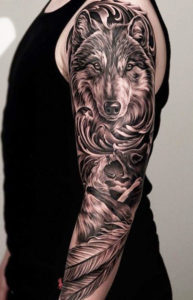 You can give a striking look to your arm by using a howling wolf tattoo as a tattoo sleeve idea. You can see one huge wolf face and two howling wolves in this tattoo. A feather has also been included in the tattoo.
Wolf is a mysterious mythological character, and it is also connected with horror and danger. The howling wolf tattoos are often used to give a scary look.
Magnificent Tattoo Wolf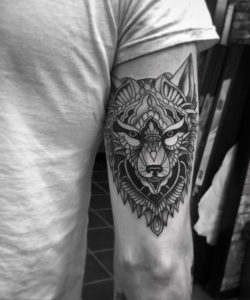 Add some colors, design or alphabets to your tattoo of wolf and you can are ready to give a whole new look to your tattoo design. Just take a glance at this tattoo design. It shows a wolf face drawn in a completely new and innovative way.
Wolf Face with Two Meanings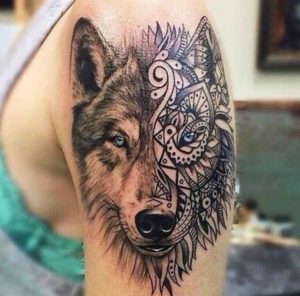 DO you see the two patterns in this single wolf face? While one side depicts the powerful, dangerous and fiery nature of the wolf, the other side shows the graceful and beautiful character of a wolf.
However, if you like Koi Fish Tattoos you can try that also but, Wolf is certainly one of the most controversial tattoo characters. In some cultures, it is regarded as a symbol of horror and danger while in other cultures it is loved and respected as a symbol of power, beauty, and strength.
A Wolf Band for Leg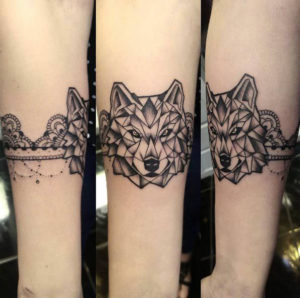 Make your legs look attractive with these wolf tattoo bands. The wolf has been designed creatively using shaded strokes and diamond shapes and a circular embellished band which surrounds your leg completes this tattoo in an imaginative way.
Fiery Wolf Tattoo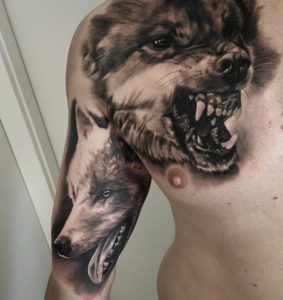 Looking for a truly fiery look in wolf tattoo designs? Try this! You can wear this tattoo on your chest and arm. It shows the angry flaming expressions of the wolf. The teeth and the manifestations of the wolf look so realistic that we actually experience a feeling of horror when we look at this tattoo!
Also Try: Celtic Tattoos.
Two-in-One Wolf & Human Tattoo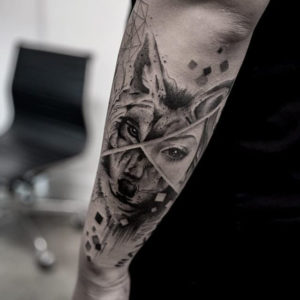 The unique feature of this tattoo pattern lies in its impressive combination of a human eye with the wolf face. You can observe the partial face of a beautiful woman in this tattoo.
This delicate look in wolf tattoo shows that a female also carries strength and power and can use it at the time of needs. Also, the tattoo means that ferocious animals like wolves, also have a soft corner in their heart.
Woman & Wolf Tattoo Design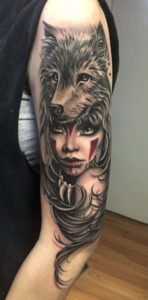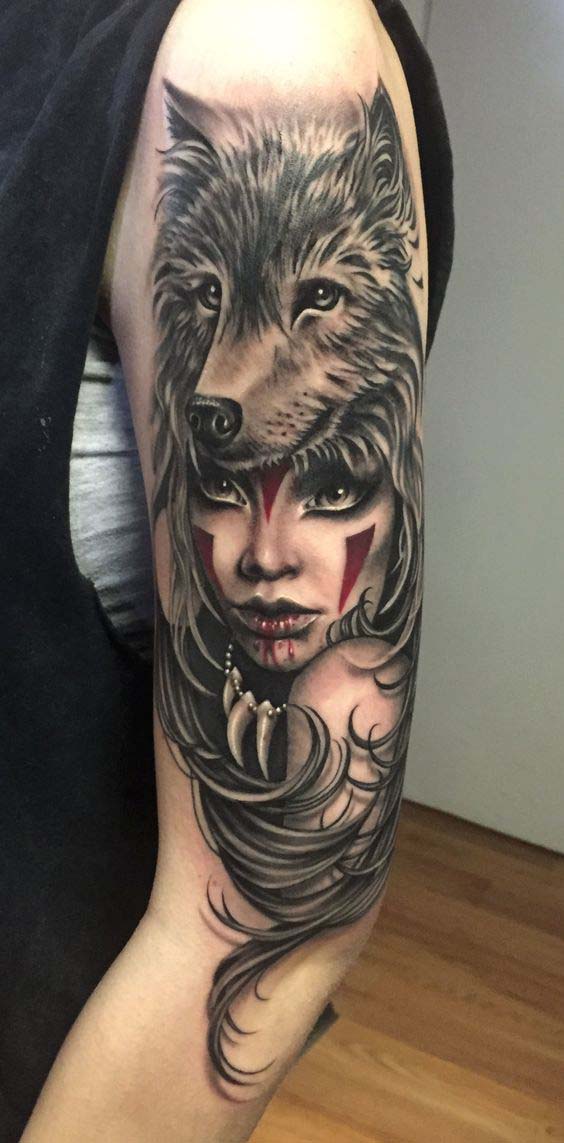 This tattoo is yet another example of creativity! The tattoo artist has really done a great job in this tattoo. The eyes of the girl, as well as the wolf, are full of brightness, expression, and beauty. The tattoo has been drawn aptly on the upper arm area.
Back Tattoo with a Pouncing Wolf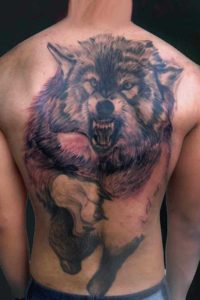 Cover your back with this spooky looking tattoo! It shows a pouncing wolf with angry expressions. This pattern is especially an excellent idea for those who want a wolf tattoo on their entire back. Wear this tattoo and check out the surprising expressions on people's face when you take off your shirt!
Cute, Stylish & Very Attractive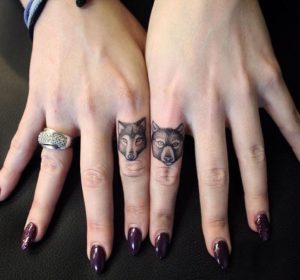 This is one of the best examples of how you can use tattoos creatively and more efficiently. The small wolf faces on the index fingers give a cute, appealing and efficient look to your feminine hands. The black nail paint rightly connects with the wild beast while a trendy ring accentuates the look of your hands.
Must Try: Amazing Small Tattoos.
By wearing wolf tattoos, you can create your style statement. The gallery of these interesting tattoos is quite extensive, and henceforth, you get to choose many unrivaled options.
Also Read : Angelina Jolie Tattoos that will Inspire You